Paula Fairfield is an award-winning Sound Designer who has worked on a host of movies and TV shows including "Game of Thrones", "Lost", "Sin City", "Tropic Thunder" and many others. We recently uncovered this interview with Paula from our archives where we discussed her work and what prompted her to enrol on an online music course at Point Blank.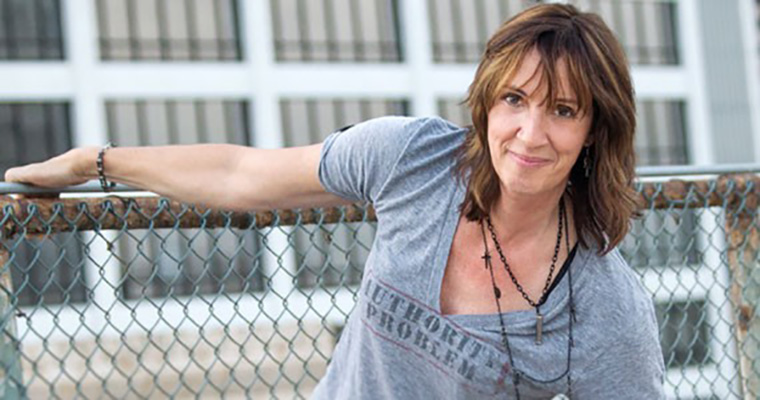 Please introduce yourself. What is your name and where are you from?
My Name is Paula Fairfield.  I am originally from Canada but have lived in Los Angeles for 11 years.
Can you tell us a little about your job?
I am a supervising sound editor and designer for feature film and TV.  I have been working in the commercial industry for 15 yrs and before that I ran a media center for artists in Canada, worked as a picture and sound editor for artists and also made my own multi-media based video, film and audio works.
How did you get started in this line of work? Is this what you always wanted to do?
I went to the Nova Scotia Callege of Art and Design, where I concentrated on video, audio and photographic art.  One summer I got an apprenticeship at the National Film Board of Canada and worked as an assistant to an award-winning picture and sound editor.  At that time, film was still edited on magnetic tape stock, moviolas and Kems.  As I waited to cut edited magnetic tape pieces of sound into prepped tracks, I watched in awe at the sound editing my boss was doing.  I had no idea this was how sound for movies was done.  So when you ask "is this what you always wanted to do", the answer is "No. I didn't know this job existed".  At the risk of sounding corny, the process of adding sounds to image was so magical and I got completely hooked.
What do you like most about your job? And what's the hardest part ?
I love designing sounds.  I love breaking a sonic event down conceptually into its tiniest parts and then building it.  I get a rush everytime I watch a completed sequence against picture.  It is so much fun and I get paid to do it.  Whats not to love?  The hardest part is dealing with tight budgets and deadlines.  Sound is pretty much the last process in filmmaking and by the time we get the project, everyone has run out of money and time.  Consider what contribution sound makes to the movie experience and then consider that we often find ourselves fighting for 1/2% of the entire film budget (yes you read that right!!!).
What is the piece of work that you are most proud of and why?
Hmm.  I have had the good fortune of working with some really visionary filmmakers in the past few years, including Robert Rodriguez and Brian DePalma.  So there are a few I am very proud of but I think at the moment it would be the work we have done with Scottish director Paul McGuigan.  Both "Lucky Number Slevin" and most recently "Push" were challenging for different reasons but clearly Paul gives us such inspired visuals and he is great to work with.
What is your studio studio set-up? What is your preferred software and hardware?
I have a mac-based ProTools HD2 Accel with 5.1 M&K speakers, Kore controller, and a ton of plugins and design software.  We have an XServe Raid that houses a 8terrabyte sound effects library and we use NetMix Pro as our database search tool.  I have used Protools since before it was ProTools and continue to work on it because, here at least, it is the industry standard.  But I am always looking for new things to make my designs fresh and I am also a bit of a tech-head so I am curious to try new things. Keeps life interesting.
What tips would you offer someone who is interested in working in this field?
Its tough right now, but I guess that can be said about all industries.  Best thing is to try and build a portfolio of work and network with industry people.  There are online sites always advertising the need for low or no-pay sound for short films etc and that is a good way to get opportunities and meet people.
What prompted you to take a course with Point Blank? What appealed to you about these courses?
I have owned Ableton for a while and have never had the time to get into it.  I tried once but because it is such a different way of thinking, it wasnt immediately apparent how to use it in the half hour I had here and there to look at it.  I had some time this summer and thought it would be fun to finally learn it.  Similarly Reaktor has always elluded me as it seems like you need to be a nuclear physicist to use it.  It is an interesting tool and one very well suited for design work. My main hesitations about taking courses at your school were that a) I am not a musician (tho I wish I were) and b) I work exclusively to picture.  The Point Blank courses definitely put me way outside my comfort zone, and thats a good thing!
What do you hope to achieve by taking the course(s)?
As I said above, I wanted to learn some new tricks for my design bag.  Keep it fresh.
What has been the best thing about the course so far?
Surprisingly, I find myself making music and really really enjoying it.  Its very liberating.  I am secretly glad we are not really able to use ProTools to do these course.  It makes me work in a totally different way.  I didnt think I would enjoy it as much as I have so far – I sit down in the evening to work a little on an assignment and I look at the clock and its 4am and have to tear myself away.  I may not be brilliant at it but I am loving it.  And I am learning tons of stuff everyday.
What are the advantages in taking an online music course?
For me its always a time thing.  Especially in this industry with multiple clients changing their minds and schedules all the time, its hard to plan anything.  With an online course, I can sit down when I have a minute and poke away at a lesson and then get back to my work.  Its fantastic!
What are you working on at the moment? Are there any forthcoming projects that we should look out for?
Right now I am working on a 3D animated childrens film called "Alpha & Omega".  We will be doing several new projects with Robert Rodriguez over the next few months, including "Machete" and "Predators".  And we will be starting the final season of "LOST" later this fall.
[button size="small" window="true" color="orange" link="http://www.pointblankonline.net/courses/native-instruments-courses.php"]Interested in Sound Design? Check out our online course[/button]