Whether it's learning to beat match, scratch, add crazy effects to your mixes or don the decks at a house party or event, learning to DJ can be an extremely exciting and rewarding experience. When you're just starting out, it's likely you're going to need something simplistic and affordable to practice on – that's why we've collated this list of our top picks of quality entry-level DJ controllers. Featuring DJ tech from the likes of Pioneer DJ, Native Instruments, Denon DJ and Numark, these are all great pieces of gear to learn the fundamentals of DJing on before venturing into a club environment. If you're looking to study the ins and outs of DJing and how the tech below works more extensively, we can help. We offer DJ courses in London, Los Angeles, China, Ibiza and Mumbai with a range of courses suited to beginners and the more advanced. Now, without further ado, check out our roundup of 7 quality entry-level DJ controllers below.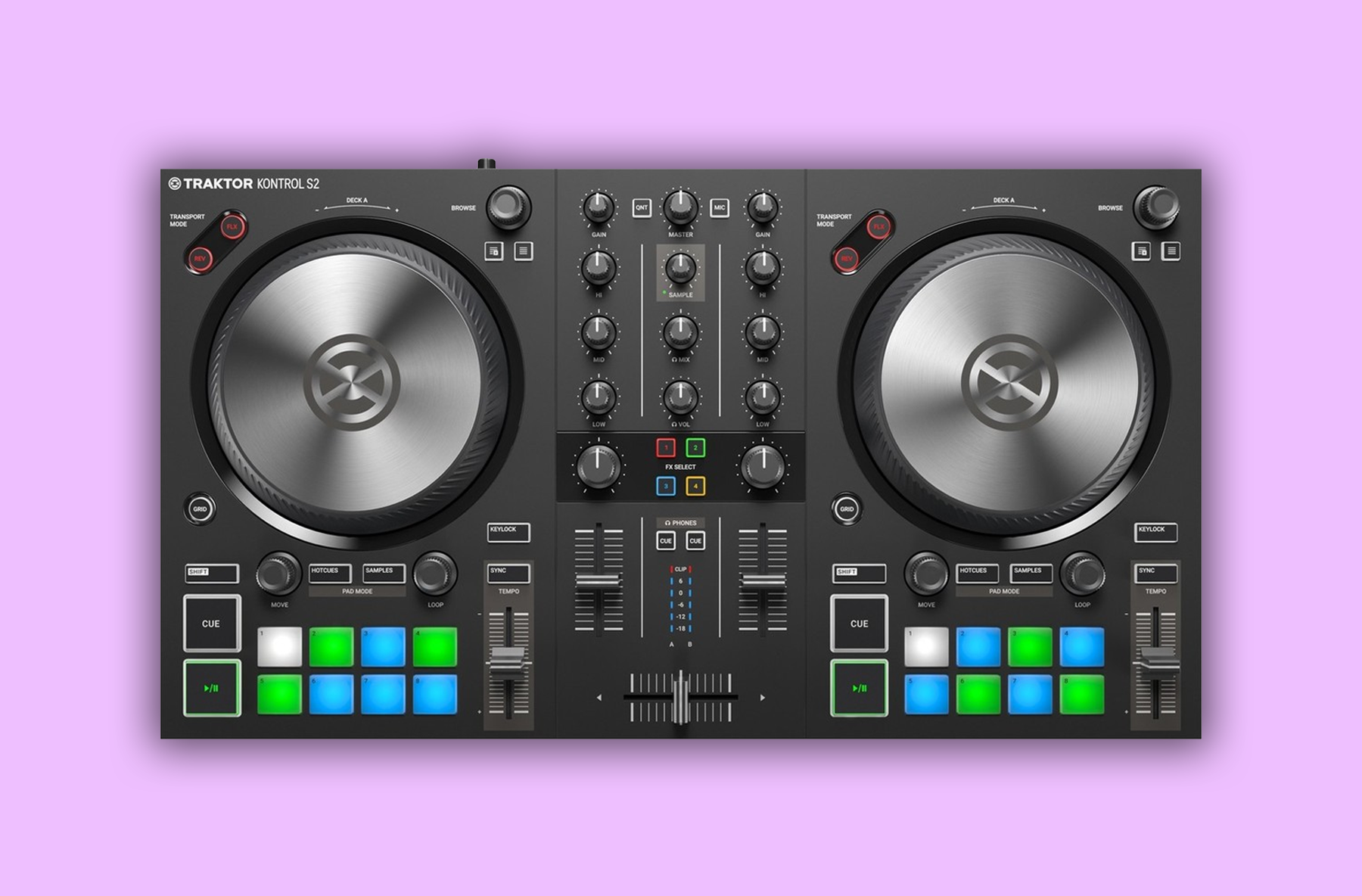 Priced at just £220, the Traktor Kontrol S2 MK3 is a quality built unit for the price you pay. It's an intuitive piece of kit, which features the essential controls and effects you'll need, and works seamlessly with the included Traktor 3 Pro software. The weight of the 14cm jog wheels provides a sturdy feel when scratching and mixing, adding a great, quality feel to this controller. It's also compatible with the Traktor DJ iPhone and iPad app so preparing your sets on the go couldn't be easier. The S2 MK3 is one of Native Instruments most memorable controllers, as it sees the brand sustain their high-quality approach at an entry-level price.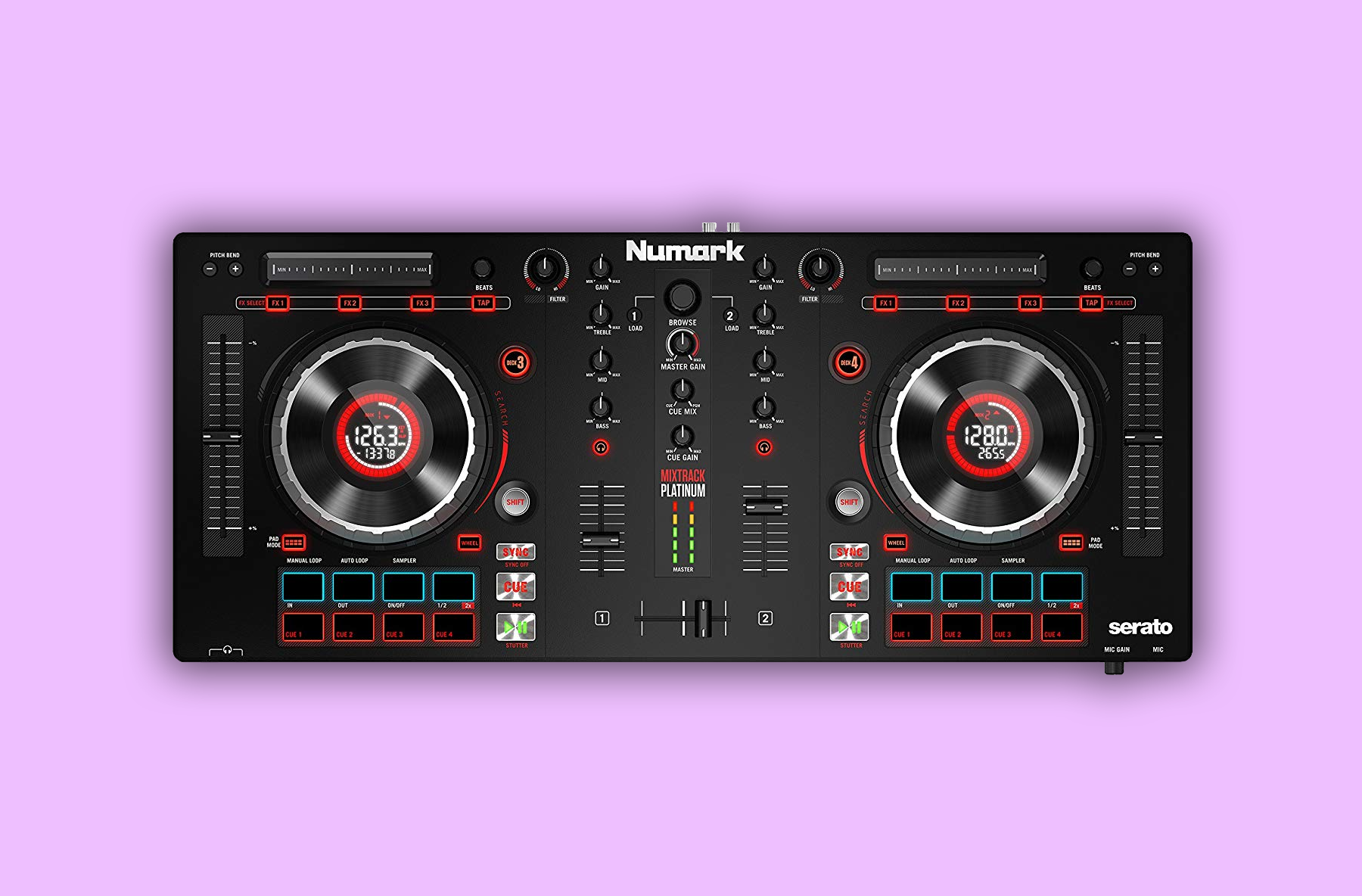 The newest addition to Numark's Mixtrack family, the Mixtrack Platinum, is a fantastic controller to help beginners transition into confident DJs. Unlike many other controllers of this price range, the Mixtrack Platinum features a custom 1.75″ display on each jog wheel. This allows the user to keep an eye on important information such as bpm, platter position, time remaining, pitch adjustment, and keylock whilst in the mix. This controller also features weighty 5″ metal jog wheel platters, 4-deck layering, 16 multi-function backlit performance pads, launch samples, and plenty of FX to get creative with.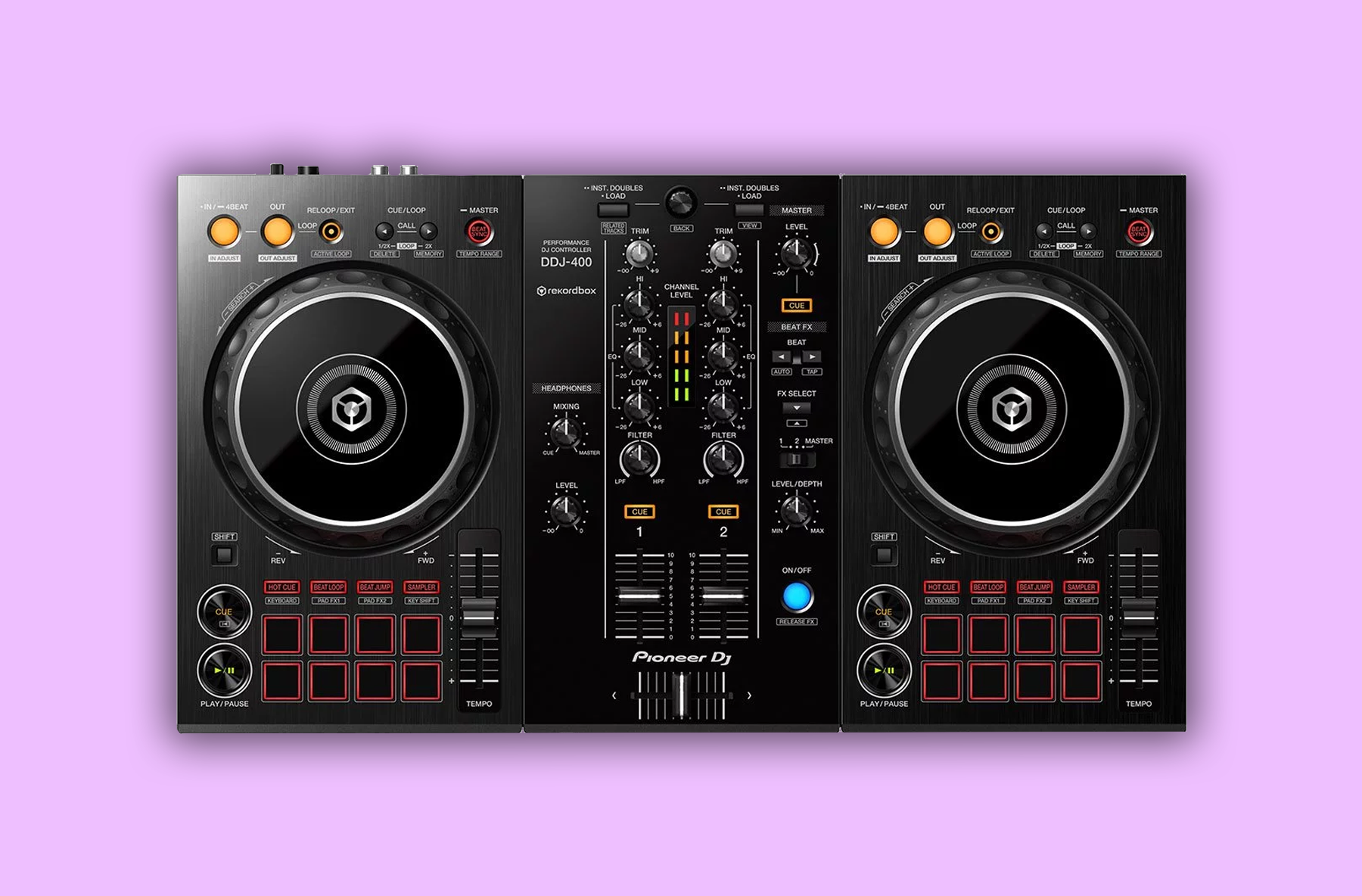 The DDJ-400 from Pioneer DJ comes in at just under £250, making it a fantastic entry level controller for those looking to jump into the world of DJing. Like many of Pioneer DJ's other hardware controllers, the DDJ-400 comes equipped with the latest Rekordbox software which enables users to set cue points, hot cues, arrange playlists and organise your tracks for using on CDJs when the time comes. The layout on this controller mirrors that of the performance tech giant's flagship NXS2 set-up, meaning that it's a great tool to use when preparing yourself for the club. Recently our own DJ Ravine teamed up with Pioneer DJ to record a number of DJ quick tip tutorial videos using the DDJ-400, which you can check out here and here.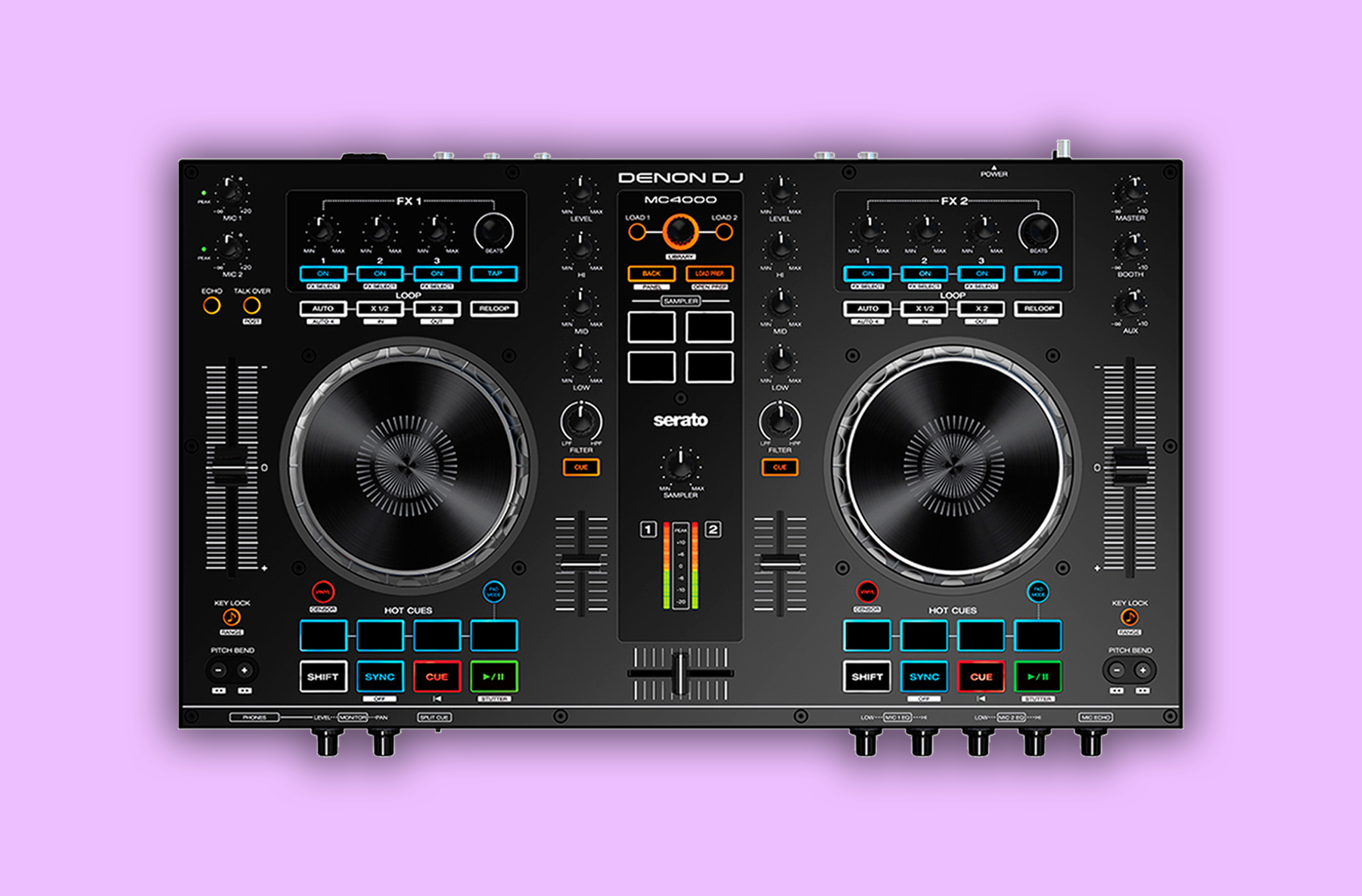 Denon DJ continues to impress with its sleek and innovative MC4000 controller. What's handy about this controller is that, although it comes boxed with Serato DJ Lite software and the option to upgrade to Serato DJ Pro, it is compatible with Traktor, DJaypro and Virtual DJ – so you'll be able to customise how you use it. The simplistic dashboard of the MC4000 allows for optimum workflow, meaning all of the controls you need to perform are right at your fingertips, with very little confusion. This controller comes in at £359 and is available to buy here.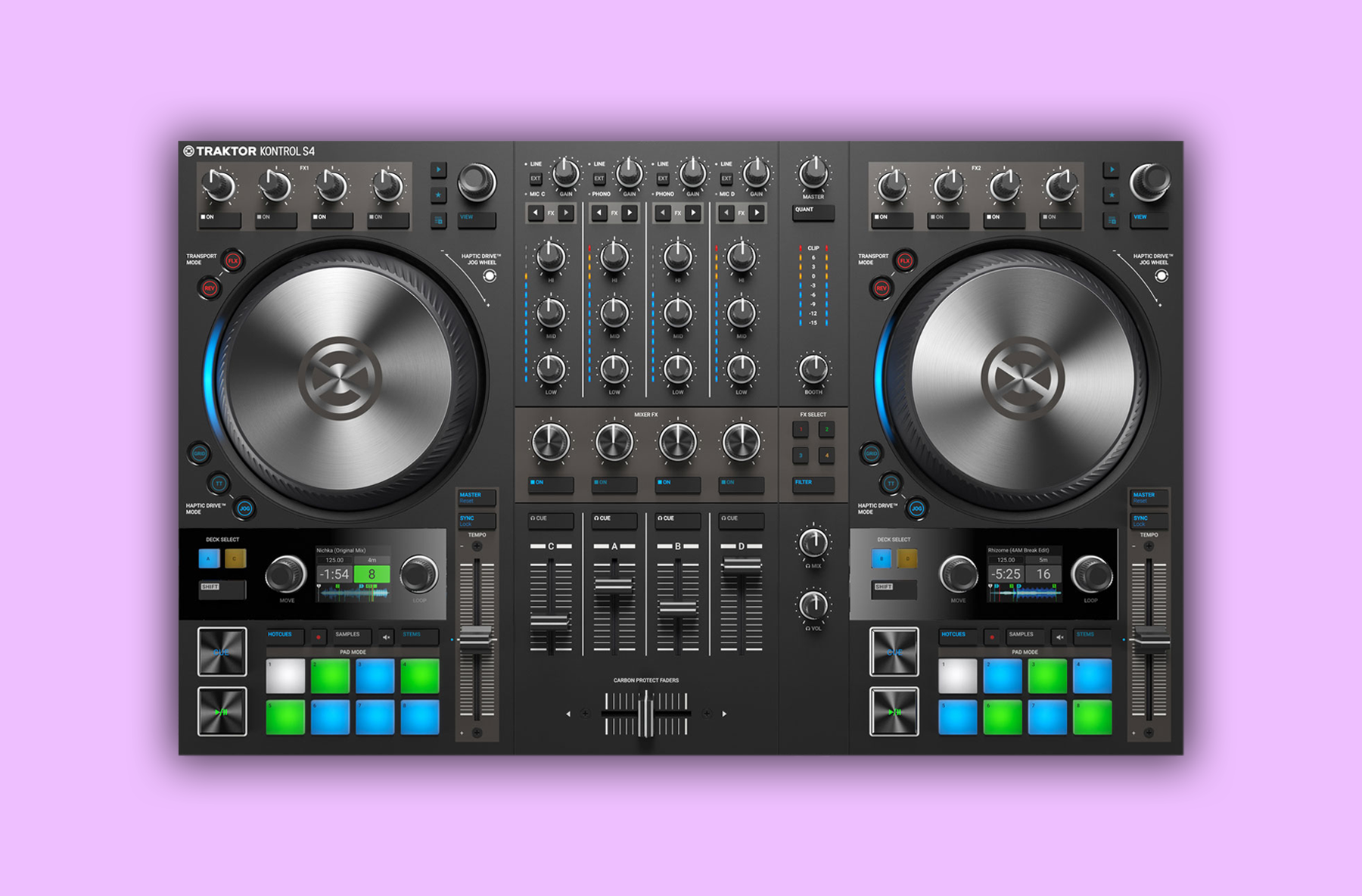 Native Instruments' latest Traktor Kontrol S4 MK3 was released earlier this year and was the first of its kind to introduce the revolutionary Haptic Drive motorized jog wheels. For those of you who aren't familiar, the inclusion of the haptic touch now allows users to nudge, stop and spin the jog wheels – just like vinyl. In addition to this game-changing feature, the controller features two hi-res displays, which show BPM, track title, loop length and activation, key, and more, so DJs can focus on their mix without having to pay attention to a laptop. The controller comes equipped with TRAKTOR PRO 3, the latest upgrade in the global brand's software. Watch the controller in action in our full overview here.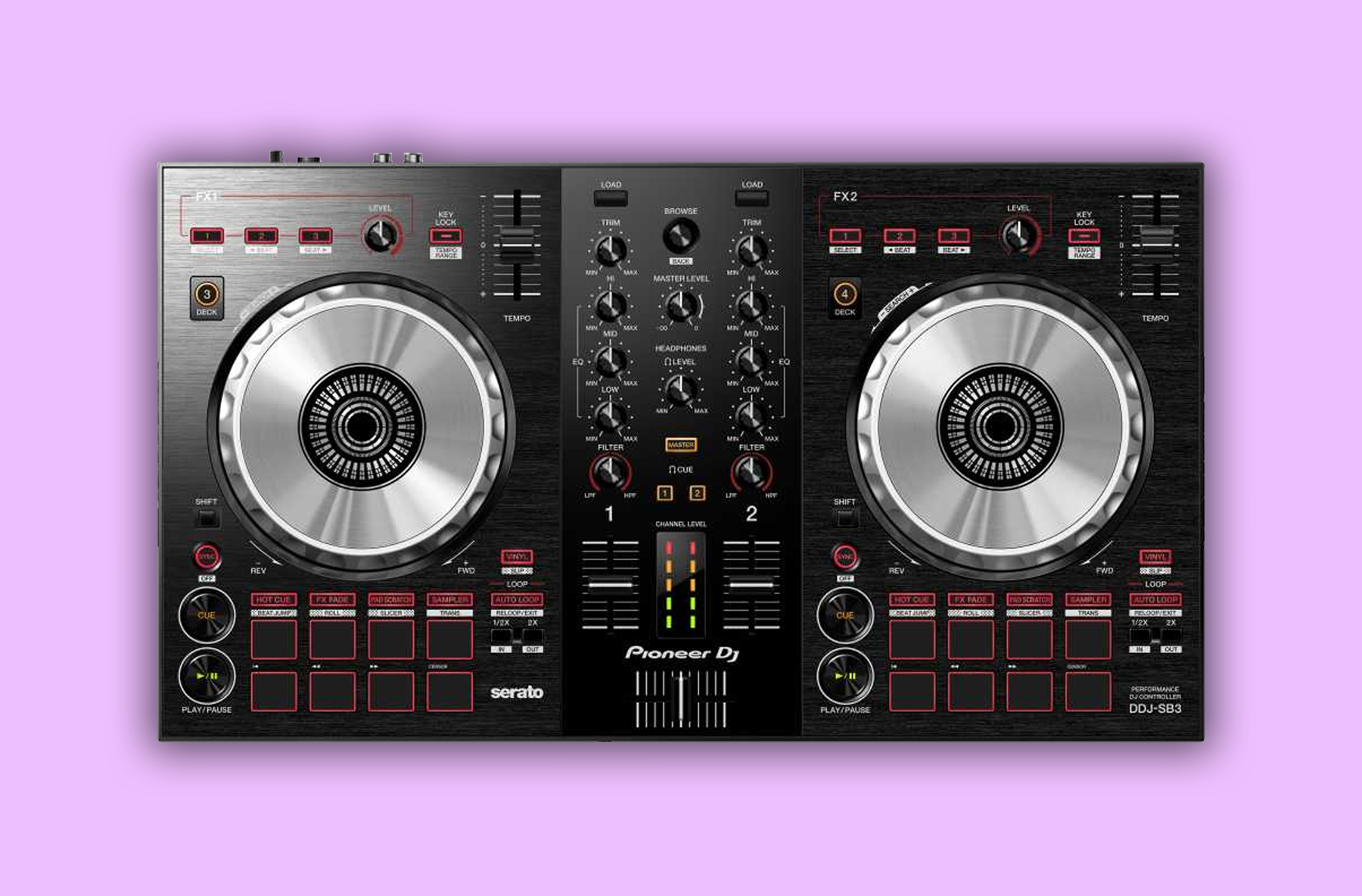 If you're looking to practice your scratching techniques, Pioneer DJ's DDJ-SB3 is the controller for you. It was co-developed with DJ Jazzy Jeff and features a number of scratch-friendly tools, including the unique pad scratch function which lets users reproduce and create patterns from eight of the hip-hop legends' different scratch recordings. As well as being a fun piece of kit to learn the basics of scratching on, it comes with Serato DJ Lite, with the option to upgrade to Pro. Earlier this year DJ Ravine joined forces with Pioneer DJ to unleash a series of quick tips to try out with the DDJ-SB3. Watch them all here.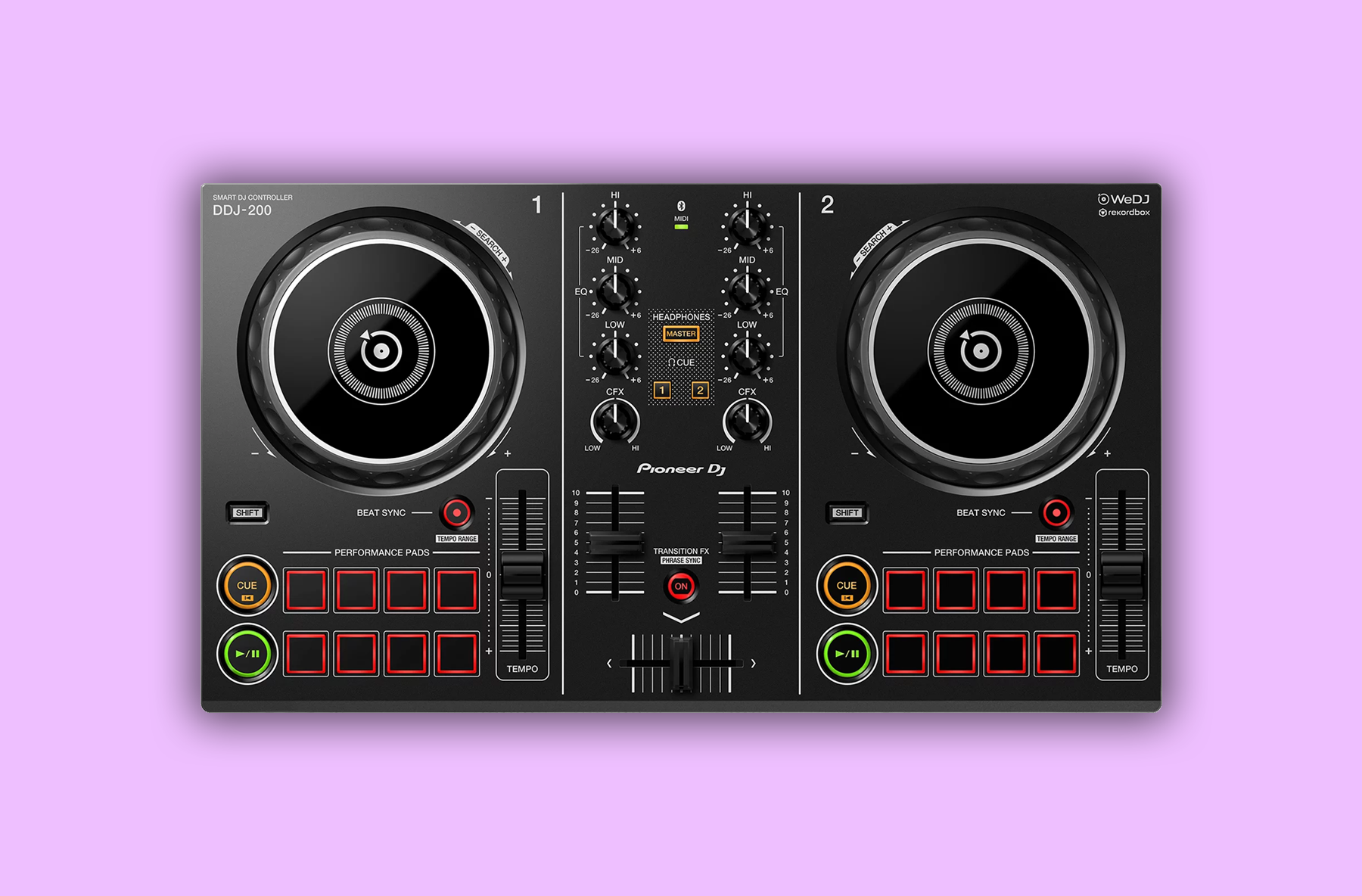 Pioneer DJ's DDJ-200 may be small but packs a lot into its portable, compact size. It's designed for taking on the go, which is why it works incredibly well with Bluetooth capability. The DDJ-200 features the ability to stream music from your Mac/PC or smartphone using apps like WeDJ and Djay wirelessly to the controller. Alternatively, like many of the other Pioneer DJ controllers, Rekordbox can be used with a wired connection. Keep in mind, however, depending on your app and device combo, you can mix sounds via streaming services including Beatport LINK, SoundCloud Go+, Deezer and even Spotify. This controller is the cheapest on our list, coming in at just £139, and is perfect for those looking for an introduction to DJing with the ability to take their mixes on the go.
If you've got DJing on lockdown but want to expand your musical knowledge in other areas, we offer a number of courses which can help improve your Music Production & Sound Engineering, Singing & Songwriting, Radio Broadcasting and Music Industry prowess.
Register to Access Free Courses, Plugins, Projects, Samples & More
If you register with Point Blank, you can access an array of free sounds, plugins, online course samples and much more! Simply register below and visit our Free Stuff page to get your hands on a range of exclusive music-making tools and tutorials provided by the team. Fill your boots!