One of the many reasons aspiring music producers, DJs, singers, songwriters and artist managers choose to study with Point Blank, is that a wealth of talented and successful industry professionals have also spent time studying with us.
Our talented family of alumni grows each year, with many household names having graced the Point Blank studios. During our 25 years operating as a music school, we have helped the likes of Pete Tong, Patrick Topping, Madam X, Leona Lewis, Goldie, Claude VonStroke, Detboi, Aluna Francis and many others hone their skills and perfect their craft.
For this new series, we're spotlighting some of our more recent alumni, showcasing the great accomplishments these up-and-comers have achieved and what's on the horizon. Want to join the Point Blank family? Then be sure to check out our degree courses here.
Trish O. – Toolroom Records / Heldeep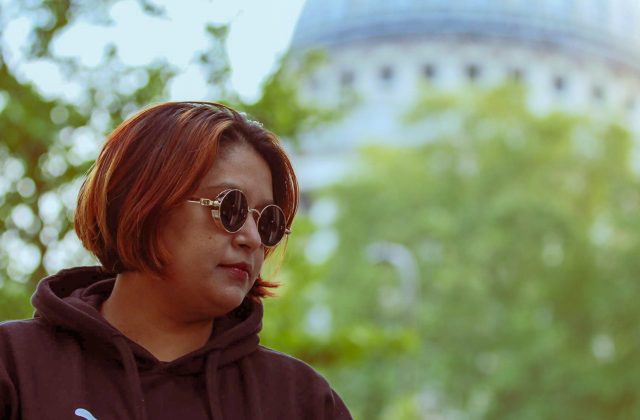 Trish O. is a DJ, Producer and Sound Engineer from London, UK. Following the purest of paths from the dancefloor to the studio, Trish's efforts as an artist stem from being a devout raver in her late teens. Very much into the harder styles of dance music, she was inspired by the likes of ATB, PlanetFunk, Nadia Ali, Todd Terry and many others during the '90s. Trish studied the Music Production & Sound Engineering Degree at Point Blank music school. We caught up with Trish to talk about her recent signing to Toolroom Records – one of her all-time favourite record labels.
Hey Trish, it's good to catch up again. What's been going on since we last spoke?
Hey guys, I am back with more mind-blowing news. I still cannot believe it – I made it happen for myself. The Last time we spoke, it was regarding my debut release on Oliver Heldens' Label, Heldeep. It was a fantastic experience getting to know the whole Heldeep team. They are all super unique and so helpful. A lot of things have been going on. Since then, I had a big techno record come out with Roland Clark, which charted in the top 50 on the techno chart and has received huge support from Spotify. It's been supported by Blasterjaxx, Chris Vernon, Austin Kramer and many more and added to Heldeep's Best catalogue. Also, I have been speaking to Oliver Heldens himself. He is so down to earth and is now giving me feedback on my tracks, which helps me a lot. I've also done a full-blown Latin tech house EP with my mate Charmain Love, who lives in Brighton. That release got picked up by a Spanish label that's owned by David Cueto. The second track on the EP, 'Coco Bailando', has already received support from loads of DJs and got played in my hometown, Bangalore, by the well-known radio hosts/DJs Rohit Barker and Ivan Nikon, aka DJ Ivan – a pioneering DJ in India. I was so overwhelmed by all the reactions and comments. It just shows they don't forget their girl. I cannot thank them enough for this. I am hugely grateful for everything that has happened to me after my first remix came out on Roland Clarks' label, Delete Records US. That release changed my life. That was my breakthrough track into the industry.
Getting signed by Toolroom Records is huge – congratulations! What's the story here?
Tell me about it. It's a huge goal ticked off my list and a massive dream come true moment for me. I manifested for this day to come alive exactly 6 years before joining Point Blank Music School. I had this vision in my mind. I felt powerful about it because I've been buying Toolroom records since the start of my DJing career. I needed big beats to play in the club and Toolroom has that big club sound. In 2015, I opened up for D Ramirez, who wrote the amazing Toolroom anthem with Mark Knight, 'Down Pipe'. What a track that is. An absolute legend and one of the backbones of Toolroom Academy. I warmed up the decks for D in the main room of Pacha London. I still have the flyer! I should frame it now. I have been following D since then. I guess he joined Toolroom after SubBass Academy of Electronic Music, where he was teaching. I have personally met him a few times. He is a fantastic guy and a brilliant teacher. I was also so lucky to be tutored by him on the Creativity Unlocked course. So, with all the connections around me, I wanted to take my passion and music further – hence why I joined Point Blank Music school. I can safely say I finally did it after 4-5 years.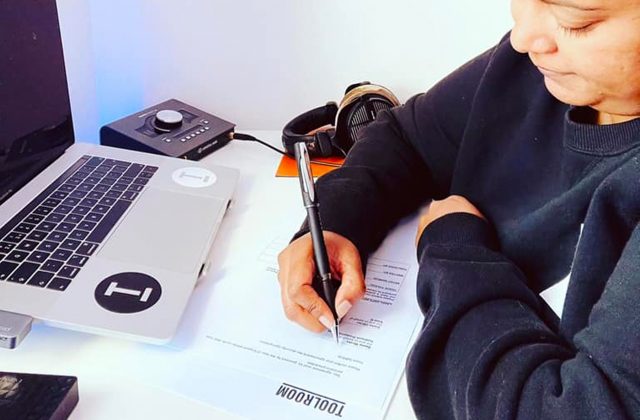 Trish O. Signs Toolroom Records Contract
I couldn't wait for everyone to hear my track. It features powerful techno drums. I love my drums so much. Drums alone should make your body move and if my drums don't make you move, then I am not doing it right. You might well as call me Drum Girl. My love for Toolroom Records started a long time back but finally getting involved with the label began when I started networking. It started in my music industry class when we were given the assignment to pick our top 5 record labels and study them for our homework on branding and record labels. I knew straight away I wanted Toolroom Records to be my assignment. I did the presentation to my class about Toolroom Records and everyone started asking me whether I worked for them or not – haha. So, gradually, I subscribed to their email list and one day got invited to be part of the #WeAreListening group, which they started on International Women's Day in 2018. I emailed them introducing myself and the next thing I knew, I was at their HQ meeting a lot of passionate female DJs and producers who were doing the same thing as me. That day changed my life. Each time they gave people the opportunity to submit music to the label, I always took the chance. Even though my tracks weren't that good, I still ensured I did my best at the time. Although I struggled with understanding the mixing, automation and arrangement processes of making tracks, as years went by, I slowly started to understand it.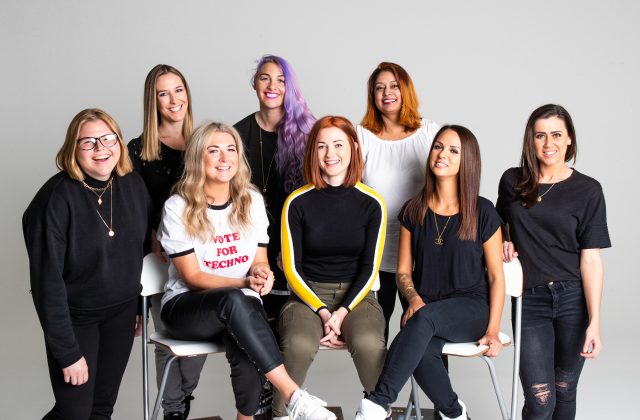 Trish O. and the rest of the #WeAreListening group
I took my time to learn and hone my craft and my sound. I wanted to learn more and learn Ableton Live inside out, so I did one of their Ableton courses with Ben. After the course, I felt confident using the DAW and everything became clear. I must say that that class changed my life. Also, the #WeAreListening campaign, set up by Toolroom Records, has changed my life. I was one of the selected members to be invited for a photo shoot and interview to discuss how we can inspire more women to get involved in music and submit to the label. There's even a video and interview you can check out. It's so motivating and inspirational. Whenever I went to the HQ, it became a more friendly place to hang out and learn and grow as an artist. We were all given a free class on social media that taught us how to make the most out of it, without spending too much time on it. We were all taught about branding which helped too. So, about this track, it's not an overnight success. It's the final product of all the work I put in, hustling in a dark, box room or my mum's basement, writing my dream track.
I have been submitting to the label for the last four years, so I've only touched the tip of the iceberg. This is only the beginning – there's more to come. I have had some fantastic, honest feedback from the A&R, so each time it helps me improve. That's what it has become now. This track demonstrates how I feel I've grown after everything I've been through during the last couple of years. Yes, this is my year and I have made a banger. Yes, It's my debut release on Toolroom Trax, one of my favourite record labels. I am a big fan of Toolroom Techno Trax and this is a Toolroom Trax Techno record.
What advice would you give to a passionate artist looking to get signed?
My advice is if you want something, make sure you give 100 per cent to get it. You can't just sit there and wait for grapes to fall on your lap. Work your ass off to get there and make it happen for yourself because no one else will. When it comes to your favourite record label, show interest in getting involved with the brand and the people. Surround yourself with like-minded people who have the same interests and drive, the same or similar sounds and get collaborating – because no one can stop you except for yourself. Put your fears, self-doubt and low self-esteem in the bin. Invest in yourself so that you have the right mindset, proper knowledge and right resources in front of you. I would still stress about getting out to network because there is nothing like drinking Tequila and speaking about things that you love to do. That way, people won't forget about you. When you send your tracks to the label they will listen and respond. I make sure whatever comes my way, I treat it with love and Tequila. You can never go wrong. Also, Toolroom Records is always looking for more women to sign to their label. They are really friendly. All the people who work there are gems of human beings. Don't be scared to ask questions. Have you tried it? Have you given your 100 per cent? I am sure people bombard them with thousands of emails but one day you will find a way and never give up.
How important do you feel an intensive degree course is to success in the industry?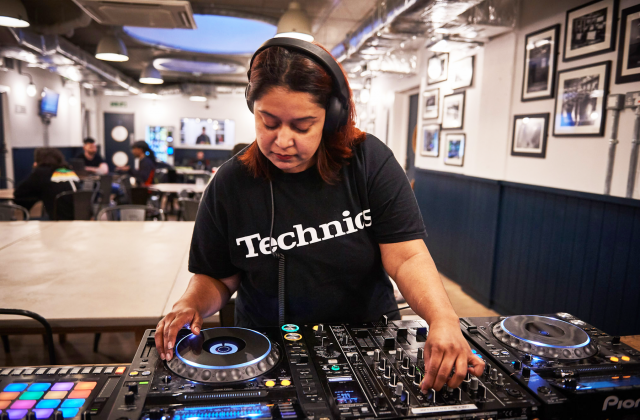 Trish O. DJing in Point Blank's London Campus Hub
For this question, I talk about my experience as I came to school with zero knowledge. The intensive degree course may or may not be necessary to some but to me, it was everything that I had asked for. You begin to understand everything about the music industry, starting from writing a record to getting it mixed, mastered and signed, to promoting, marketing, pitching and breaking the charts. What goes on in the admin side of stuff is also covered as well as crowd reading, sync opportunities, gaming and more. It's endless. Even if you don't make it into writing pop records, you can always make it onto other platforms, like films or games etc. It's humongous. It's a big media world. You can find something that you love to do and stick with it and excel in it. You can do a million things but you cannot do everything. The entire degree course is like an ocean and you are a drop in it. It comprises vast knowledge to take away for life. I didn't have a degree before, so now that I have a degree I can always be proud that I graduated from Middlesex University. This is huge for me. Being a small-town girl, going from nobody to somebody – it's always been a huge goal for me. I am the first artist from my hometown to get signed to huge labels like Heldeep and Toolroom Records. You have no idea what this means to me. All the girls in my town look up to me as a big inspiration. So that means a lot to me as a woman in music.
What kind of opportunities will this open up for you?
Well, I am just guessing because it's too early to say anything yet. It can open the door to another big release on the main label, which I am working on now, but unless I try, nothing will happen. Regarding gig opportunities, there are plenty right in front of my eyes. I have to pick and choose who I want to be associated with – but I am open to anything. Whether it is for a warmup act or headlining small shows, I am open to anything when it comes to gigs. I have started a producer and singer group with who I want to collaborate. During this musical journey, I have met many unique producers and artists. I see this as the most incredible opportunity for me. I will be crafting my next big track soon – most probably with some of the fantastic singers on my list. Fingers crossed.
What's next on the agenda for Trish O.?
My next big goal is to work with some proper singers in the studio to chop and clean vocals. It can be tiring but that's my next biggest challenge now. I have been promising myself firmly to do it this year. Also, one of my next goals is to finish off all of my unfinished songs. My ultimate goal is to make records that make me dance. It's my dream to play in front of thousands of people one day and start a record label. I am manifesting that today. Also, I am upping my DJ game. Since I got myself into producing, I have been missing DJing a lot. I have taken up extra DJing classes with Toolroom and bought myself a new DJ controller. The Pioneer DJ XDJ-RX3 is the bomb. I love it and can't wait to put some content out soon. Keep your eyes peeled. Trying to get some balance going on between DJing and producing.
Socials: Instagram / Twitter / Facebook / SoundCloud
Successes such as these are common among our students and alumni. We can teach you how to DJ like the best of them at any of our schools. If you'd like to learn how to produce, then we can build your skills from the ground up with our range of degree programmes. For more information, you can contact us.