After more than a year of intensive development we are very proud to announce the launch of our brand new flagship online course, the BA (Hons) Music Production & Sound Engineering degree (online). Building on the successes from our degree course in London and our online Music Production Master Diploma, the Point Blank team has worked hard to ensure our new online degree course delivers an intensive, immersive and practical education across all areas of music production and sound engineering. Taught by our award-winning instructors, this programme is quality assured by Middlesex University and you receive a Middlesex BA (Hons) degree on successful completion.

You receive a Middlesex degree on successful completion of the course. Subject to validation.
This online degree equips you with the knowledge and skills to succeed within the music industry. Covering production, remixing, sound design, studio and live sound engineering, DJing, mastering, how to manage your career (or manage others), making music for TV, film and games, Pro Tools and more, there's no better foundation for your career in music. We're taking applications now for September 2017 enrolment so take a look at the video below to get a flavour of what you can expect from our online courses and you can even try a free sample of our online degree course.
What to Expect:
Set over three years of study, our online BA (Hons) Music Production & Sound Engineering degree is formed of eighteen carefully crafted modules, taught by industry professionals with a wealth of experience using our innovative, bespoke online learning platform. As a cross-platform course using Ableton Live, Logic Pro, Native Instruments and Pro Tools and with over 200 hours of high-quality videos, 216 live group masterclasses and 72 live one to one tutorials, this truly is the most comprehensive online music production course around. Upon enrolment, students choose from a free copy of Ableton Suite or Logic Pro X, and will also receive a free 3-month subscription to Pro-Tools. This in addition to exclusive audio resources including plugins, channel strips, racks, samples, acapellas and more.
Our Instructors:
Our instructors have worked with some of the biggest names in music and are on hand to assist you throughout your studies. Mixing/Engineering instructor Anthony Chapman has worked with The Klaxons, Franz Ferdinand and Rizzle Kicks, as well as touring the world under the moniker DJ Scissorkicks, releasing over 50 records and remixes. Sound Design tutor Daniel Herbert has produced and designed sound for the BBC, C4 and CNN while also releasing music through Ouch & Tasty and working with St. Etienne. This is just a small snapshot of the industry experience our instructors bring to the table, elevating your study far beyond the bedroom and into the studio. Our Link Tutor at Middlesex University – who has assisted in the development of the course – is Marcus O'Dair, half of the Ninja Tune-signed band Grasscut.
Student Successes:
Many of our students go on to find incredible success in the music industry. Award-winning sound designer for Game Of Thrones Paula Fairfield took a number of online courses at Point Blank, whilst online alumni No Artifical Colours have releases on leading labels including Madtech and Defected and have been hailed by Pete Tong as future stars. Nathan Barato and Patrick Topping both also studied online with Point Blank, with subsequent releases on Hot Creation and Rekids amongst others. Topping's rise has been astronomical, hitting #48 on the RA top 100 DJ poll and having five #1s on Beatport, now touring all over the world.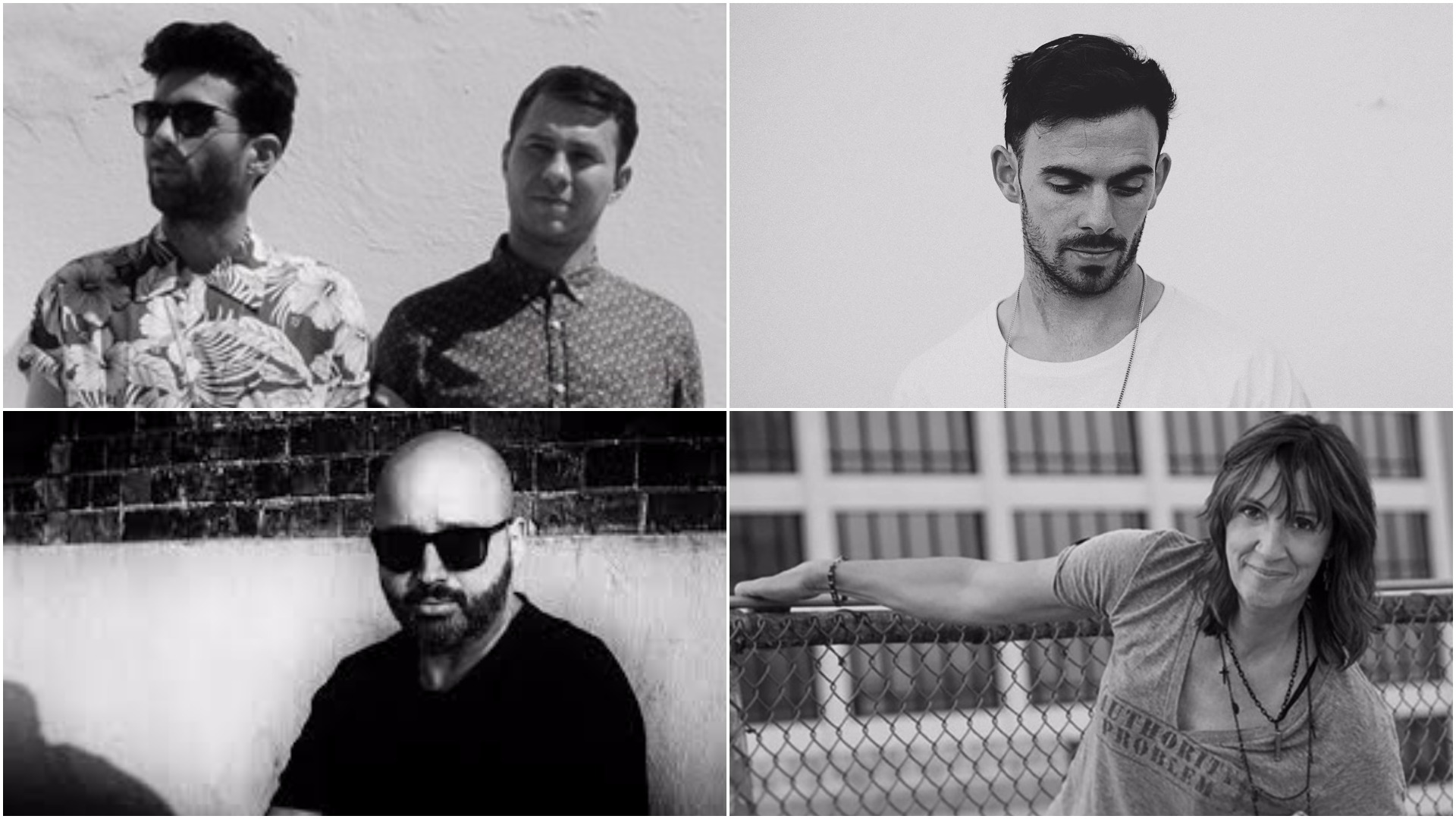 Point Blank online graduates: No Artificial Colours, Patrick Topping, Paula Fairfield & Nathan Barato.
Live 1-2-1 Tutorials and Masterclasses:
Our masterclasses enable the whole class to be online as a group with their instructor every week. Here, you're able to directly ask your instructor questions in real time and receive instant feedback, as well as benefit from your classmates' questions. Not only that, four times every module you'll have the opportunity to take part in personal live video conferencing between you and your instructor, where you can discuss assignments and much more. We call these 1-2-1 Live Tutorials, and they are recorded so you can refer back to them at any time.
Get a Taste for Our Online Degree Course with a Free Course Sample:
We have created a free online course sample for our brand new online degree course so you can get a taste of what your online experience with Point Blank is really going to be like before you enrol. Included in the free course sample is a range of modules including Composition, Production Analysis, Music Industry and much more, so you can get a sense of the depth of the course. Remember, what you don't get in our course samples is the live interaction and bespoke teaching aspect – masterclasses and 1-2-1s – tailored to you.Every aspect of the BA (Hons) Music Production & Sound Engineering degree has been developed and optimised to guarantee it meets rigorous academic standards. Regular Quality checks and reviews with Middlesex University ensure these standards are on a level with the top universities in the world. Our brand new Virtual Learning Environment (VLE) offers ease of access and support to students enabling us to give them the benefit of cutting-edge, interactive learning.
If you want to learn composing, recording, engineering and mixing techniques and get into the music industry, enrol on our online BA (Hons) Music Production & Sound Engineering degree now. With flexible learning from anywhere in the world, it is our most comprehensive programme. Take the first step by trying a free online sample course or contact our course admissions team to find out more.
Register to Access Free Courses, Plugins, Projects, Samples & More
When you register with Point Blank, you access an array of free sounds, plugins, online course samples, access to our social network Plugged In and much more. Simply register below and visit our Free Stuff page to get your hands on a range of exclusive music-making tools and tutorials provided by the team. Fill your boots!