Point Blank Music School and Resident Advisor have awarded Calm Stiege, real name Matt Warwick, a scholarship to attend an intensive year-long programme for budding electronic DJs and producers.
The second year of the scholarship was announced in October and awards one successful candidate entry to the CertHE Music Production & DJ Practice course, taught at our East London studios beginning this month. Valued at £9,000, the course covers sound design and engineering, and gives students access to production software, industry guidance and Pioneer DJ equipment.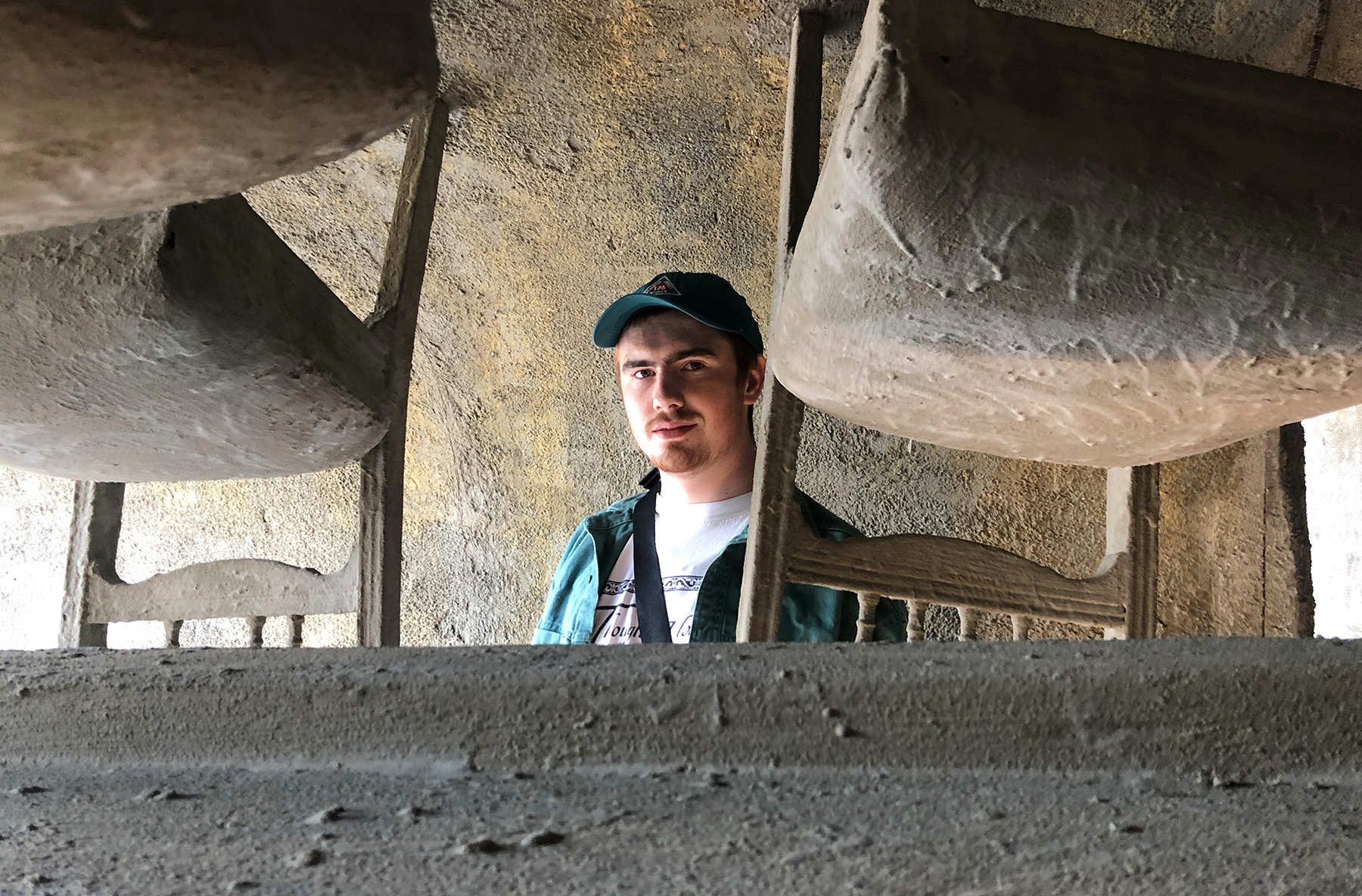 Warwick got his start DJing while at university in Hull, where he launched his own party called Takeover. He says he favours playing "grime, garage and UK funky, with the potential to add anything else in, from disco to baile to drum & bass." He's since moved to London and held support slots for Murlo, Wookie, Sox and Conducta, played for Hospitality, Shinobi and Brixton Jamm, and become a resident for Mode FM and Keakie. In the last six months, he's been teaching himself how to produce. Learn more about him in his Q&A with Resident Advisor below.
Tell us a bit about your musical background.
I don't personally have any real musical background. My mum is pretty musical and has a piano and guitars, but I never learned anything myself. I always liked music and loved discovering new artists, but growing up I never really had any urge to perform music myself. (Other than badly rapping with friends in private that is!)
How would you describe yourself as a DJ and producer right now?
I'd describe myself as a DJ. I've been DJing since I started University in Hull, when I joined their DJ society, Crystal Clear, and haven't looked back. I DJ under the alias Calm Stiege. I spent four years in Hull cutting my teeth playing at parties and Crystal Clear events. Since returning to London, I've been holding residencies at Mode FM and Keakie.
What have been the highlights for you so far in your development and career as a DJ and producer?
I think my biggest highlight has to be the first event I ran myself. In my last year at Hull I ran a night called Takeover. I was so nervous about the first event for weeks beforehand, but the turnout was amazing, and the event was a massive success. I found it so gratifying seeing some sort of tangible results of everything I'd been doing over the last few years.
Another highlight was supporting Murlo. This was the first time I'd supported a headline name, so it felt pretty special. I supported some other really good acts like Wookie, Conducta and Sox since. Any time I get those sorts of opportunities, I feel really grateful.
Also, about two months into learning to produce, I entered a remix competition to be on the remix compilation for the song "Piñata" by Zairah. My submission got chosen so it was super cool to get some affirmation that my production skills are on the right track.
What do you hope to get out of the scholarship?
The scholarship as a whole is an amazing opportunity for me to polish my skills and gain insight into the industry. I hope to come out of it with the tools to be both a successful producer and DJ. To be able to make a career out of your passion is everyone's dream, and being given this scholarship feels like a bold step towards that for me.
Are there any areas in particular that you're looking forward to focusing on?
I've only been teaching myself to produce for less than a year, and I'm quite happy with the progression I've made. So, for me, this scholarship is an amazing opportunity to really improve in production, so I can feel comfortable in making releases.
What are your aspirations in music?
I'd love to be able to create music that people want to dance to. I really like the idea that I could be at a club and suddenly hear my own song be played by a DJ. There's a lot of really good labels that I aspire to have music on, like More Time and Kiwi Rekords, to name two. Being booked to DJ across the country and even the world would be amazing. I think that my style is one that can accommodate for most people, so if I work hard and seize my opportunities, I think making some sort of career as a DJ is certainly attainable!
Socials: Facebook / Instagram / Twitter / Soundcloud
Last year's winner, Tailor Jae, has since gone on to play alongside the likes of Kurupt FM, Spooky and more. She's guested on Rinse FM as well as Keep Hush UK alongside Conducta and the Kiwi Rekords crew and most recently released a new track, 'Thief' on L U C Y's imprint, SZNS7N, which she made in collaboration with PB students Traces at our Orsman Road studios. Want to make music in Point Blank's state of the art studios? Check out our London courses.
Register to Access Free Courses, Plugins, Projects, Samples & More
When you register with Point Blank, you access an array of free sounds, plugins, online course samples, access to our social network Plugged In and much more! Simply register below and visit our Free Stuff page to get your hands on a range of exclusive music-making tools and tutorials provided by the team. Fill your boots!