There's no doubt about it, the pandemic has rocked the music industry – and our friends over at Encore have been investigating this first hand. In a recent survey of 560 musicians they found that a concerning 64% of them were considering leaving the industry. However, It's not all doom and gloom. Amidst all the turmoil, they're finding people still want to book live music for events in 2021 and 2022. In fact, a new wedding music trend is sweeping through the industry, which is great news for any DJ or electronic artist.
Dubbed "DJ Live", these acts combine the power of a DJ rig with live musicians to produce show-stopping performances – and they're selling like hotcakes!
In this article, we'll give you exclusive tips and inspiration from some of the top-performing DJ Live acts on Encore. Plus we'll explain how you too can use your DJ skills to set up your own DJ Live group and begin raking in the bookings. Finally, we'll explore why DJ live is the perfect music option for uncertain times. Jump in below.
What is DJ Live?
Mixing the power of an amplified DJ set up with the live energy of musicians, DJ Live is quickly becoming one of the most popular types of music booked for weddings and events in 2021 and beyond. Line-ups usually include a saxophonist, drummer and possibly other singers and instrumentalists. 
Encore caught up with Simon, the leader of All the Feels – one of the UK's top DJ Live acts to learn how he set up his group. His group ranges from a solo DJ to a full 7-piece band including a DJ, saxophonist, electric violinist, percussion, beatboxer/rapper and male and female vocalists.  
"Back in 2018, we noticed a trend for our DJ + saxophone combo option and just wanted to push the boundaries as far as we could by adding in as many musical elements as possible," Simon explained about the group. "I love that there are no gaps between songs. It's all live-mixed so no one has a chance to leave the dancefloor – it's hit after hit!"
How Can You Set Up Your Own DJ Live Group?
If you're a DJ, then you should be considering offering a DJ Live option in addition to your standard DJ setup. It's a great way to stand out from your competition, and appeal to younger millennial customers who are often looking for 'something different' to impress their friends at events. 
First, you'll need to consider which instrumentalists to add to your line-up. Saxophone and drummers are the most popular. All-female DJ Live group Girls That Mix show just how much energy can be produced from this 3-person line-up. 
For Simon from All the Feels, the key is choosing instrumentalists that can hold their own as soloists as well as ensemble players: 
"Choosing the right instruments was tricky. There are so many options, and I wanted instruments that gelled as a team but also could stand alone as a singular element. Basically from our line up, the more you add the better it gets. I love the addition of the beatboxer. We can drop our music out, let the beatboxer take over and then drop back in with a track and the crowd love it!"
All the Feels showing off their talented musicians – including a beatboxing solo!
Choosing the right repertoire is also important. The key to All the Feel's success is that they don't just play straightforward songs, but bring together existing pop hits into unique remixes:
 "I love taking old school classics and flipping them with a dance track – for example, I love our version of One More Time mixed with Ain't No Mountain High Enough".
How is DJ Live Adapting to COVID-19?
While the DJ Live trend has been picking up throughout 2020, the pandemic has obviously limited how many live bookings can take place. 
Any DJ Live group, therefore, needs to be ready to adapt to social distancing measures and changing government regulations. Let's hear from Simon again to see how All the Feels have changed their approach to ensure they keep winning bookings throughout lockdown. 
"Firstly, we offer smaller line ups that are more COVID-friendly. Our acoustic trios are popular for wedding breakfasts and smaller events. But we've also launched a virtual interactive DJ with live musicians that is proving popular with clients for Christmas parties"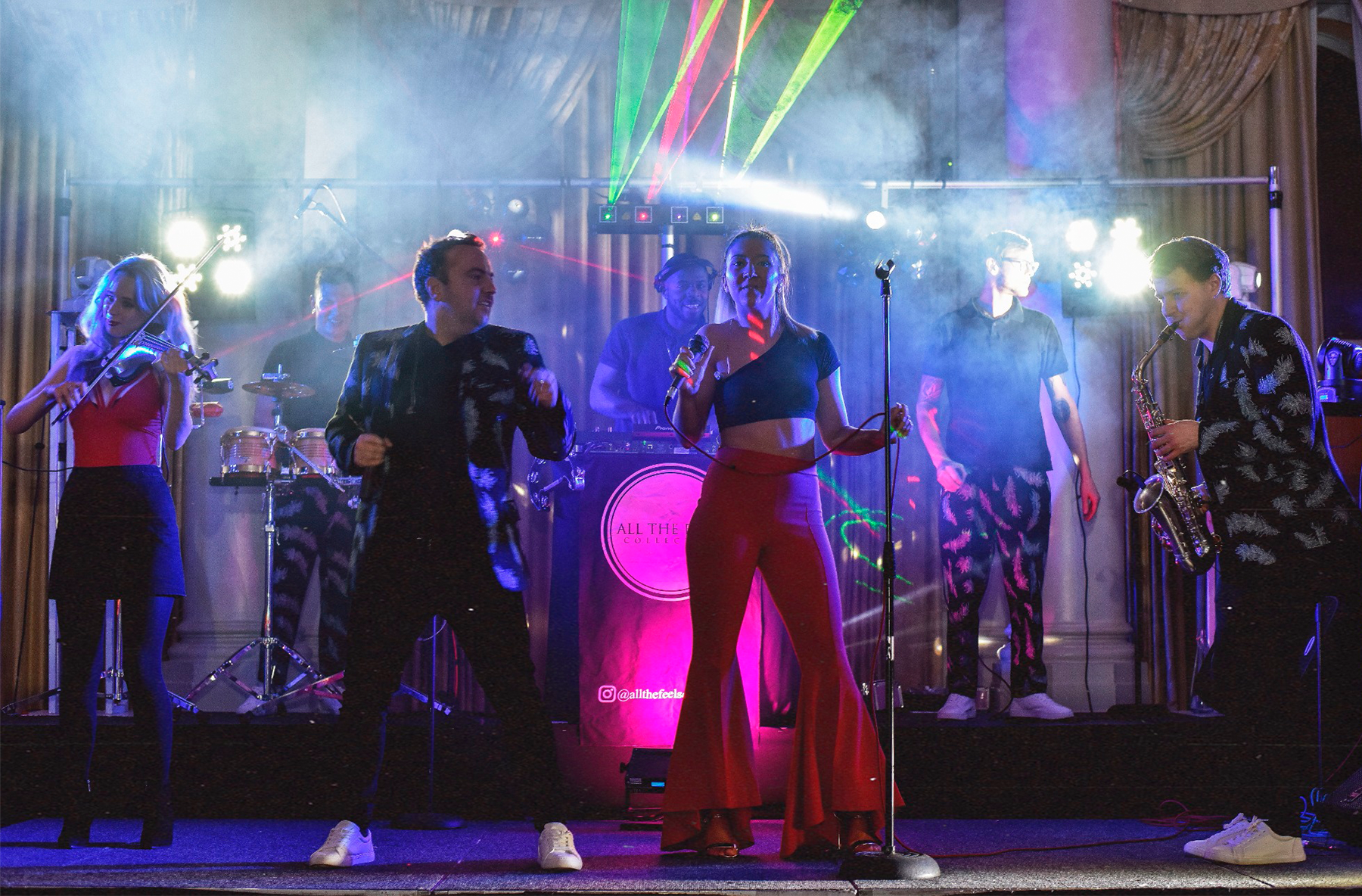 What Does the Future Hold for DJ Live?
We live in uncertain times. But one thing we can be sure about is that people in the future will still want to celebrate occasions with live music. The fact that DJ Live groups are so versatile – they can be scaled up and down in size and are easily portable – makes them the ideal live music option for the COVID and post-COVID years. 
For our DJ friend Simon, this is a reason to be confident in DJ Live being the music of the future: "I can only see DJ Live growing – especially with restrictions, venues are looking for acts to take up less space. With All The Feels, all the performers can roam, so there's no need for a bulky drum kit. 
I also think if you look at music trends, Dance music is topping the charts. We have just had MNEK & Joel Corry at number 1 for 4 weeks – this is completely our vibe and a song we love to perform!"
"Head and Heart" by MNEK & Joel Corry – a great track to remix into a DJ Live set.
That's all for now – I hope you've enjoyed learning about this new music trend and maybe even feel inspired to set up your own DJ Live group! If you're a DJ looking for event bookings, you can find DJing opportunities by signing up to Encore here or if you're looking to book a DJ Live group for your own event you can browse our selection artists here.
If you'd like to learn more about live performance, DJing, Sound Engineering and much more, be sure to check out our link of courses in London, LA and Online. We're currently offering 25% off our selected online and LA courses until 31st December using the codes ONLINE25 and LA25 when enrolling.
Register to Access Free Courses, Plugins, Projects, Samples & More
If you register with Point Blank, you can access an array of free sounds, plugins, online course samples and much more! Simply register below and visit our Free Stuff page to get your hands on a range of exclusive music-making tools and tutorials provided by the team. Fill your boots!