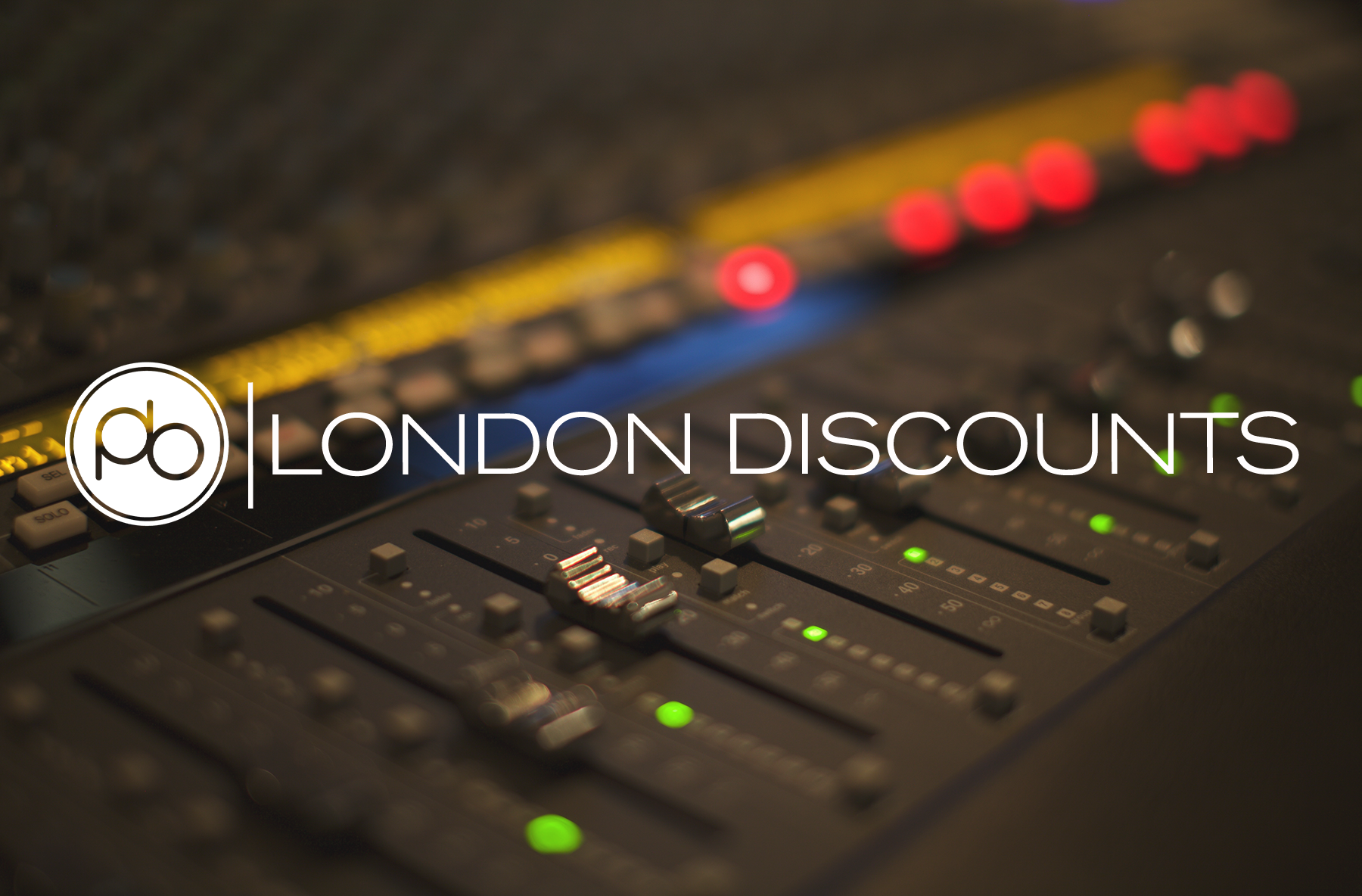 Every student loves a discount. So, with that in mind, why not check out some of the best offers available to you from our partners as soon as you become a Point Blank London student…
To take advantage of the exclusive partner discounts below email us at support@pointblankmusicschool.com or get in touch via the Contact Form.
---
50% Off Native Instruments Komplete Software
All Point Blank London students can buy Komplete 12 and Komplete 12 Ultimate at a huge 50% discount. That's a whopping saving and gives you everything you need to start making great music. Please note that discounts are not available on upgrades.
Up to 30% Off Native Instruments Hardware
All Point Blank London students can get up to 30% off the Maschine range (excluding Mikro). This is an awesome discount on what are some of the most popular hardware tools in electronic music production today.
---

Up to 50% off all versions of Ableton Live software
If you are enrolled on any courses in London that consists of 20 or more hours' tuition per week or lasts 12 months or longer, you're entitled to 50% off any version of the Ableton Live software. To get your discount email us at Support.
Special discount on Ableton Push 2
If you are enrolled on any of our music production courses at our London school, you are entitled to a special discount off Ableton's fantastic Push 2 MIDI controller for Ableton. Find out more about Ableton products on the Ableton website and to get your discount email us at Support.
---
40% off Accusonus software
Accusonus builds next generation audio repair and music creation software.  Point Blank students are entitled to an exclusive 40% discount on Accusonus software. Simply send a list of the products you'd like together with a proof that you are a student or a teacher (e.g. scanned student id, enrolment letter, etc) to support@accusonus.com.
---
Up to 30% off Aston Microphones
Designed and built in the UK, Aston Microphones bypass create innovative and beautiful products which outperform far costlier 'industry standard' offerings from the big brands. Contact gavin@kazbarsystemsinc.com with a copy of your student ID to take advantage.

---
30% discount on AIAIAI Headphones
AIAIAI boast a world-renowned network of producers and DJs as part of their unique and highly collaborative development process. AIAIAI headphones are used by the likes of Richie Hawtin, Bonobo, Martyn, Kode9, Eclair Fifi, Kaytranada, Ta-Ku, Peanut Butter Wolf and many more. Get in touch with Support to claim your discount.
---
40% off Microphones at Sontronics
Desperately in need of a new microphone but worried about the price? Well don't fear! Our friends and official education partner Sontronics are offering all Point Blank students a mighty 40% off the RRP on their microphones, so head to their education page for more details.
---
Up to 70% off Eventide plugins
Our friends over at Eventide have given students at Point Blank the opportunity to take advantage of a massive 70% off Eventide plugins, including the excellent Ultratap Delay and Black Hold Reverb, as well as their incredible Anthology XI collection. Get in touch with Support to claim your discount.
---
30% off all UVI music software
UVI is an excellent developer of software instruments, effects and soundware, with their software used around the world at live shows, on hit-records, in blockbuster films and AAA games. We are proud to offer our London students 30% off their entire range of software products. Click here for information on how to claim your discount.
---
50% off all Izotope software
The iZotope product line focuses on Music Production, with solutions for mixing, mastering, and creative effects, and Audio Post Production, with tools that enhance audio for film, broadcast, video, and new media. Point Blank students are able to save 50% on iZotope software via this link. There is additionally a free version of mastering software Ozone, which can be downloaded here.
---
Up to 50% off at DV247
We're pleased to say that, as part of a partnership with online music retailers, DV247, Point Blank London students may get up to 50% off selected products. For more details, contact support for more information.
---
10% off acoustic room treatment with GIK Acoustics
GIK Acoustics provides the largest selection of high quality, patented, eco-friendly products at affordable prices, and provides its clients with professional acoustic treatment design assistance and friendly support staff to help achieve the best acoustically sounding space possible. Point Blank students are able to receive a 10% discount on their products – simply get in touch with their team with your certificate of enrolment in order to qualify for your discount.
---
50% off Synchroarts plugins
Synchro Arts are the people behind Revoice Pro and VocALign. Their plugins include double tracking, vocal tuning and time correction, and are used by award-winning music production and audio post professionals to create the vocals heard on top albums and the dialogue on hit movies and TV shows. Students are eligible for a 50% discount on their industry-leading products. To take advantage of this offer, head over to their site.
---
Apple Student Discount
Point Blank are an approved Apple Training Centre, therefore students are eligible for a standard education discount. HE students and students with an NUS card may be eligible for larger discounts. To find out more about Apple Education discounts, come into our London office and speak to our Student Support team.
Free Logic 101 Qualification
As an Apple Authorised Training Centre, Point Blank gives you access to the Logic 101 Qualification for free. Once you pass you'll be become an Apple Certified Pro. If you're interested in the qualification please get in touch.
---

Novation & Focusrite & KRK – 10% off
Our good friends at Novation and Focusrite have offered up a great discount for our students. Their range of products includes the excellent Dicer DJ controller, the Launchpad controller and much more.  Once you're signed up for a course, just head here to fill in your details and you can get 10% off all current prices on selected Novation and Focusrite products – it's that simple!
---
Pioneer via West End DJ – 5% off Pioneer DJ Equipment
If you fancy treating yourself to the best DJ gear on the market, then head over to West End DJ and claim your 5% off Pioneer equipment. West End DJ is one the very best DJ stores in the heart of London's West End, providing a wide range of gear and equipment from various manufacturers – and, of course, Pioneer are market leaders – famed for their CDJs and excellent mixers!
---
ACS – 20% Discount for Point Blank Students
If you're a DJ, producer or just a frequent gig goer protecting your hearing is extremely important. Our friends over at Advanced Communication Solutions are offering a fantastic 20% discount for all Point Blank students. So if you're after some custom-made hearing protection get in touch with support to claim your discount.
---
NUS Extra
From festival tickets to money off electronic products, there are an array of discounts available with a valid NUS Extra card. Check out their available discounts to see what NUS has to offer, including discounts on festival tickets. Please note that NUS cards are open available only to students studying a higher education programme. Contact the Support team for further information on how to apply.
---
50% Off Mixed In Key and Captain Plugins
All Point Blank students are able to get a 50% discount on Mixed in Key software and Captain Plugins (VST/AU). Mixed In Key has enabled DJs to use the concept of harmonic mixing, gaining worldwide acclaim and testimonials from David Guetta, Diplo, Kaskade, Pete Tong and many more. Captain Plugins is an award-winning suite of VST plugins for chord composition, melody and bassline writing. Contact our student support team with your study credentials for access to a discount code.
---
15% Discount at Shure
All Point Blank London students are entitled to 15% discount off a large range of Shure products. Shure are manufacturers of the finest in microphones, headphones and various other audio equipment and we couldn't be happier to be teaming up with such a cool company! All you need to do is send an email to marketing@shuredistribution.co.uk with your course confirmation and the products you wish to purchase to claim your discount.
---

Up to 35% Discount on Bundles and Upgrades at Waves
All Point Blank students are entitled to 25% off all bundles and upgrades and 35% off selected bundles. Just make sure to remember that, when placing your order via Waves, you need to attach proof that you're a Point Blank student to claim your discounts. This is very important, as you need to be able to show them that you are indeed studying with us!
---
Up to 100% off your music videos with Rotor
Rotor utilises unique video creation software, allowing artists to upload a track, choose between a number of editing tools and styles and have a music video generated instantly. We're offering 35% off all videos for all Point Blank students and, for degree students 100% off the first 3 videos. Get in touch with support to claim your discount.
---

Free Loopmasters Content plus 20% off first purchase
This carefully curated sound pack incorporates cutting-edge elements from the most up to the minute sounds in underground music, which you will be able to use throughout your studies. 500 free Loopcloud shop points are included with registration. Loopmasters are also offering an incredible discount of 20% on the first purchase of any Loopmasters product for Point Blank students. Get in touch with support to claim your discount.
---

Up to 50% off Selected Plugins with Plugin Boutique
We have also teamed up with Loopmasters sister site Plugin Boutique to offer students 30% on Fxpansion plugins: DCAM Dynamics, DCAM Synth Squad and Maul. Buy all three together and get a whopping 50% off! Also, 50% off Sonnox, D16 Group, 40% off Izotope and 20% off Arturia. Get 20% off all of their products.
---

30% off Output products for Point Blank Students
Output are the creator of some ground breaking plugins and instrument libraries including REV, Signal and EXHALE, opening up a world of sound design which has consistently been hailed as "inspiring" and "creative" for producers, composers and musicians. Head here for details of accessing a 30% discount and get in touch with support to get proof of your student status.
---
Join Musicians' Union for just £20
Current London full-time students can join Musicians' Union for the reduced rate of £20 a year (you must have started your course to qualify for the discount). Benefits include free insurance cover of up to £2000 on musical instruments and on laptops, microphones and kit used to make music (phones and iPhones not included). To find out more, just click here. Please note, insurance cover is not automatic.
---
30% off travel with TfL
Students can receive 30% off adult-rate Travelcards and Bus & Tram season tickets. Students must be living in a London Borough, be enrolled on a 14-week course that runs Mon-Fri. All the T's & C's are here. Students must register online at www.tfl.gov.uk/photocard and they will be asked to:
– Upload a picture
– Pay the fee
– Enter their unique code (they receive this by emailing support)
After doing this we have to approve their application. After approval TFL will send them their card.
---
15% Off All ROLI Products
You can get an exclusive discount on ROLI's revolutionary products – all you have to do is go to ROLI's Education Page and get in touch with their Education Team to activate the discount.
---
10% discount on records at Love Vinyl
Just around the corner from our studios in Hoxton is Love Vinyl, a proper old-school record shop with a renowned collection across loads of styles: rare groove and disco, hip hop and electro, house, techno, jungle and loads more. Just pop in with proof you're a student with us and enjoy 10% off.
---
33% off Mastering Session (£40 p/track)
Full explanation/tutorial given to students who attend the session at NO extra cost. Master your tracks on a full analogue set up (or digital only if the material requires it). Credits include: Dark Sky, Azari & III, Gold Panda, Slash/Fergie, Filthy Dukes, Imogen Heap, Klaxons, Crystal Castles, XL Records, Ninja Tune, Merok, Church Records, Monkeytown. Get in touch with milan@masterworksaudio.co.uk with confirmation of your being a Point Blank student for more info.