Florentia is a London-based DJ who specialises in house, tech house, minimal and more. Determined and talented, the young artist recently joined the Defected Records team, following an internship, and last year was crowned the winner of the elrow Up & Coming Talent competition. Follow on below to hear more about how she secured the win and what's next for the young DJ and producer.
If you're interested in learning the ins and outs of music production, DJing, singing and songwriting, music business, radio broadcasting and more, be sure to check out our Point Blank Professional courses in London, LA and Online.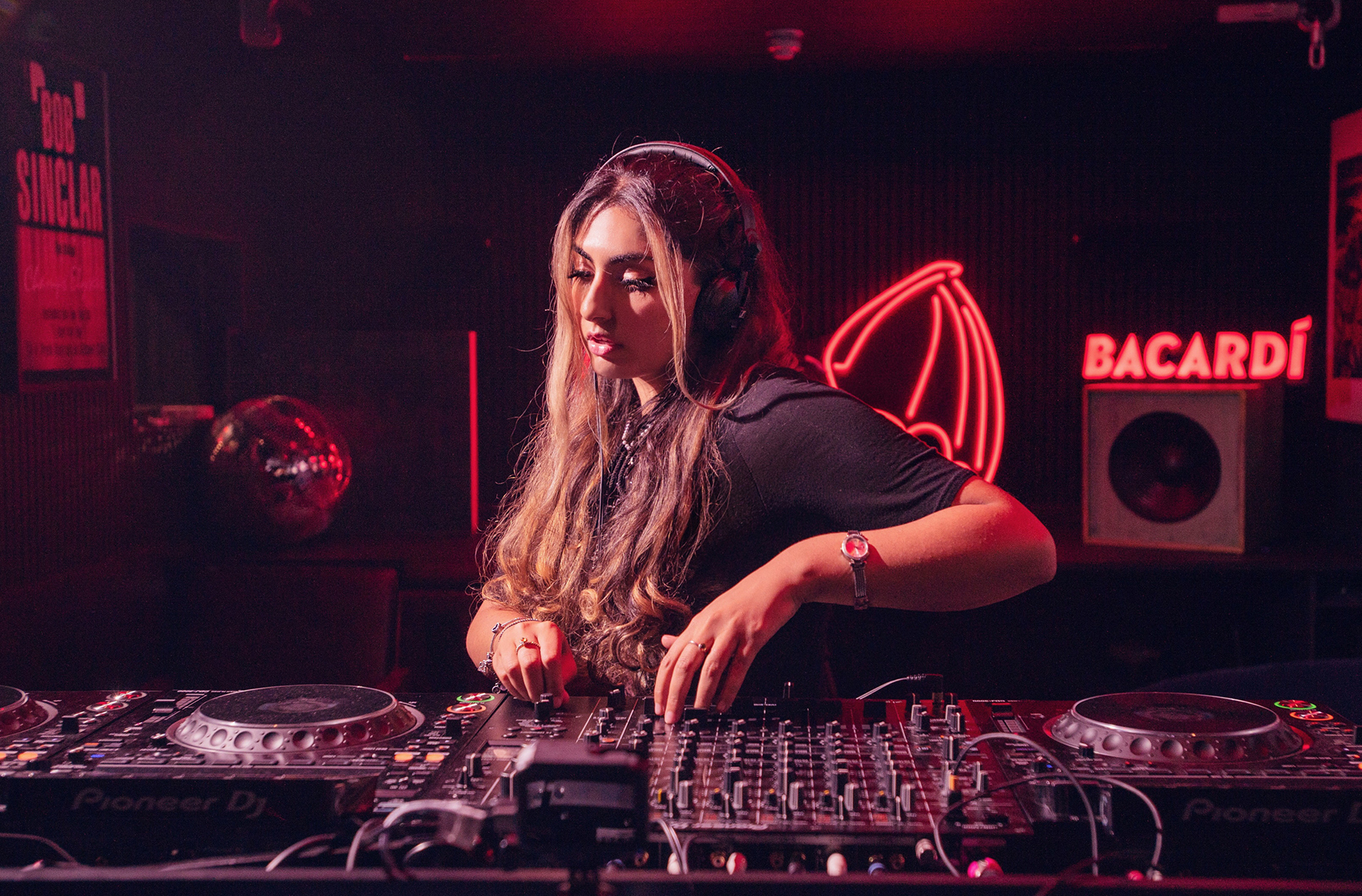 Hey Florentia – how's it going?
Hey guys, I'm all good thanks! Excited now it's the New Year, as it's a great time to really set all the goals and visions for the year ahead! Been pretty hectic the past few months, so it was nice to have a few days to rest over the Christmas break.
First off – congratulations on winning the elrow Up & Coming Talent competition. That's amazing. How's life been since being crowned the winner?
Thank you so much! It honestly doesn't feel real yet and it's been really overwhelming; I am so grateful every day for this life-changing opportunity! I found out on my birthday in November that I won the competition and since then life has been mad. I had one week after finding out to prepare everything before being flown out to Barcelona to play on The Terrace at elrow's Barcelona reopening, alongside Franky Rizardo, Basement Jaxx, Ida Engberg, Manda Moor, AJ Christou and Tini Gessler – it was the most insane day, as Row14 had been closed for nearly 2 years! Life really has taken a 180 turn and the opportunities off the back of being announced as the winner have been crazy. That being said, of course, it has had a massive change on my lifestyle and I've had to adapt very quickly.
View this post on Instagram
For those who haven't been following the competition, could you tell us exactly what you've won?
I am now an official elrow Resident alongside De La Swing, George Privatti, Tini Gessler, Eddy M, Amedeo Picone, Andres Campo, Viviana Casanova and Toni Varga, and will be touring with them and the rest of the elrow family around the world playing at elrow's events. This includes places like Miami, New York, ADE Amsterdam, Fabrik in Madrid, Holland, France, Bulgaria, Spain, my hometown London and the one and only Ibiza in renowned clubs like Amnesia and Ushuaïa. I still can't get my head around it when seeing the list. Alongside this, I get to release my music on their label elrow music, have access to their promo pool, Beatport support, content creation at Apple and receive guidance and advice from industry relations, agents, promoters and more.
Can you tell us a bit more about the competition process and putting your winning entry together?
So, the competition launched at the start of 2021 and went on till the end of the year. The aim of the competition was to "push, discover and promote the new headliners of tomorrow and to co-create world up & coming talent and help them build their careers in order to obtain independent success in the dance music industry."
It was a long process with many stages, to show our artistry, production and DJing skills. Around 3,700 artists entered globally and in the first phase, only 150 got picked. During the year, we had to send in mixes to show as much skill and creativity as possible as well as live videos, original production demos and a video deconstruction tutorial of our tracks. Over time, the 150 went down to 75, then 25 and then 10. The final top 10 had to do a live stream which was broadcasted across all of elrow's social media. The public then had to pick their favourite alongside the judges. The judges varied from elrow's founders and directors, DJ mag journalists, DJ's such as Jaguar from BBC Radio 1, ADE and IMS directors and loads more. Throughout the whole competition, I stayed true to myself, my sound, the artist that I am and the music I like to play out and produce.
Is there an upcoming event with elrow that you're excited most about?
The Ibiza residencies that elrow hold in Amnesia and Ushuaïa are up there with the most I am excited about. I think every up & coming DJ in dance music has a goal to make a debut on the white isle, but then also to do it in the most famous clubs in the world… it just doesn't seem real. It takes years for artists to be able to get these types of bookings in clubs of this calibre, and I did not think I would be playing in them this soon. I am so ready and it just feels like all the visions in my head are literally manifesting right in front of me. The elrow events and festivals in London will be special ones… I live in London and over the years have danced at and attended these events with my friends. So now being able to be on the stages that I used to stand in the crowds of and have all my friends and family around me, will be so special and memorable – I can't wait for these moments. Miami and New York will also be wild ones! I haven't visited America yet, so debuting there will be insane. I will definitely have to extend the stay and enjoy the states whilst I'm over there!
View this post on Instagram
How has studying with Point Blank benefited your career?
I studied the Music Production and Sound Engineering 3-year degree at Point Blank during 2017- 2020. The music business and entrepreneur modules really helped me understand the type of marketing and content I need to do now to really excel at all these opportunities coming forward. All the tips and tricks taught by my tutors to push and promote myself as a brand and artist with this platform, and all things to look out for when working and connecting with industry heads. I literally have a checklist/timeline ready to put into action.
Of course, Point Blank also helped me get my current job at Defected Records last year– if you'd like to read about that and my journey with Defected x Point Blank, you can here.
What advice would you give a Point Blank student looking to secure incredible opportunities much like this one?
If you see an opportunity… go for it! Don't hold back. You'll only regret not putting yourself forward; only good can come from it, whether that's winning, learning, networking, building resilience or discovering something new. When I first saw this competition launch, I knew there would be thousands who would enter and that it would be difficult to get through due to how big this was going to be. My best mate sent me the competition again a few days later, so I just went for it. I had nothing to lose, I told myself that I had a good chance just like everybody else and really believed in myself. Never think "it won't be me", as it certainly can. Don't put blocks up before you've even started. To be able to find opportunities like this, you need to immerse yourself in the world you want to be a part of. With how the world is today, we're constantly on our phones and on social media, so make your social media a place for you to be involved in the industry by following artists and DJs, brands, magazines and blogs – so when opportunities do arise, you can put yourself forward straight away. You'll miss opportunities if you're not in touch. And most importantly, stay true to yourself and the type of artist you want to be when applying. Don't change to fit in or copy – your biggest advantage is there is only one of you.
What new opportunities has winning the competition opened up for you?
This whole opportunity I feel has really been a breakthrough for me in the industry and set me on the path to my dream career. The exposure from winning this competition has been incredible and playing at these venues around the world will open all the doors I wanted to get through. Having this platform now and playing at these events, I can test out new music and productions to thousands of people, which will hopefully open doors for me to release on my dream record labels and work with artists and brands I look up to. The most obvious one is networking – being able to be in the same room and on the same line-ups as my influences has and will help grow my relationships. Building substantial genuine relationships is what gets you longevity in the industry, as well as how good your craft is (of course). Since winning, I've also had huge artists in the scene message me on social media asking if they can send me music… it literally made me laugh out loud and really deep the bigger picture with this platform. There is still a long way to go for sure and I have a lot of goals that need chasing, but it's now up to me to seize every opportunity and to make the most out of this breakthrough. As elrow says, "it really is just the beginning".
Socials: Instagram / Facebook / Twitter / SoundCloud / RA
Successes such as these are common among our students and alumni. We can teach you how to DJ like the best of them at any of our schools. If you'd like to learn how to produce, then we can build your skills from the ground up with our range of degree programmes. For more information, you can contact us here.
Register to Access Free Courses, Plugins, Projects, Samples & More
When you register with Point Blank, you access an array of free sounds, plugins, online course samples and much more! Simply register below and visit our Free Stuff page to get your hands on a range of exclusive music-making tools and tutorials provided by the team. Fill your boots!