One of the things that sets Point Blank apart is the quality of our expert instructors. Our team in Los Angeles is no exception. Each of our instructors is selected for their combination of talent, music industry experience and tangible success – which they pass on to you in the classroom. Joe Caputo aka Computo, a Hollywood-based producer and sound designer with a serious addiction to modular synthesis has been teaching the Sound Design module of our Complete Music Production & Sound Design course at PBLA for over 2 years now. Having worked for 6 years at Native Instruments, he trained artists like Zedd, Flying Lotus and A-Trak in the specifics of Maschine and Komplete. Now Computo is focused on modular synth composition and sound design, co-founding the CNTRPNT modular workshop series, as well as being involved in the Voltage Control Lab, a platform that he's created for both new and experienced modular synth enthusiasts to learn about their instruments and take control of their sound.
Computo is one of our expert instructors at Point Blank Los Angeles, and he's worked with Flying Lotus, A-Trak and Zedd
Joe recently worked on the score for the film Operator, directed by Logan Kibens and scored by Sage Lewis. We caught up with Joe to get the low-down on what it was like working on the film:
What was it like working with Sage Lewis? How did you find your skills complimented his?
Sage is a very talented composer. A close friend connected us, knowing that Sage was looking for someone who could recreate and reimagine certain sounds (that he had created in Ableton) in an analogue instrument. The process was quite enjoyable, Sage and I had an instant rapport and working together was easy. (It is not always easy, every gig is different!) He knew what he wanted from the recording sessions, but was always looking for input and creative expression. 
How did you find the experience with film scoring as opposed to your own productions?
There is something liberating about contributing to a project that is larger than oneself. It can also be frustrating and nerve-racking. It is gratifying to be able to focus energy towards what you do best. But you have the added pressure of knowing that other people are depending on you, which we solo artists so handily avoid most of the time. This type of work also has many more demands than composing your own music. The composer may not be happy with a take that you are happy with. The director may not be happy with something the composer did. So you have to be ready to make revisions, and humble enough to accept criticism when it comes up. Fortunately, this gig went extremely smoothly!
Sage compares you to the main character in the film, did you identify with him in any way?
I'm a huge fan of Martin Starr, (if you like Silicon Valley, you have to see Party Down) so connecting with the character was easy. When I think about it, there are some parallels… I started playing classical instruments, shifting more and more towards the modern, synthetic side of things over the course of the last 20 years. Maybe that's not so unique, but at least I've had a slower downward trajectory towards techno-mania than Joe in the film… Maybe.
Can we hear your work in other films/TV shows? If so which?
A few years ago, I created a Moombahton remix of "Fire" by Yael Meyer, an incredible Chilean singer. The track was placed in the earthquake disaster film "Aftershock" from Nicolas Lopez and Eli Roth. 
What other projects are you working on at the moment that you can tell us about?
I'm constantly creating content for my online modular synthesis resource, Voltage Control Lab. That is taking up quite a bit of my time, though I'm working on a modular synth album and working on a few secret projects, as well…
What piqued your interest in Modular Synthesis?
I started learning synthesis in 2001 in a virtual modular environment, the Nord Modular. I quickly became obsessed with Max, and programming audio and video applications. When I started experimenting with Eurorack and hardware modular synthesis, it felt like the full realisation of all these techniques and concepts that I had been exploring in the virtual world. With the Eurorack format growing in popularity, it is an extremely exciting (if tiny) sector of the music industry.
If you want to come to our school in Los Angeles and learn from Computo and our team of expert instructors in Los Angeles, check out our full range of courses in LA. Each production station at PBLA is fully equipped with Native Instruments' Komplete Kontrol S-Series keyboard, Ableton Push, AIAIAI TMA-2 Studio headphones and more, meaning you're learning on the most up to date equipment.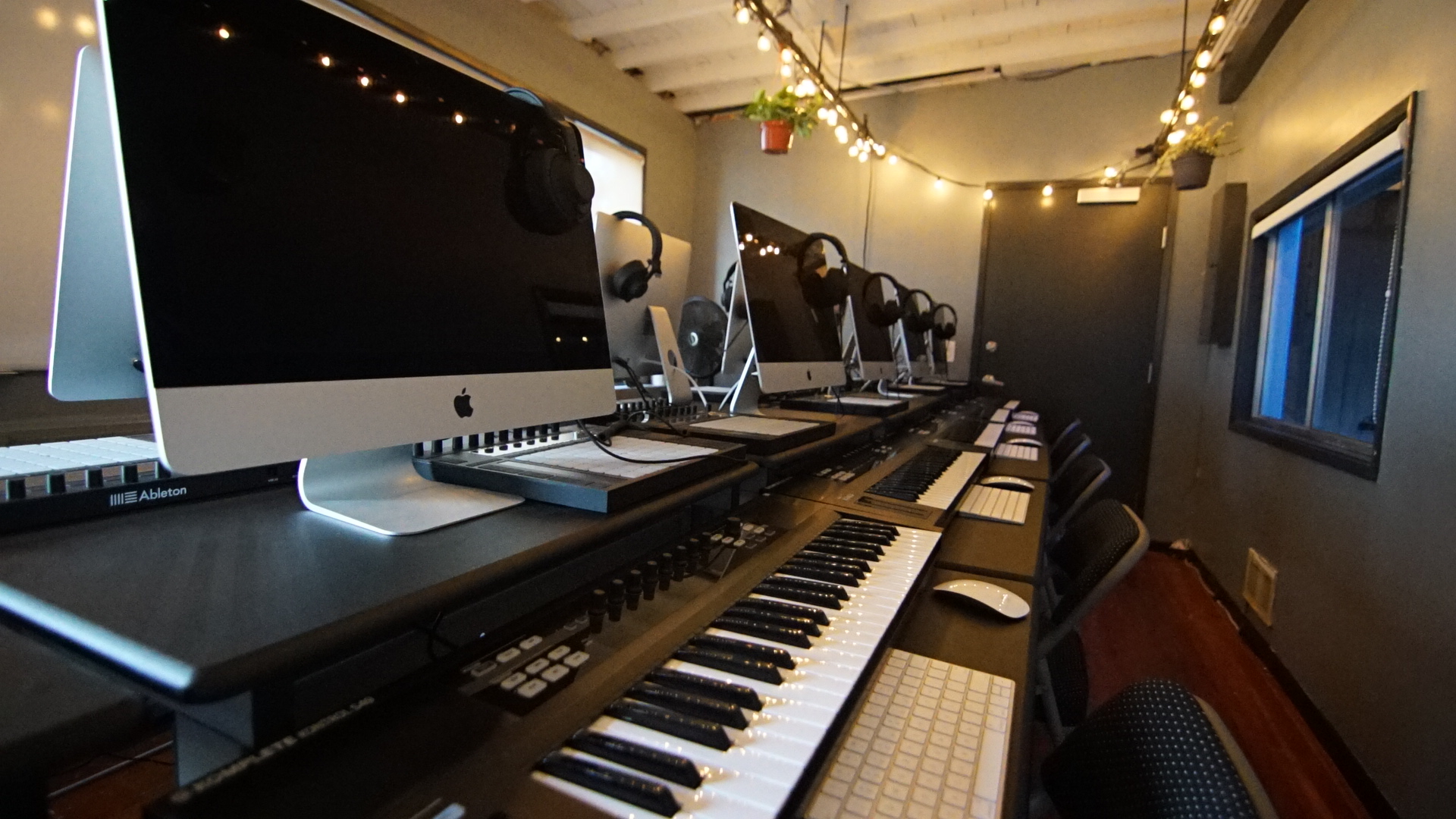 Every production station at PBLA comes with NI's Komplete Kontrol S-Series keyboard, Ableton Push, AIAIAI TMA-2 Studio headphones and more
Register to Access Free Courses, Plugins, Projects, Samples & More
When you register with Point Blank, you access an array of free sounds, plugins, online course samples, access to our social network Plugged In and much more! Simply register below and visit our Free Stuff page to get your hands on a range of exclusive music-making tools and tutorials provided by the team. Fill your boots!