When it comes to DJing, the best way to gain confidence and take your skills forward is to record your mixes, get to know your style, refine those mixes and get them out there! As per usual, Point Blank students are given a leg-up to do exactly that. Our longest running guest radio slot is with Pioneer DJ Radio, home to artists like Slam, Sante and Eats Everything. If you think your mixes belong alongside that illustrious company, don't hesitate to send your mixes to oliver@pointblankmusicschool.com.
Aldanya is a techno DJ hailing from Switzerland. Her pan-European heritage has instilled her with a wide range of references, and her basis in classical piano means her musical foundation is rock-solid. Her sets are bedded in groove, driven by basslines and melodic flourishes, while a connection with the audience is key. For this mix, she flies through an hour of deep, moody techno, showing off a knack for dropping in vocal tracks at key moments for maximum impact.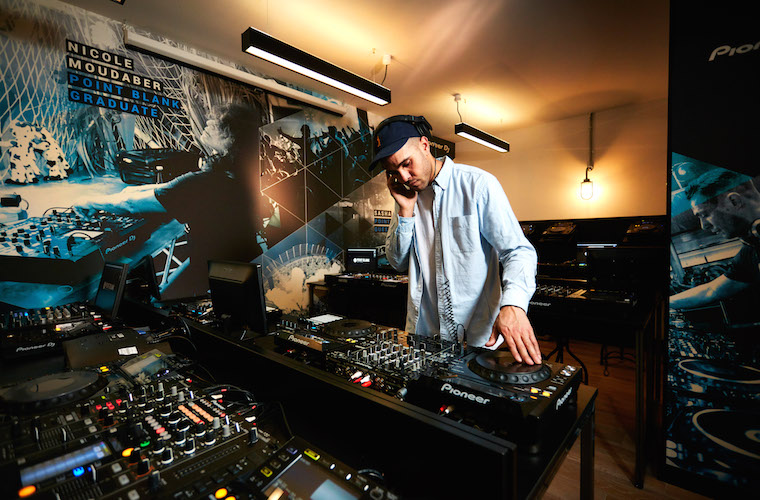 Point Blank's state-of-the-art DJ Studio in London. Supported by Pioneer DJ, it features all of the latest top-of-the-range kit – including CDJ2000nxs, DJM2000nxs and the DDJ-SX controller
Want your mixes heard by the world? Or are you a beginner wanting to learn? Our DJ courses can help you either way. Or if making tracks and live performance is your thing, have a look at our BA (Hons) Music Production & Sound Engineering Degree, which includes comprehensive instruction in both. If you want to see the state-of-the-art facilities yourself, book a tour by contacting a course advisor or give us a call on +44 207 729 4884. And don't forget to send your mixes to Ollie at Point Blank if you're studying with us and want your DJ mix played on Point Blank's slot on Pioneer DJ Radio.
Register to Access Free Courses, Plugins, Projects, Samples & More
When you register with Point Blank, you access an array of free sounds, plugins, online course samples, access to our social network Plugged In and much more! Simply register below and visit our Free Stuff page to get your hands on a range of exclusive music-making tools and tutorials provided by the team. Fill your boots!