At Point Blank, you can expect to be taught by some of the best in the business. Each of our instructors is selected for their combination of talent, music industry experience, and tangible success – which they pass on to you in the classroom. Each is a true professional in their field and our team in Los Angeles is no exception. For this Instructor Spotlight, we will be interviewing renowned guitarist and key Point Blank Music Business instructor, Marko DeSantis.
If you'd like to study Music Business with Marko DeSantis or any other amazing courses at PBLA sign up here. Additionally, if you're not in LA, you can always study a degree course with us in London and Online.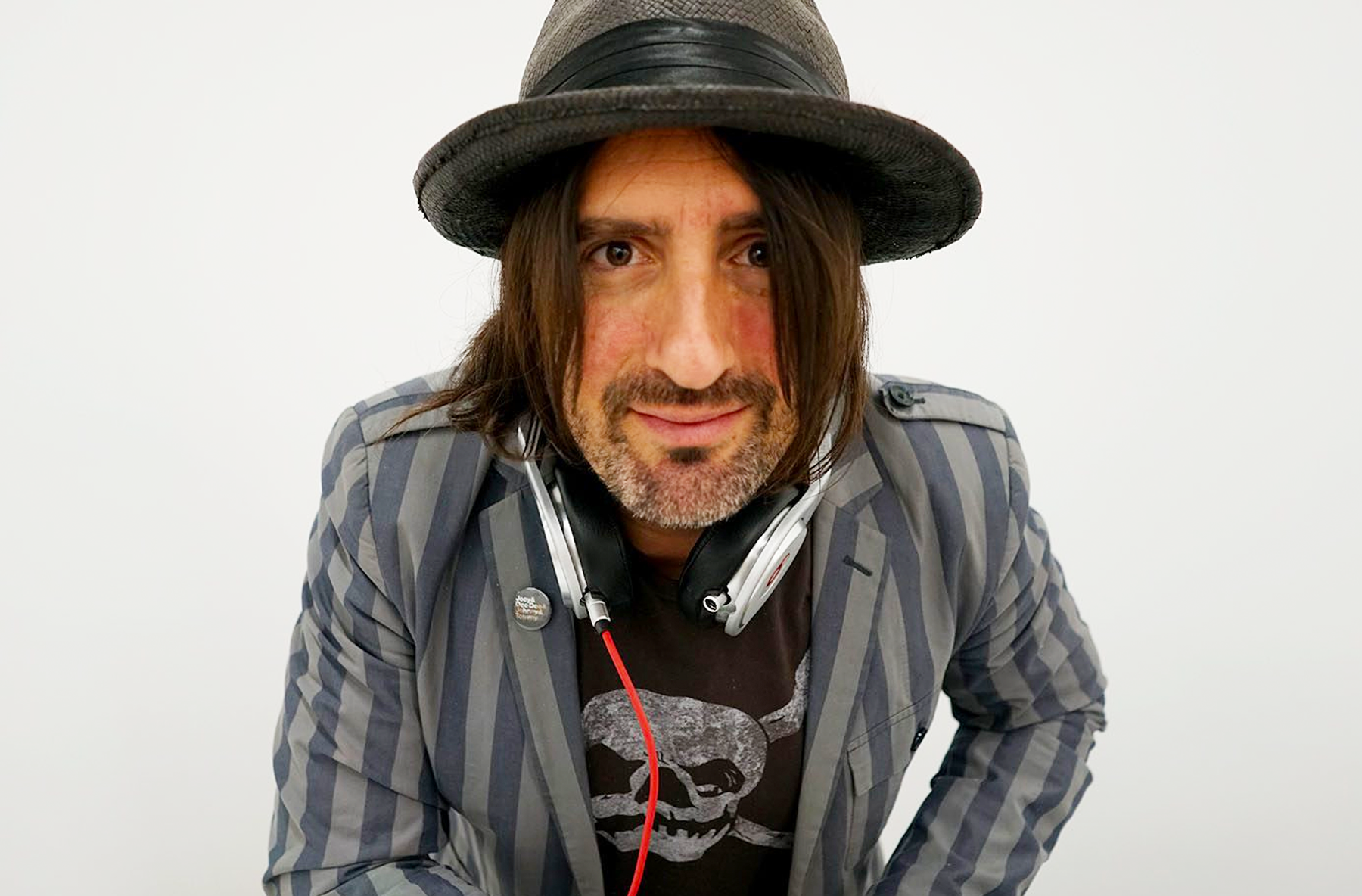 Marko DeSantis is a  songwriter and mastermind musician, best known as the lead guitarist for modern rock band Sugarcult. Marko has enjoyed a multifaceted career in the industry, reaching great heights. During his time with Sugarcult, Marko received an  RIAA-certified Gold® Record for their debut album  Start Static,  headlined tours and notable festivals across the globe, and  performed  as the opening act on Green Day's "American Idiot" world tour as well as Blink-182's farewell tour across Europe. Marko has also achieved  incredible independent successes. He's produced radio shows, podcasts, run two independent labels, promoted concert events, and worked as a DJ in Mexico, Japan, Russia, Australia and across America.  Marko also produces music, composes for film and TV, writes for various outlets and publications, and  offers artist development coaching. 
What first piqued your interest in making music? When did you know it was the career path you wanted to take? 
I became obsessed with music as a kid. Other kids looked up to sports icons or comic book superheroes or whatever. My friends and I felt that way about rockstars. I use the term "rockstar" half-jokingly because ANYONE playing music who wasn't a child seemed like a rockstar to me as a kid. The true "rockstars" to me were when I started finding these smaller homemade scenes and local artists I could access more immediately, observe up-close and eventually participate in myself! These would be subcultures like punk, indie, raves, skateboarding, graffiti, DIY shows in backyards and driveways, etc. Things that felt like they lived outside the norm, belonged to us, and were meant to be kept a secret. 
I don't think there was ever a time when I felt like it was a 'career path' or conscious decision to become a professional. Success came more as the byproduct of making music as a labor of love, worthwhile in and of itself, then gradually doing it more efficiently, getting better over time and attracting more attention first from other fans, then from the industry. It's a pretty organic process. 
What artists and/or genres have influenced your sound and musicality the most? 
As a musician, I've always gravitated towards rock-based music (punk, power pop, hard rock, indie/alternative), largely due to my early influences and the local music scene I came up in. I am fascinated with all kinds of music and culture; hip-hop, EDM, reggae, soul, pop, experimental, funk, trap, psych, Americana, Afrobeat, jazz, etc. I started DJing after-hours parties and dance clubs during my touring years as an outlet to express and explore my passion for eclectic and diverse musical styles that didn't necessarily fit the vibe of my band's sound. I've always considered myself a fan first and a musician/songwriter eventually.
You're perhaps most well-known as lead guitarist and co-founder of the rock 'n roll band Sugarcult. How did Sugarcult come to be? 
Back in 1999, the other guys and I collided with each other within the small but vibrant local music scene in our hometown. After meeting at a show (by the band Superdrag), I hit it off with Sugarcult's lead singer and asked him to keep me in mind if his bassist didn't work out. He called me one day and asked if I would want to try playing lead guitar. I lied and said I could handle it, but I had zero experience on guitar other than when I was a kid and using it as a songwriting tool. The other guys they had tried on guitar tended to overplay and be anxious to solo, which was entirely inappropriate for the band's types of songs. So, my limitations as a player worked in my favor; I couldn't 'shred' if I tried! I joined these guys with little to no expectations that it would amount to anything other than just something to do since I was bored with where I was at the time. We vibed off each other, conjured up this crazy discipline and internal work ethic, created some opportunities for ourselves, sketched out an action plan, and within two years had management and a record deal.
Sugarcult released several studio albums, most notably the RIAA-certified Gold® Record debut Start Static. What do you think led to that album's amazing success? How did it feel for your debut to achieve such a massive accomplishment? 
Start Static was our handshake with the world. Within three nonstop years of relentlessly touring and promoting it, we came out the other end as a band with a worldwide following and hundreds of thousands of records sold. 
Start Static came out in 2001, the same year as the first iPod and the first free-through-a band's-website record (Wilco "Yankee Hotel Foxtrot"), etc. So, it's an interesting case study of how music culture has unfolded over the first 20 years of this century. Our song "Memory" off our second record (2004's Palm Trees & Powerlines) is probably our most popular song, followed closely by Start Static's "Bouncing Off the Walls." Technically neither of those songs charted higher on radio plays than Start Static's "Pretty Girl (The Way)," which is definitely not as popular. All of this helps explain how fragmented the music experience has become this century versus the last century's monoculture. Songs that got shared, playlisted, and played on TV, cult movies ("Bouncing Off the Walls" was popularized by being in the National Lampoon movie Van Wilder), and YouTube can become MORE relevant and successful than the ones played on the radio.  
With Sugarcult, you headlined your own international tours and performed on the main stages at festivals like Glastonbury, Reading/Leeds, Summersonic, Warped Tour, and more. What is it like to be such a successful touring artist? What are your favorite or most memorable live performances?  
Playing music live is a fairly straightforward routine: you rehearse your set in advance, load your gear into a vehicle, transport it to a venue, set it up, plugin, and do what you prepared for. The only difference is, you (hopefully) have some people watching you play, and it's not an option to start over if you mess up or something goes wrong! Also, you tend to feed off the crowd's energy, so even though the stakes are higher at a big festival, in some respects, those shows are easier to play than small shows because the crowds are so enormous. Add that to the thrill of performing your songs in foreign countries to people who may not even speak the same language, and it becomes a testament to the power of music to bring people together! We played giant shows in Japan, UK, Europe, Australia, North America, etc. It's emotional, cathartic, meaningful, important, and so fun!
In addition to the above-mentioned tours, Sugarcult was the main support act on Green Day's "American Idiot" USA/Japan tours and Blink-182's farewell European tour. What can you tell us about your experience on such legendary tours? 
With those bands, in particular, I can say that it was humbling, grounding, inspiring, and educational on so many levels. Those bands began with less than zero prospects of ever achieving stardom; they were punk bands in the early 90s. They both defied the odds and became massive stars. So here's our band, initially inspired by these cultural game-changers and then having them offer us to be their opening act on their respective arena tours! It was an incredible opportunity to see how things work behind the scenes at that level.
Green Day is essentially just a small group of best friends who have played together since they were children. Half the guys on their road crew are friends with them from growing up; it felt like a family or like a vacation. I watched their set every night. They treated every show as the grand finale of another awesome day. It always felt special, and the band NEVER took a second of it for granted. We earned their trust, and halfway through the 5-week USA tour, Billie Joe handed our singer a note from the side of the stage during our set that he wrote in Sharpie that read: "Do you guys want to tour with us in Japan?" How cool is that!? No, have your manager talk to your agent to talk to our agent, etc. Just singer to singer, band to band, just like in the local/DIY punk days.
You've also done some amazing work as a DJ in Japan, Russia, Mexico, Australia, and across America. How do music scenes differ across the globe? How do you change up your live set for those different countries and audiences? 
I think the opportunities I've enjoyed as a DJ are connected to the same source of my success as a band guy. It's that weird impulse to throw yourself into something with a bit of confidence in your abilities, preparation and instincts, faith in the universe, some dumb luck, and willingness to figure it out as you go. I approach DJing with a spirit of fun. My ego and identity are not attached to "being a DJ," so I'm free to be more irreverent and joyful about my style, selections, etc. I don't feel like I'm officially qualified to be a specific type of DJ, so it's liberating. Ideally, I enjoy mixing and matching with an eclectic variety of genres and sounds. However, I am an entertainer at heart & I love to feed off the energy of the crowd, space, and country I'm in. I rarely just "do my set," I usually read the room, feel the vibe, find the adrenaline, and then go for it! 
You're naturally going to have a different feel in Japan than in Russia, or Mexico, Las Vegas, NYC, or San Diego, but no matter what, people are people wherever you go. That's the beauty of traveling as a musician/DJ; it makes the world smaller and often can restore your faith in humanity! 
As a writer and producer, you've worked with national acts including The Ataris, Bad Astronaut, Nerf Herder, and Swingin' Utters. What is your creative process like? Any pro tips to share? 
Music should be approached with playfulness. When I've written or worked with other bands, the best stuff is usually born out of things that are not necessarily about the music but are essential to creating good music: fun, mutual respect, trust, communication, keeping egos in check, lots of laughter and the ability to not take one's self too seriously or be overly attached to ideas. Of course, it's a good idea to know how to play a bit and have decent gear, but I like when the project starts with a coffee run or dinner and drinks the night before. I like to take the focus off of "making a hit" and trick myself and my collaborators into thinking we're just hanging out in close proximity to some instruments with the vague possibility that we might come up with some cool lyrics, melodies, tracks, concepts, etc. It takes the pressure off and tends to make good stuff flow more effortlessly without nerves, fear, ego, and insecurities crashing the party.
What is your favorite part of teaching for Point Blank LA? 
I appreciate the trust Point Blank places in me (and other faculty) AND in their students. I have the freedom to teach the Music Business class in my own voice, with my own style and flavor. The curriculum is like the song structure or chord changes, and my lectures and class discussions are like the melodies and lyrics played over them. I like how the students are not threatened with attendance, grades, and mandatory assignments. At first, I worried that without those traditional devices, the students wouldn't show up. Instead, what I'm finding is that the students DO show up, but they show up for themselves and NOT "because it's on the test." I feel like this demonstrates the importance of being self-starters and finding your motivation and discipline.
Between all of that, I find the students are able to take away a more holistic understanding of the music business ecosystem. They learn the terminology and methodology, but more importantly, they get a sense of the mindset necessary to achieve success in this space.
What can we expect next from you? 
I truly enjoy teaching and mentoring aspiring music professionals. It's an honor and a privilege, and the students reliably rekindle my love for music. They probably don't realize this, but I learn as much (or more) from them as they do from me. If I can sit still for long enough, I would love to write some book ideas I've had for a while: a music business/mindset book wrapped up in a memoir about my own music career/journey so far; a Sugarcult scrapbook/photobook; maybe a musicians-on-parenting book. On the music front, I have many retrospectives on the horizon for 2021; Sugarcult's 20th Anniversary of "Start Static,"  Bad Astronaut's (my side-project band) vinyl boxset, another collection of one of my pre-Sugarcult bands from the 90s, etc. I definitely have more records in me, maybe even a solo record. Right now, I'm kind of at that crossroads in time where it feels like I need to put the past in proper historical context to clear the path to move forward into the future. My students know I love quotes, so I'll sum this up with one of my favorites from David Bowie: "I don't know where I'm going from here, but I promise it won't be boring."  
Thinking of joining us at PBLA? We offer a plethora of courses in music production and DJing including our newest and most extensive Music Production & Sound Design Master Diploma program as well as our DJ/Producer Certificate, Music Production & Sound Design Diploma, Mixing & Mastering Award, Music Production & Composition Award, and more.
For additional information, contact an Admissions Advisor or, if you're in the USA, give us a call on 323 282 7660. If you're calling internationally, use the number +44 20 7729 4884.
Register to Access Free Courses, Plugins, Projects, Samples & More
When you register with Point Blank, you access an array of free sounds, plugins, online course samples and much more! Simply register below and visit our Free Stuff page to get your hands on a range of exclusive music-making tools and tutorials provided by the team. Fill your boots!