Point Blank Los Angeles regularly hosts masterclasses at our Mack Sennett studio complex for our students and graduates – recently we've had the likes of Mix Master Mike, Sanfuentes & Robot Koch stop by our studios to give an insight into their work and their creative processes. We're excited to announce that we will be adding Sharooz Raoofi to that list, with the Sample Magic CEO presenting a guest masterclass at Point Blank Los Angeles on Thursday 13th July. All students and graduates are welcome and you can register your interest via the Facebook event.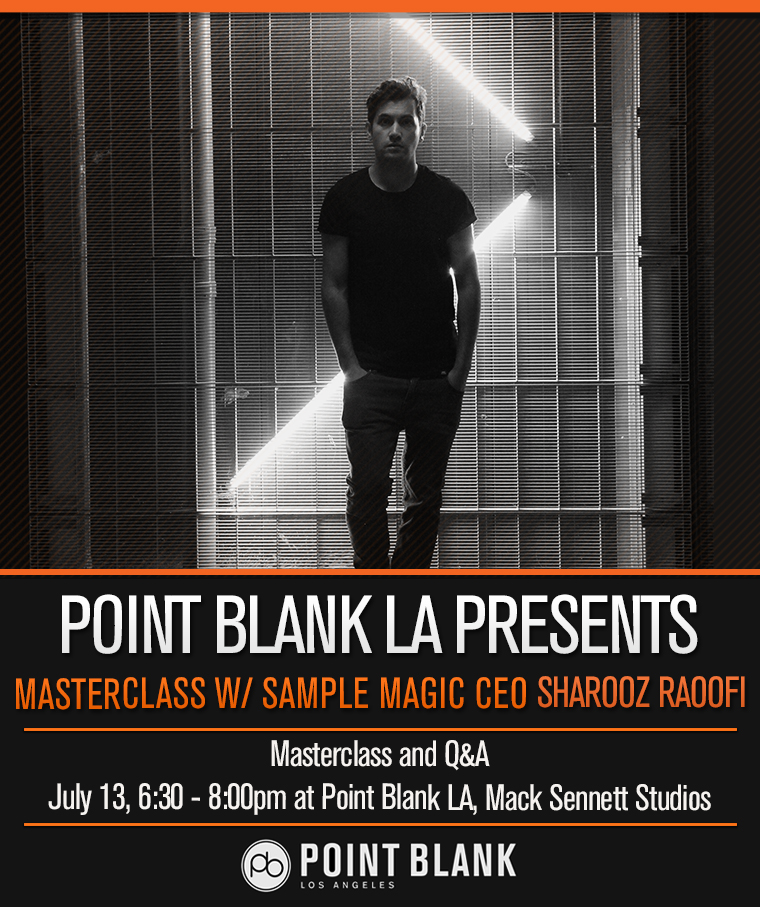 As the owner of Sample Magic, Sharooz has spent over a decade creating sounds, instruments and plugins, having worked extensively alongside Ableton, Apple, Steinberg, Reason, Akai, and Bitwig and programming synthesizers for Korg, FXpansion, and numerous iOS apps. With tracks on Modular and Lektroluv and remixes/collabs with Robyn, Tensnake, Moby and Mylo to his name, Sharooz has DJ'ed across the globe, stopping off at some the world's finest clubs. Having scored numerous Beatport genre top 10s he also runs the label La Bombe and was the original founder of Attack Magazine. In his past he has also worked for Strictly Rhythm, Warner Brothers and Beatport, and composed works for numerous film and TV projects for EMI Music Publishing and BMG. Along with releasing music again after a two-year hiatus, Sharooz recently set up the studio 'Principle Pleasure' in Downtown Los Angeles, containing one of the world's largest collections of vintage analogue synthesisers and drum machines and is currently developing the plugin 'Klip'.
Guest workshops are a core part of the experience at studying at Point Blank Los Angeles. To find out which course is for you, visit our Los Angeles course page to find out more – but hurry, you'll need to sign up ASAP as spaces are limited for the forthcoming term. We've got everything from production, sound design and mixing courses to DJ'ing. If you want to know more and you're in the USA, give us a call on 323 282 7660, or contact us here.
Register to Access Free Courses, Plugins, Projects, Samples & More
When you register with Point Blank, you access an array of free sounds, plugins, online course samples, access to our social network Plugged In and much more! Simply register below and visit our Free Stuff page to get your hands on a range of exclusive music-making tools and tutorials provided by the team. Fill your boots!