Here at Point Blank, we pride ourselves on the success of our students. We're spoilt for choice when it comes to success stories and that's why we publish a monthly Student Success feature. For this instalment, we are shining a spotlight on a certain Point Blank alumni you may be familiar with. Sara Simms is a Toronto-based musician who's performed at the likes of Miami Music Week, Charivari Detroit on Detroit's 313.FM, Ultra Music Festival and more.
Sara Simms studied one of our previous Minimal Techno courses and has gone on to achieve some incredible feats. If you're interested in learning how to make great music with Point Blank, we're currently offering 25% Off our selected online and Los Angeles courses until 9th November when this offer ends using the codes ONLINE25 and LA25.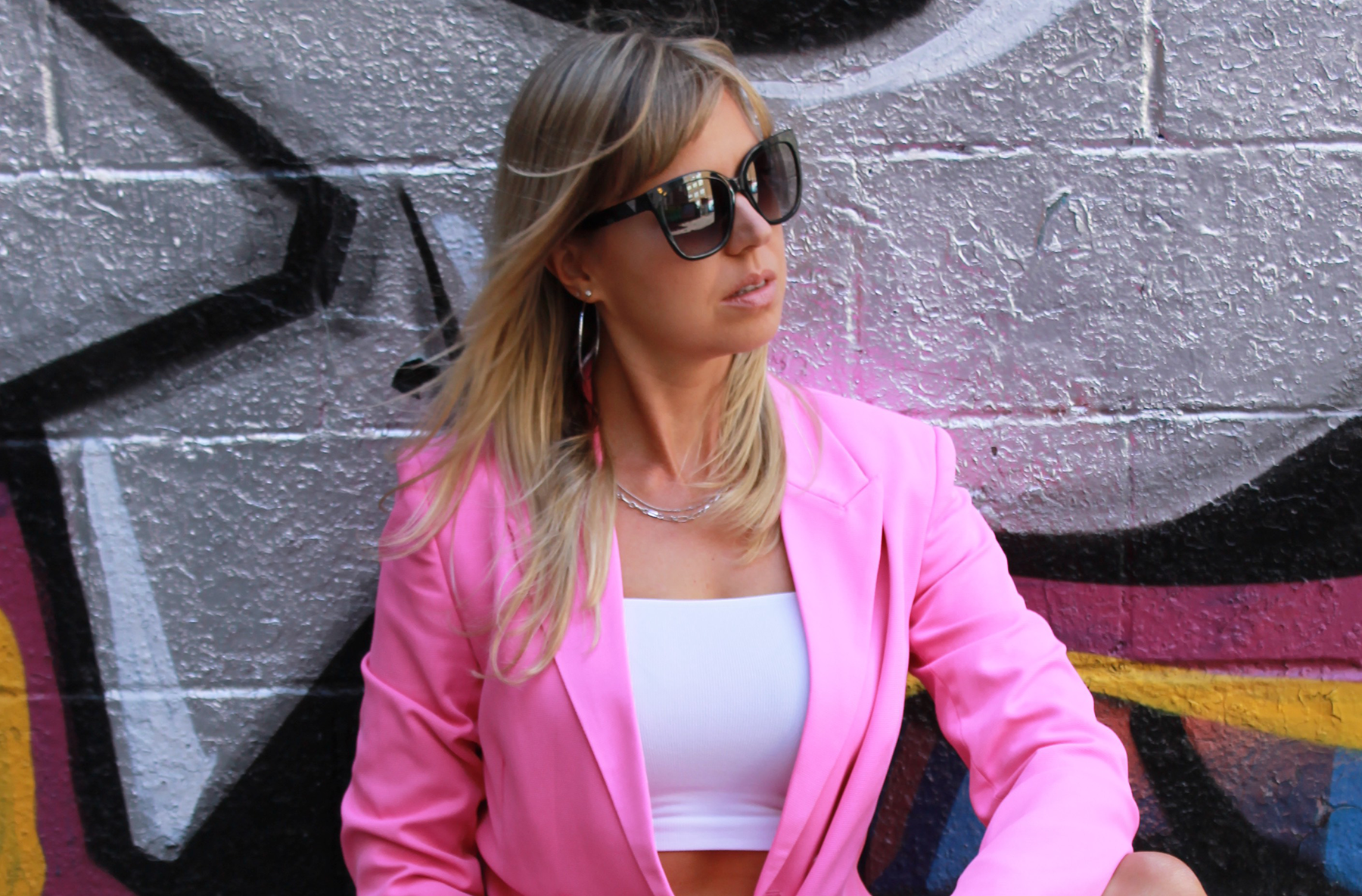 (Photo credit: Marrianne Fagan)
Point Blank alumni, Sara Simms, is a captivating DJ, turntablist and multi-instrumentalist electronic music producer who's known for her love of music technology. In addition to being championed for her techno sets and turntablism skills, where she makes her mark crafting diverse performances created by multi-deck mixing, she is also the founder of the record label, Simmetry Sounds. The Toronto-native has performed globally playing sets for Allen and Heath's live broadcast at ADE and Miami Music Week, Charivari Detroit on Detroit's 313.FM, Techno Taco Tuesday for MNTRA in Las Vegas, Ultra Music Festival in Miami and appeared on DJ QBert's 'Skratch University'.
Follow on below to learn more about what's next for Sara, her new single 'Bronx', her go-to production techniques, studying at Point Blank and much more. If you'd like to learn more about what we offer at Point Blank and how we could help you achieve your goals, check out our line of courses.
Hey Sara, for those who aren't familiar with you, could you tell us a little bit about yourself and what you do?
I'm a DJ, producer and musician from Toronto. I'm focused on producing and playing techno and developing my sound. I've founded my own label, Simmetry Sounds, which I started to release tracks and collaborations on.
I'm the daughter of two music teachers and started off in music playing piano and guitar. I had my sights set on a career as a jazz guitarist when I was invited to a rave. I instantly fell in love with the music, the atmosphere and what the DJ was doing up on stage. I decided to change my path; my Dad helped me to buy my first DJ mixer and with my family's support, I was able to start scratching and mixing on the decks. I've been really blessed having had the opportunity to perform around the world. Aside from DJing, I've always been involved with music technology, music brands and educating others about how equipment and software works. I've also written a comic book project together with my sister called 'The Future Prophecy'.
How would you describe the style of music you produce?
At the moment, I'm creating techno with big kicks and a bit of a retro sound.
We saw you've got a new track, 'Bronx', out today – congratulations! Can you tell us a little bit about the record?
My new single, 'Bronx', is the eight release on my label Simmetry Sounds. The track was inspired by the subways in New York and was co-written by my friend John La Magna. It features live instrumentation; John recorded the guitar, and my Dad, Mike Onyschuk, played the trumpet lines. The track has a deep bass line that's balanced by melodies played on the TB-303. The vocal on the track is, "I'm out of control", which is open to interpretation but perhaps expresses how people feel at the current time.
What's your production process when writing a new track?
I start each track with a vision. I go into the studio with an idea in mind to create and will use a reference track or two to keep me in check. I begin with a kick. I use kicks that I've sampled myself from other records. I'll layer the kick with another kick or an element like a tom. The kick will also determine the key I'm working in. From there, I'll create the drums using samples from my Roland TR-09, or sometimes record in patterns from the machine itself. I'll make the sub-bass in the key of track and once the foundation is created, move on to melodic lines or a bass line made on Roland TB-303. At this point, I usually have an idea for vocals and then start going through my 'wish list' of friends who I'd like to collaborate with for vocals on the track!
Are there any production techniques/plugins you think Point Blank students should check out?
I learned how to create a sampled kick drum from Maarten Vorwerk, and it's one of the most useful techniques. Start with a kick drum from a track you like in the genre you intend to produce. Put iZotope's Ozone on the track, and solo the lowest band of the compressor, from 0 – 120 Hz. Record that piece of the kick drum. Next, solo the second band, from 120 – 2 kHz and record this piece of the kick. Repeat with the third and fourth bands, and then bounce out the four EQed pieces of the kick into one. You'll have a perfect kick you can use for your tracks.
On the plugin side of things, I recommend students check out Cableguys' Volume Shaper. It's really helpful for shaping the bass. Dada Life's Endless Smile is really cool for creating buildup effects. If you're learning to write and produce, Captain Plugins is a great series of plugins for songwriters and musicians. I'm a big fan of FabFilter's plugins, especially their FabFilter Pro-Q 3, Acustica's Diamond EQ and the Universal Audio family of plugins.
You currently work with Mixed In Key – how did you hook up with the audio company?
Its been a long story with my friends at Mixed In Key! When I first learned about their software, I reached out to the company and let them know I wanted to create a video for YouTube featuring their product. After the video shoot, I stayed in touch with the CEO of the company and we became friends. Two years ago when Mixed In Key launched Captain Plugins, they reached out to me and asked me to work more closely as their Communications Manager.
Since starting your career, you've played the likes of Allen and Heath's live broadcast at ADE, at Charivari Detroit, on Detroit's 313.FM, at Techno Taco Tuesday for MNTRA. What tips would you give a Point Blank student looking to secure slots like this?
If you're interested in an opportunity, reach out! Find out who organizes the events and send them your material. Networking is everything in the music business. One gig tends to lead to another, and if you do a good job at one event chances are that someone else watching will invite you to perform at another event or festival.
Can you tell me how you discovered Point Blank?
I found Point Blank online; I was attracted to your school as you were offering a Minimal Techno course at the time. This was right up my alley and I had a great time taking the course. Point Blank has always been a really cool school to me because there are so many specialized courses for those interested in electronic music.
Were there any things in particular that really stood out in your memory from studying here – this could be a technique you learned? A module? A lecturer?
My teacher at Point Blank was Mr Paul Crossman, and I must say he was excellent. It's been a few years since I took the course, but I remember he taught me how to make a rolling bassline. I do remember he was a very masterful teacher with a solid knowledge of techno production.
What's in the pipeline?
I'll be working on new tracks all fall and winter. I'm looking forward to developing my sound and creating more recordings in the next few months!
Socials: Facebook / Instagram / Twitter / SoundCloud / Website
Successes such as these are common among our students and alumni. We can teach you how to DJ like the best of them at any of our schools. If you'd like to learn how to produce, then we can build your skills from the ground up with our range of degree programmes. For more information, you can contact us here.
Register to Access Free Courses, Plugins, Projects, Samples & More
When you register with Point Blank, you access an array of free sounds, plugins, online course samples and much more! Simply register below and visit our Free Stuff page to get your hands on a range of exclusive music-making tools and tutorials provided by the team. Fill your boots!
Register