The radio industry is the oldest but most agile of the broadcast media – and right now it's booming. If you want to break into this hugely exciting world, there's no better place to study than Point Blank – and no better time. We're extending our previous offer until 28th February! This is the chance to save a cool £1,000 off our Radio Broadcasting Diploma as part of a special New Years offer. To claim the money off, simply enter the code RAD1000 upon enrolment.
The course is Cert HE validated by Middlesex University and offers a comprehensive, 360-degree education in all things radio. You'll be learning how to present and produce, how to build a station identity and learn the business side inside out. Crucially, in an industry that thrives on innovation and fresh ideas, the Radio Broadcasting Diploma looks to the future of the medium, playing close attention to current and future trends. In short, if you want to ensure your first steps towards your career in radio are as strong as they can be, this is the course you need.
But we would say that, wouldn't we? So how do we prove it? Simple: when it comes to our radio alumni finding success in the industry, our track record is second to none. Whether it's institutions like BBC Radio 1 or 1Xtra, taste-making stations such as Rinse or the new generation of cutting edge, online platforms led by NTS and Radar, Point Blank graduates haven't just bagged roles within the top tier of the broadcasting world, they are helping to redefine its future.
Did you know that Radio 1 favourites Gemma Cairney, Monki, Madam X and Mista Jam all cut their teeth at our London School? That's before we even get to the connections we help nourish and build – both Josh Dowler and Seb Hodgkiss have taken posts as musical assistants for B.Traits after studying with us. You see, we don't just help you get a foot in the door, we ensure those first steps are the best you can take. Don't take our word for it – the above video, featuring some of our brightest alums and insider tips, pretty much speaks for itself.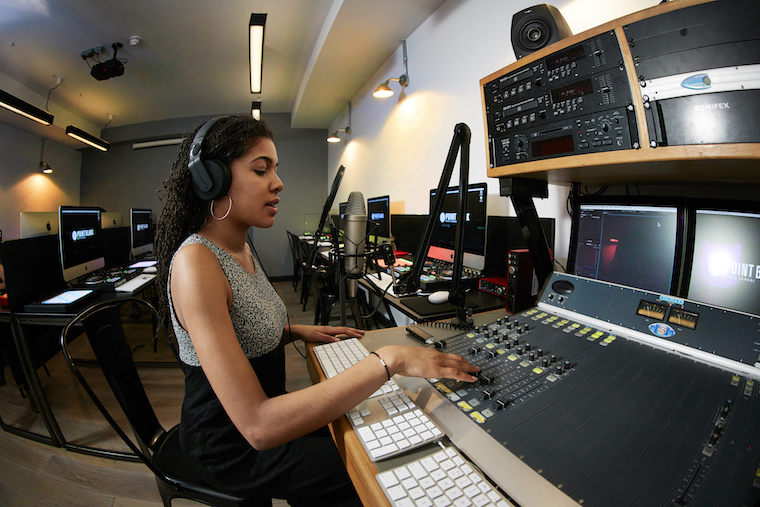 The reason for our students' success? Firstly, all of our instructors are proven professionals with enviable track records. Their knowledge, gathered at some of the biggest and most respected stations, ensures we track the newest developments in the medium and equip our students with skills to succeed at the highest level. Secondly, because we believe in giving our students the very best practical foundation for their career – including all the kit needed to get a head start. On top of unlimited practice time in the Radio Practice studio, students on our Radio Broadcasting Diploma each receive a pair of Aiaiai TMA 2 professional studio headphones, a copy of professional editing software Adobe Audition and a Tascam digital recorder. To buy all this gear in the shops would cost £500, but PB students get it for free. Find out more here.
If you're thinking about studying radio with us, there's no better time: in addition to our flagship Radio Broadcasting Diploma we now also offer a whole range of shorter courses which give you the option of drilling down into either the presenting and production aspects of radio. What are you waiting for? Whether you want to be the next B.Traits or harbour dreams of starting your own agenda-setting online station, we can help you get there.
Register to Access Free Courses, Projects, Samples & More
When you register with Point Blank, you access an array of free sounds, online course samples, access to our social network Plugged In and much more! Simply register below and visit our Free Stuff page to get your hands on a range of exclusive music-making tools and tutorials provided by the team. Fill your boots!