Last Thursday 17th November 2022, Point Blank CEO Rob Cowan and Managing Director Jules Brookes ventured out into the bright lights of London's West End to mingle with the cream of the UK music industry whilst attending the annual Music Managers Forum Artist and Managers Awards where the managers in the music business share the spotlight with their artists. It was a glamourous affair with lots of mutual back-slapping and fun: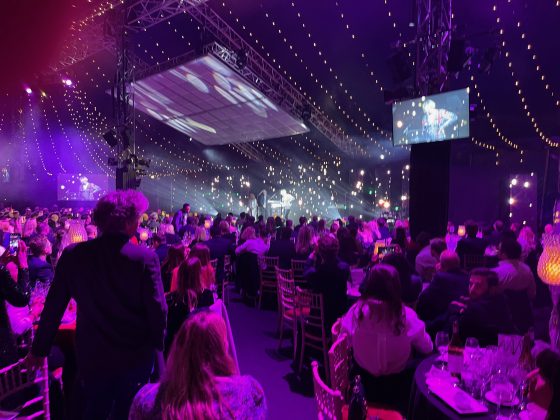 Love the glitz and the glamour of the music industry and want to get involved? Take a look at our Music Industry Management courses (London, LA, Online) and we can get you pointed in the right direction. Our higher education degree students also get a complimentary membership to the Music Managers Forum so you can fast track your way to the top.
Jules enjoys a glass or two with Primal Scream's bass player Simone Marie in the reception: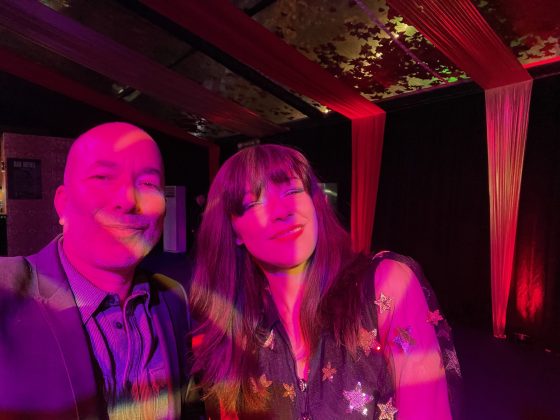 Like any awards ceremony, there were a lot of speeches and a few performances:
Some key winners on the night include Beabadoobee who took the Breakthrough Artist prize while Callum Reece was named Breakthrough Manager. Other big winners on the night included the effervescent Becky Hill, who was declared Artist of The Year. Burna Boy's manager Bose Ogulu, was Manager Of The Year; Tim Burgess, took the Artist's Artist prize, and Martin Hall – who manages the Manic Street Preachers, The Script and Wet Leg – was presented with the Managers' Manager Award.
Point Blank Recordings very own A&R Director Kwame Kwaten (who also happens to be Vice President of the MMF) was also on hand presenting an award alongside Biffy Clyro manager Paul Craig. Here he is in the centre: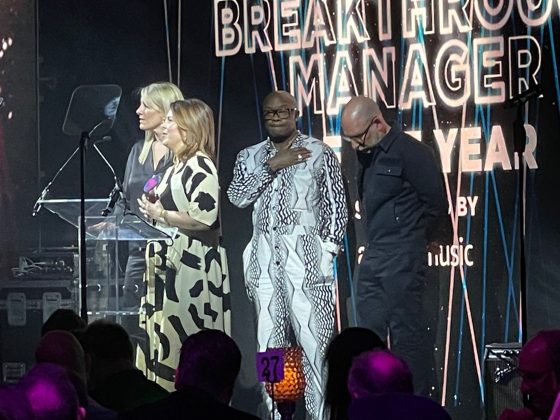 In a more serious side to the evening, Martin Hall said "For the majority of artists, the past few years have been pretty hard. We've had Brexit, a pandemic, and now a cost of living crisis. It's been tough to make a living from music, and it remains tough" – sage words for these strange times.
As ever at these affairs, it was in between the speeches and performances where one of the most important aspects of the music industry is practiced, networking! It is a massive part of the music business and the sooner you start networking, the better you'll do. Here at Point Blank, we can teach you how to network and get your foot in the door. Our BA (Hons) Music Industry Management degree is the perfect way to get a head start amongst the competition. Developed and taught by industry professionals with years of real-world experience in A&R, label management, publishing, festivals and live event management, our Music Industry Management degree will equip you with everything you need to succeed in the modern music industry.
The full list of 2022 MMF Award winners
Artist Of The Year: Becky Hill
Breakthrough Artist: Beabadoobee
Artists' Artist: Tim Burgess
Manager Of The Year: Bose Ogulu
Writer / Producer Manager: Red Light Management
Breakthrough Manager: Callum Reece
Managers' Manager: Martin Hall
Entrepreneur: Krept & Konan
Innovation: Abba Voyage
Team Achievement: Groundworks
Pioneer: Carl Cox
Industry Champion: Music Declares Emergency
Written by Jules Brookes