With Black Friday upon us, we're excited to announce that our offer is here! This is one of the biggest offers we've launched all year giving anyone interested in joining the Point Blank family 20% off all of our Los Angeles programs and 20% off our selected practical online courses (not including our degree or HE programmes). By taking advantage of this incredible deal, not only will you learn the ins and outs of music production, DJing, Singing and more from industry professionals, you'll save up to $3,400 on selected LA programs or £1400/$1800 on our online courses – just enter the discount code BF20 when enrolling.
Make note, this offer ends on December 9th, so if you're serious about taking the first (or next steps) in kicking off your music career be sure to apply for the course of your choice by then. Head here to see our full like of PBLA programs and here for our acclaimed online courses.
We believe that we can offer an experience like no other at Point Blank Music School. In LA, as well as online, our instructors are all highly passionate music makers with invaluable expertise on offer, giving our students the tools to express themselves through music. If you take a course with us in Los Angeles, you'll be instructed by the likes of Sweatson Klank (Music Production), who's released on Project: Mooncircle, produced mixes for dublab and Brainfeeder, and has his most recent album, Super Natural Delights, just released on one of LA's finest labels: Friends of Friends; Joe Computo (Sound Design) whose technicolour experimentations carry on the west-coast traditions upheld by the likes of Flying Lotus and his ilk; and Arabian Prince (Music Business) of the mighty NWA.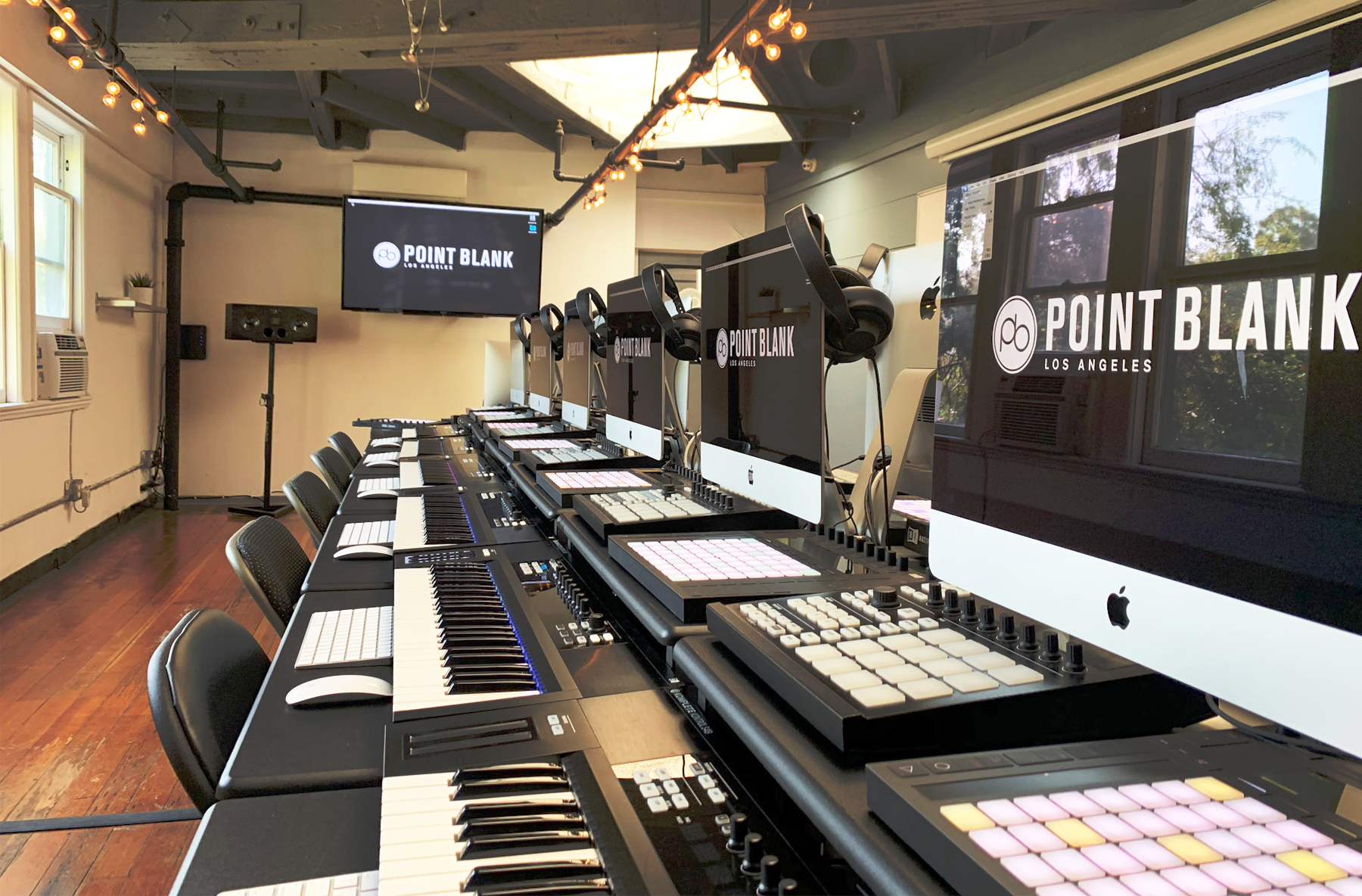 When it comes to online tuition we are the leaders in our field. Our online school was launched a decade ago and, over that time, we've continued to develop our Virtual Learning Environment (VLE) into the most intuitive and usable of its kind. All students receive regular video masterclasses and 1-2-1 sessions with their instructors and it's never been easier to connect with fellow students and work together – so you'll be able to hone your craft from the comforts of your own home.
Remember, this deal closes on December 9th so be sure to apply for the course of your choice in either Los Angeles or online today to avoid missing out. For more information on any of our courses or to speak to a Course Advisor don't hesitate to contact us.
Register to Access Free Courses, Plugins, Projects, Samples & More
When you register with Point Blank, you access an array of free sounds, plugins, online course samples, access to our social network Plugged In and much more! Simply register below and visit our Free Stuff page to get your hands on a range of exclusive music-making tools and tutorials provided by the team. Fill your boots!