The music industry is diverse and fluid. From how we consume and experience music all the way to how we create it, it's constantly shifting and evolving. Whether your dream is to manage platinum-selling artists, uncover new talent, run global record labels or build iconic brands, getting your foot inside the door of this thriving industry isn't easy. That's why, here at Point Blank Music School, we've worked tirelessly to create the perfect platform to give you an edge over the competition.
Our brand new BA (Hons) Music Industry Management Degree was created by those who have lived and breathed the music business. With decades of experience poured into it, this programme has been designed to give you access to the knowledge, experience and connections you'll need to make it in this innovative and exciting sector. This unique new degree is quality assured by Middlesex University which means you get a Middlesex award on successful completion and it's available for enrolment now!  Tune in below to get a glimpse of what we've got in store for you on this journey:
During the BA (Hons) Music Industry Management Degree, our students will cover everything from the production, manufacture, marketing and distribution of music to dealing with current buzzword issues around quality, diversity and wellbeing within the sector. You'll also learn the ins and outs of Intellectual Property (IP) law, copyright law, how publishing works and crucially, how to negotiate industry contracts under pressure – all transferable skills to any creative position. In addition, students will work towards setting up their own music business as the focus of their course. Meaning, whether it's an events company, record label, artist management company or something similar, our students will graduate ready to hit the ground running.
Following our recent hook up with the prestigious MMF (Music Managers Forum), our Music Industry Management students will automatically join this exclusive club of music professionals. This will entitle you to a variety of essential networking events and development schemes, including workshops and seminars led by leading music managers.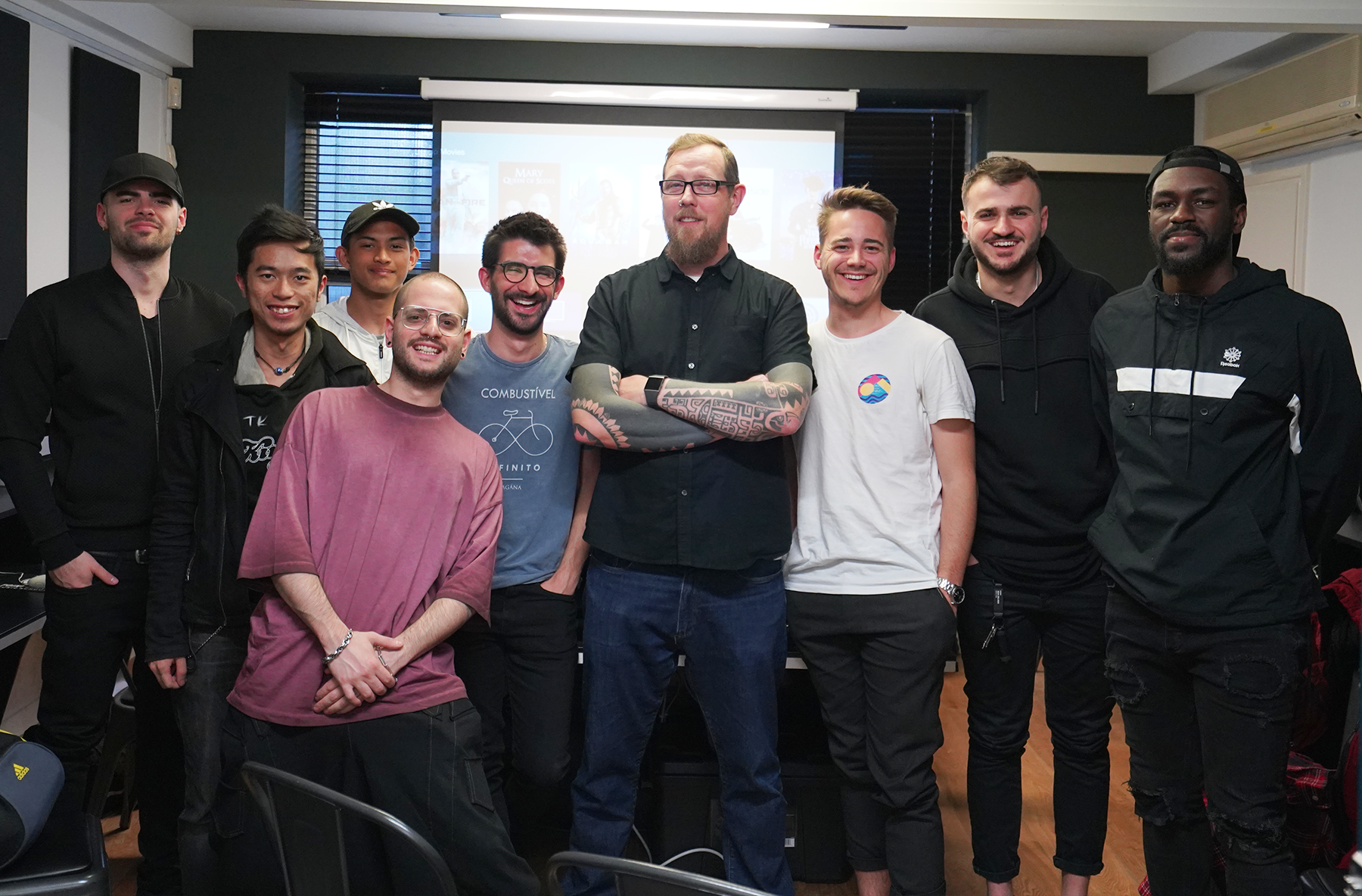 'Music Industry Degree Course Leader, Lee Erinmez, with our Music Industry Discussion Group'
Point Blank Music Industry Management students also gain access to our Music Industry Discussion Group, where together with leading industry figures, we explore and discuss current trends in the musical space, voice opinions and debate hot, current topics. And feel free to ask any questions you have about the music industry! These groups are led by industry professionals from a range of different sectors and will help our students, the future leaders of the industry, to navigate the ever-changing landscape as it develops.
If you're interested in stepping into the music industry, our new program is slated to commence in September – enrol now! Head here to secure your place on one of the most comprehensive and innovative management courses the UK has ever seen. If you have any questions don't hesitate to get in touch, and don't forget to check out our other London courses too.
Register to Access Free Courses, Plugins, Projects, Samples & More
When you register with Point Blank, you access an array of free sounds, plugins, online course samples, access to our social network Plugged In and much more! Simply register below and visit our Free Stuff page to get your hands on a range of exclusive music-making tools and tutorials provided by the team. Fill your boots!