To celebrate the reopening of Ibiza, and a return to the island's club culture, Point Blank teamed up with Beatport and Surface to deliver a stacked line-up of essential workshops, masterclasses and more with IMS College for this year's IMS Ibiza.
The International Music Summit in Ibiza (IMS Ibiza) is one of the biggest events in the global dance music calendar. Set in the spiritual epicentre of clubland, leading figures and inspirational artists fly in from all over the world to give lectures and host panels on the most important things happening in the industry. It's a fantastic way to keep up with the latest developments and make sure that, whatever your involvement in music, you stay at the cutting edge of what's going on.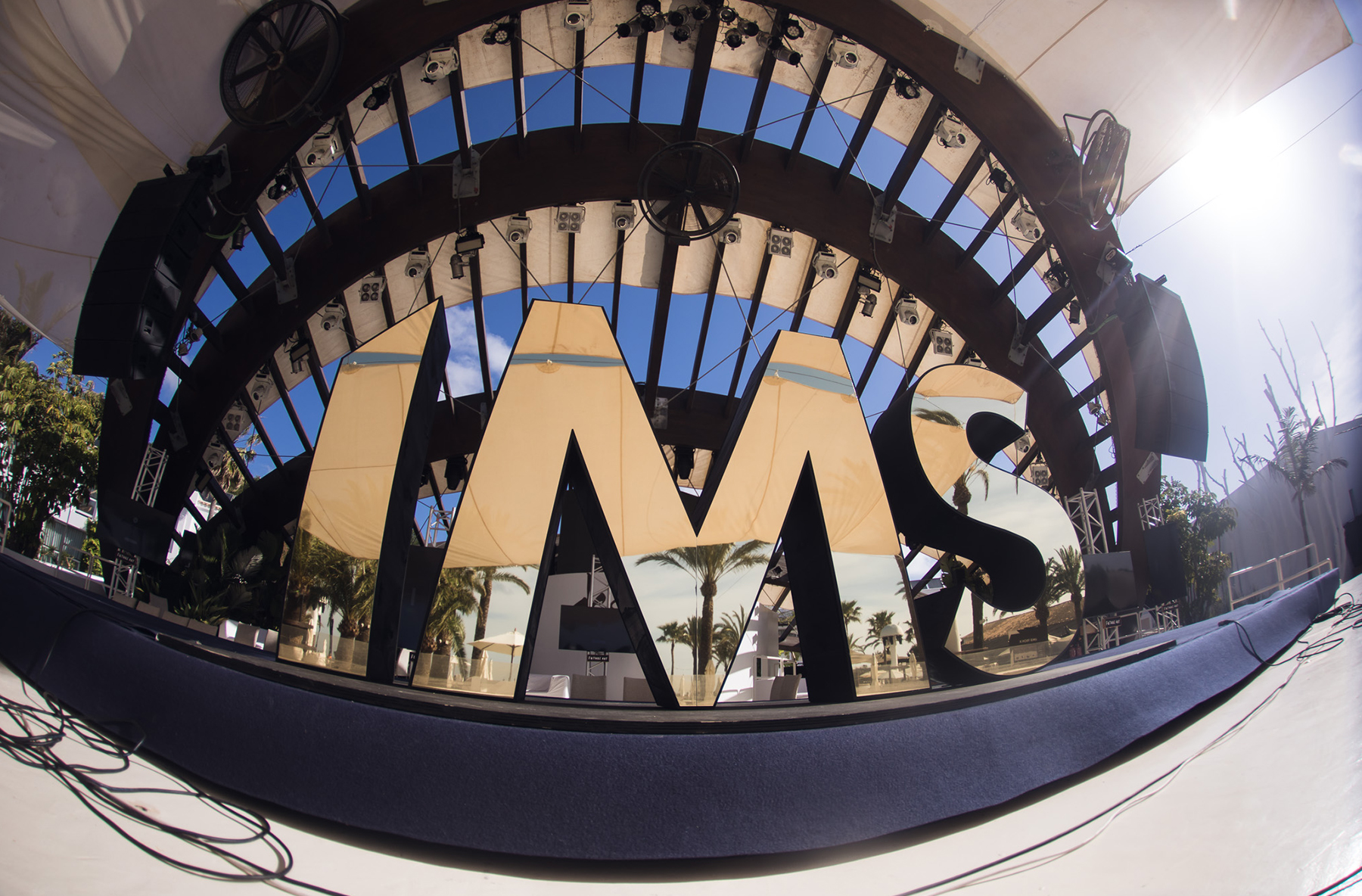 IMS Mainstage (Photo Credit: Victor Spinelli)
This year's summit took place between April 27th and 29th at the iconic Destino resort and was certainly a worthy comeback for the event. Point Blank, as we previously mentioned, was joined by Beatport and Surface, with our room featuring 6 workstations crammed with the latest and greatest tech from the companies. Attendees who ventured into our area had the option to get hands-on with Pioneer DJ equipment, including DDJ-400s for our rekordbox and Beatport DJ workshops and top of the range Surface Laptop Studios with MIDI controllers for all things Ableton Live.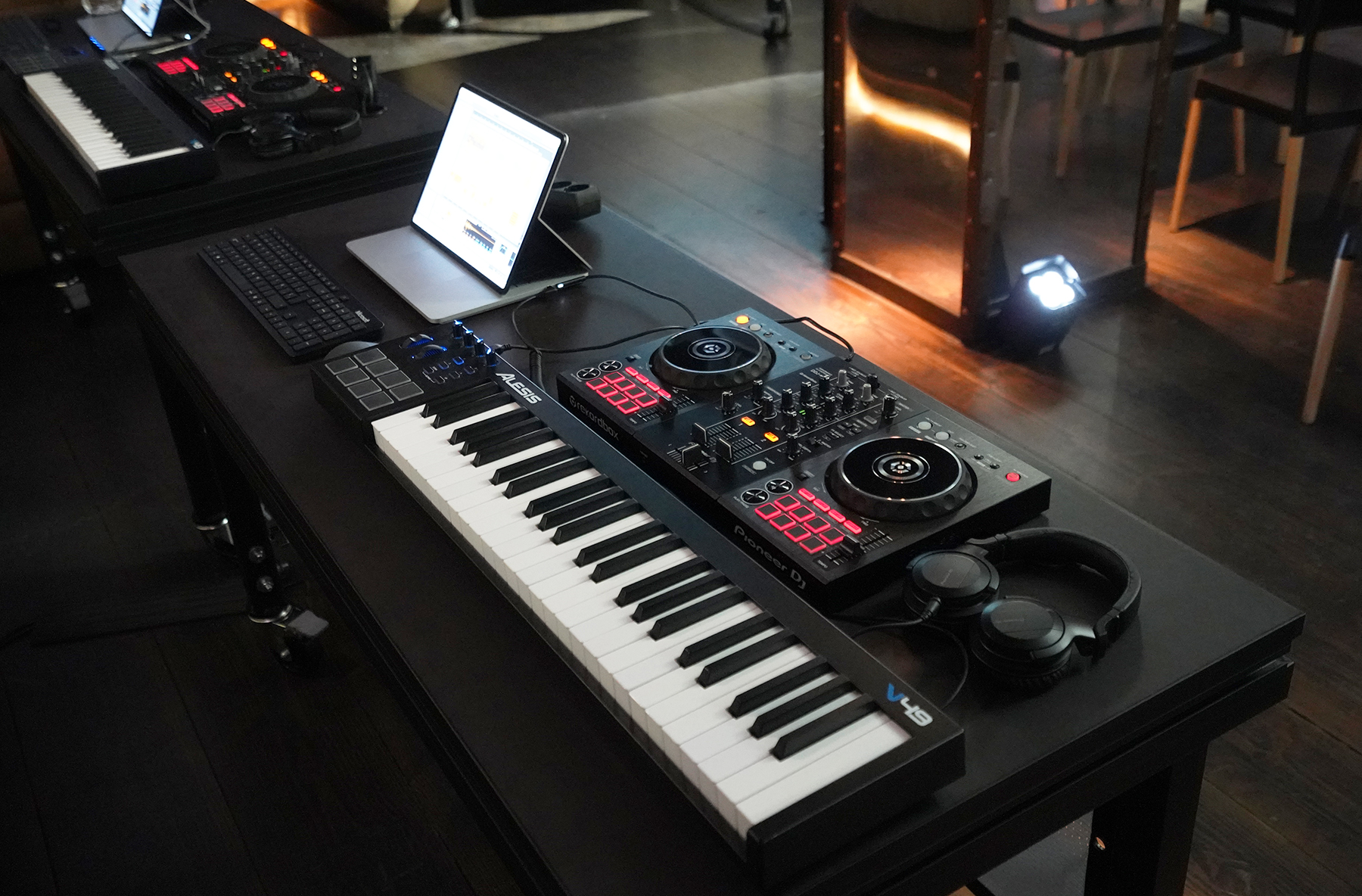 Point Blank x Surface x Pioneer DJ x Beatport Workstation
Follow on below to check out what went down at this year's IMS Ibiza.
IMS 2022 Day 1: Wednesday 27th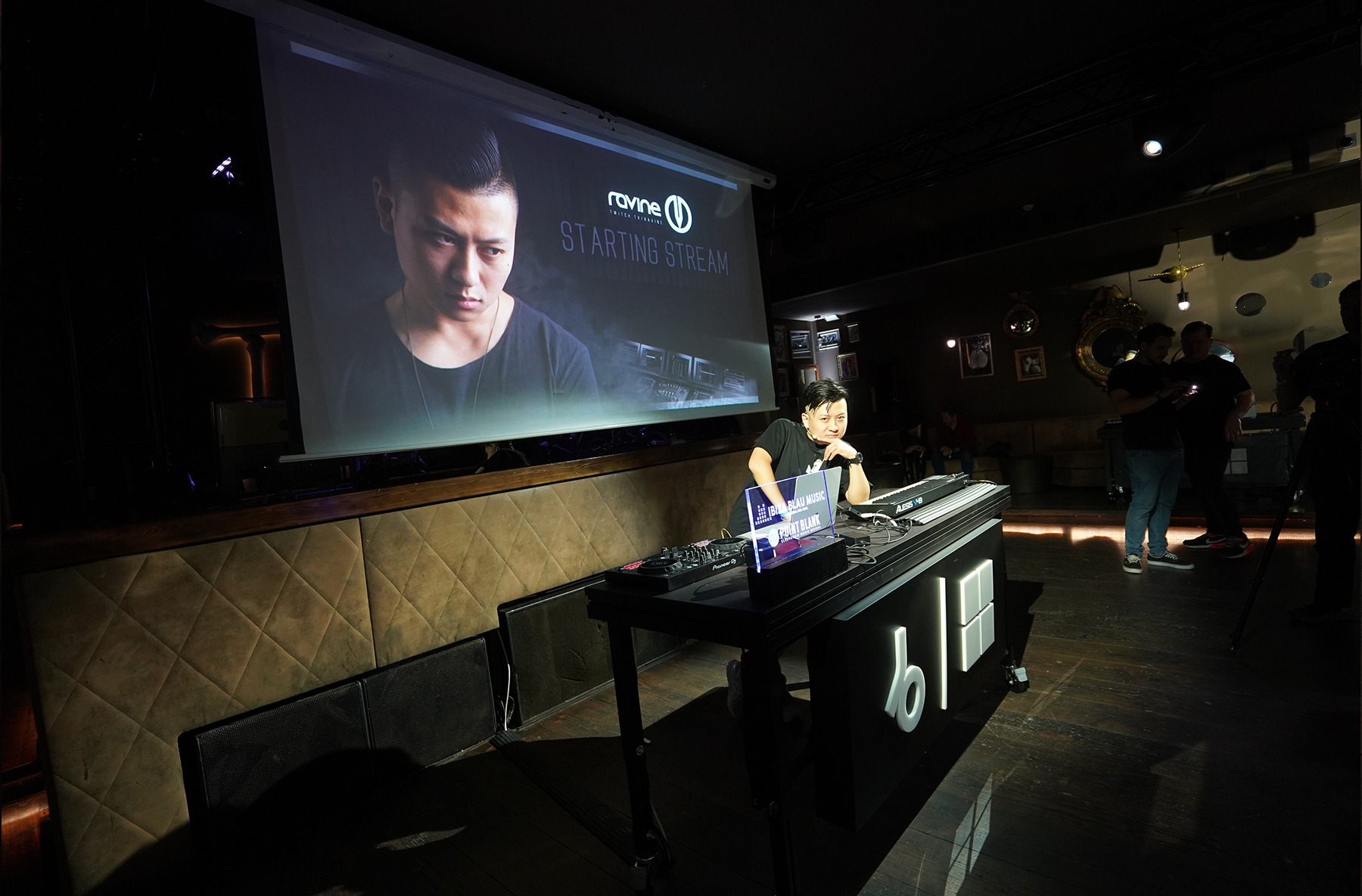 DJ Ravine Streaming Masterclass
To kick off this year's lineup of events, we had our very own DJ Ravine step up to deliver an essential talk on live streaming – he did stream throughout the pandemic until the pubs opened after all. During his session, Ravine detailed the importance of thinking outside the box, or the music in this case, and dropped some hot tips on how to keep your audience coming back for more.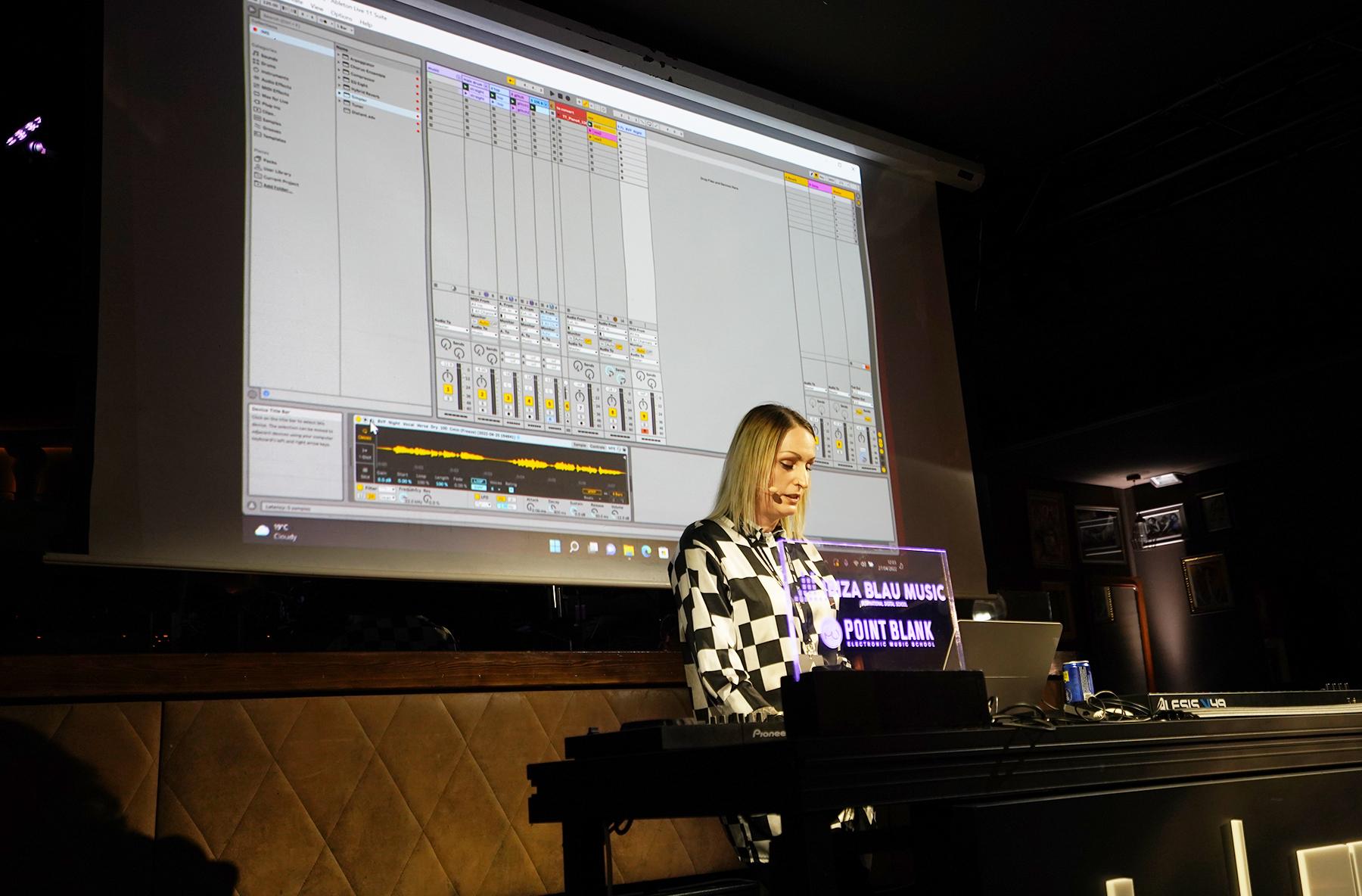 Anna Disclaim Ableton Live Workshop
Next up, Point Blank lecturer and Ableton Live Certified Trainer, Anna Lakatos aka Anna Disclaim, taught our IMS audience how to make instruments out of any sound using Ableton Live 11. Starting with a vocal, Anna Disclaim morphed and shaped the sound until it became a playable Ableton Live instrument using Simpler, Delay and other effects. A leading lecturer on our music production degree courses, Anna Disclaim is an NI Product Specialist, singer and trained audio engineer, specialising in object-based 3D sound for motion picture and commercial music production. When enrolled on one of our degree courses, you can expect to be mentored and taught by Anna and benefit from priceless 1-2-1 tutorials.
The team behind Viberate, the world's leading research and analytics platform designed for artists and managers, delved into their analytics tool to show how music data can be leveraged to create effective online strategies, improve fan engagement and evaluate any artist's online performance. Attendees of this session were also able to learn best practices for their craft and be officially certified in their next-gen music analytics tool, Viberate.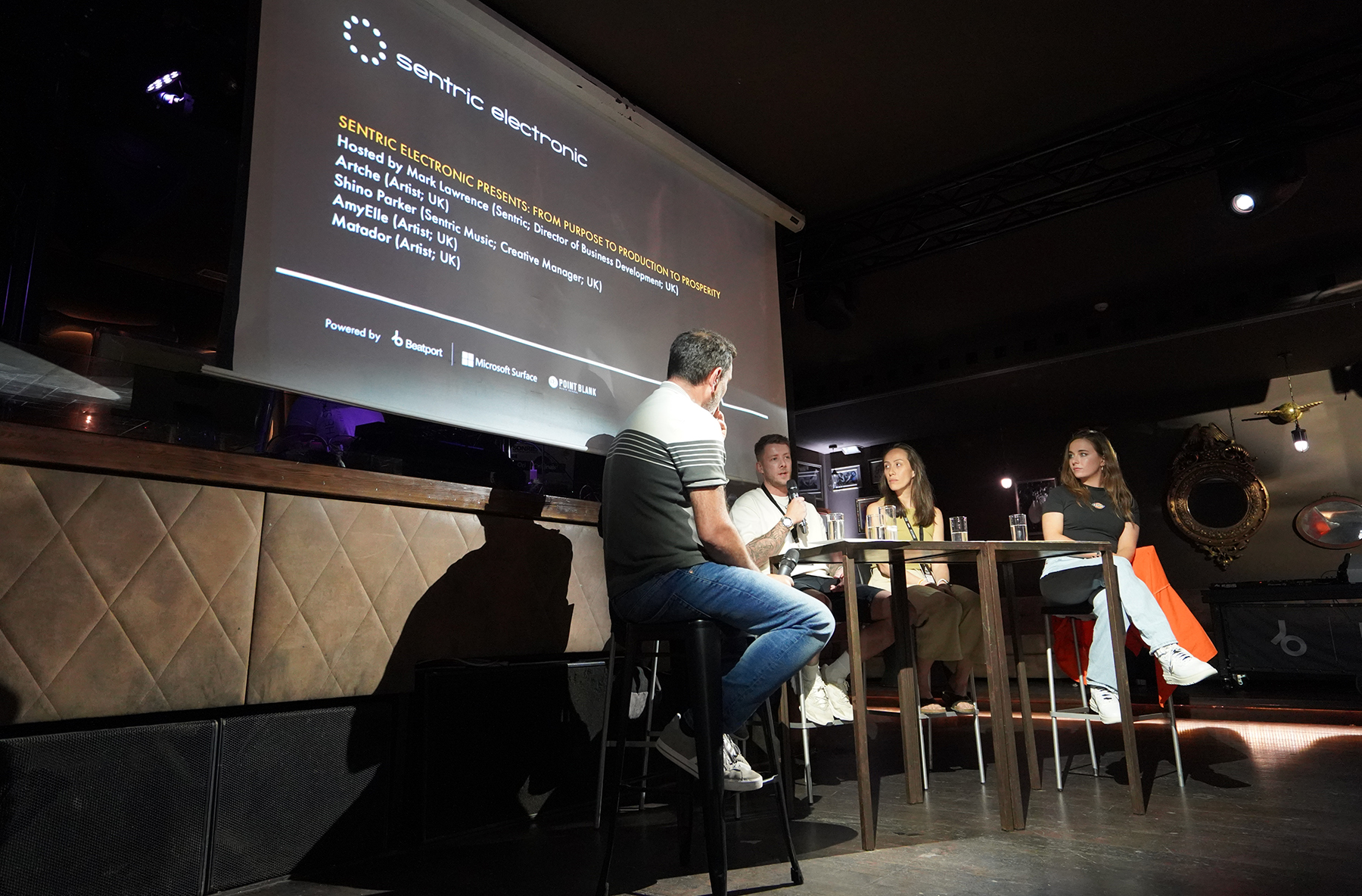 Sentric Electronic Panel Discussion
Sentric Electronic took the floor next for a panel discussion. The team behind Sentric Electronic posed an honest conversation for music writers, publishers and industry heads on how to get paid for your creative work and the impact this can have on your career.
To close out the first action-packed day of programming, AFEM, the Association For Electronic Music, presented a panel talk with KUVO, the company behind the music recognition and DJ set data capture technology on how they're working to help ensure track plays turn into royalty payments for creators.
IMS 2022 Day 2: Thursday 28th (Beatport Takeover)
For the second day of programming, Beatport took the reigns to showcase their selection of masterclasses and workshops. Over the course of the day, the industry giants hosted the German artist Joplyn for an intimate look at her live set-up, equipment and processes; A practical workshop on designing interactive NFTs around new music with Pixelynx co-founder Inder Phull; a curation masterclass with AMÉMÉ on using the Beatport DJ App for creating different playlists for different locations, cities, rooms and event types; Meike Nolte, Beatport's  Director of Global Artist Services delivered a comprehensive rundown of Beatport's latest products and lastly In conversation with Cici and Alex Kennon – a workshop with the two artists on covering best practices for releasing tracks, selecting the right label for your artistic growth, getting noticed by labels, prolonging the life cycle of a track and much more.
IMS 2022 Day 3: Friday 29th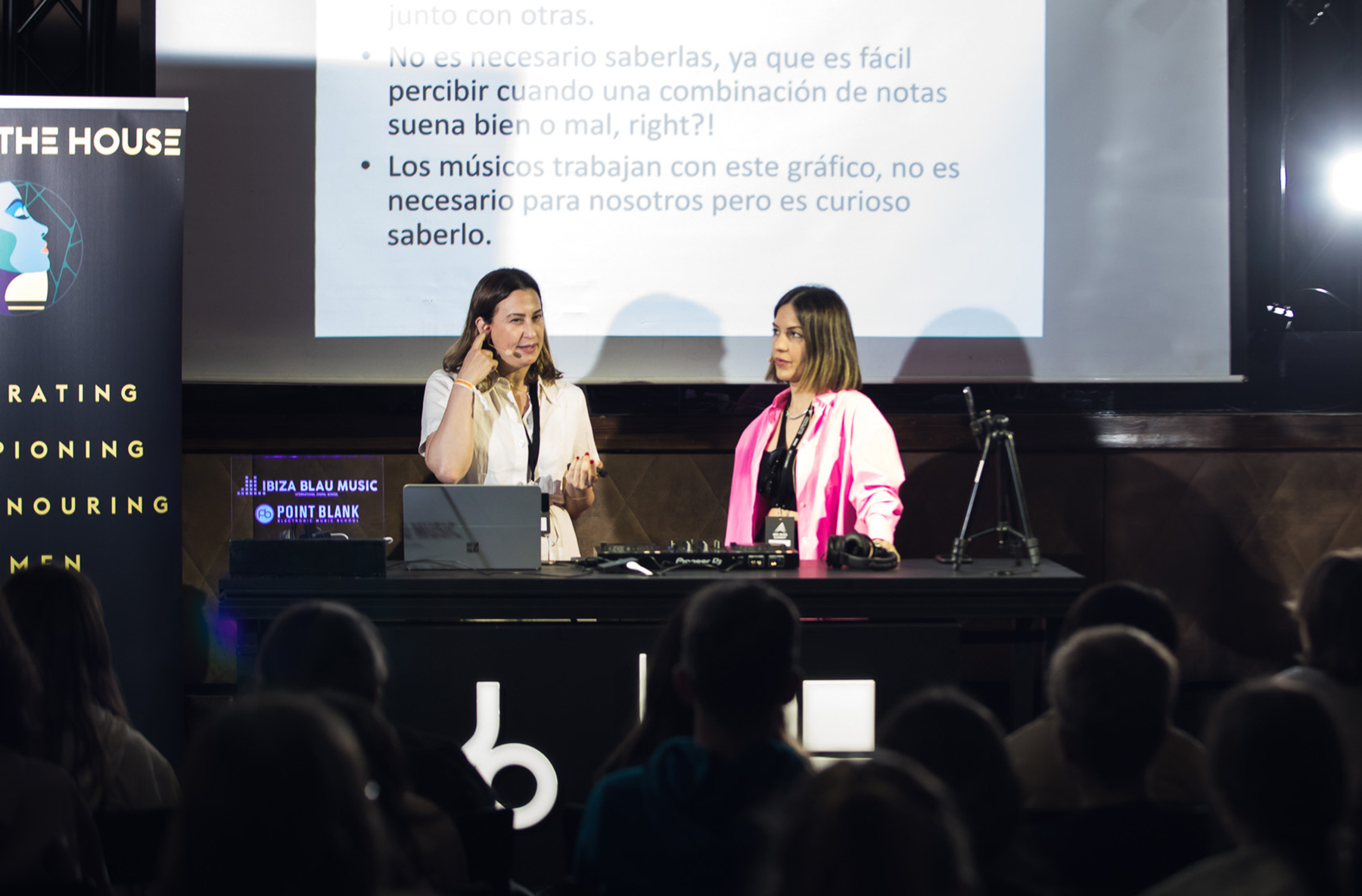 Lady Of The House x SheSaid.So DJ Workshop
To kick off our last day of programming at Destino, we teamed up with Lady Of The House and SheSaid.So, two female collectives that specialise in DJing, to run a DJ workshop for kids. After a quick beat-matching demo, the local kids from the island went over to our rekordbox and Surface-ready work stations to start chopping and mixing some beats themselves.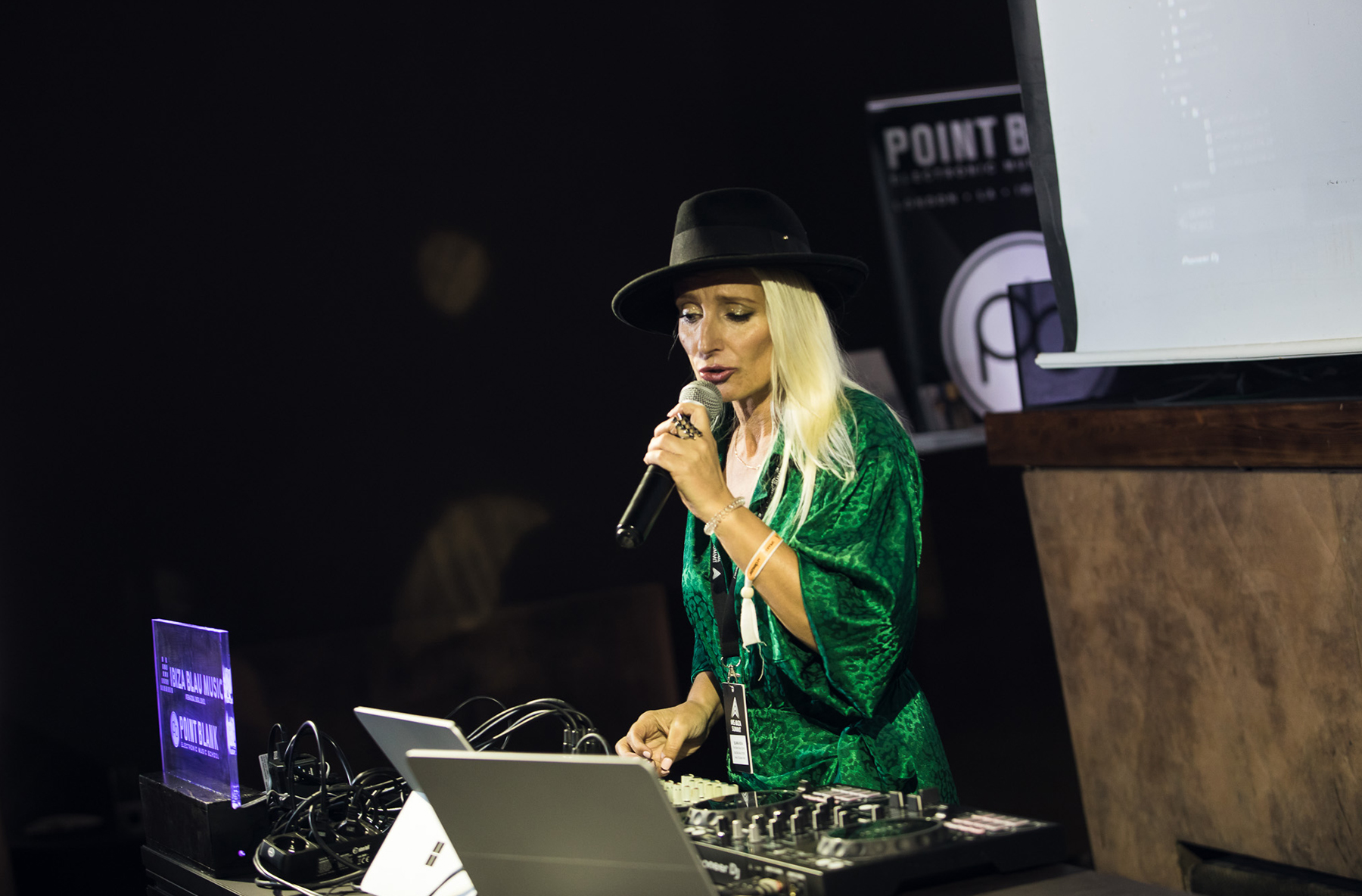 Blanka Nova DJing x Singing Session
We were then joined by two of our Point Blank Ibiza lecturers, Andres Bretel and Blanka Nova, for sessions in both committing to sounds to speed up your workflow process and how to perform live DJ sessions with vocalists and musicians. If you'd like to learn the ins and outs of DJing, music production and singing in the club capital of the world, then don't hesitate to sign up for one of our Ibiza courses.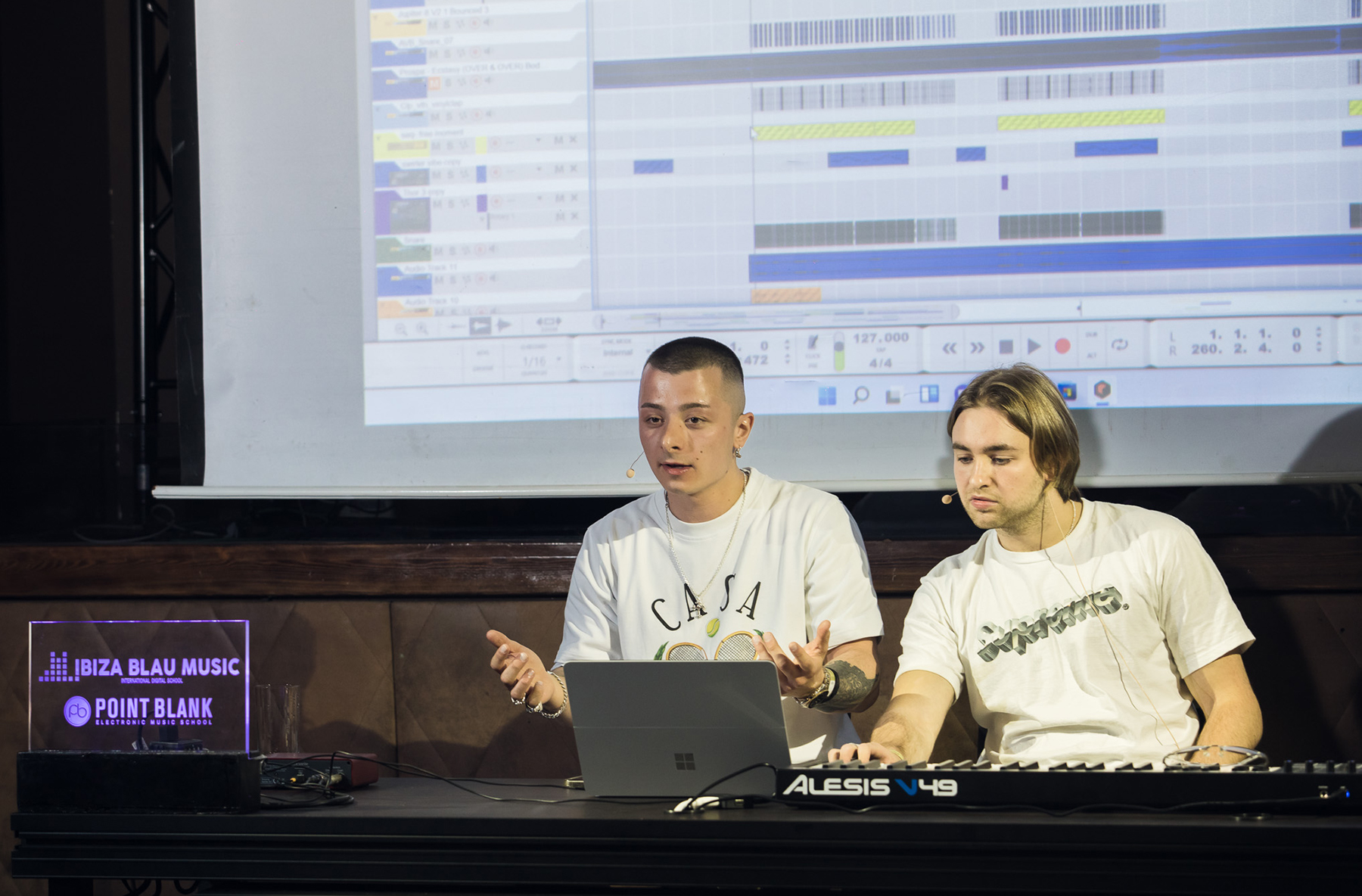 Prospa at IMS Ibiza 2022 (Photo Credit: Manel Gimeno)
Our first artist masterclasses of the day came from the pioneering DJ and Producer, Arthur Baker, who's known most notably in the industry as the artist behind producing Afrika Bambataa & The Soul Sonic Forces' iconic track, 'Planet Rock'. Marking the 40th anniversary of the song's release, Baker revealed some of the track's secrets, played unreleased stems from the recording and answered questions on the production process. Following on from the nostalgia of 'Planet Rock', newcomers Prospa joined to break down their future classic, 'Ecstasy', in Propellerhead's Reason. They took us through their production processes and go over some of the techniques that have helped define their sound – along with their favourite plugins and influences.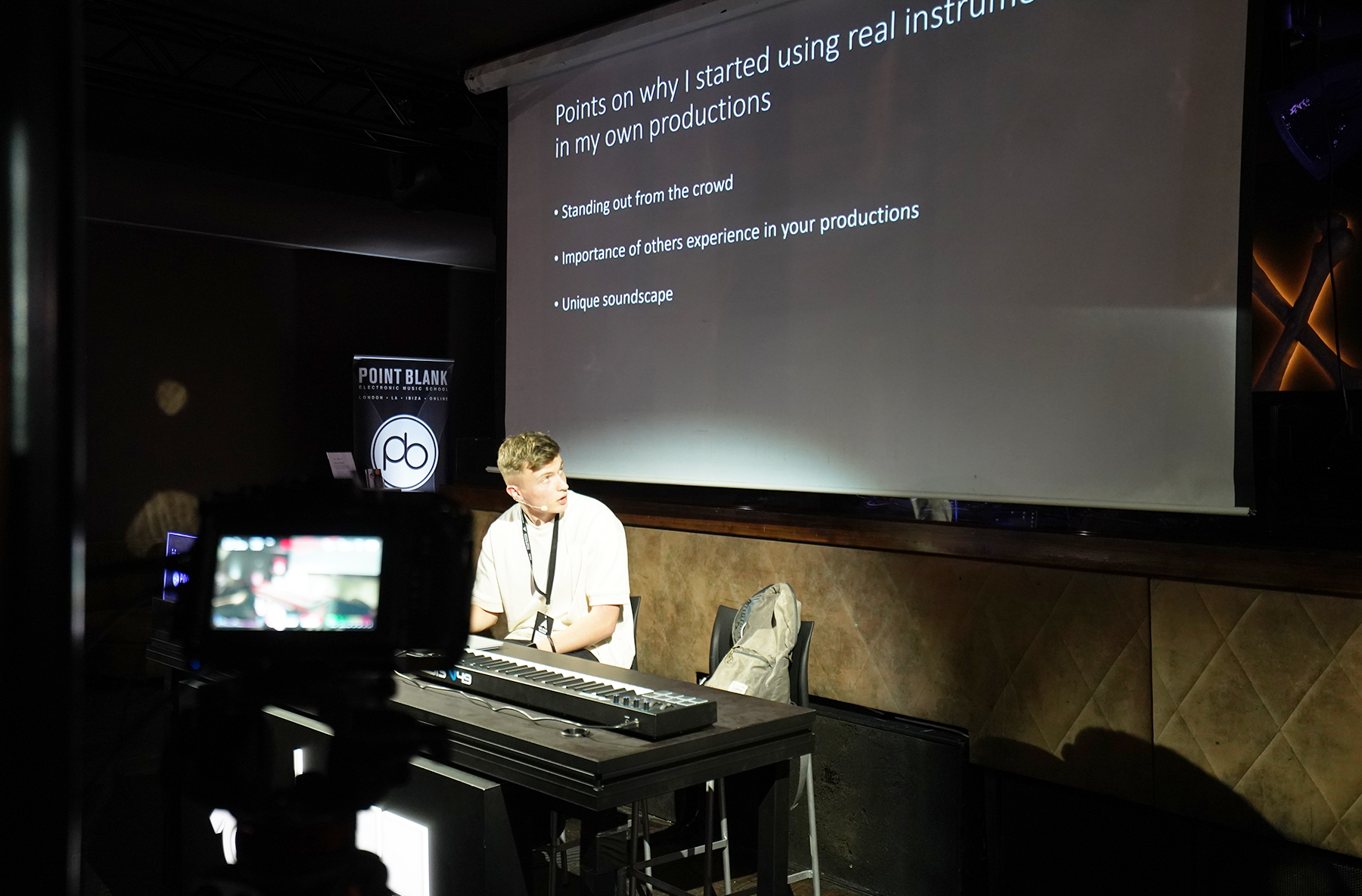 Thomas Irwin at IMS Ibiza 2022
Last but not least, one of our very own Point Blank students, Thomas Irwin, stepped up to show how using organic sounds in electronic music can create bridges between genres and add depth to your mix. Whether it's adding sweeping orchestras or subtle, barely audible layers, Thomas demonstrated how you can use these sounds to elevate your tracks. Thomas Irwin is currently enrolled on one of our Music Production degree courses and works closely with another student, Adrian, from our Music Industry Management degree course.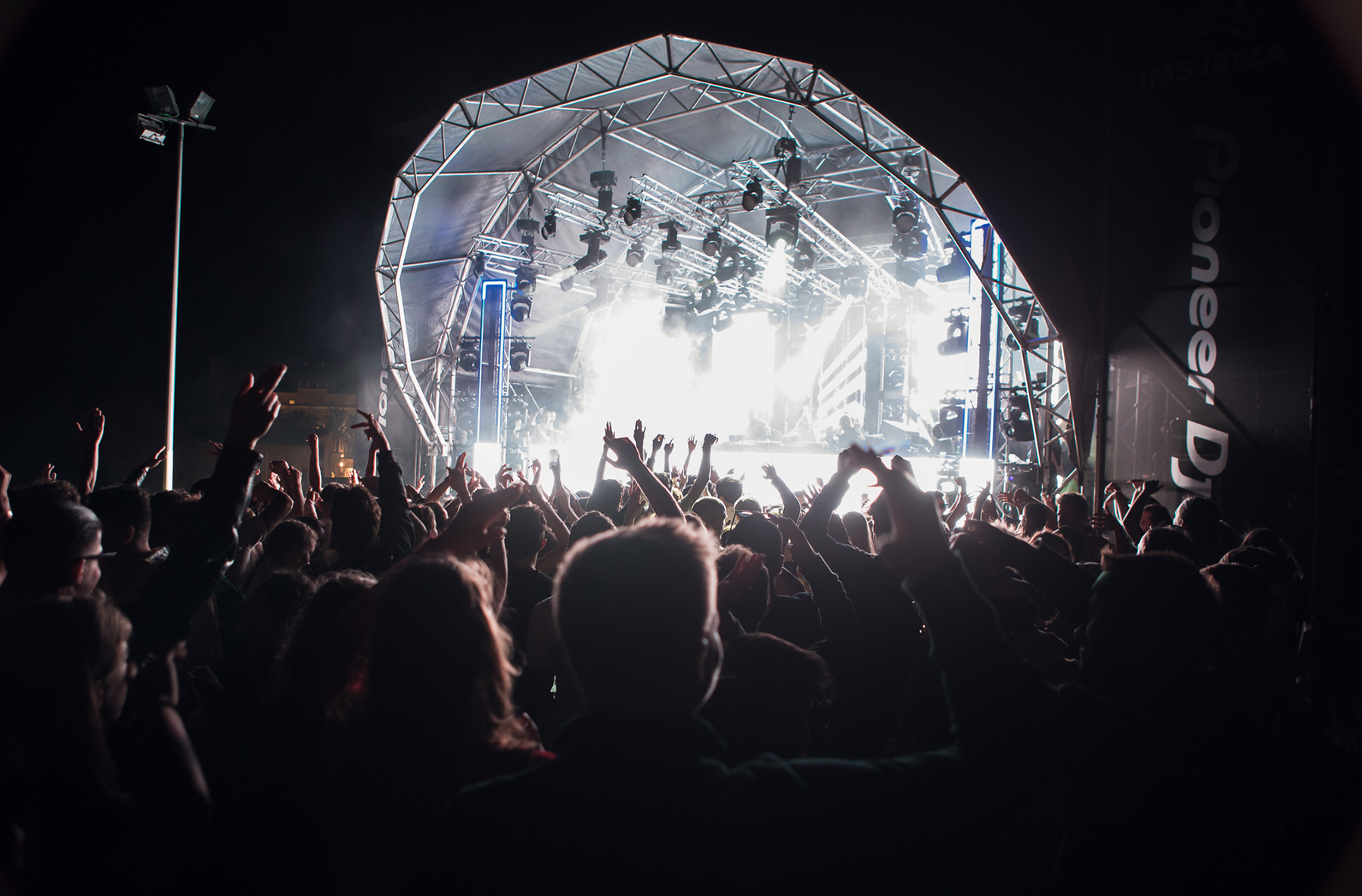 Dalt Villa Party (Photo Credit: Manel Gimano)
To sign off our week in Ibiza, the Point Blank team headed down to the Dalt Vila 2022 party, joining our friends at Pioneer DJ to watch stellar DJ sets by the likes of Jamie Jones b2b The Blessed Madonna, Joy Orbison b2b Overmono, Prospa b2b Jaguar and of course our PB alumni, Patrick Topping.
Stay tuned for more from IMS 2022 coming soon, including watchable versions of our line-up of artist masterclasses, panel discussions, workshops and events.
If you're keen to keep kickstart your music career with Point Blank and learn to produce electronic music, DJ, sing, write songs or even study music business in London, Los Angeles, China, Ibiza or Mumbai, we'd highly recommend checking out our line of courses. Plus, we're currently offering a special 30% discount on our Ibiza DJ course starting May 23rd as well as our brand new Ibiza singing course. Be sure to enter the code IBIZAMAY30 for DJing and IBIZASING30 for singing when enrolling. Got any questions about studying with Point Blank or the opportunities we have on offer? Then don't hesitate to contact us.
Register to Access Free Courses, Plugins, Projects, Samples & More
When you register with Point Blank, you access an array of free sounds, plugins, online course samples and much more! Simply register below and visit our Free Stuff page to get your hands on a range of exclusive music-making tools and tutorials provided by the team. Fill your boots!