Point Blank Online partnered with Dirtybird Records to create the Equal Opportunity Scholarship –designed to support and give back to the next generation of aspiring BIPOC producers. This scholarship opportunity is exclusively for BIPOC who are passionate and driven to begin producing music or further their career in electronic music production. The Equal Opportunity Scholarship covers all tuition and fees for the Music Production Diploma (Online), a 6-month program in which students will gain the skills necessary to write and produce music at a professional level. We are so excited to announce the winner of the Dirtybird Equal Opportunity Scholarship 24-year-old Zora Bowens, also known as MONiCO. 
We had the opportunity to ask Zora about some of her previous life experiences prior to winning this scholarship and what winning the Dirtybird Equal Opportunity Scholarship means to her.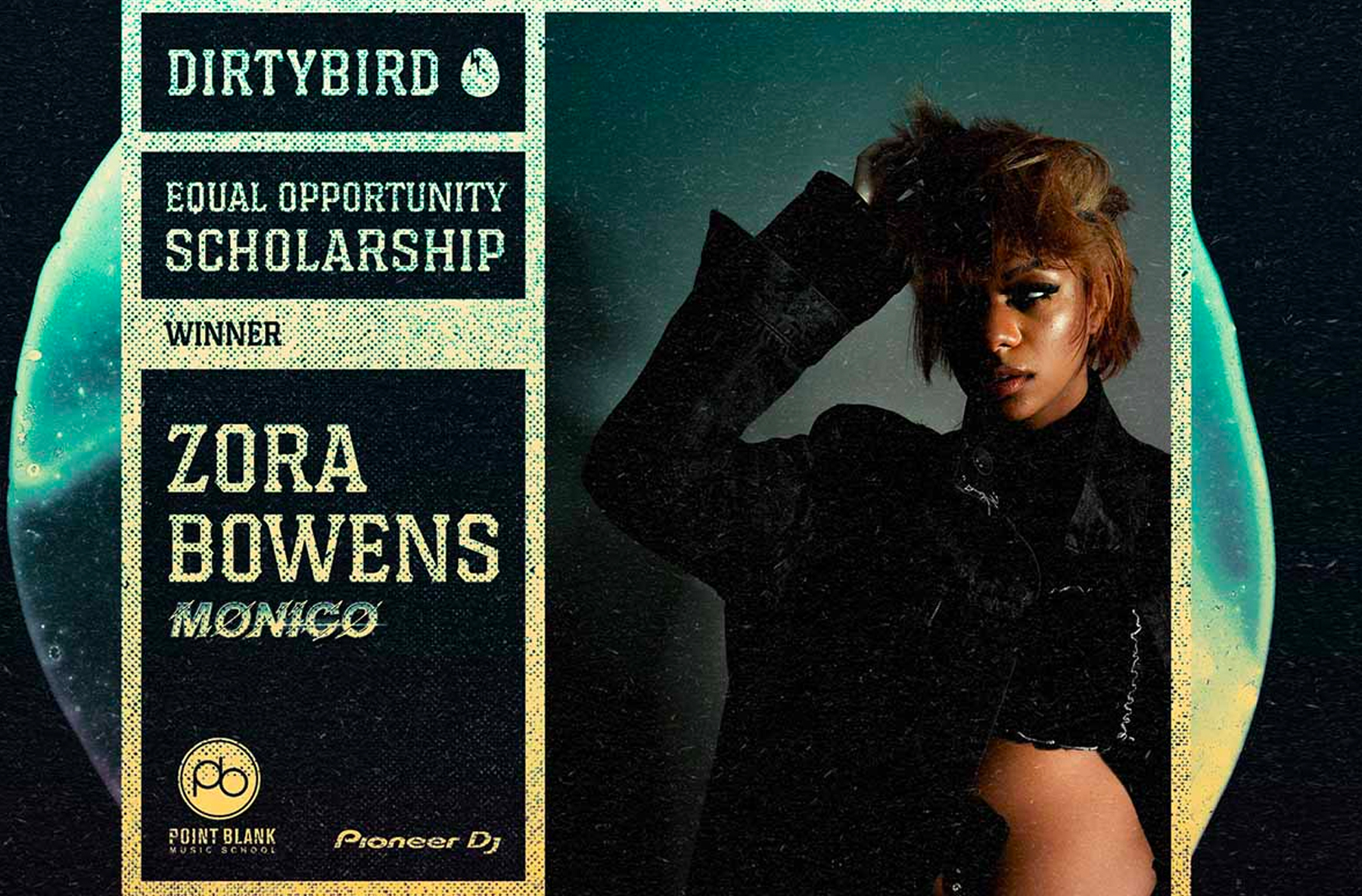 1. Which DJs/ music producers inspire MONiCO's sound the most? 
I have a pretty wide range of music tastes because I've had many influences and unique introductions to sounds that influence my music taste – like being from the home of techno, Detroit house, and ghetto tech, to living in different places. Particularly in Hong Kong where I found more house music, Hong Kong rap which was just being created, and trance. I imagine I'll be experimenting a lot with different sounds, but I am obsessed with synths and interested in textures. I am falling in love with modern ghetto tech. So, my biggest inspirations right now are Amadeezy and Matius Ruffing (the song Indigo Mist in particular). Special acknowledgement to Sansibar, Detroit's Filthiest, and DJ これからの緊急災害. My forever favorites from my music journey are Robert Miles, Mall Grab, Yaeji, Tchami, Sango, The Gorillaz, Kendrick Lamar, Peggy Gou and Zhu. My favorite DJ is Allison Wonderland, hands down. 
2. What does it mean to you to have won the Dirtybird Equal Opportunity Scholarship? How do you intend to utilize this opportunity to take Point Blank's 6-month Music Production Diploma?
Winning the Dirtybird Equal Opportunity Scholarship means the world to me as producing your own music is like painting a blank canvas. It's a representation of you as a person. I like to say it's the sound of your soul. I'm excited to discover that and furthermore as a DJ, excited to share it. My goal is to put out a record, collaborate with other artists, and overall bring the world some new music. But, I also feel like Detroit needs more artists around my age producing their own sounds and playing their own music, like a new music movement. 
3. When did you first know that you wanted to pursue a career in the music industry?
I knew I wanted to pursue a career in the music industry in my 10th year of high school. My first serious career dream was to be a DJ. I didn't even really know what it entailed at the time, I just knew I wanted to share music. I recently figured out how to articulate my purpose in life, which is about making the world a more interesting and happy place in every single area I can touch. Increasing quality of life through making things that create an experience for people or making life better through increasing happiness overall, whether it be through music, art, or activism. 
I didn't start DJing under the name MONiCO until 2020 when I could afford the equipment. It brings me so much joy. Two incredible years later and I'm playing larger shows and festivals, which is mind-blowing. Now, I get to take it further and share another piece of me with everyone by creating my own sounds. 
4. You have a background in fashion photography and marketing, do you plan on incorporating these fields into your music career?
I graduated from the Savannah College of Art and Design in one of the first classes in the world to design experiences, which is creating interactive events or seemingly random experiences for consumers. After graduation, I started my own agency in Detroit called Momentum which does 360 marketing (campaigns, brand identity, digital asset creation, etc.) and brand experiences.
People have always told me to "focus on one thing" but I'm a multi-passionate person. I realized what makes me unique is actually that my brain is wired to see the connections between everything. Everything I do is about people, experiences, music, and art which naturally connect. So, I will definitely be incorporating my music career into my agency in unique ways. I will continue throwing my own experiential events which include many DJs and producers while building the artist network in Detroit, and building a bridge between generations of music. I like to bring fashion photography installations to events or help other artists have installations in event spaces. One of the most interesting things I'm exploring is incorporating music into emerging technology, like VR, AR, and NFTs. Since I'm one of the first graduating classes, I don't have a road map. But, I've had some awesome achievements so far and I'm excited to see how much I can merge these aspects together.
5. Do you have anything else you want to add?
I just want to add that this is a new journey for me, a chance for me to take my life experiences, and my being and turn them into a sound – and I hope you all join me for this ride.
You can check out MONiCO's mixes here: 
If you're interested in learning how to produce your own music, mix and master tracks as well as DJ, sing, write songs and more, we'd highly recommend checking out our courses in Los Angeles. Not based in the US? No problem, we have a range of online degree courses that you can study from anywhere in the world.
Register to Access Free Courses, Plugins, Projects, Samples & More 
When you register with Point Blank, you access an array of free sounds, plugins, online course samples and much more! Simply register below and visit our Free Stuff page to get your hands on a range of exclusive music-making tools and tutorials provided by the team. Fill your boots!