Here at Point Blank, we pride ourselves on the success of our students. We're spoilt for choice when it comes to success stories and that's why we publish a monthly Student Success feature. For this instalment, we are shining a spotlight on the Point Blank student, Anhad Khanna aka Sublime Sound. He specialises in breakbeat, drum and bass and techno and has been featured in numerous Spotify editorials for his compelling sound.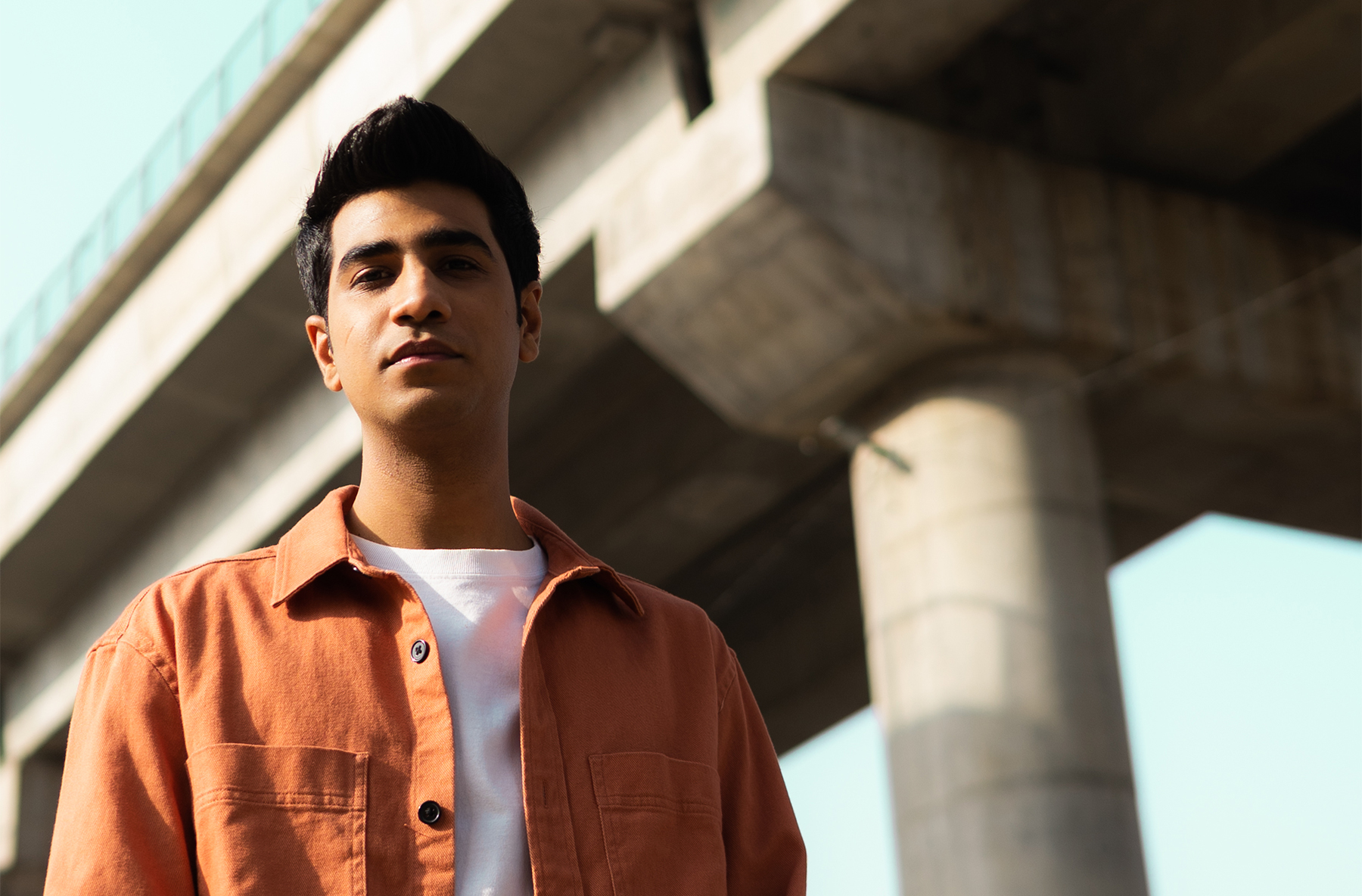 Anhad Khanna aka Sublime Sound is New Delhi based producer, with a left-field approach to composition. He digs deep into the surface of club sounds and traditional dance floor soundscapes and is driven by styles like breakbeat, drum and bass and techno. He is currently studying the Point Blank BA (Hons) Music Production & Sound Engineering Degree Online.
Hey Anhad, for those who aren't familiar with you, could you give us an intro?
My name is Anhad Khanna, I'm an artist from New Delhi, India. I dabble in many different kinds and styles of music but primarily focus on two main projects of mine – Sublime Sound (my solo moniker) and Anhad + Tanner which is my duo project. I've always been a drummer but now spend more time producing, DJing, and playing live.
Your solo alias, Sublime Sound, is really taking off. Could you tell us a bit more about this project?
Sublime Sound is my solo moniker – a space and artistic alias I've created to dig deep into all things left field. Lush soundscapes heavily inspired by UK breakbeat, house, and techno, my compositional philosophy as Sublime Sound lies deeply in experimenting with traditional dance floor forms and catchy synth work coupled with narratives close and personal to me. My sophomore EP, That Love Affair, was just released and marked my debut in the British music scene, which definitely is a special one for me.
Your new EP, That Love Affair, was recently released on Remmah Records. How did you hook up with the label?
I've been a big follower of Hammer. Ever since I got into listening to underground music – the sounds of Hammer and Bicep have been toping my playlists. They're the reason I fell in love with this style of music!

I saw an Instagram post that Hammer (Rory) made about setting up this new label, Remmah and it instantly got me pretty excited. I had this set of tracks I had written and most of the EP was already put together. I took a chance and sent an email with the tunes and a little bit about myself. Ten days later, and one day before a festival called Earthen I was paying at in India in December 2021, I got a response from Rory with really kind words and asking if I'd be down to release these on the label. My response was an instant yes and after that, the journey of making the tunes better and ready for a proper release began. 
Even now I write 50 emails a day, hustle like crazy, and this time round – something came through. Makes the process absolutely worth it!
The new record is incredible. How did it all come together?
I wrote this record sometime in June-July-August of 2021. It was right about then that the second wave of covid was hitting hard here in India and my artistic and creative motivation was really low. Before the second wave hit, I had decided to break my studio down and build a fresh new spot but due to the lockdown all the work had to be stopped and I basically had no place to just immerse and be creative at. It was a fairly low point, but somehow, something triggered my search for finding what truly is the sound I want to represent and it all hit home when a scratch version of the title tune happened out of nowhere. That's when creativity and excitement started to pick up. I then spent my evenings in my neighbour's small office space which I would set up as a makeshift studio every evening and wrote the rest of the demos. I would bring them back home to fine-tune and really make songs out of them as opposed to demos. Initially, I was pretty nervous, but once I shared the first batch of edits with my management and some close friends to preview and got some positive responses, it all started feeling real and I felt like I was onto something. I'm usually very serious while writing music, and calculate a lot of decisions I make but this time around, I just wanted to have fun and that's how the EP happened!
We saw you collaborated with another Point Blank student, Ellivia, on your latest EP. How did this collab come to fruition?
Ellivia (Elin Vanakan) and I have been on the same course online right from the beginning. I heard a little demo she did in the creative audio module back in the first year and I became an instant fan of her talent. As much as I love collaborating, I also believe that they're sacred in many ways and the best results happen when there is unique value two people can bring to the table as opposed to causal collab sessions that happen quite often in the electronica scene. I wanted to know Elin personally, know more about her musical influences and truly understand her artistic sensibilities before pitching her a potential tune to work on. We were constantly sharing the kind of music we had been listening to and that helped us develop a more clear understanding of our goals and sonic ambitions. Only when I knew we had reached a point where all these things were fitting like puzzle pieces is when I shared the first demo of 'Now We Are' which she worked on as a songwriter, co-composer and of course leant her fantastic voice to. We've become fantastic friends through this process and I've got a lot of respect for her talent. She's definitely one of the most talented songwriters and singers I've had the privilege of working with and I really believe in her work.
Do you have any go-to plugins or production techniques you think our readers should try out?
I have a couple of sounds and synths that I feel define my sonic palette at the moment. They're the sounds that add cohesivity to the music I write and I keep going back to them because they feel like home to me now. Vital is a fantastic VST and so are the Arturia analog synth emulations. My production process as Sublime Sound is a lot more focused on doing less and playing with only a couple of tools because I'm trying to emulate the idea of producing with outboard gear and lots of synths and most studios only usually have a few of them (unless you're an absolute big shot haha). So, I definitely stray away from doing way too much using every plugin I could find. Just make friends with a couple of good VSTs and synths and have fun. I really like the Slate Digital stuff so my mix process includes using stock logic plugins (which are too good to begin with), select Waves Audio plugins and a couple of slate tools for my busses. The virtual tape machine by Slate is golden, a tool everyone needs to try out!
Having been featured in numerous Spotify editorials, how has this impacted your career as an artist?
It's always an absolute honour being supported by Spotify in such a direct way, as I never write music for the sole purpose of being placed on a playlist. For me, it's all about artistic expression and making something that has some sort of shelf value as opposed to a one-time banger, so I really just focus more on that. Being on the cover of 'Electronic In India' this time around has been a very special one since the list really includes some of the best music coming out of the subcontinent at the moment. It's a very humbling feeling more than anything. How it has impacted my career is a tricky one to answer but it definitely makes you feel that something you're doing is right and okay because I really doubt myself sometimes and it can be tough for me to be very satisfied with what I create. So, moments like these really just motivate me further to believe in what I do and keep doing it. 
You're also part of Anhad + Tanner. Could you tell us a bit about this project?
Anhad + Tanner is a very special project. We're an Indo-American duo where my collaborator Tanner Willeford is based in Durham, North Carolina and we write music inspired by our roots and interpret them in modern electronica contexts. Delving deep into the sounds of Asian Underground and contemporary jazz, our debut record, In Other Words, came out in 2020. It features some of the most talented musicians and close friends of ours from India and the US and really was a project that was all about artistic exploration and writing music without any expectations. At least that's how the first record happened! The record was followed by a remix album and both those releases were supported by some very prestigious platforms like Mixmag, BBC Asian Network, Time of India, Rolling Stone India, and a bunch more.
We also take up select commissioned production work every now and then and those act like sonic palette cleansers between our A+T sessions. We love producing all kinds of music, so whenever we want to take a short break from producing our usual style we take up a pop project. We won two titles – 'Producer of the year' and 'Folk Fusion Artist of the year' last year at the Indies Awards powered by Rolling Stone India. We also produced the tune that won 'Song of the year' which was quite humbling.
We have a schedule of recordings planned for the coming months and are excited about the next chapter.
What's the club scene like in India for techno and breakbeat? Do you have any favourite nights, collectives or clubs that should be on our radar?
The club scene for techno, breakbeat, and alternate arts is really picking up here in India. We've been at it for a while, there is so much that has happened in India be it the classic Hilltop raves in Goa that started the psytrance community or the early club nights in Delhi and Mumbai by different crews. There is so much history to track that once you dig into the electronica scene here it starts feeling super vibrant and rich, which I love! People are more receptive to business techno and straightforward sounds but there are chunks where the alternate exists and more and more focus is going to those spots and artists slowly but steadily. Some spots like Auro in Delhi and Antisocial in Mumbai have been pushing lots of alternate music. Crews like Konnekt are definitely on top of their game being promoters and really building experiences as opposed to a one-off gig. Their understanding of the 'power of production' at a night makes them the best to work with in the country. Medium Rare is a party at Auro by New Delhi-based artists Film which is really exciting too. He's all about pushing the left field in India. DJ MoCity leading the Boxout community is definitely one to watch out for too. His work in pushing the alternate music scene up on an independent FM which is Boxout is nothing short of inspiring. Lots of boutique festivals have picked up at bespoke locations and most times at ancient Indian palaces and forts. One such is Earthen – definitely something to check out and of course, the classic – Magnetic Fields Festival crew who have always been way too ahead of the game. It's an absolute privilege to be a part of the music scene in India. There is space for everything from Special Request to Anjunadeep and there is no stopping. 
How did you discover Point Blank?
I primarily discovered Point Blank through the internet and since I've been such a big fan of the UK music circuit and artists there it just felt like a very enticing school to be associated with.
Were there any things that really stood out in your memory from studying here?
My time at the London campus for three months in 2019 was really a highlight as a whole. I wasn't doing a degree back then but I loved coming to the school and just immersing myself in this environment of learning, making mistakes and having people around to build meaningful conversations with. I love being academic with music and I really appreciate how Point Blank's focus has always been on more hands-on practical learning as opposed to very traditional music study. Point Blank creates a brilliant balance of traditional and contemporary learning which I really enjoy. I would spend hours in Studio 5 at the Penn Street building, which sort of started feeling like a personal studio/office space to me (haha). Meeting people like Alex Phountzi, and Frank McWeeny and studying with professors like Jarrad Hearman, Max, Ben Medcalf, Jen Anderson, Stavros, Ali Jameson and all the rest have been so insightful. There is so much to learn and the support I've gotten from the professors and the PB team has been very special. I'm also the Online Student Officier now so working alongside Michael Denny has been lots of fun.
What's in the pipeline? Are there any other interesting projects (personal or professional) you're working on that you can tell us about?
A lot is planned for the coming months. Currently working on finishing the next batch of Sublime Sound music and in talks with signing another release with a very exciting label, which I can't wait to share more about this. Also, I'm currently working on designing the live set I want to tour with later in the year. Tanner and I have June, July and August booked out for the next major writing session and we'll be spending time in India and the states – so quite excited to travel internationally again post-pandemic
Socials: Spotify / Instagram / Facebook
Successes such as these are common among our students and alumni. We can teach you how to DJ like the best of them at any of our schools. If you'd like to learn how to produce, then we can build your skills from the ground up with our range of degree programmes. For more information, you can contact us here.
Register to Access Free Courses, Plugins, Projects, Samples & More
When you register with Point Blank, you access an array of free sounds, plugins, online course samples and much more! Simply register below and visit our Free Stuff page to get your hands on a range of exclusive music-making tools and tutorials provided by the team. Fill your boots!