You read it right, this Thursday 30th March PBLA will be hosting scratch legend Mix Master Mike for a guest workshop and Q&A. This student-only event will see the Beastie Boys turntablist perform to attendees before giving us an insight on his career so far, sharing some valuable tips and his personal experience. Following this, a handful of lucky students will showcase their scratching skills, before being taught some tricks and techniques from the legend himself. To attend, follow this Eventbrite link. This event is free and for PBLA students only.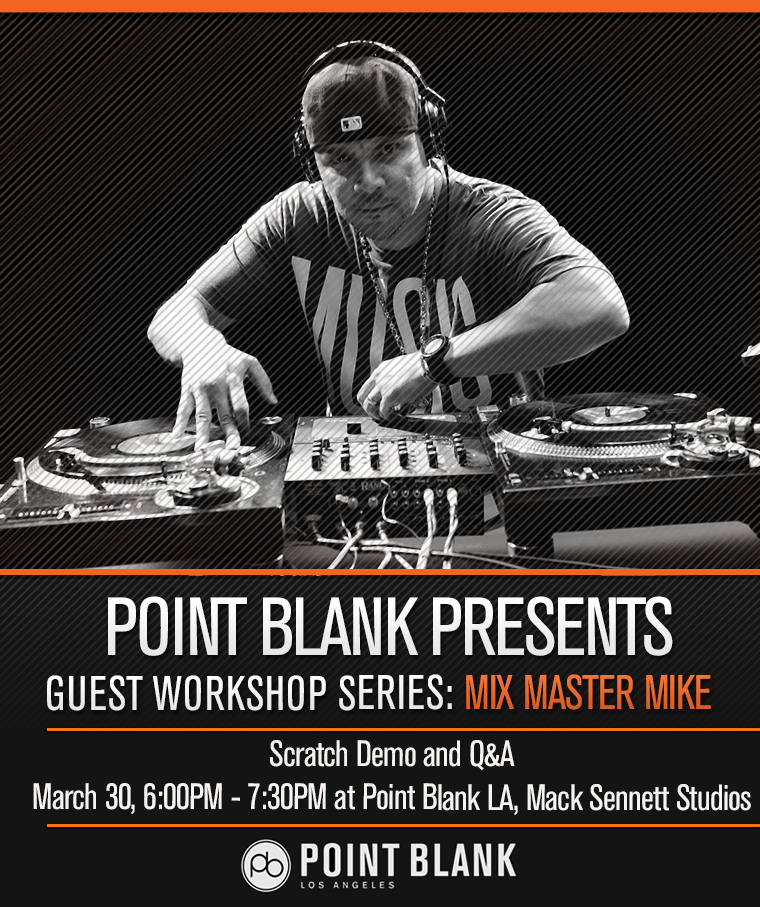 Rock & Roll Hall Of Famer Mix Master Mike has become a household name over the course of his career, having worked with highly influential hip-hop group The Beastie Boys and winning three consecutive DMC World Championships & The Grand Wizzard Lifetime Achievement Award from the International Turntablist Federation. He is credited with pioneering the 'tweak-scratch', whilst being hailed as 'the greatest DJ in the world' by USA Today. In 2017, Mix Master Mike will be joining Metallica on an Arena Tour as well as working on his Virtual Reality Project 'Magma Chamber'. This is a once in a lifetime chance to learn from a true legend of the Hip-Hop & DJ worlds and as such is not an opportunity to be missed!
To gain access to exclusive events like this one, why not look into studying with us at PBLA. To find out which course is for you, visit our Los Angeles course page to find out more – but hurry, you'll need to sign up ASAP as spaces are extremely limited for the forthcoming term. We've got everything from production, sound design and mixing courses to DJ'ing. We are currently offering a huge 20% off all PBLA courses – however, this offer expires on 31st March. If you want to know more and you're in the USA, give us a call on 323 282 7660, or contact us here.
Register to Access Free Courses, Plugins, Projects, Samples & More
When you register with Point Blank, you access an array of free sounds, plugins, online course samples, access to our social network Plugged In and much more! Simply register below and visit our Free Stuff page to get your hands on a range of exclusive music-making tools and tutorials provided by the team. Fill your boots!