We are excited to announce that our brand new PBLA course, the Music Production & Sound Design Diploma, is open for enrollment. Covering everything from the creative process of writing, recording, mixing and mastering your own music from start to finish, this new flagship program is PBLA's most rigorous and eye-opening yet.
Like with many of our Los Angeles-based programs, which take place at the gorgeous Mack Sennett Studios in the heart of Silver Lake, the Music Production & Sound Design Diploma is led by music industry professionals whose credits include Pharrell Williams, Skrillex, Flying Lotus, Amy Winehouse, Depeche Mode, and more. Lasting a total of 12-months, this comprehensive diploma is designed to help you discover your own identity as a producer and recording artist and develop a stunning professional-grade portfolio of tracks that will enable you to find your ideal place within the music industry. In addition to learning the ins and outs of Music Production, DAWs, Music Business, Composing for Film & TV and more, all those who enroll by September 30th will benefit from an included software bundle worth $1,479, featuring Ableton Live Suite, NI Komplete and Pioneer DJ Rekordbox. Find out more about what this diverse program includes here.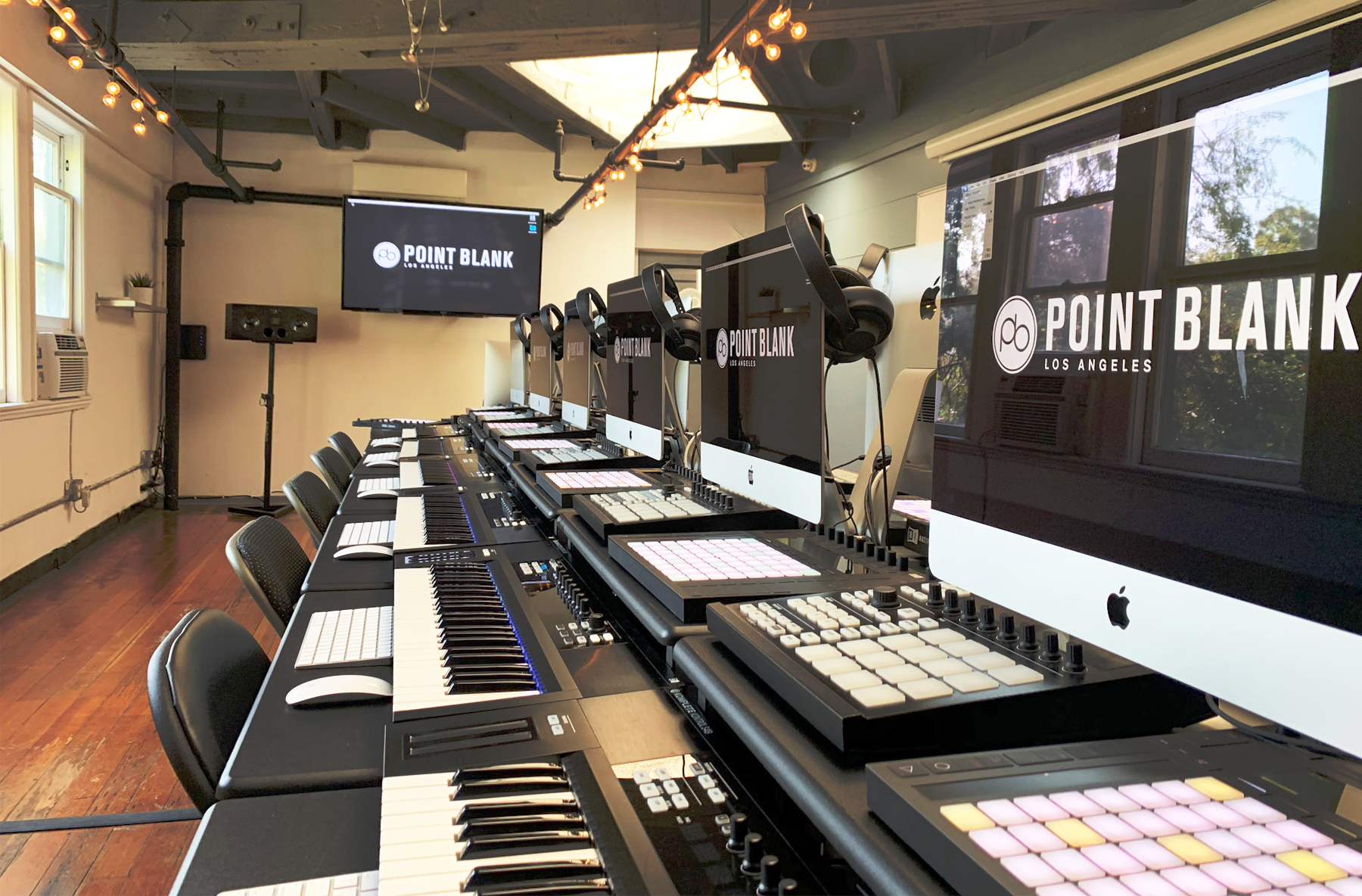 Once the program starts, you'll begin honing your skills amongst other like-minded creatives at our fully-equipped studios. The Point Blank LA facilities are decked out with the latest and greatest in software and hardware from the likes of NI, Pioneer DJ, Ableton and more thanks to our fruitful and long-lasting industry partnerships. All Point Blank students are encouraged to take advantage of the fantastic events, industry contacts, and studio facilities we have to offer. From exclusive artist masterclasses, panels, and networking nights to plenty of open studio time, there's always a lot to enjoy at Point Blank Los Angeles while you learn the ins and outs of the music industry.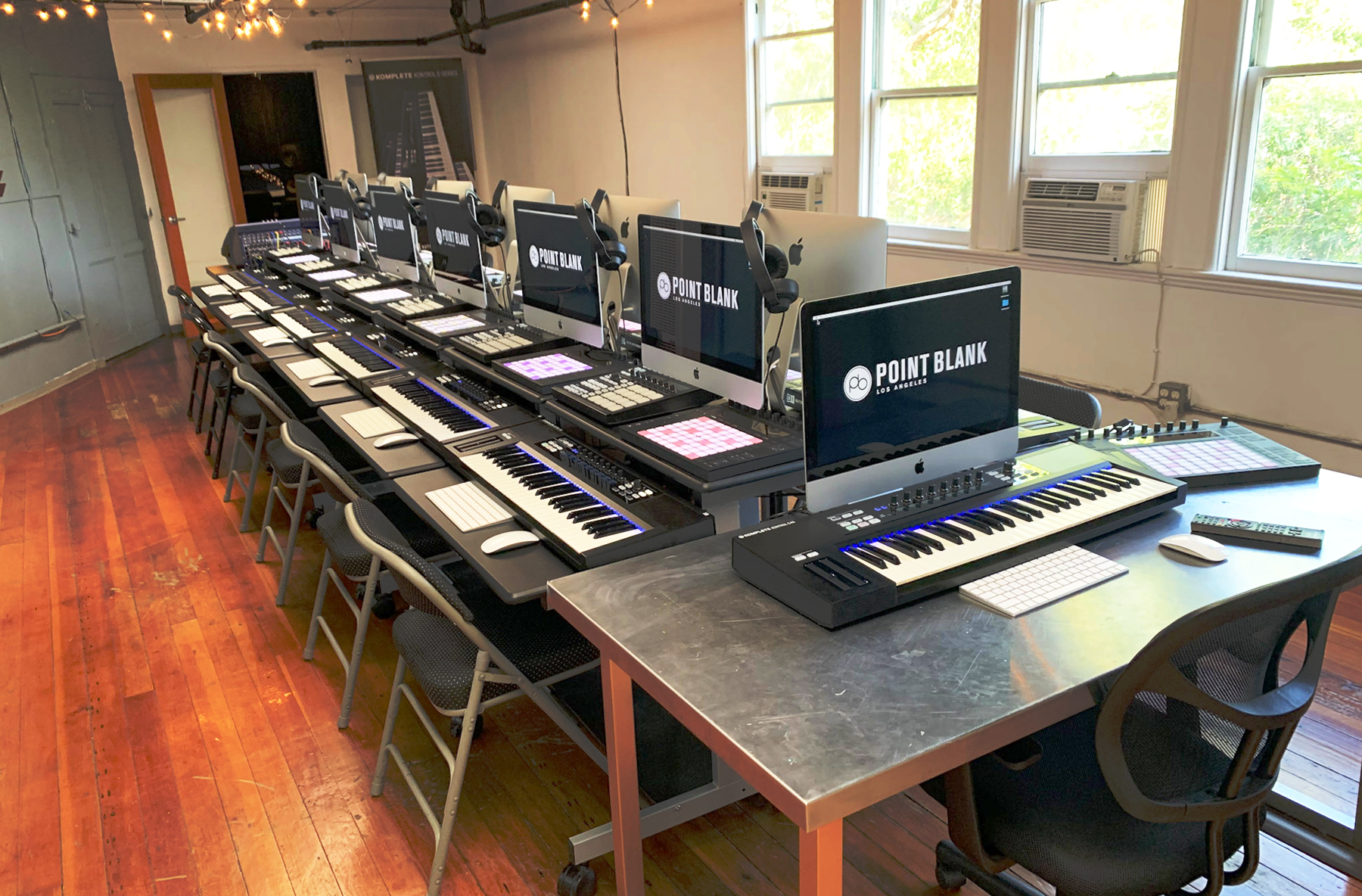 If you're looking to study with Point Blank in Los Angeles but need some financial assistance, we also offer a range of scholarships. Point Blank LA is committed to making a college-level music education equitable and accessible to people from diverse socioeconomic backgrounds. To this end, we offer ample financial support options in the form of talent-based scholarships for producers, DJs, and singers, need-based tuition reductions, program package discounts, and installment payment plans which can found here. If awarded, you could earn up to 20% off your tuition costs on any of our courses or programs. Our LA school recently achieved its licensure through California's Bureau for Private Postsecondary Education (BPPE), enabling us to add eight brand new programs to the PBLA catalog. Find out more about those courses here.
Register to Access Free Courses, Plugins, Projects, Samples & More
When you register with Point Blank, you access an array of free sounds, plugins, online course samples, access to our social network Plugged In and much more! Simply register below and visit our Free Stuff page to get your hands on a range of exclusive music-making tools and tutorials provided by the team. Fill your boots!