Our industry partners at Pioneer DJ have launched the new DDJ-REV5, a 2-channel scratch-style controller that's set to redefine the DJing experience. With compatibility for both Serato DJ Pro (recently acquired by Pioneer DJ) and rekordbox, this controller offers an authentic scratch experience and introduces groundbreaking features to enhance your creative DJ performances. This unit is the perfect accompaniment to our new Point Blank Online DJ courses and BA (Hons) Music Production & DJ Performance degree. Here are the key features: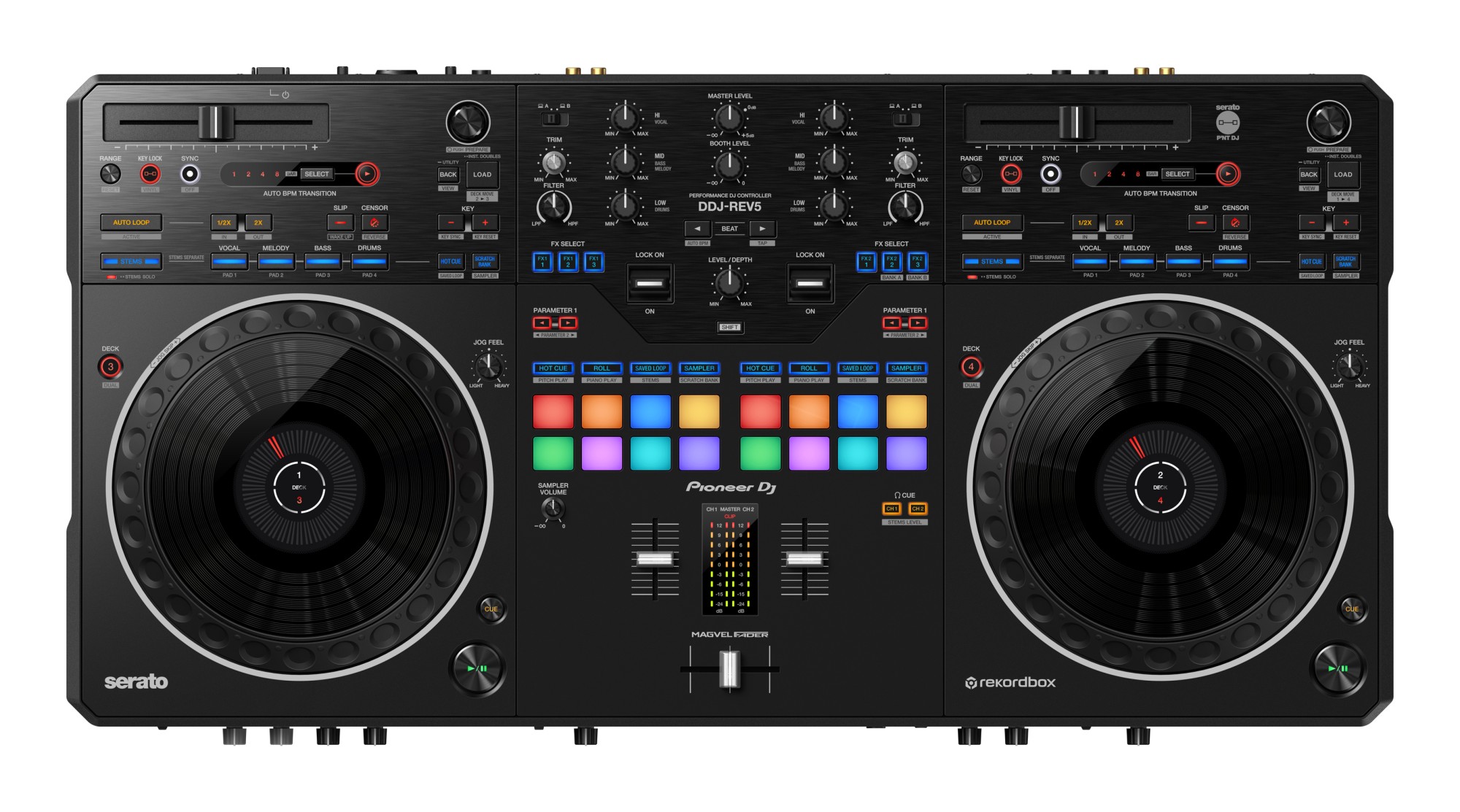 Experience Precision with Large Jog Wheels
The DDJ-REV5's large jog wheels are designed to emulate the feel of classic CDJ units, providing intricate and precise control for scratching. Coupled with the MAGVEL FADER, you can customise the Jog Feel to find the perfect weight for your style, allowing for precise and dynamic scratching, similar to what's found on the flagship CDJ-3000. They also feature vinyl style accents on the wheels for an added sense of authenticity.
Open-Format Freedom with Scratch-Style Layout
The controller's layout, with long tempo sliders and Performance Pads in the mixer section, mirrors the setups favored by open-format DJs. This design encourages a fusion of scratching, pad play, and effects, offering a new level of creative freedom regardless of whether you're focused on mixing or turntablism.
Unleash Creativity with Stems Control
The DDJ-REV5 introduces unique Stems control buttons for live remixing and mash-ups. You can play or mute different parts of a track individually, isolate Stems on separate decks, or even adjust the volume for different Stems, giving you endless possibilities for creativity. These are new features which tie in perfectly with our Advanced DJ Skills and Electronic Music Performance modules.
Play Like a Pro with Piano Play Mode
The new Piano Play mode transforms the 16 Performance Pads into a piano-like keyboard layout. Even if you're not familiar with musical scales, you can easily play tunes and express yourself musically.
A Blend of Analog and Digital Design
The DDJ-REV5's design pays homage to scratch culture while embracing modern innovation. The vinyl-like texture on the jog wheels and the tough metal panel protecting the fader section add to the authentic feel, while the dedicated Stems buttons and angled corners hint at the controller's fresh capabilities. The mixer is reminiscent of the DJM-S series with flip switches for FX and pad placement.
Serato DJ Pro and Rekordbox Compatibility
This is the first full DJ controller to be released since Pioneer DJ's acquisition of Serato and naturally, this unit is compatible with both rekordbox and Serato DJ Pro. This gives the user full flexibility when it comes to their choice of DJ software and works great with our degrees which teach both platforms.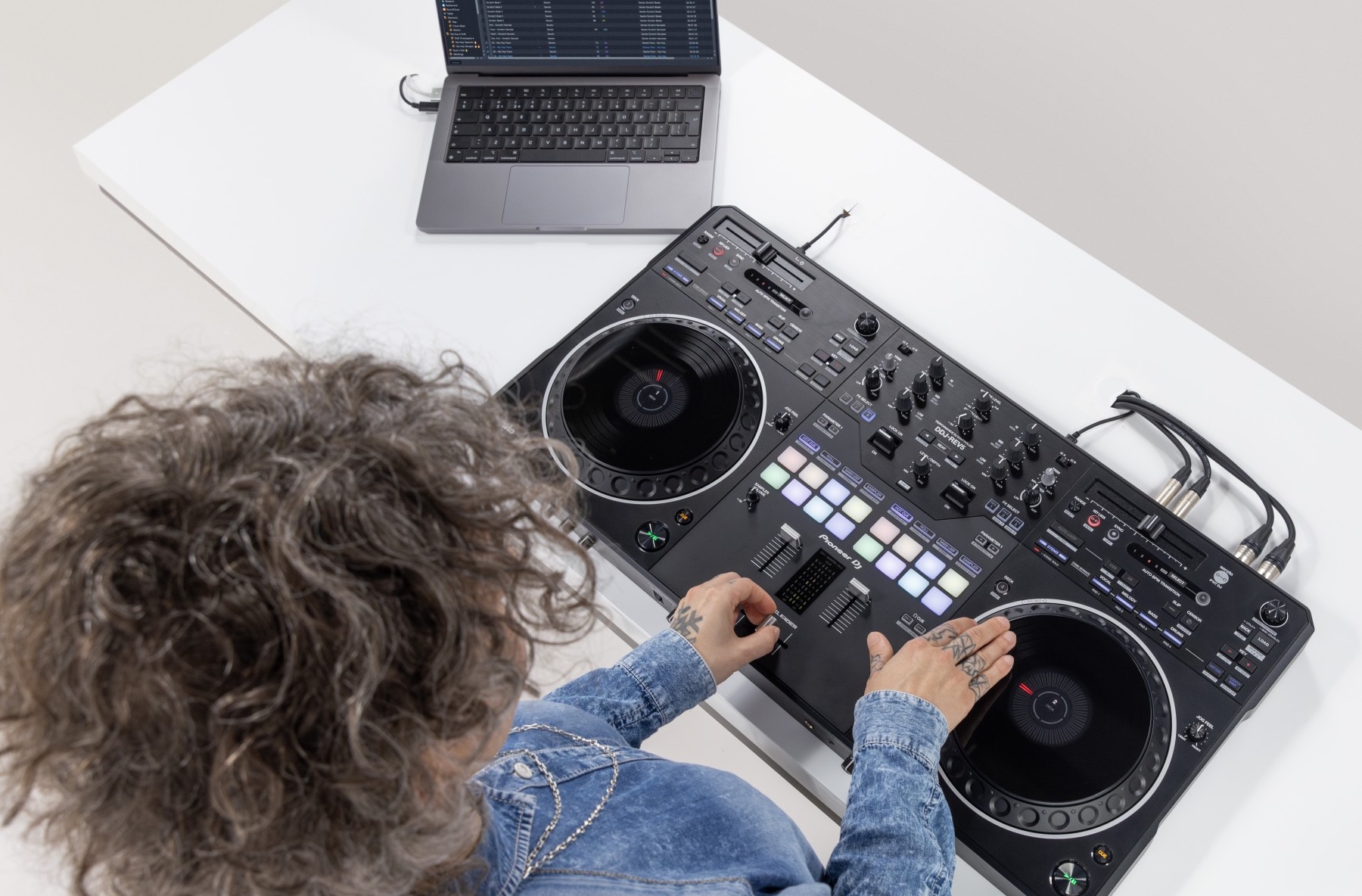 Pioneer DJ's DDJ-REV5 is more than just a controller; it's a revolutionary tool that opens doors to new creative possibilities. Whether you're a battle-hardened DJ or just starting your musical journey, this controller offers a blend of tradition and innovation that's sure to inspire. Want to know how to use it like a pro? Check out our award winning DJ courses. Eligible for clearing? Take a look at the guide on our website.
The DDJ-REV5 is now available at €1,099 including VAT / $1,099 excluding tax / £939,00 including VAT. Find out more and how to purchase on Pioneer DJ's website.
Register to Access Free Courses, Plugins, Projects, Samples & More
When you register with Point Blank, you access an array of free sounds, plugins, online course samples and much more! Simply register below and visit our Free Stuff page to get your hands on a range of exclusive music-making tools and tutorials provided by the team. Fill your boots!