At Point Blank, you can expect to be taught by some of the best in the business. Each of our instructors is selected for a combination of talent, music industry experience, and tangible success – which they pass on to you in the classroom. Each is a true specialist in their field, and our faculty members in Los Angeles and the Online School are no exception. For this Instructor Spotlight, we will be introducing artist and label founder, Conrad Clifton.
If you'd like to learn from some of the best in the industry, be sure to check out our Point Blank LA courses. Plus, they're 25% off until this offer ends on 10th January so be sure to sign up using the code LA25 when enrolling.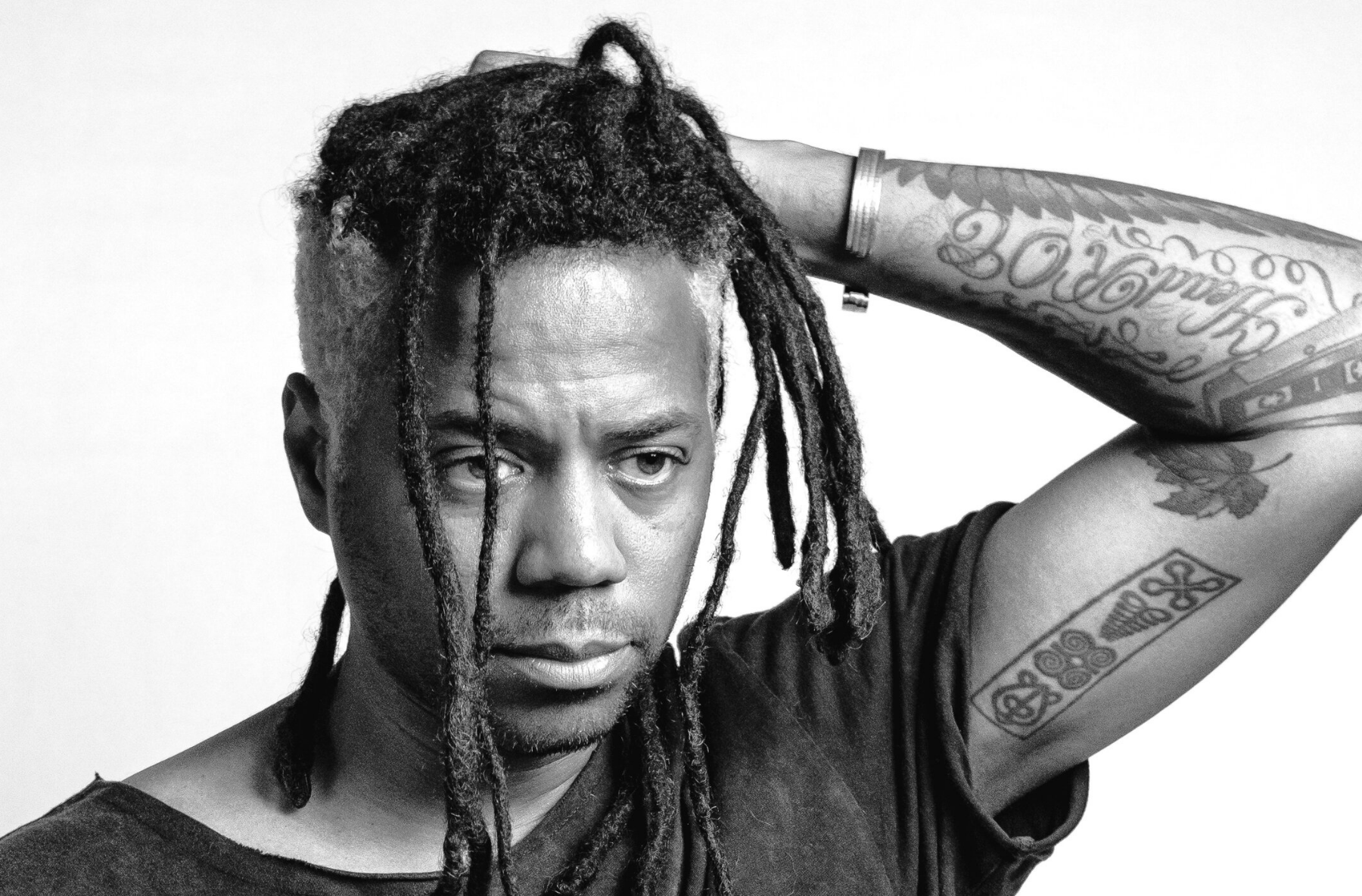 Conrad Clifton is an extremely successful electronic artist, recognized for his daring and unique sound. His passion for creative arts started at a young age, with music becoming the focal point in his mid-teens. Clifton started rapping, then producing, and before he knew it, he was making music not only for himself but for everyone in his neighborhood. He decided to build a career out of this passion, which began in Atlanta with production crew Battery 5. While going by the name HeadROC, it was here that he cut his teeth working with some of the most successful producers and recording artists in the industry. Now based in Brooklyn and going by Conrad Clifton, he is the founder of his own label, Infinity Pool Recordings, and continues to create and release amazing music that frequently receives love and support from outlets like The FADER, Magnetic Magazine, Acid Stag, BBC Radio 1xtra, and Kitsuné. We recently caught up with Conrad to interview him about his music, his career, and his love for teaching.
When did you start creating music? How did you first fall in love with it?
I started producing beats around 2000, but I always say I wasn't any good until about 2004.
I was always freestyling, rapping for fun, but at some point, I was tired of using a famous artist's instrumentals and wanted to make my own. That's what really got me started. I used to bounce back and forth between which I loved more, rapping or producing music – and eventually, music production won out.
I've always loved how music can tell stories and translate emotions without the necessity of words. It's transcendent and universal in that way.
You're known for blending elements of hip-hop, electronic, rock, house, bass, and all sorts of dance music to create your own unique sound. How did you find your sound and what artists served as your inspiration for it?
Yes, my need to blend styles with no regard for fitting into a genre box has kind of been a gift and a curse. It's arguably much easier and potentially more lucrative to stay within the acceptable parameters of what makes a specific genre and produce music with popular elements that "work" for a majority of people in the current moment. It's more of a long, difficult road to formulate your own unique sound – but I feel like the outcome is more earned and well worth it.
I always felt like I didn't have a choice – because no matter how hard I tried to conform to the acceptable norm of how things are made, it always made more sense to add in unexpected elements that fit like awkward puzzle pieces – plus, it just feels better.
I'm inspired by one-of-one artists that, even in their chosen genres, confidently blur the lines: J Dilla, Thom Yorke, RZA, Pharrell Williams, to name a few.
You've shared the stage with some massive artists like Justin Bieber, The Chainsmokers, San Holo, and Chrome Sparks at major events like the first Billboard Hot 100 Festival and SXSW. How do you prepare for high-profile performances like those? What goes through your mind when you hit the stage?
They say practice makes perfect. Well, as an electronic artist, you'll learn that even that's not enough. You have to plan for every potential technical issue that may arise and then practice for those too.
I spend many hours curating the perfect show, depending on the venue, event, and setlist. Then I spend many hours practicing it until I can literally do it in my sleep. Then I prepare contingencies in case anything goes wrong. I get to a show early and make sure I have time to set up and sound check. I'm responsible for myself up on that stage, so only after I've done all of this will I feel comfortable hopping up there and rocking the crowd.
Honestly, the other artists being there is just a bonus, but I'm not really thinking about them. I don't need the added pressure.
You won an Independent Music Award for Best Dance/Electronica EP. How's it feel to be recognized in that way? How excited were you when you first found out?
Pretty amazing, actually. I had submitted for it almost a year earlier, and over the course of doing so many things that year, I'd forgotten about it until I got the news that I was a finalist.
I was invited to the award ceremony at Lincoln Center in Manhattan, where they were to announce the winners. It was my first awards ceremony, so I was extremely excited and nervous. When they got to my category, read the nominees, then said, "and the winner is Conrad Clifton," I was floored. What an honor to be recognized by a committee of peers and fans and receive an award previously received by artists I look up to, like Flying Lotus and Killer Mike. I'm still so grateful.
You've worked with Grammy-winning producers Tricky Stewart and Bryan-Michael Cox on exciting projects for huge artists like Missy Elliott, Rick Ross, Big Sean, and others. What have been some of your favorite projects to work on?
That's a great question. Unfortunately, some of my favorite projects were never released. Industry lessons learned the hard way. For example, I worked on an album with Yelawolf back in '07, where I produced maybe 70% of the project. They did a music video, and everything was moving forward, but, at the last minute, there was some label dispute, which resulted in him leaving the label, and the album getting scrapped. I still love those songs.
The thing that my other favorite projects have in common is that they're all with up-and-coming artists. They're open to honest creativity and to the energy that's being generated between us. In a way, there's less pressure on the music. We can just make great music. That's why I love featuring artists on my own albums.
Your song "Kylo" was featured in the HBO trailer for Ta-Nehisi Coates' Between The World & Me. How did it feel to have your music featured in such a powerful and socially relevant project?
It was a total shock when I found out, and the way I found out was super unexpected.
I submit to a lot of sync licensing opportunities, and most of them don't pan out, which is just the nature of the business. Also, you hardly ever know what project the music is for. I try not to get too excited when I'm notified that something has moved to the next phase of the potential decision: the client requesting stems or various mixes (acapella, instrumental, clean version, etc.). But this usually means that you're closer to winning that coveted placement, and I received this request for "Kylo."
About a month later, I hadn't heard any updates, so I just figured I missed another one. Then one night, I was browsing HBO and came across a trailer for "Between The World & Me", something I was very interested in, so I checked it out. When my song came on, my jaw dropped. I pressed pause and left the room. I couldn't believe it. I was so shocked and excited. I didn't know what to do!
I came back and finished the trailer and was so happy and proud – on so many levels – to be a part of something so important to the times that we're living in right now. I immediately shared it with my loved ones and all over social media. Then promptly reached out to my licensing admin to make sure we got our business handled.
You've composed music for clients including Netflix, HBO, Marvel, MTV, and Turner Broadcasting. What would your advice be for producers looking to work in the world of music for media?
Most of what I know, I learned by diving in and going for it. I'd remind them that there are different ways to approach getting your music placed. You can pitch your original prerecorded and/or previously released songs for sync opportunities, or you can produce custom demos for specific briefs. I do both, but I feel like the latter requires a bit of a track record even to get the opportunity.
Music briefs for media are usually very specific, and the specifics can vary broadly. And the turnaround time for delivery is usually very fast. All of this to say, each time you pitch or demo for one of these briefs, it's like a test of your skill level in production, creative flexibility, and problem-solving. Therefore, you should always be striving to perfect your craft.
ABC: always be creating. Keep making music to get better at it. Keep learning to mix to get better at it. When you stay ready… you don't have to get ready.
You're the founder of Infinity Pool Recordings. What made you decide to start a label and what work went into successfully starting it?
The main reason I started a label was that I was already doing everything a label would do for myself. Before the label, I was pitching my music to other labels like any other artist. And like them, I was consistently getting NO's, if I was lucky enough to get a response at all. But, I was so determined to get my music out there that I was willing to take on all the risk and do all the work to make it happen.
Once I had released my own music for years – went through a lot of trial and error, made plenty of mistakes – I stopped pitching to other labels altogether. The value that I could generate on my own was worth more than they could offer via royalty percentage.
At this point, I decided to make it official – create an LLC, separate accounts for everything – a real business. I also realized that there are a ton of artists like me that could use a little help. Even if my platform isn't major-label status, it's independent, and I can help them get further than they could get on their own.
I approach each artist's project like a partnership. If I decide to take it on, we both should be working as hard as we can to make your project a success.
What do you enjoy most about teaching Point Blank's online Intro to Music Production course in Ableton Live?
I love how eager the students are. Ready to learn and open to the process. I really enjoy teaching people the things that I had to learn the hard way. When I was learning Ableton and music production in general, I wish I could've had someone break things down in a way that I could easily understand.
That's why I teach the way I do. I know what it's like to fumble around in the dark and hope you're doing it right. But, I also know how the accomplishment feels when it actually is right, and everything translates the way you envisioned it. I want to help people get that feeling every time they create.
What's next for you as an artist?
While I'm still producing custom music for sync licensing, I've taken a hiatus from releasing original albums. I've consistently put out multiple projects every year since 2012, and it can be rewarding but exhausting. I'm sure I'll release new music in 2021, though.
I've focused that creative energy on another medium, film photography. I recently had an art show and released my first photography art book called "SILENT CITY." Obviously, everything comes back to music for me, so I named the book after a song from my recent album 'Get Your Whole Life.'
The theme of the book (and the song) is self-reflection and empathy. It's focused mainly on street photography and candid portraits around NYC. It's a limited edition of only 50 copies, signed and numbered. You can grab one here.
We offer both long and short courses at our LA and online school so whether you're new to the realms of music production or a seasoned pro looking to brush up on a new set of skills – we've got you covered whatever your experience. If you want to learn more about how learning online with Point Blank works you can try it out for free along with a selection of other courses by heading to our free course sample page. To find out more about any of our courses, get in touch with a course advisor today or call +44 20 7729 4884 and be sure to check out our complete line of online courses here.
Photo credit: Sam Shannon
Register to Access Free Courses, Plugins, Projects, Samples & More
When you register with Point Blank, you access an array of free sounds, plugins, online course samples, access to our social network Plugged In and much more! Simply register below and visit our Free Stuff page to get your hands on a range of exclusive music-making tools and tutorials provided by the team. Fill your boots!