On Wednesday, December 14, Point Blank Los Angeles will open its doors for a very special Point Blank Presents. Like our previous Open House events, this is an opportunity for prospective students to get a good taster of the unique creative environment and state-of-the-art equipment on hand at PBLA. There will also be some giveaways from partners including Native Instruments and AIAIAI, so this is a chance to get your hands on some new kit for your studio! Held at our LA studio space at Mack Sennett Studios, 1215 Bates Avenue, Los Angeles, CA 90029, spaces are limited so RSVP via the Eventbrite page to reserve your place on this one-off session.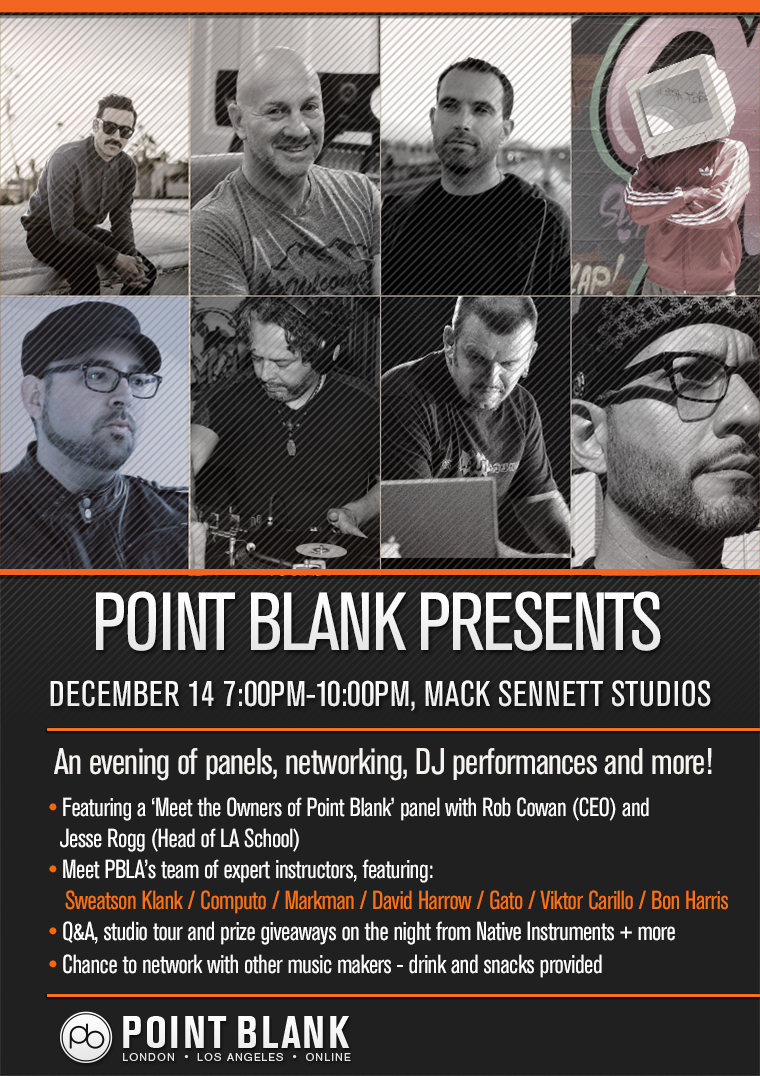 As always, we've lined up an informative evening, complete with music (of course) and plenty of opportunities for network building. We've also got some great prizes to giveaway on the night, including a Maschine Jam and pair of AIAIAI TMA-2 Modular headphones!
We will be kicking off the program with an introduction to – and Q&A session with – the PBLA instructors. As highly regarded experts in their respective fields, they'll be on hand to share some of their top tips and answering your questions. This will be followed by a very special panel, entitled 'Meet the Owners of Point Blank.' Moderated by course advisor Hart Thorson, this panel will see Point Blank CEO Rob Cowan and Head of Point Blank Los Angeles Jesse Rogg discussing their own colourful music careers, as well as providing some behind the scenes insight into Point Blank, it's past, present and future.
Afterwards, Hart will provide a tour of the school for prospective students. This is your chance to check out the cutting edge facilities available to students at Point Blank Ensure you save your space by heading over to the Eventbrite page and hitting RSVP now. The full itinerary is as follows:
7pm-7:15pm Greeting/networking time including refreshments
7:15pm-7:45pm Introductions and Q&A with PBLA instructors.
8pm-8:45pm 'Meet the Owners of Point Blank' panel
8:45pm- 9pm Q&A from audience
9:05pm-10pm Tour and networking time. Music provided by PBLA instructors
Thinking of joining us at PBLA? Now's the perfect time. As a Christmas gift, we're offering 20% off all courses if you enrol by 9th January – you could save up to $3,000! Simply enter the code XMAS20 when you enrol online. If you can't make it to the Open Day and want more info or to book a tour then why not contact a course advisor or, if you're in the USA, give us a call on 323 282 7660.
Register to Access Free Courses, Plugins, Projects, Samples & More
When you register with Point Blank, you access an array of free sounds, plugins, online course samples, access to our social network Plugged In and much more. Simply register below and visit our Free Stuff page to get your hands on a range of exclusive music-making tools and tutorials provided by the team. Fill your boots!