One of the many reasons to learn the craft of DJing at Point Blank is that you get the chance to have your mixes played exclusively on Pioneer DJ Radio alongside the likes of top artists like Slam, Sante and Eats Everything. We get a real kick out of showcasing our students' talent and seeing it reach an audience of thousands each week. What's more, because PDJR also features shows from some of the biggest and best labels out there including Cadenza, Get Physical and Defected, you never know who might be listening.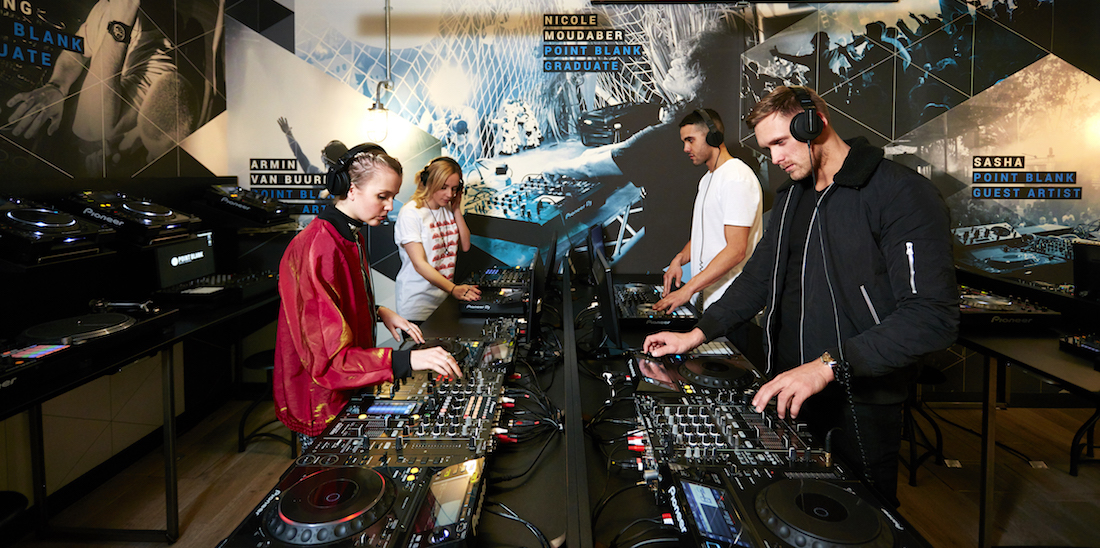 Point Blank's brand new DJ Studio in our second London facility is sponsored by Pioneer DJ and features all of the latest top-of-the-range kit – including CDJ2000nxs, DJM2000nxs and the DDJ-SX controller
Jeff Murray aka DJ Munny Buns is the latest student to feature on Pioneer DJ Radio. Having begun his studies with us at our London facility in 2016, Canadian Jeff is pursuing all things tech house. You can view a full tracklisting below:
A Love Bizarre (Solomun Dub Remix) – So Phat! [00:00]
Full Moon – Durante [06:30]
Get It Baby – J Paul Getto [09:36]
Hey (Chris Lake & Marco Lys Re-Edit) – Nightriders [13:25]
Odsbodkins (Hanne & Lore Remix) – Martin Waslewski & Ole Biege [19:05]
Different Beat – Volkoder [24:48]
Voicemail – Green Velvet & Patrick Topping [28:28]
Arsenic – Malaa & Maximono [34:57]
My Beat (Wade Remix) – Veerus & Maxie Devine [38:18]
Dance To Chicago – Don Rimini [44:50]
Odyssey – Justin Martin feat. Lena Cullen [48:10]
Who U Love (12 Inch Version) – Roland Tings [51:40]
Boy Boy Boy – Andhim [56:47]
Remember – if you think you have what it takes to have a mix featured on Pioneer DJ Radio, submit your 1 Hour mix to louis@pointblankmusicschool.com and you could be the next on our regular slot, with your mix being broadcast twice a week for two weeks.
Feeling inspired? Perhaps you too want to unlock your creative potential – and we can help you. Find out more about our DJ courses in London here, or if you want to see the state-of-the-art facilities yourself, please book a tour by contacting a course advisor or give us a call on 0207 729 4884. And remember, If you're studying with us and want to join Talib in getting your DJ mix played on Point Blank's show on Pioneer DJ Radio, get in touch with Louis at Point Blank.
Register to Access Free Courses, Plugins, Projects, Samples & More
When you register with Point Blank, you access an array of free sounds, plugins, online course samples, access to our social network Plugged In and much more! Simply register below and visit our Free Stuff page to get your hands on a range of exclusive music-making tools and tutorials provided by the team. Fill your boots!