Point Blank Music School's annual Music Futures careers event, held on Thursday 20th April 2023, brought together a powerhouse panel of graduates to share their secrets to thriving in the music industry. Past, present, and future students were able to gain invaluable insights from industry professionals, gaining a unique perspective on building a successful career.
Ricardo Burt, Tudor Monroe, Joe Osborne and Pablo De Linares (seen left to right) kicked off the event, delving into their current roles within the industry and highlighting how their experiences as Point Blank degree students helped shape their success.
Hosted by Rosie Riot, South London based award winning DJ and radio host, she asked thought provoking questions and helped uncover the paths that our successful graduates had taken to reach the top of their game. Pablo De Linares, Director of Reno Recordings and Global A&R at Deep Delay Management, was among the accomplished panelists who shared their invaluable journeys to success in the music industry. Pablo's experience of starting his own label and studying at Point Blank made for a compelling discussion on the importance of setting achievable goals, being obsessed with music, and living and breathing it to achieve success.
Prompted by Rosie's question about wearing multiple hats in the music industry, Joe Osborne, a multi-hyphenate, shared his experience as a sound engineer, producer, and print and broadcast journalist. Joe credits his early success to the cutting edge degree course he received at Point Blank Music School, where he studied modules like Advanced Sound Engineering that led him to apply for rewarding jobs in sound engineering. He encouraged the audience not to be afraid of taking on unique opportunities, citing his experience running workshops on Dolby Atoms and serving as Editor of Europe's primary Latin American culture magazine, Sounds & Colours. His Brazilian music platform, Brazilian Wax, has also made him a major interlocutor in the dialogue between London and Brazilian music cultures. As the executive producer of the much-anticipated compilation Hidden Waters: Strange and Sublime Sounds of Rio de Janeiro (Mr Bongo, 2023), Joe emphasized the importance of working on projects you are passionate about, as it attracts like-minded individuals and fuels your drive to put in the hours.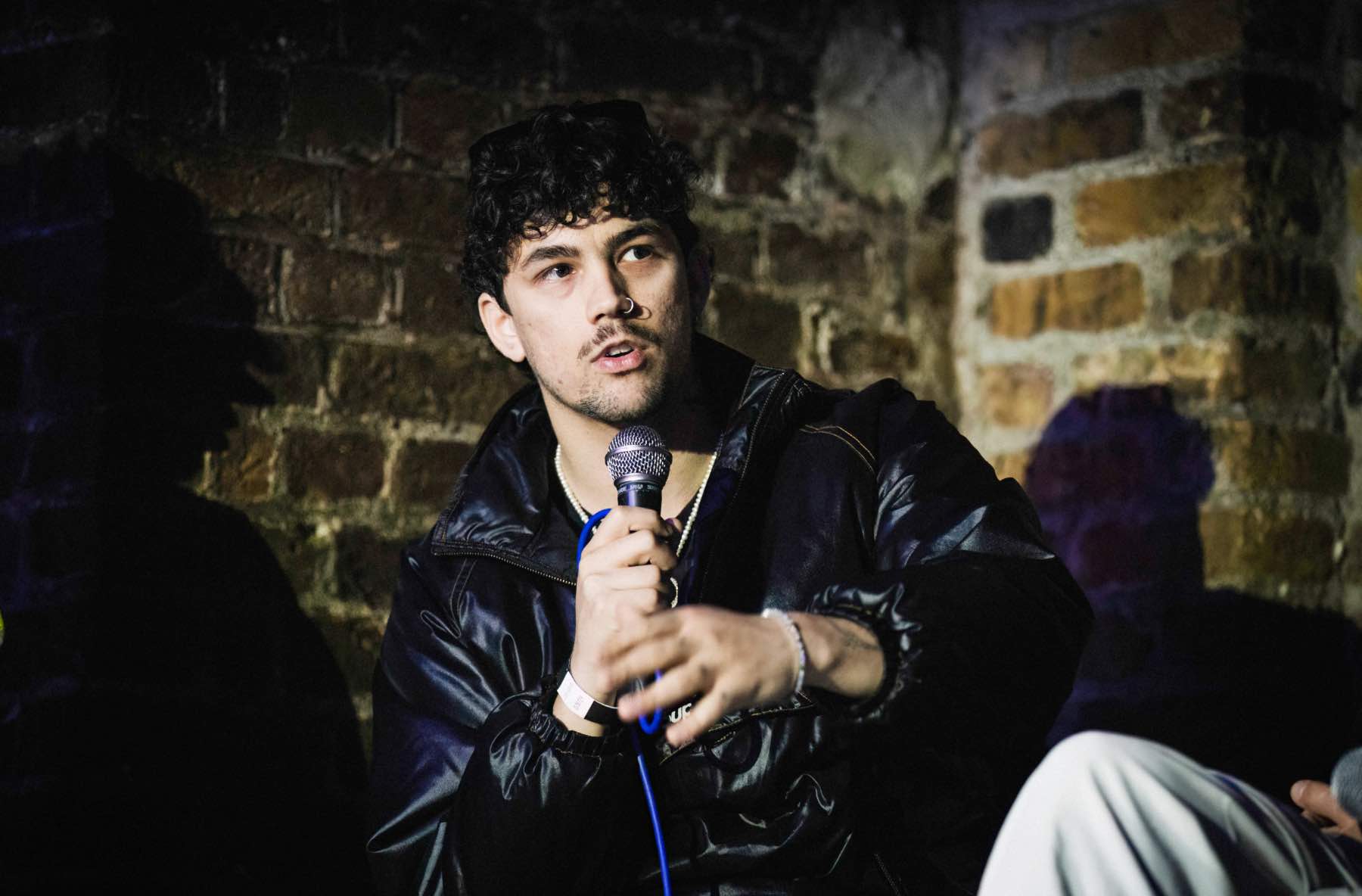 Rosie then had a chat with Tudor Monroe, an independent music producer who has worked with A-list artists like TAYC, JayO, Jvck James, Naza, Tamera, Col3trane, and Nonso Amadi in the UK and around the world. Tudor shared valuable insights about his work, revealing that he spends 80 out of 100 days in the studio. He attributed his success to his strong work ethic and consistency, which have allowed him to create music that stands out in the RnB, Amapiano, and Afrobeats space. Tudor also credited his mentors at Point Blank, like John Davies, who taught him on the Music Production and Sound Engineering (3-year-degree course) and encouraged him to carve a unique lane for himself. Finally, Tudor talked about his most recent success as the main producer for one of the FIFA World Cup tracks with one of the most influential Middle Eastern artists, Wegz.
During the panel, we also had the pleasure of hearing from Ricardo Burt, a versatile presenter and audio producer who has presented at a variety of prestigious events, including BBC Proms, BBC Introducing, Boardmasters, Youth Music Awards, Printworks, and Next Door Records. He shared his experience of building things independently to get them off the ground and stressed the importance of sharing your work and process. Ricardo says, "I was actively going out and making things, and suddenly people started sending me jobs." He also talked about programming a tent this summer at the "We Out Here" festival and emphasized the importance of putting out your work and not self-rejecting. He chatted about how networking has been an organic process for him and how he landed his job at the Royal Albert Hall and BBC Proms by focusing on what he could offer as someone with a unique genre background.
The success stories of Pablo De Linares, Joe Osborne, Ricardo Burt, and Tudor Monroe demonstrate the value of a Point Blank education. By studying with us, they gained the skills, knowledge, and industry connections necessary to thrive in the competitive world of music. Whether you're interested in music production, sound engineering, vocal performance, or any other aspect of the music industry, Point Blank can provide the education and training you need to achieve your goals. Our degree programs, including the Music Production & Vocal Performance Degree and Music Production & Sound Engineering Degree, are designed to prepare you for a successful career in music. You can find out more about what we offer by visiting this page here.
Register to Access Free Courses, Plugins, Projects, Samples & More
When you register with Point Blank, you access an array of free sounds, plugins, online course samples and much more! Simply register below and visit our Free Stuff page to get your hands on a range of exclusive music-making tools and tutorials provided by the team. Fill your boots!