Point Blank Music School is excited to announce the grand unveiling of our innovative new premises, set to open its doors in September. Nestled in the epicentre of London's vibrant music industry in Shoreditch, London, this state-of-the-art building is custom designed to foster excellence through our diverse range of degree courses. Today, we invite you on an exclusive sneak peek into the ultra-modern recording and vocal facilities that are set to revolutionise music production education.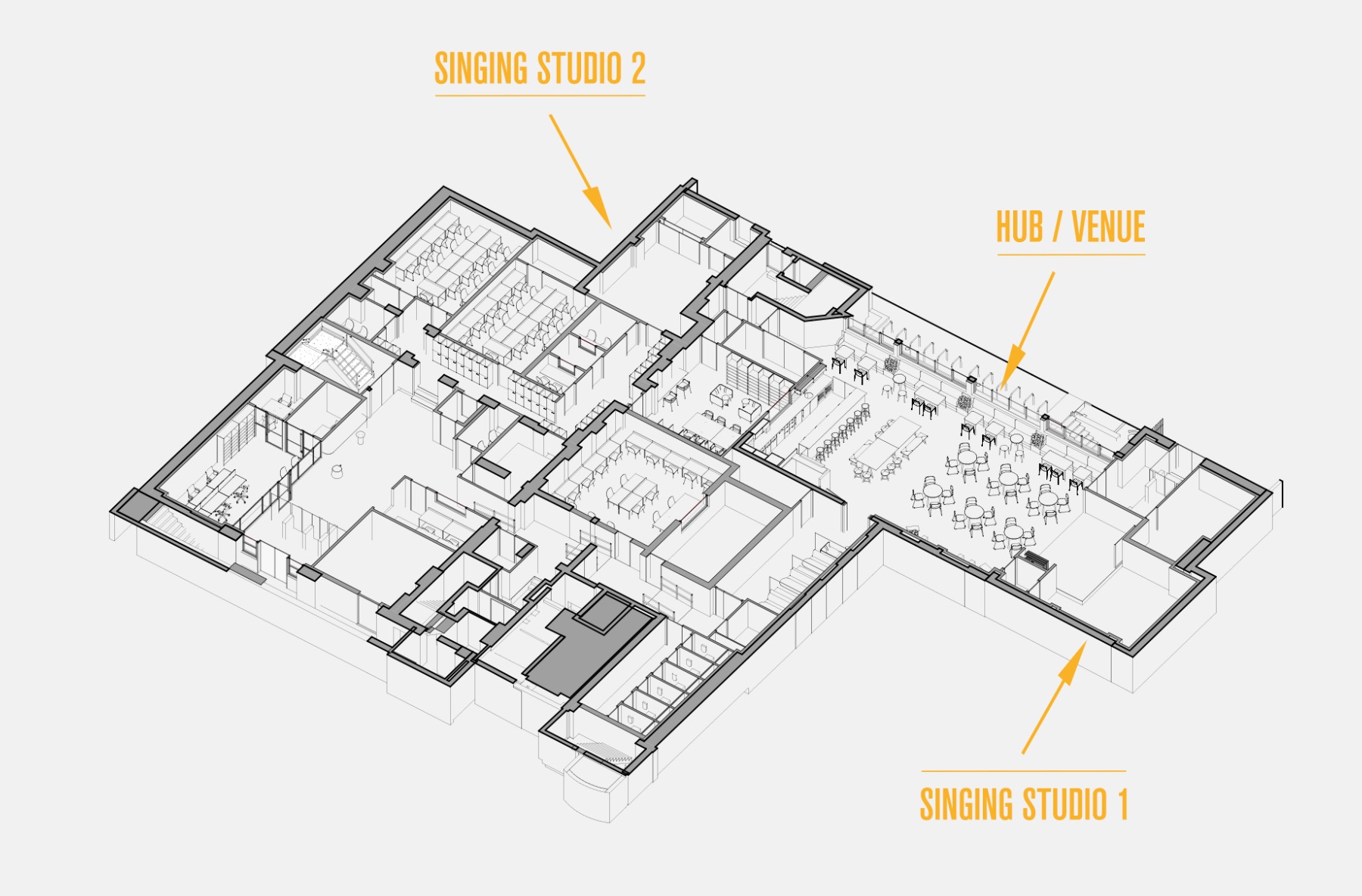 For our music production and vocal performance degree students, this building will serve as the perfect backdrop for their classes. For vocalists pursuing their passion, the building boasts two dedicated singing studios fully equipped with stage, PA and backline equipment.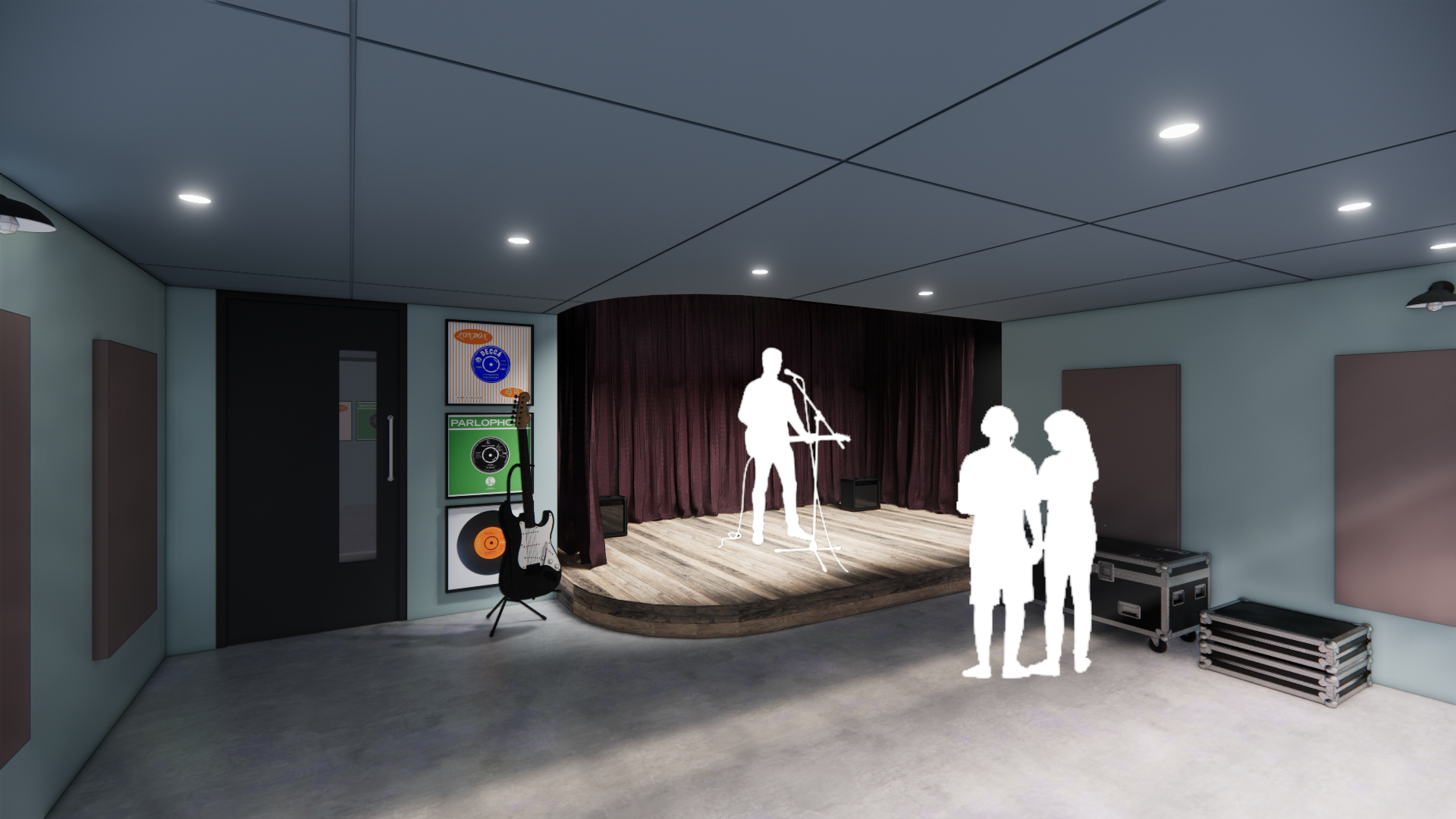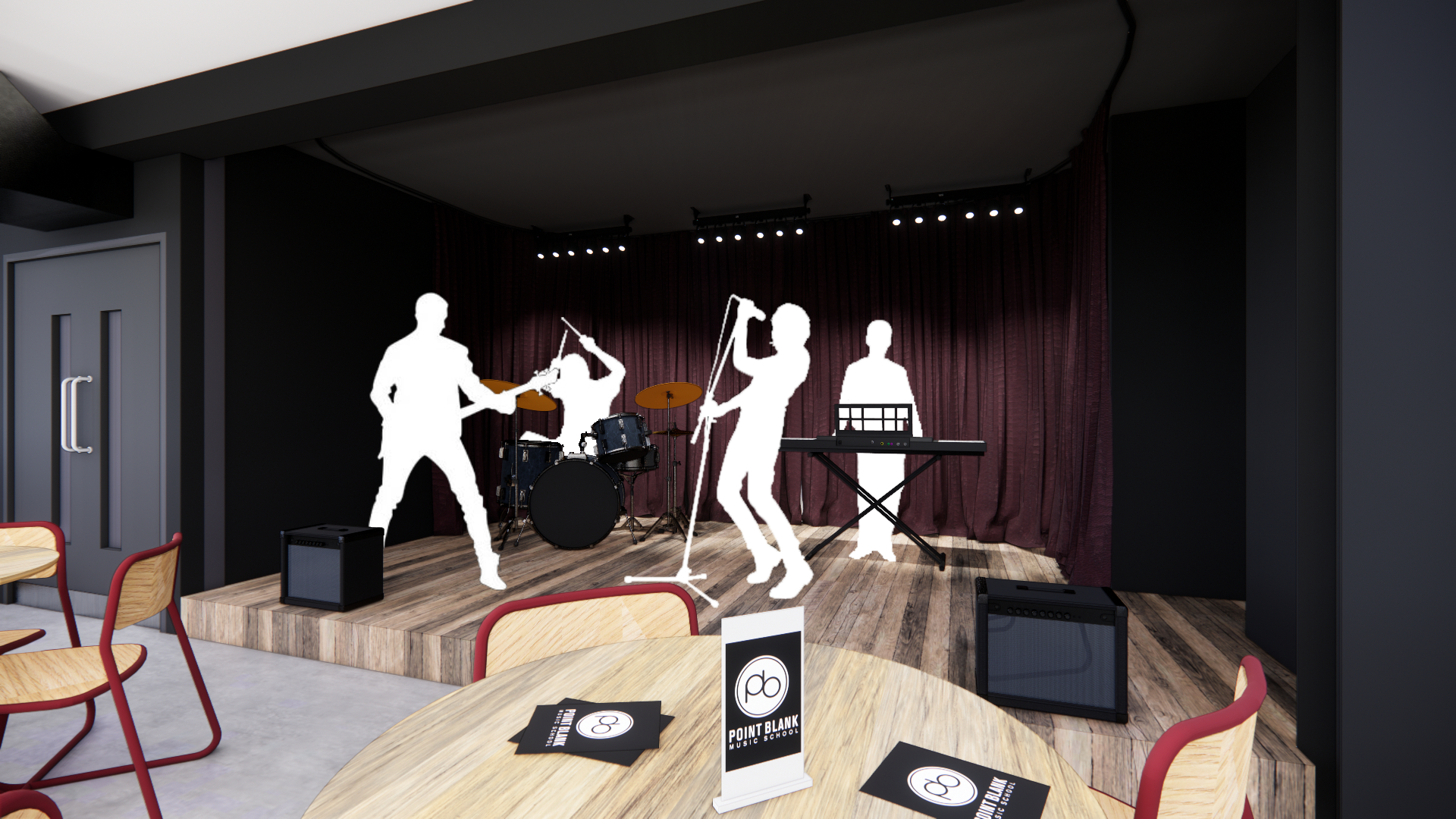 Singing Studio 1 is linked to the student hub's performance area via a 2-way stage, where we will host a wide-range of events, featuring intimate student performances, as well as showcases by artists signed to our very own Point Blank Recordings label (PBR). Additionally, we will continue to invite esteemed industry professionals for our highly regarded masterclasses. In the past, we have had the pleasure of hosting industry professional like SAMA, Karen Harding, Trevor Horn and many others, offering a wealth of inspiration and insights.
For live performances, this space transforms into an electrifying venue. It's fully armed with a PA system, digital mixing, atmospheric lighting, and of course, a stocked bar. From dusk till dawn, 'The Hub' will be home to our students during work and play, encapsulating the essence of live music and the communal spirit of our vibrant music school.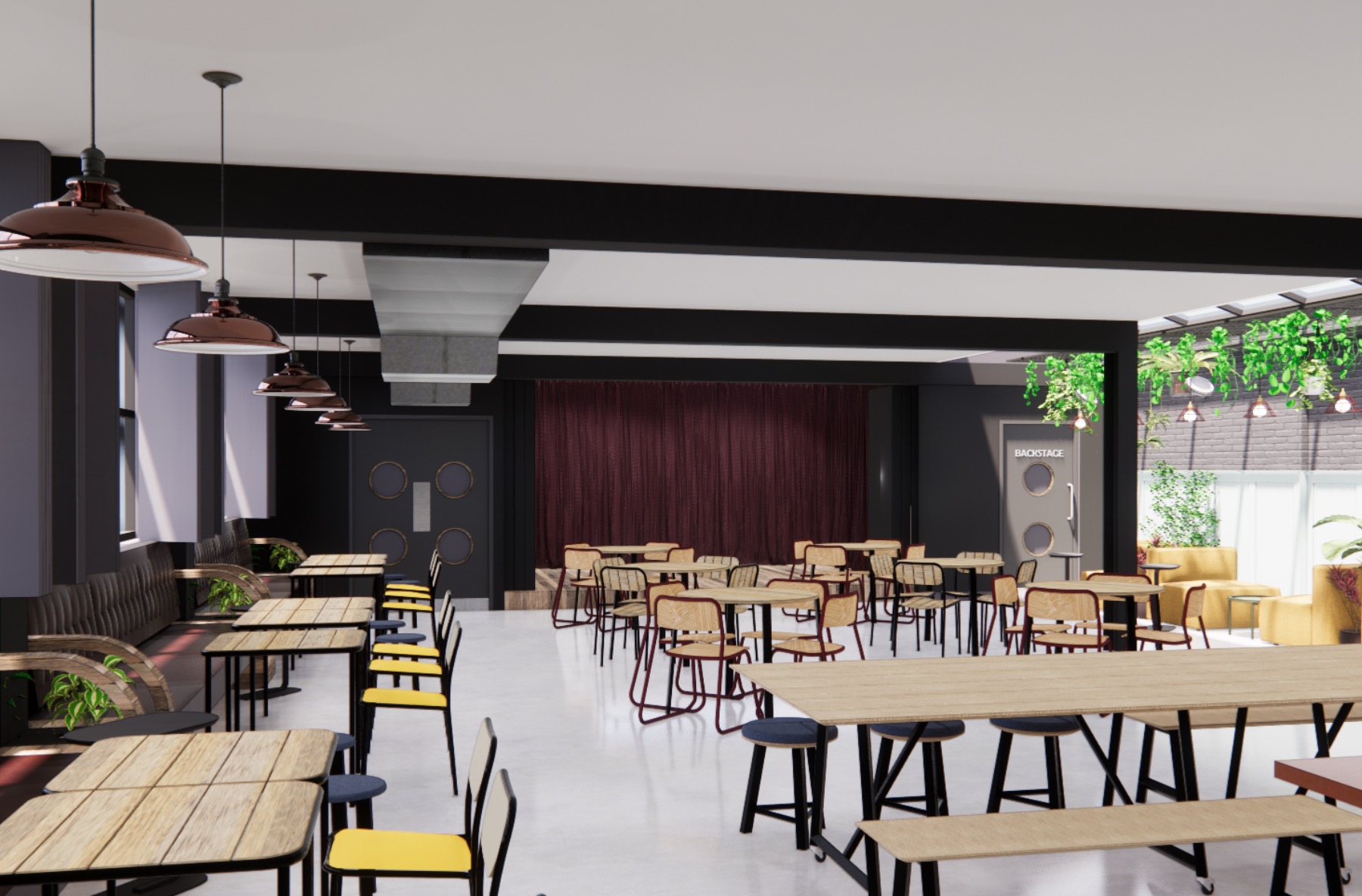 To foster a sense of community and networking opportunities, the student hub also serves as a daily central gathering space. Here, students can connect with like-minded people, share ideas and even catch live performances while enjoying a break from studio sessions and classes.
Our students will be able to record live performances in our top-tier studios, armed with SSL mixing consoles and utilising DANTE and Pro Tools HD systems. This set-up offers our degree students the unique opportunity to capture the energy of live shows, mix them to perfection and create a professional recording portfolio i.e. an EP, album or showreel.
Point Blank's new building is a dream come true for aspiring music producers and vocal performers. Adorned with a complete backline setup and an impressive array of mics and instruments, this space is a breeding ground for creativity and innovation. It's the perfect environment for students to delve into the intricacies of our comprehensive modules, such as 'studio vocal production'. Here, students have the opportunity to grasp and master the art of creating crystal-clear, streaming and radio-ready vocals.  This technology is designed to immerse students in a professional studio environment, facilitating a world-class learning experience.
Our degree students will have the luxury of making music in a multitude of recording studios, an ideal canvas for them to produce, rehearse, record, and collaborate, offering a myriad of opportunities to grow in their studies and careers.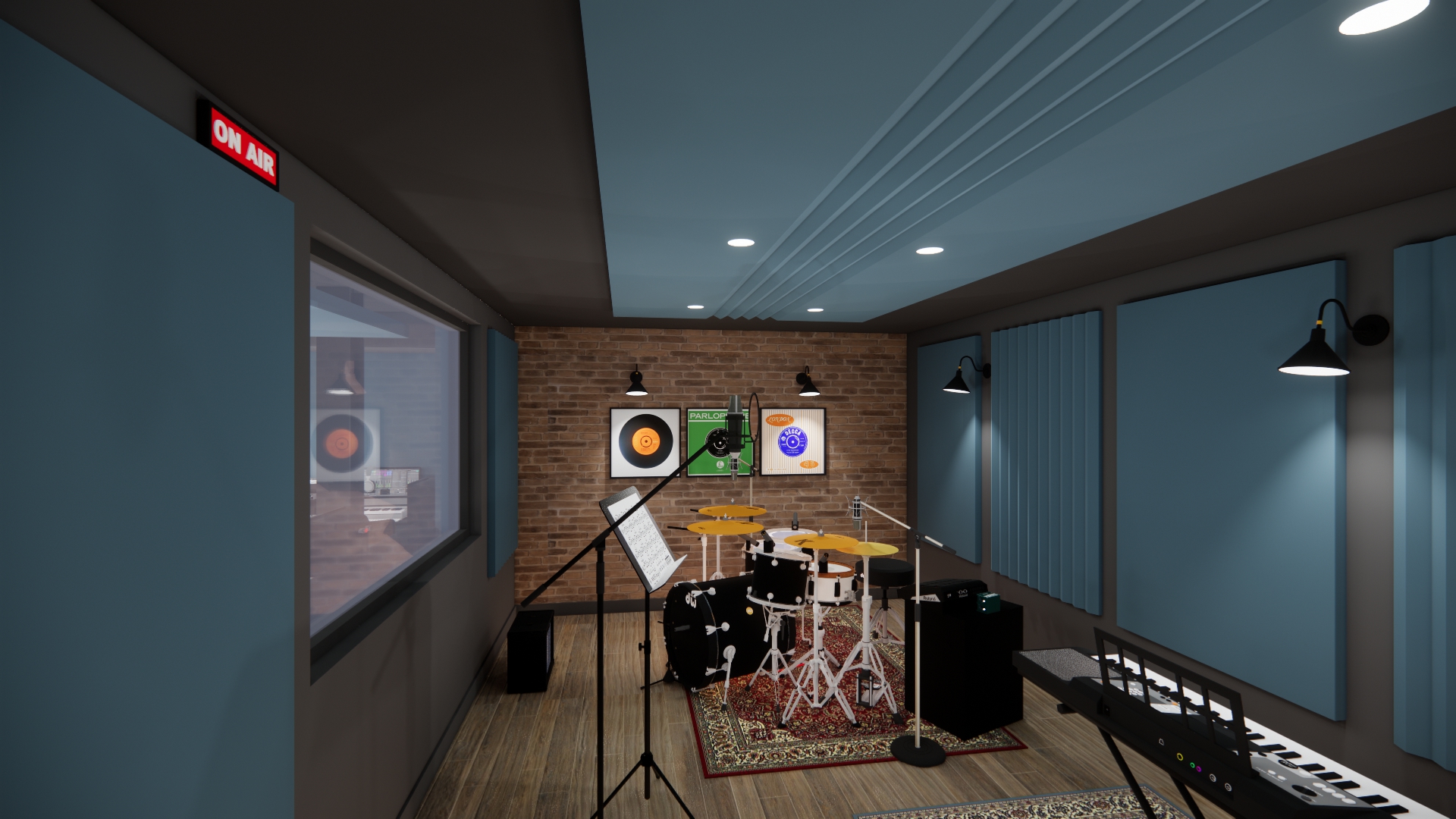 In addition to the larger studios, the building will also provide nine personal recording studios with acoustically optimised vocal booths. This dynamic, collaborative space is more than just a classroom – it's a breeding ground for creativity and teamwork. It's where students can get together, share ideas, and bring their collaborative projects to life. With superior sound isolation and top-notch recording equipment, they'll be able to track vocals, have writing sessions and explore and develop their unique voices with confidence. This space encourages an exchange of artistic thoughts, spurring innovation and fostering a close-knit community of emerging music professionals.
These personal recording spaces can be reserved conveniently, ensuring students have the flexibility to work on their vocal skills whenever it suits.
Whether you aspire to master the art of music production and vocal performance or find your calling in talent scouting and music industry management, our range of courses has something for everyone. Our London campuses combined will afford a 30,000sq ft teaching space that will not only accommodate more students than ever before but also stands as a testament to our unwavering commitment to providing extraordinary educational opportunities.
Secure your spot on our Music Production & Vocal Performance Degree today.
Register to Access Free Courses, Plugins, Projects, Samples & More
When you register with Point Blank, you access an array of free sounds, plugins, online course samples and much more! Simply register below and visit our Free Stuff page to get your hands on a range of exclusive music-making tools and tutorials provided by the team. Fill your boots!