One of the many reasons Point Blank Music School is the number one place to study music production, DJing, Singing and more is that our studios are stocked with the latest and greatest in state-of-the-art equipment. Like all of our institutions, including London, China, Ibiza and more, our Los Angeles school is regularly updated with the industry's leading tech from our wealth of partnerships with the likes of Pioneer DJ, Native Instruments, ADAM Audio and lots more.
That's why we are excited to announce that we've just finished refurbishing our PBLA studios and thought we'd give you the lowdown on exactly what we've installed. If you're interested in getting a better look at our LA facilities why not join us on December 4th at our Open House event where you'll be able to take a studio tour, not to mention sit in for a free Ableton Live masterclass. Find out more information and get free tickets for the event here. Follow on below to see our LA studio's and get find out what each studio comes equipped with.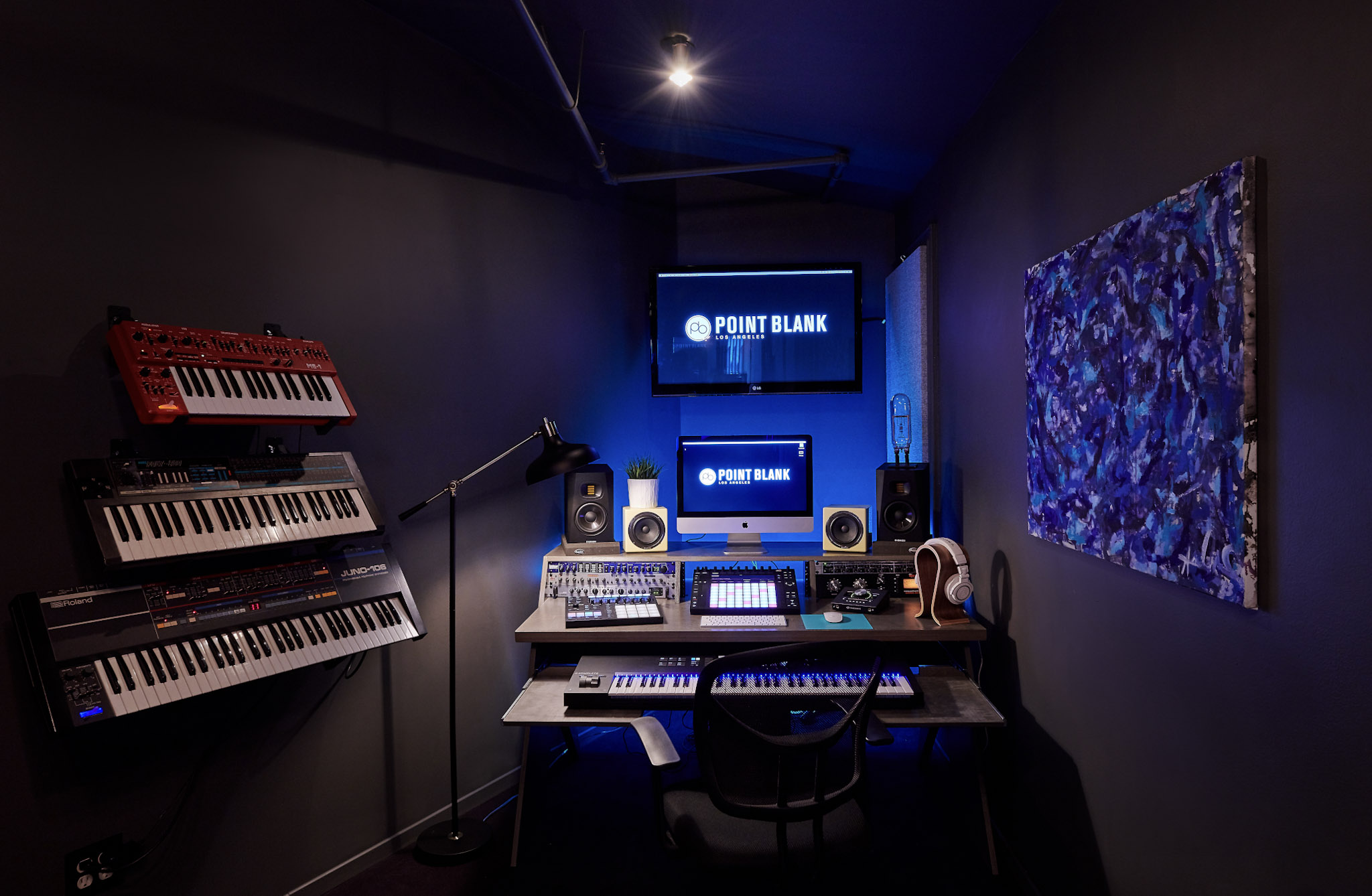 Room 1 – Music Production Main Classroom:
Our main music production studio is where the majority of our larger production classes take place. From DAWs to hardware, each student has their own workstation loaded which everything they'll need to create the music they're passionate about. If you'd like to learn to make music from our industry professional instructors we offer a variety of courses including the Music Production & Sound Design Master Diploma, Music Production & Sound Design Diploma, Mixing & Mastering Award, Music Production & Composition Award and others.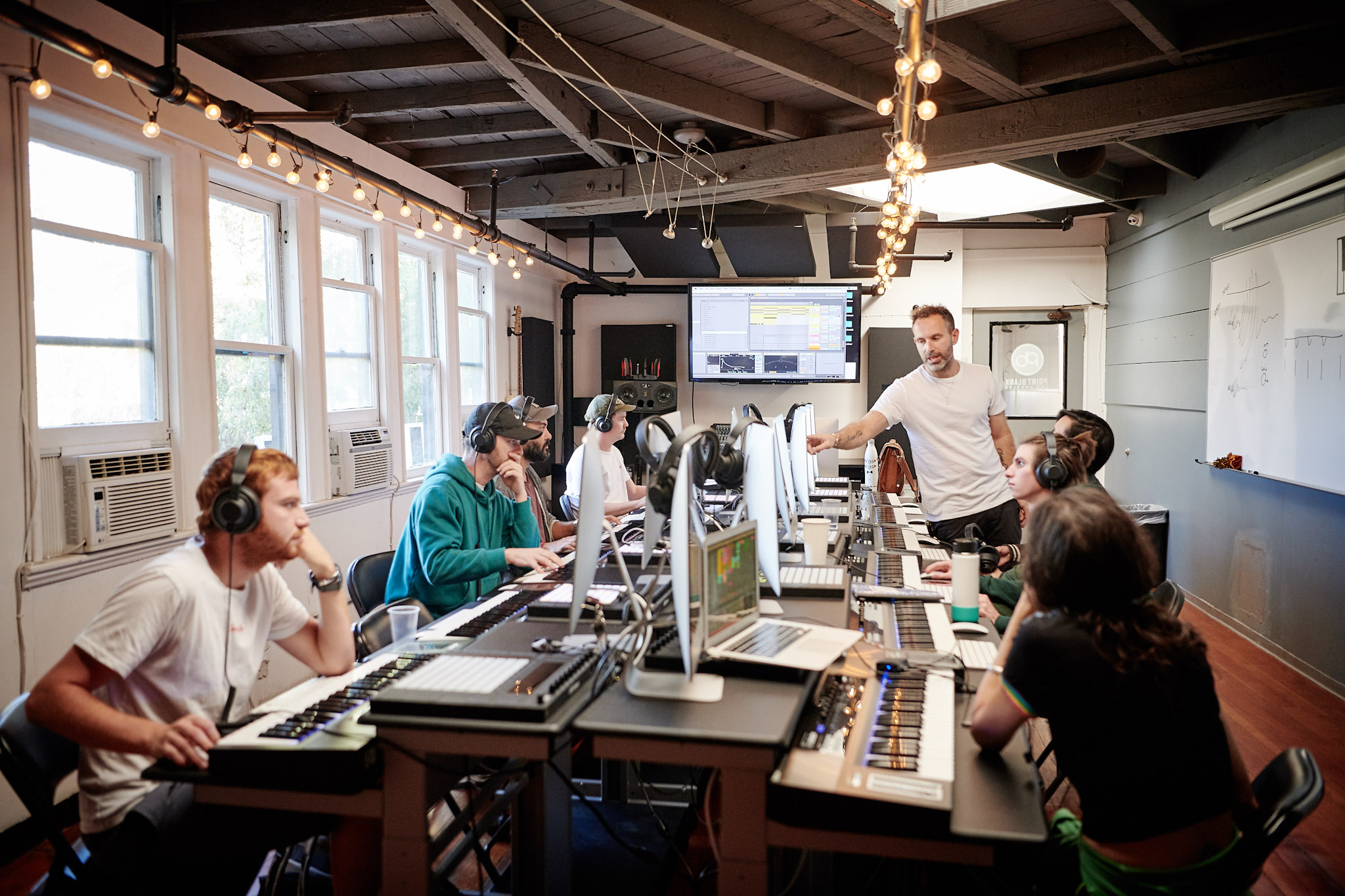 Class in Session with PBLA Instructor, Sweatson Klank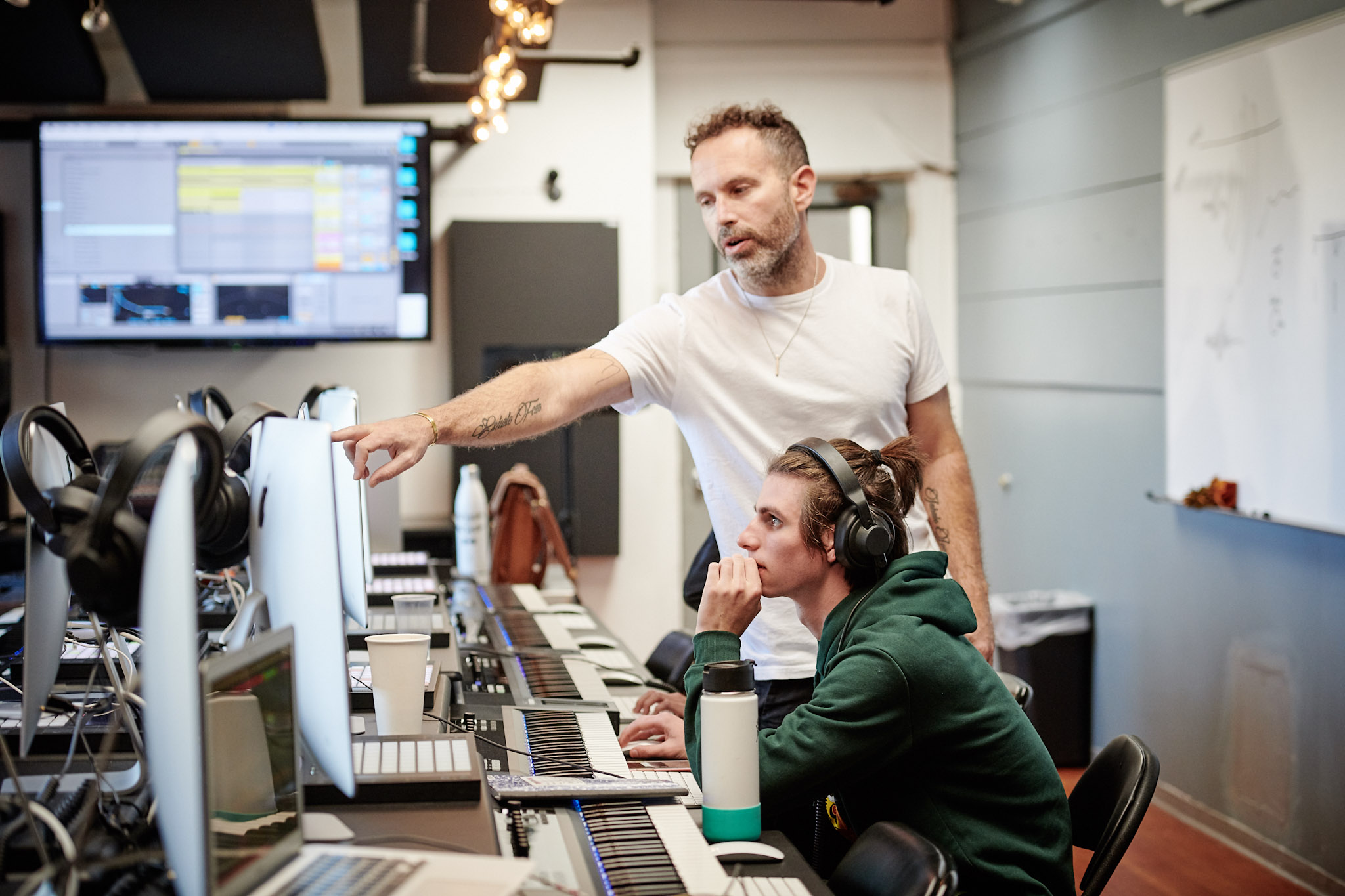 PBLA Student in Room 1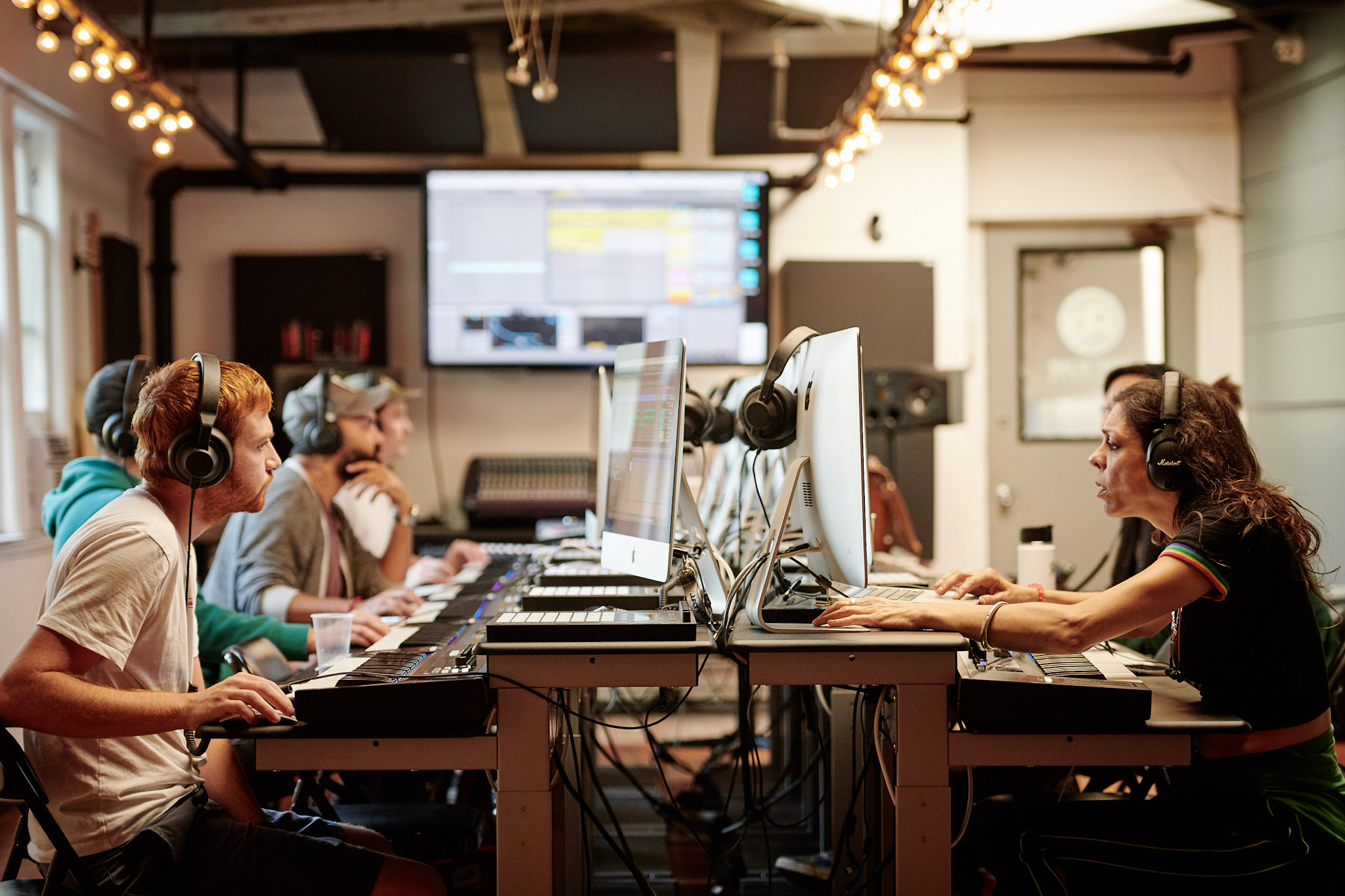 PBLA Students in Room 1
iMacs
NI S49's
Ableton Push 2's
NI Maschines
UAD Apollo Duo
ADAM Audio A77x's
AIAIA Headphones
Midas F32
Apple TV
Zaor Vision O Desk
Custom GIK Acoustic Panels
Main Studio:
Our main studio/project room is a fantastic space to work on projects of any magnitude as it features our biggest selection of essential tech and software. This is the area where we host our PBLA singing classes and doubles up as the perfect place for singers and producers to collaborate.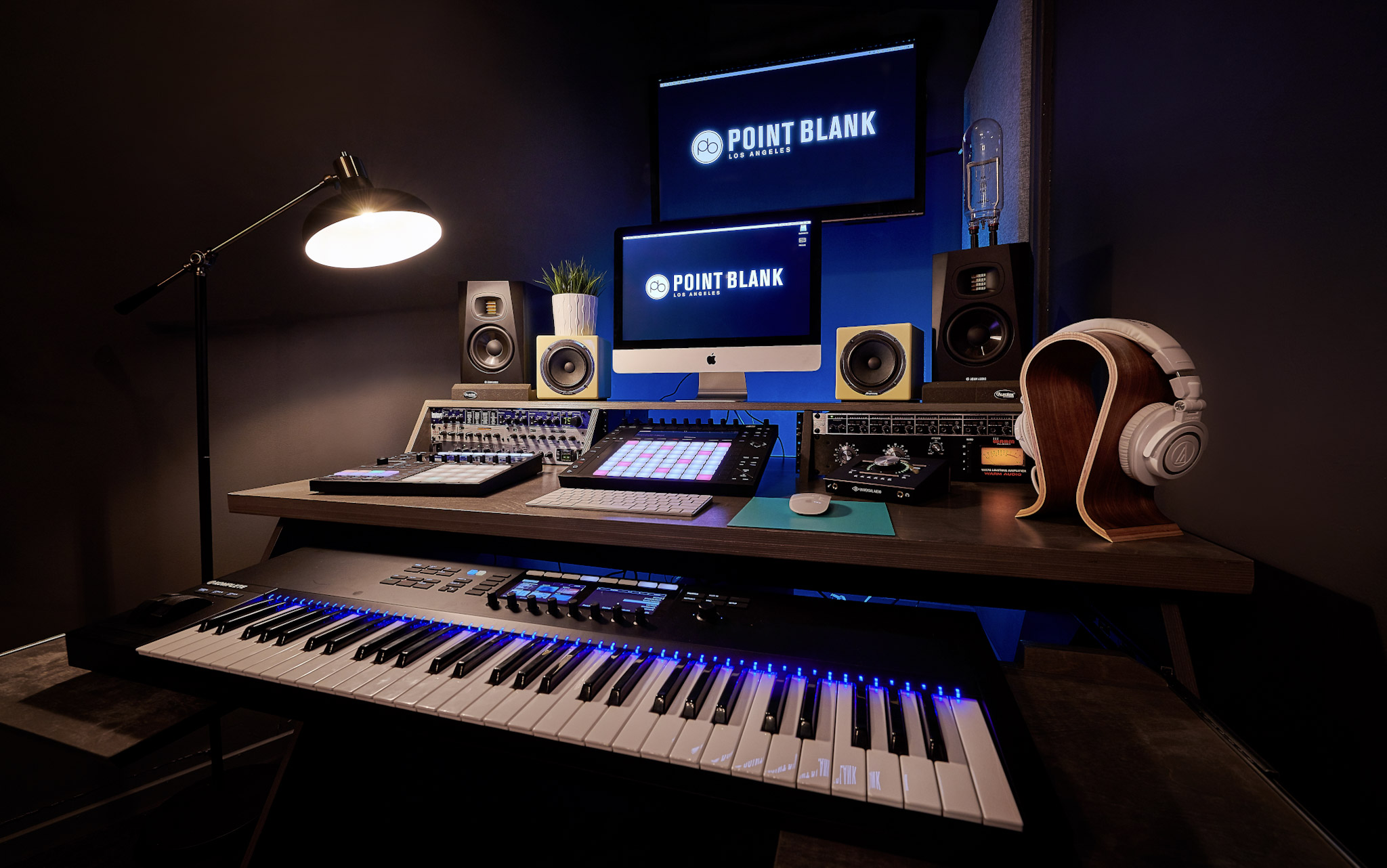 Main Studio Set-Up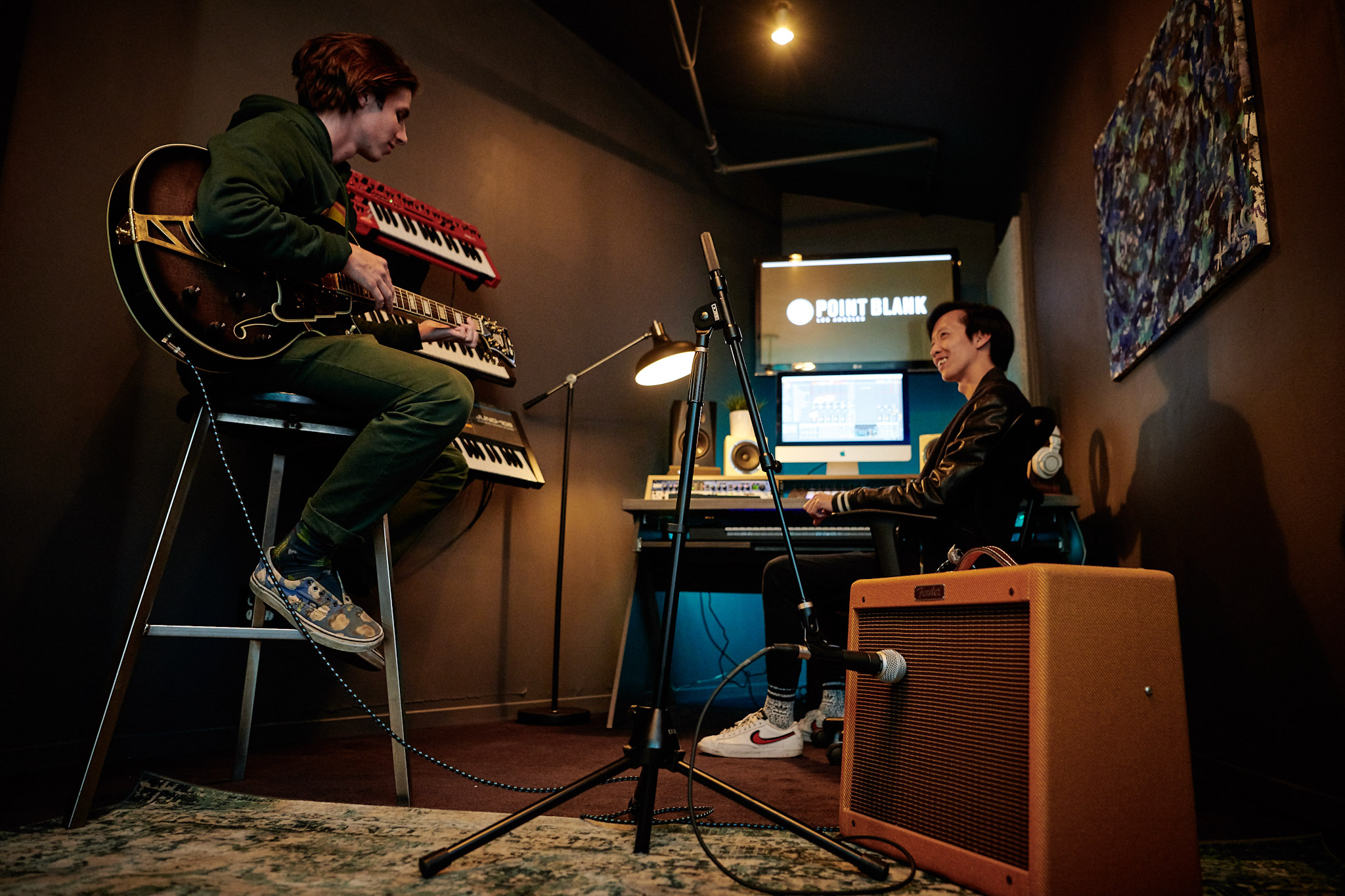 Two PBLA Students Collaborating in the Main Studio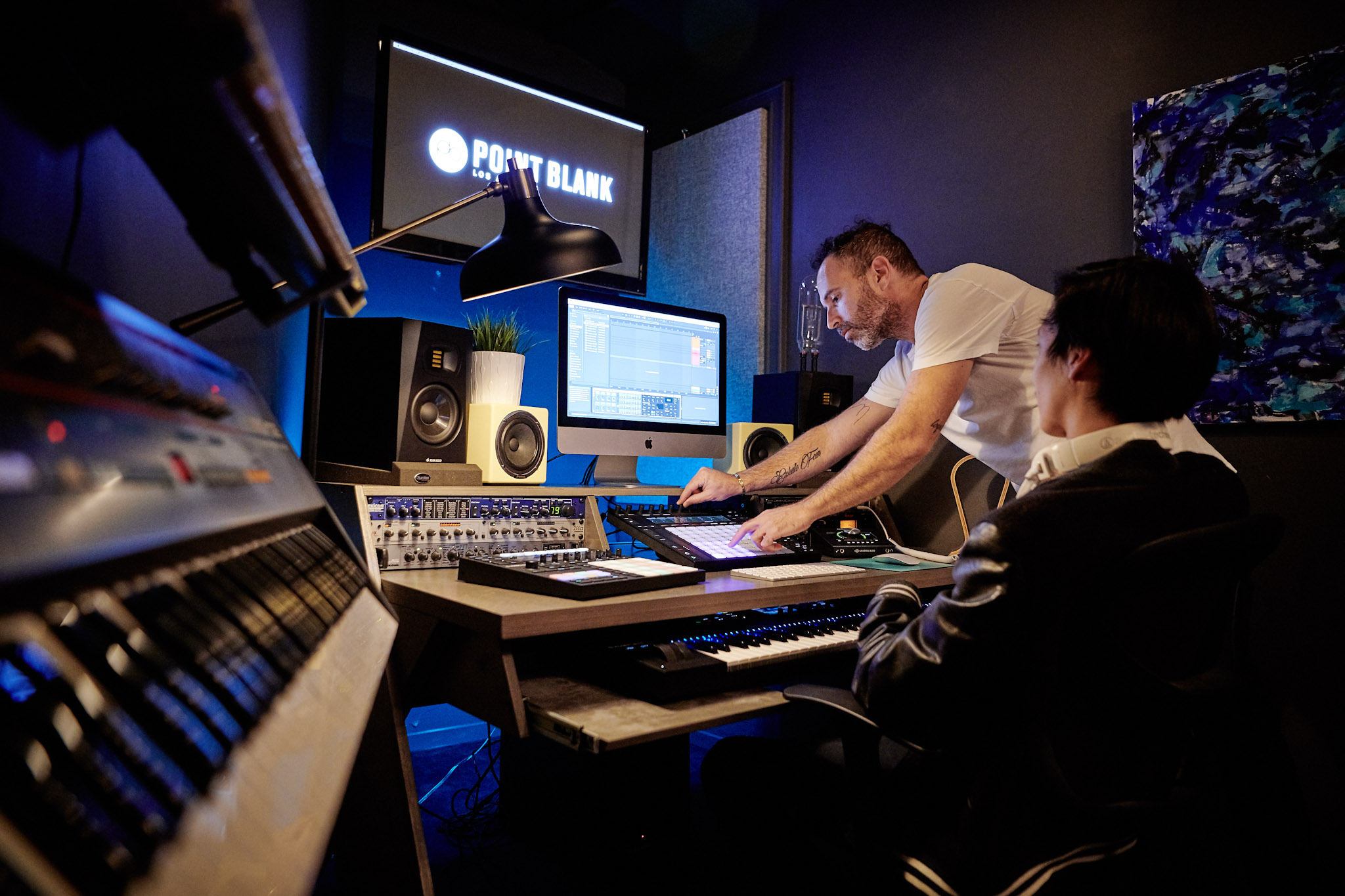 Sweatson Klank Lending a Hand in the Main Studio
Platform Output Desk
ADAM T5V's
ADAM T10S
Avantone Mixcubes
Focusrite Scarlett 18i20 MK3
TC Electronics M350
Samson Patchbay
DBX 266XS2
Lexicon MX200
iMac
NI S49
Ableton Push 2
NI Maschine MK3
Casio Privia PX160
D'Angelico Guitar and Bass
Shure SM58's
SeX1 Condenser
Apple TV
Behringer MS-101
AIAIA Headphones
Custom Acoustic Panels
DJ Room:
If you're thinking about enrolling on one of our popular DJ courses, as you can imagine, our DJ room is where you'll be spending a great deal of your time. As mentioned above we're sponsored by Pioneer DJ, so whenever they release something new we're some of the first people to get their hands on it. From beginner to advanced levels at PBLA you can study the DJ/Producer Certificate, Essential DJ Skills, Weekend DJ and more. See the full DJ room kit list below.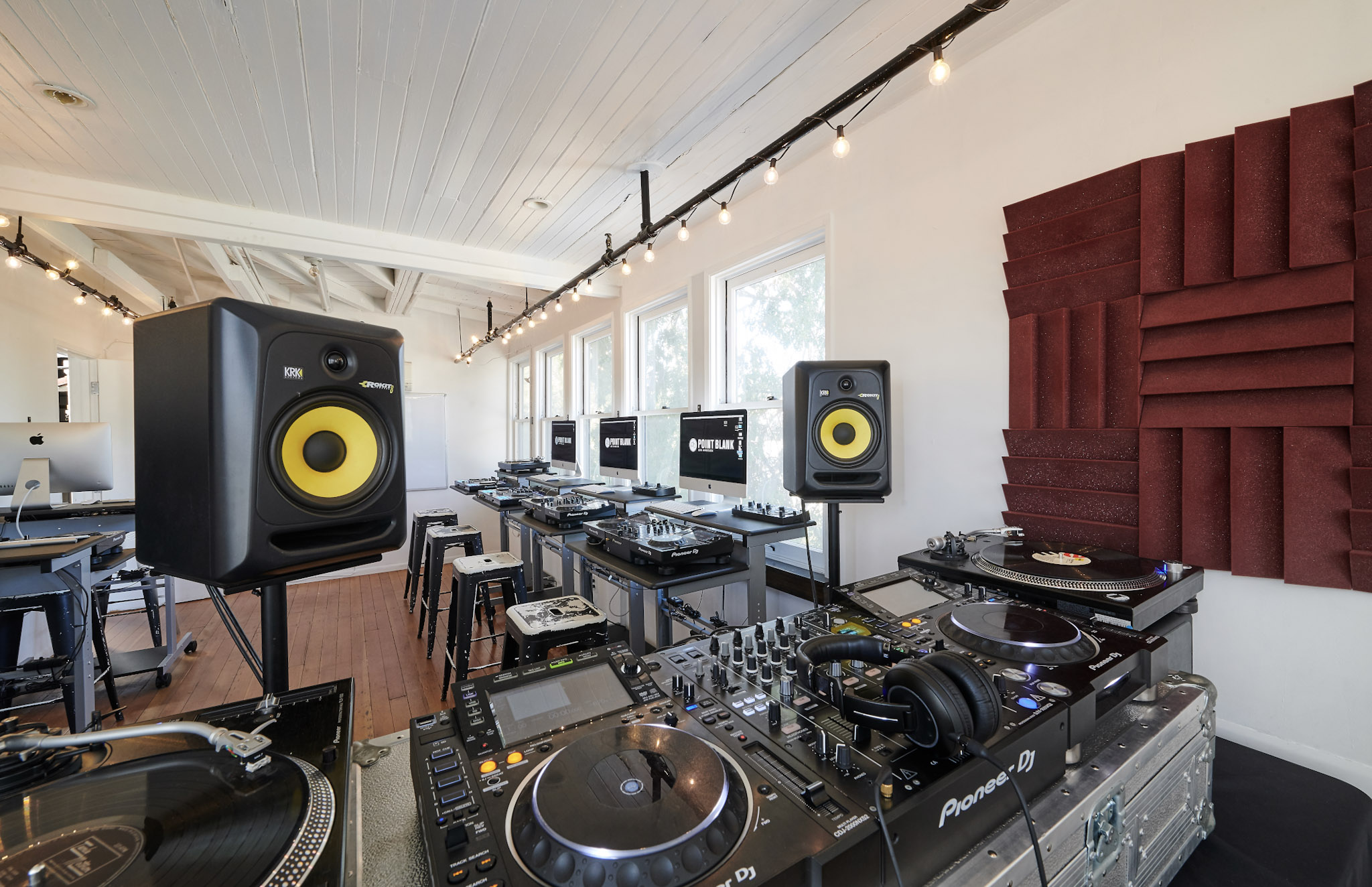 PBLA's Pioneer DJ Studio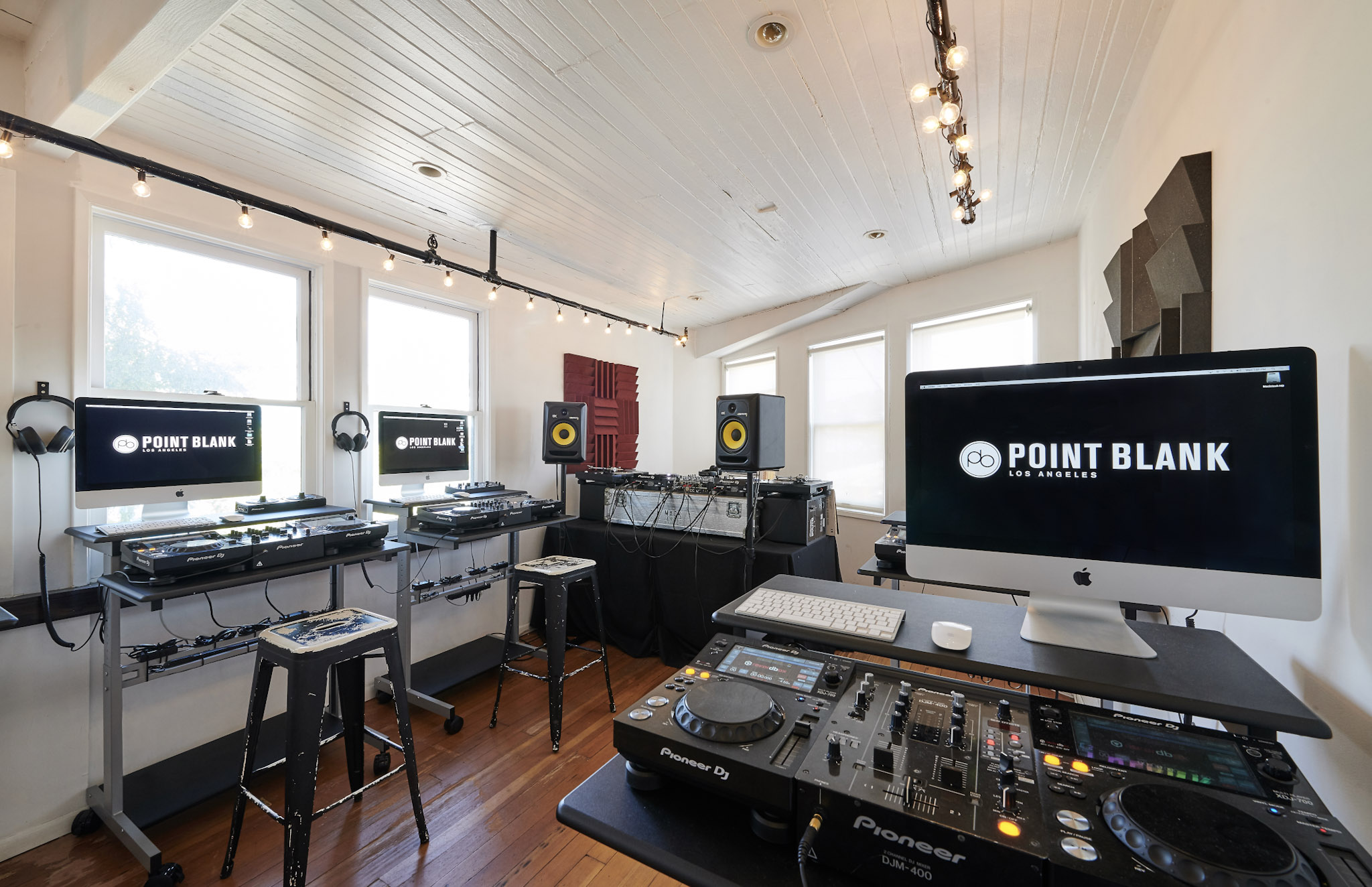 PBLA DJ Studio Stations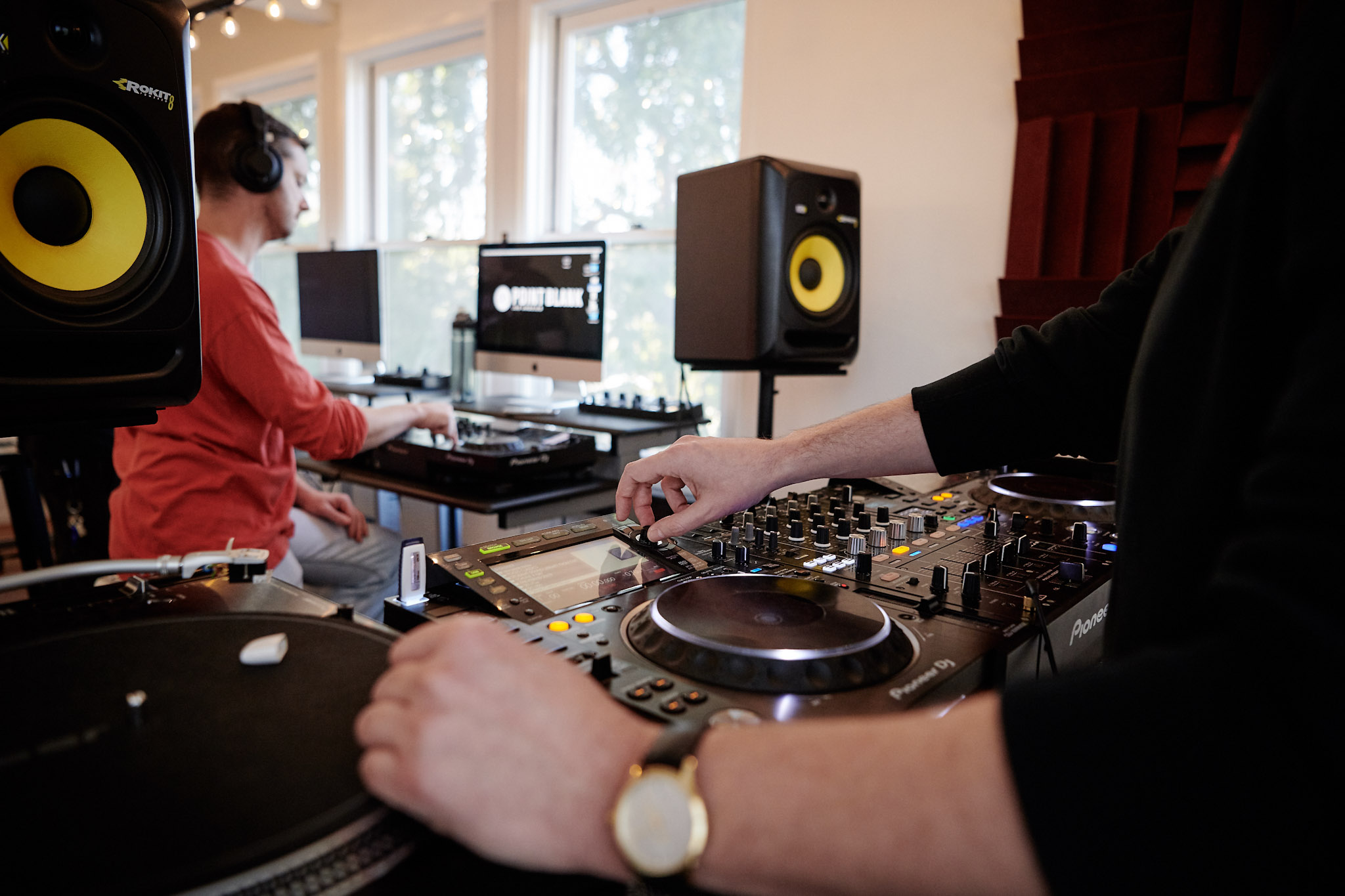 PBLA Students During Practice Hours
Pioneer CDJ Nexus 2000's
Pioneer PLX 1000
Pioneer DJM 900
Pioneer DJM 400
Pioneer DJM 350
Pioneer XDJ 1000
Pioneer XDJ 700
Pioneer DDJ RX's
Pioneer HDJ 2000 Headphones
Pioneer Remix station 500
Pioneer Remix station 1000
Bulit 6 and Bulit 8 speakers
Room 2 – Practice Lab:
PBLA's Room 2 houses a number of student work stations which can be used for lab practice hours as well as to catch up on any work. Like with our other studios this room features a range of iMac's, Ableton Push's, NI Maschines and more. See the full lineup of studio tech below.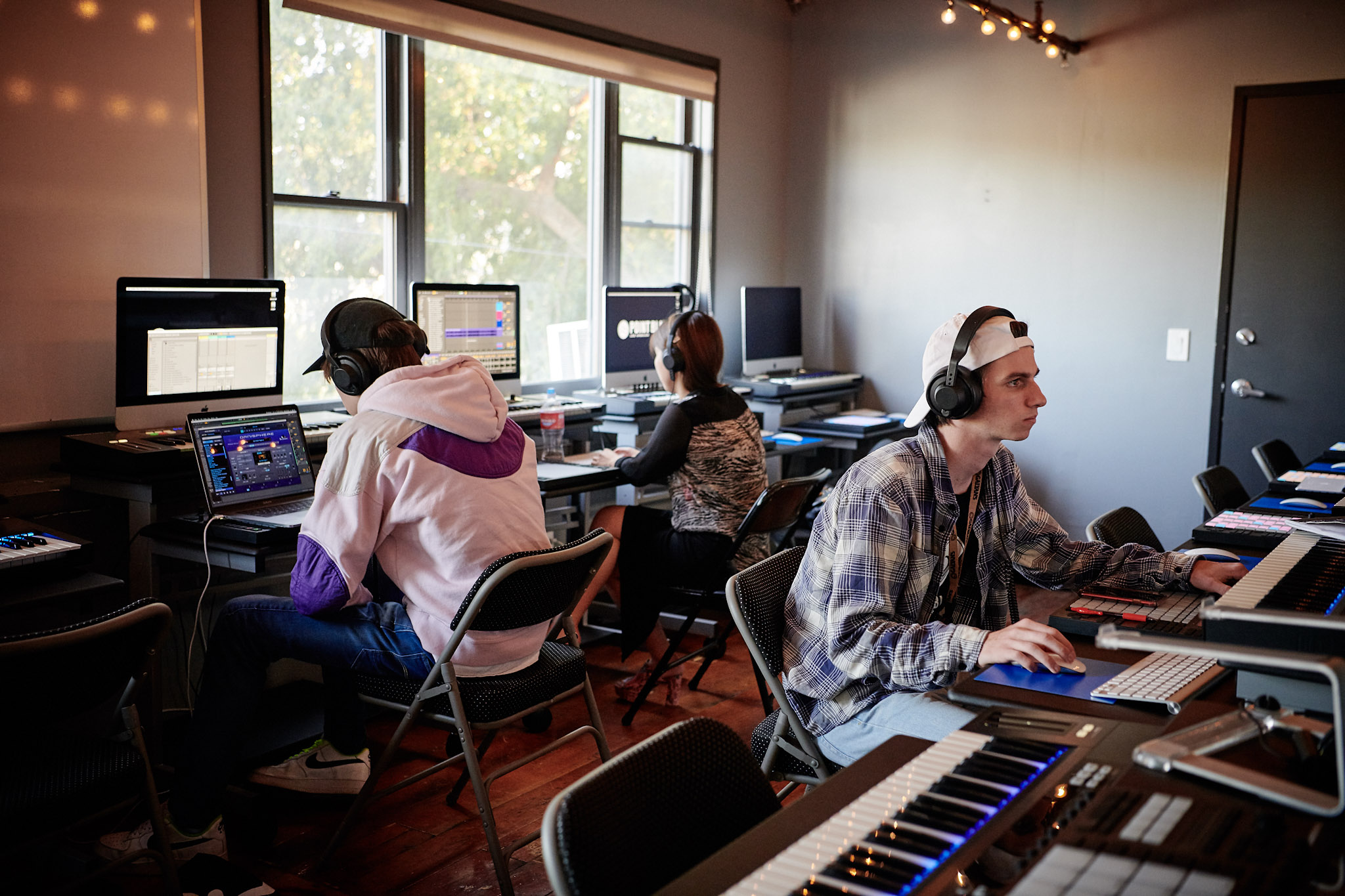 PBLA Students in the Practice Lab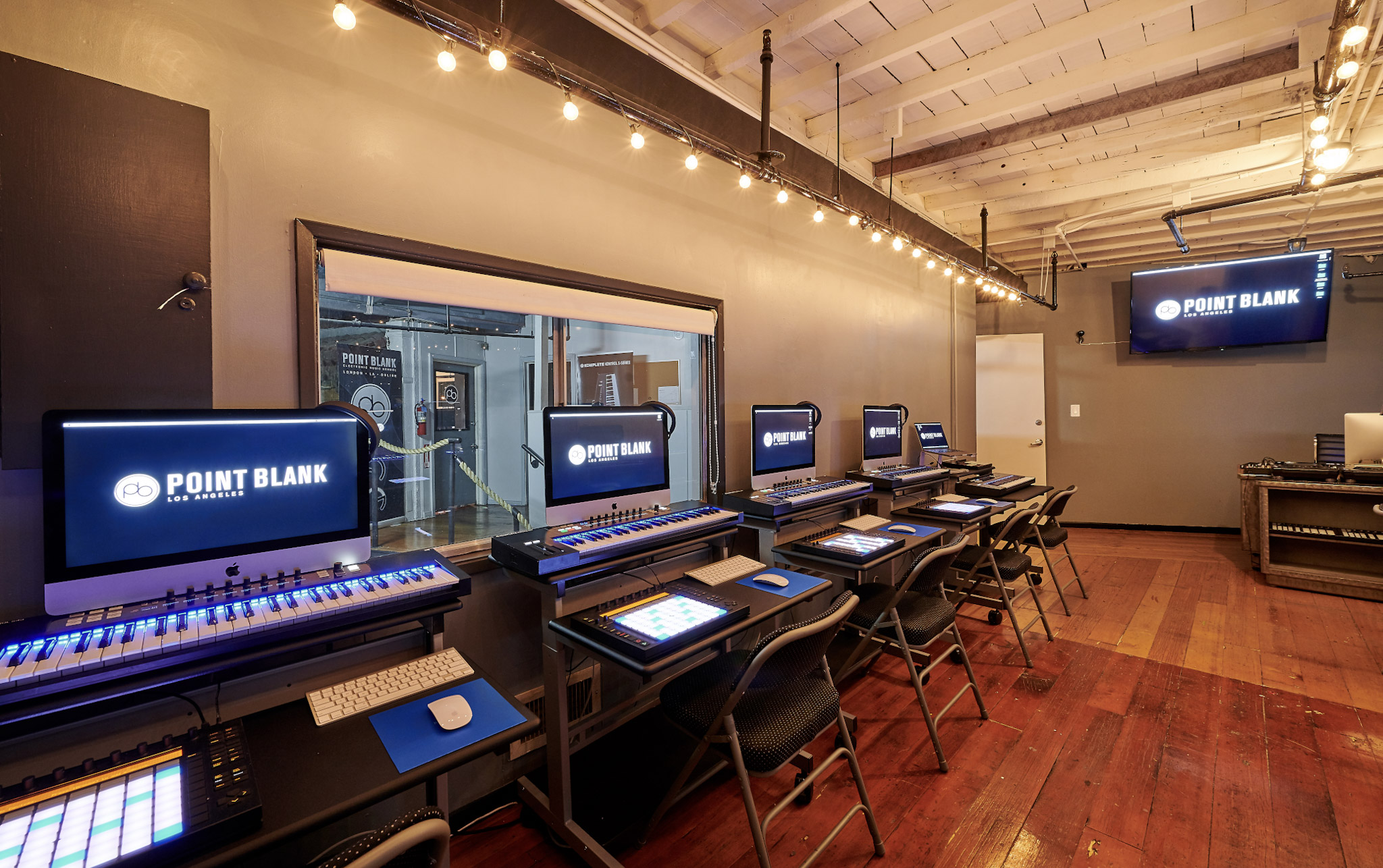 Room 2's Student Work Stations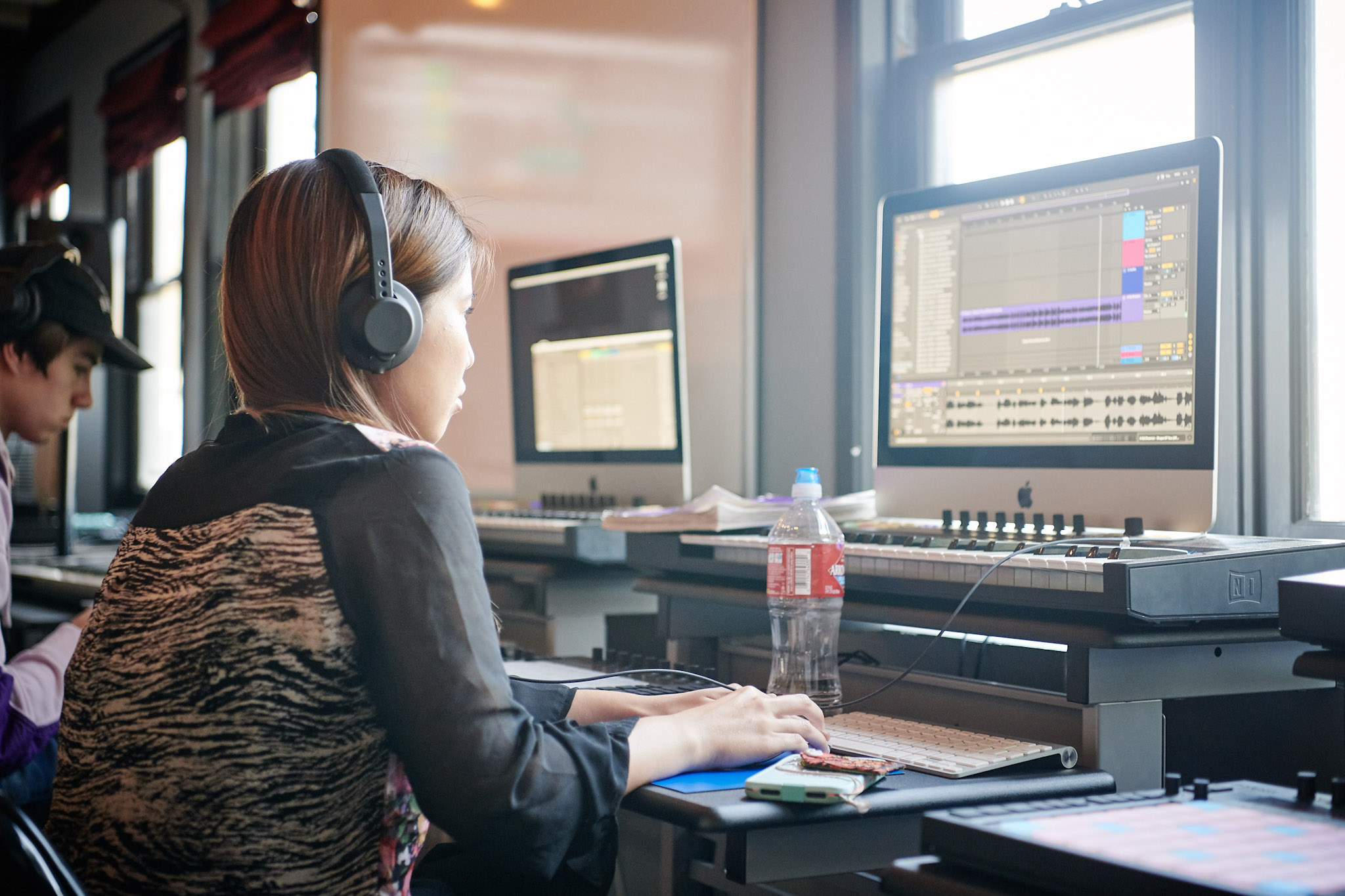 PBLA Student Working on a Project
iMac's
NI S49's
Ableton Push's
Scarlett 2i2
Pioneer RM07 Monitors
Apple TV
NI Maschine's
If you like what you've seen in our PBLA studio photo tour be sure to check out our full line of Los Angeles-based courses here. If you're interested in studying with us but don't live in LA we have schools in London, China, Ibiza, Mumbai and Online.
Register to Access Free Courses, Plugins, Projects, Samples & More
When you register with Point Blank, you access an array of free sounds, plugins, online course samples, access to our social network Plugged In and much more! Simply register below and visit our Free Stuff page to get your hands on a range of exclusive music-making tools and tutorials provided by the team. Fill your boots!