Welcome back to another edition of Point Blank Student Success. This month, we spoke to Shogun Audio's label manager, Peter van Dongen, artist and social media influencer, Jay Scott and DJ/producer Notorious Lynch, who's making waves in the LA tech house scene.
We compile these every month, showcasing students that have studied with us for any length of time at any of our locations: London, Los Angeles, China, Ibiza, Mumbai, and Online. Read on below to learn about these musician's previous experiences at Point Blank and the exciting projects they've been working on.
If you're interested in learning the ins and outs of music with Point Blank, we're currently offering 25% off our selected online and LA courses until 31st January. So, be sure to sign up before this offer ends using the codes ONLINE25 and LA25.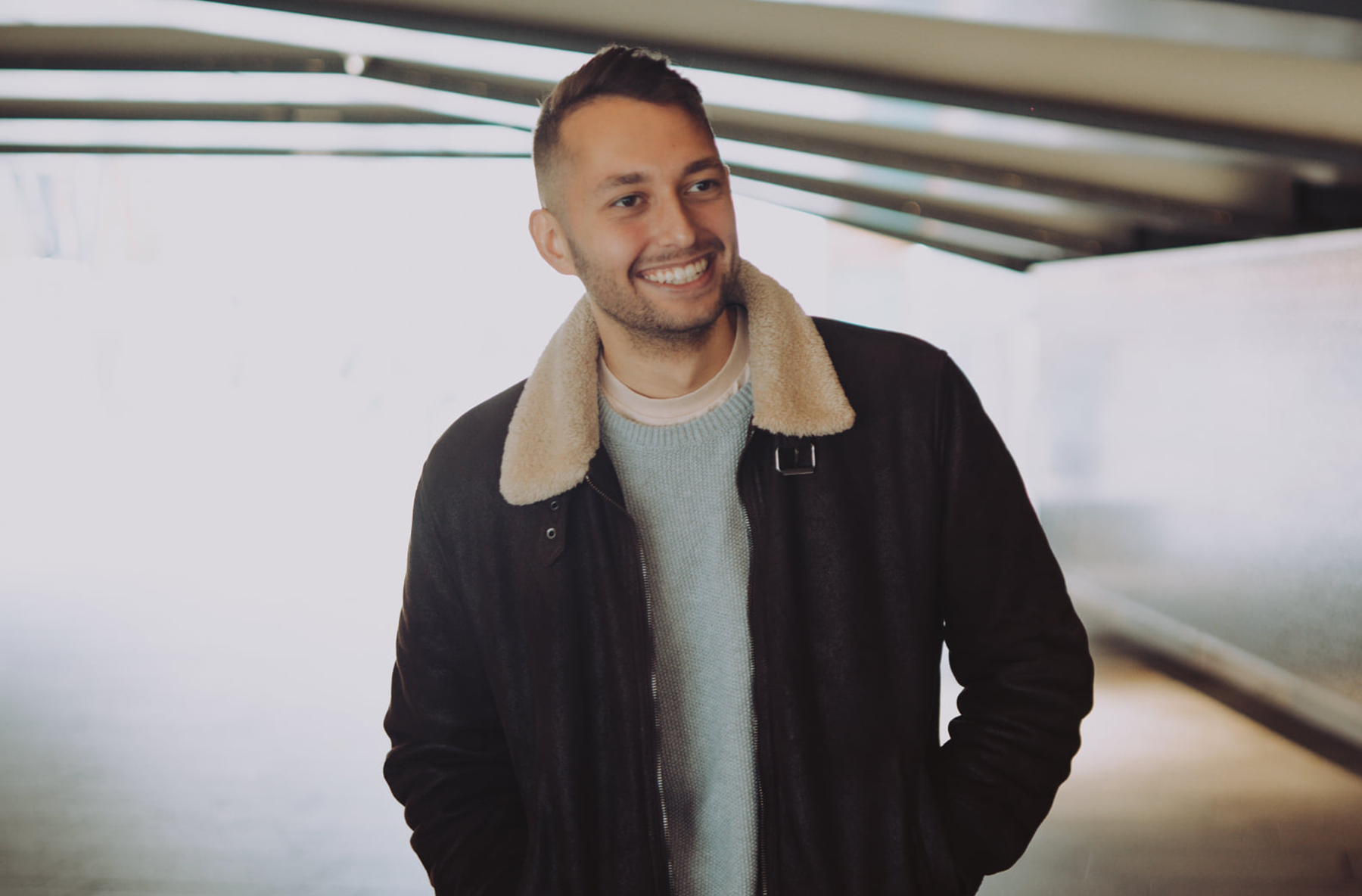 Peter van Dongen is a DJ, producer and PB alumni who's gone on to manage one of the most well-respected labels in the UK drum and bass scene, Shogun Audio. Whilst he's not manning all things Shogun Audio and working as an A&R for Shogun Audio, Elevate Records and SGN:LTD, Dongen channels his creativity into his DnB duo, Deadline, with Oliver Outen. Below find out how the DJ/producer manoeuvred his way through the industry, working his way up to becoming a label Manager.
Hey Peter, how's it going? For those who aren't familiar with what you do could you tell us a bit about yourself?

Hi James, I'm well thanks – all things considering with the world at the moment. My name's Peter van Dongen and I'm the label manager for Brighton-based independent record label Shogun Audio. I'm also one half of electronic music duo Deadline with my business partner, Oliver Outen.
Music's always been a passion, from when I was in school playing in bands and orchestras, to discovering drum & bass music in my teens and going to raves for the first time. After school, I received an offer to take a music degree at the University of Sussex but as it wasn't specialised in electronic music and the present-day music industry, I decided to defer my uni placement by a year and take a course at Point Blank. It was one of the best years of my life, giving me the skills and confidence to put everything into carving out a path for myself in the industry. Six years on, I'm really happy and have been fortunate to gain experience in fields that I could only dream of as a student at the time.
We saw you've been appointed as Shogun Audio's new Label Manager – that's amazing! How did you secure this opportunity?

Thank you, I'm delighted. After I had started my second year at uni in October 2016, a mentor I had worked for the previous summer put me forward for a part-time internship with the company. It was a 15-minute bus ride from my accommodation and they were flexible in terms of working days. This was great as it meant I could work around my studies. After a few months of fulfilling merchandise and vinyl orders in the warehouse and doing various odd jobs, I was given an official part-time position as label assistant, which transitioned into a full-time position after graduating in June 2018.
Being a small company at the time with only two full-time employees, I was exposed to many sides of the company and was quickly able to share my enthusiasm for the music with label owners Friction and K-Tee. Over time, I became increasingly involved with Artist & Repertoire (A&R) for our three labels Shogun Audio, Elevate Records and SGN:LTD, working with Friction and our signed artists on their projects as well as sourcing and signing new acts for the label including Monrroe and Koherent. We've grown rapidly in the past four years and now have six full-time and three part-time employees. Following a re-structure at the end of this year, I was appointed as label manager for Shogun Audio and made responsible for everything to do with the brand including releases, events and merchandise.
It's been a process of working through a variety of roles in a time when the company was growing quickly over the past five years. Point Blank gave me something that my degree didn't in terms of practical knowledge of the industry, which meant that when I was applying for the internship in the first place, I knew the right things to say and could prove that I knew how the business works. It laid the foundation which meant I wasn't stabbing in the dark, even if I didn't have a lot of practical experience in what I was being asked to do.
How do you juggle your own creativity with maintaining a demanding job in the industry?

It's definitely tough and requires a lot of time management. Something I've learned about myself in the past couple of years is that having some kind of music outlet of my own is non-negotiable for my sanity and happiness. I'm fortunate to have a great friend and business partner in Ollie, who is an extra creative mind and pair of hands, and we've recently taken on a new manager, Anna, who is doing an amazing job in terms of the strategy behind Deadline. This means that we can focus on the music for the most part.
Do you have any tips for young creatives looking to break into the music industry? This could be securing that first job or working their way up the ranks as you did with Shogun Audio.

If you're keen to work with a particular company, reach out to ask if they have any internships or positions open. Learn who works there and see if you can set up a meeting with them. In the case of a record label, see if you can chat to a representative at their next event near you. Most people in the industry are approachable and keen to help those looking to enter the industry. Training up in networking can open doors quite quickly – so look into music conferences such as BMC and The Great Escape in Brighton, or AIM Connected in London. These types of events can help you to establish relationships with potential employers, partners or mentors.
Don't be afraid to make mistakes – they're unavoidable and that's ok as long as you learn from them. Willingness to learn and the drive to pick up new skills are extremely attractive qualities to any company. Some businesses might overlook your lack of practical experience if you can show you're dedicated to your own personal development. If you're fortunate enough to be enrolled in the Music Business modules that Point Blank offer, then you should learn everything you need to know. Donald Passman's 'All You Need to Know About The Music Business' and Ari Herstand's 'How to Make it in the New Music Business' are great additional resources that can bolster your understanding of how the industry works.
Furthermore, do you have any tips for aspiring musicians to stay creative, productive and navigate the music industry during a global pandemic?

The past year has been difficult for everyone, but especially for those in the creative industries. Now, more than ever, it's important to remain resilient and dedicated to making this career path work for you if it's what you really want. Whatever your passion or interest within music, take time to look into the revenue streams and career path options that can work for you. You might have initially just wanted to write and release electronic music, but you might also enjoy writing for TV/film/games or creating sample packs – there are many, many more commercial opportunities as a musician than most initially think.
At the same time, allow time to look after yourself – there might be some days where you can't bring yourself to be productive or creative and it's easy to beat yourself up in these moments. But it's ok to not be ok. Often the time spent off being creative can be just as if not more important than the time being creative and you can return to writing feeling refreshed with new inspiration. It's easy to get sucked in to being in your studio or office all day and night – I've definitely been guilty of this at times during the pandemic – but allow time to go on walks, exercise or be in nature, and check-in with your family and friends if the situation where you are allows it.
Finally, I've really enjoyed reading Dennis DeSantis' 'Making Music: 74 Creative Strategies for Electronic Music Producers' over lockdown which gives great tips on how to get through the stumbling blocks of starting, progressing with and finishing music ideas. It's commissioned by Ableton, but its guidance is transferable to any DAW and is available as a free PDF from Ableton's website.
As live events have more or less come to a stand-still for musicians, what would you suggest artists should be focussing on over the coming months?

It's really sad to see the effect COVID has had on the live sector and I feel for anyone who relied heavily on performance income. Although nothing will replace the face-to-face experience of a real gig, using this time to build your audiences on social media and platforms such as YouTube or Twitch is important and can keep things ticking over until we're back in the clubs again. There are so many things you can do – from sharing the music you're working on to production and DJ live-streams, to starting conversations with your fans and within your community, to becoming a TikTok viral sensation if that suits your personality. It really doesn't matter what it is, only that you are being authentic and that you're not completely dormant waiting for the opportunity to share news about gigs or play clubs again. Even with the positive news regarding vaccines recently, unfortunately, it looks like we'll still be waiting a little while before clubland returns to normal.
Could you tell me how you discovered Point Blank?

It's a little while so I can't remember exactly, but I'm sure it must have been the YouTube channel! A Ski Oakenfull deconstruction or a Ben Bristow DJ performance masterclass. There are so many great videos on the channel. Still watch many of them today.
Were there any things in particular that really stood out in your memory from studying here?

I've got so many amazing memories from my time in Hoxton that it's difficult to pinpoint one, but one of my favourites was covering Everything But The Girl – 'Missing' together with my classmates. We spent some time in a professional recording studio recording various instruments and the vocal. It was a lot of fun. It was so nice being with classmates from around the world, we had a little crew with someone from Mexico, Turkey, Ireland and the US. We spent lots of time in the studio but also out and about, I miss those days a lot! I'm hoping once COVID subsides there might be an opportunity for a reunion of some kind.
Now that I have the opportunity I also want to give a shoutout to my tutors Linton Bennett, Ben Bristow, Jen Anderson, Ganesh Singaram, Umut Gunduz, Alex Phountzi and Chris Carter – they were amazing and I'm really grateful for all their teachings.
What's in the pipeline? Are there any other interesting projects you're working on you can tell us about?

2021 is likely to be Shogun's busiest year yet, we have two artist albums and two various artist album projects in the works as well as a number of EPs and singles along the way – I'm spending the last couple of weeks before Christmas getting these mapped out in the schedule which I'm really looking forward to.
With Deadline, we've just self-released our fifth and final single of the year Wake Up Call ft. Eloise Keeble, we're now in the middle of preparing and recording a DJ set which will be live-streamed by YouTube channel UKF on New Year's Eve. We've also been commissioned to do a remix of a stone-cold classic which is a bit daunting but something we're both really looking forward to. I've taken most of my holiday over the Christmas period which Ollie and I have dedicated to being in the studio, so looking forward to finalising our next releases and getting creative again!
Socials: Facebook / Instagram / Twitter / SoundCloud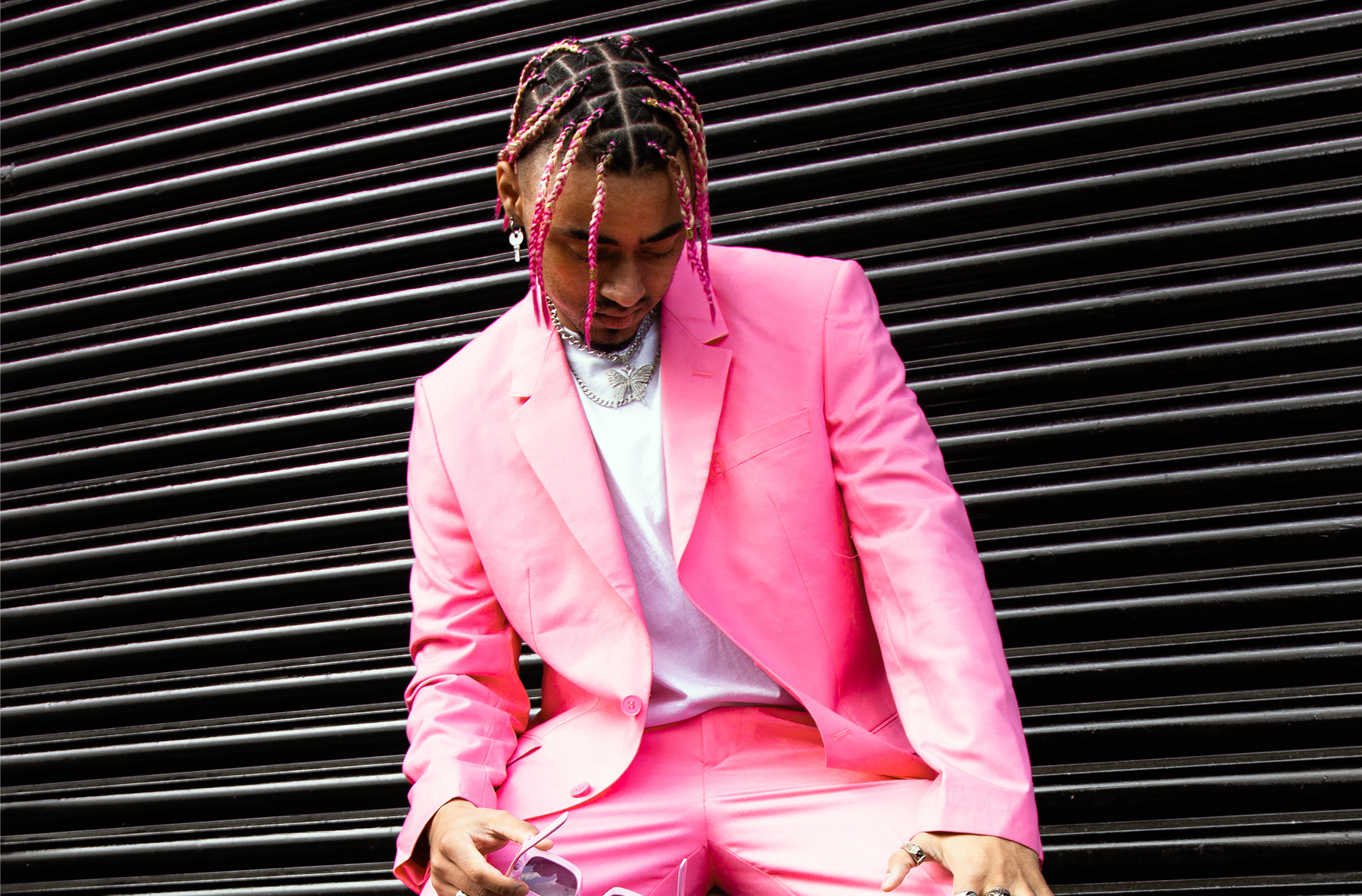 Jamie Scott a.k.a. Jay Scott is a singer-songwriter turned music producer who's causing a storm on social media. Since gaining an impressive amount of traction online for his flawless fit pics, love of pink and stellar vocals, he's worked with the likes of BoohooMAN, ASOS, Ellesse and Fila and has amassed 80K followers on TikTok alone. Now, focussing on the production side of music (especially during lockdown, producing over 100 beats and writing and recording about 50 original tracks) the London-based producer talks us through his production tips, his time at Point Blank, his secrets to growing an engaged online fanbase and much more.
Hey Jay, how's it going? For those who aren't familiar with what you do could you tell us a bit about yourself?
Hey! My name is Jay Scott, I'm a music artist, songwriter, producer, dancer and social media influencer from Wolverhampton, but living in London. I love fashion, wearing pink and I'm classically trained on the piano. R&B music is my first love and my biggest musical influences are Frank Ocean, Ty Dolla $ign, Jhene Aiko, Chris Brown, Justin Timberlake, Summer Walker, Alicia Keys, Beyoncé and many more. My favourite animal is a Zebra, I love Chinese food and even though I don't speak a word of Spanish I'm OBSESSED with Reggaeton music (Bad Bunny & J Balvin are my favourite).
We saw you recently released a new single 'Breakthrough' with MashBit – congratulations! Could you tell us a little bit about how the song came together?
So, 'Breakthrough' is my first release as a featured solo artist. It is a collaboration with MashBit who is an EDM Producer from Dallas, Texas in the USA. During the first UK lockdown, he came across one of my singing videos on instagram and sent me a DM saying he was looking for artists to work with on his next release and would love to collab. He sent over the instrumental and even though I'm not an EDM artist, I loved the it and wanted to try something new. I wrote the song with David Asante during lockdown inspired by my mom, I actually rewrote the song like 4-5 times and it took us 4-months to actually finish the song. It's now sitting at 13,000 streams on Spotify and a few of my 'Breakthrough' challenge videos on TikTok have amassed over 100K views combined.
You collaborated on this one with a producer over in the States. Do you have any tips/tricks for our students (or other aspiring musicians) for collaborating online?
FaceTime or Zoom calls are your best friend! I think it's a really great investment of your time to collaborate with other people, especially from different countries. You learn new things and when the song gets released you get exposed to a whole new audience. Don't be afraid to reach out to new people on social media – you never know where or what it could lead to. Also, beware of scammers.
You've amassed an impressive online following – what advice would you give a creative looking to boost their social media presence?
It's crazy because at the start of lockdown I had 7K Instagram followers and 8kK TikTok followers, and now I've nearly got 11K on Instagram and 80K on TikTok! Honestly, my advice is to just have fun with it and follow your heart. Being a music artist isn't just about the music, you have to have something else that is interesting about you. That's how you build a following. Don't try too hard because people can see straight through it. People love authenticity these days so make content that is true to you. You need to try to create some sort of unique aspect to your page and content. I love fashion, dancing, pink and making funny videos with my dad. Those things have all helped me build a following, not just the music. A massive tip though is to make sure you're consistent and you upload content every single day, if not every day then every other day.
Could you tell us about your work with BoohooMAN, ASOS, Ellesse and Fila? How did you hook up with these global brands?
I hooked up with these brands through my Instagram and TikTok following! As well as being a music artist, I love dancing and fashion, so I'm always putting outfits together for instagram and filming dancing TikToks. So, during lockdown, because I had nothing better to do, I dyed my hair pink & bought loads of matching clothes from BoohooMAN, ASOS, Weekday etc. and started uploading fashion pictures and dancing TikTok videos every single day. Before I knew it, my following was growing and the brands were reaching out to me, reposting my pictures/videos on their pages, sending me free clothes and paying me to wear their clothes as well as collaborate on content! It's crazy, but it's all been down to hard work, dedication, taking my social media seriously and making sure I post every single day.
During lockdown, you mentioned you'd produced over 100 beats & wrote/produced/recorded about 50 originals. What are your go-to workflow tips?
Every morning when I wake up the first thing I do is spend an hour writing a song just to get my writing juices flowing. Sometimes I write a whole song, a verse, a chorus, a chord progression or just a load of random words and sentences that I can use later on in an actual song. Then when it comes to producing I try and push myself to produce a minimum of 3 beats a day. It normally takes me 1-2 hours to finish each beat. If you want to get good at something you need to find time to do it every day. I also set myself weekly challenges to work on a certain genre of music, so one week I'll listen to R&B music all week and only produce R&B beats, the next week will be trap week, the next drill music, the next house music etc. You should never stop learning as a producer/songwriter, always keep growing, pushing yourself and trying new things.
Could you tell me how you discovered Point Blank?
I think it was my mom that saw the advertisement online and she told me I should apply for it. At the time I was in a 3-piece male group and signed to a production deal. My main intention was to be able to produce all of my group's music properly but during lockdown we split up. I'm glad I did the course though as it's something I always wanted to learn and now I can use it to produce my own music and other artists' music to a professional standard.
Were there any things in particular that really stood out in your memory from studying here – this could be a technique you learned? A module? A lecturer?
The lecturers were really helpful! If I ever needed help or advice they were always honest and encouraging. I am a self-taught music producer, I learnt everything myself but I didn't understand the mixing and mastering element of producing. The lecturers really helped me learn the technicalities of mixing and mastering and helped me unlearn so many bad habits I had when it came to mixing a track like making sure the dBs never went over -6dB before sending off a track to get mastered.
What's in the pipeline? Are there any other interesting projects you're working on you can tell us about?
I'm getting ready to release my solo artist music but I'm also excited to be launching my own music production beat-making business called "JayBird On-The-Beat"! I already produce beats for artists and run sessions helping write and produce tracks for artists, but I've never launched it as an official business. The website should be launching in February so keep your eyes peeled! It will have lots of high-quality chart ready R&B, trap, hip-hop and drill beats to purchase at an affordable price. I'm so excited and can't wait for it to launch!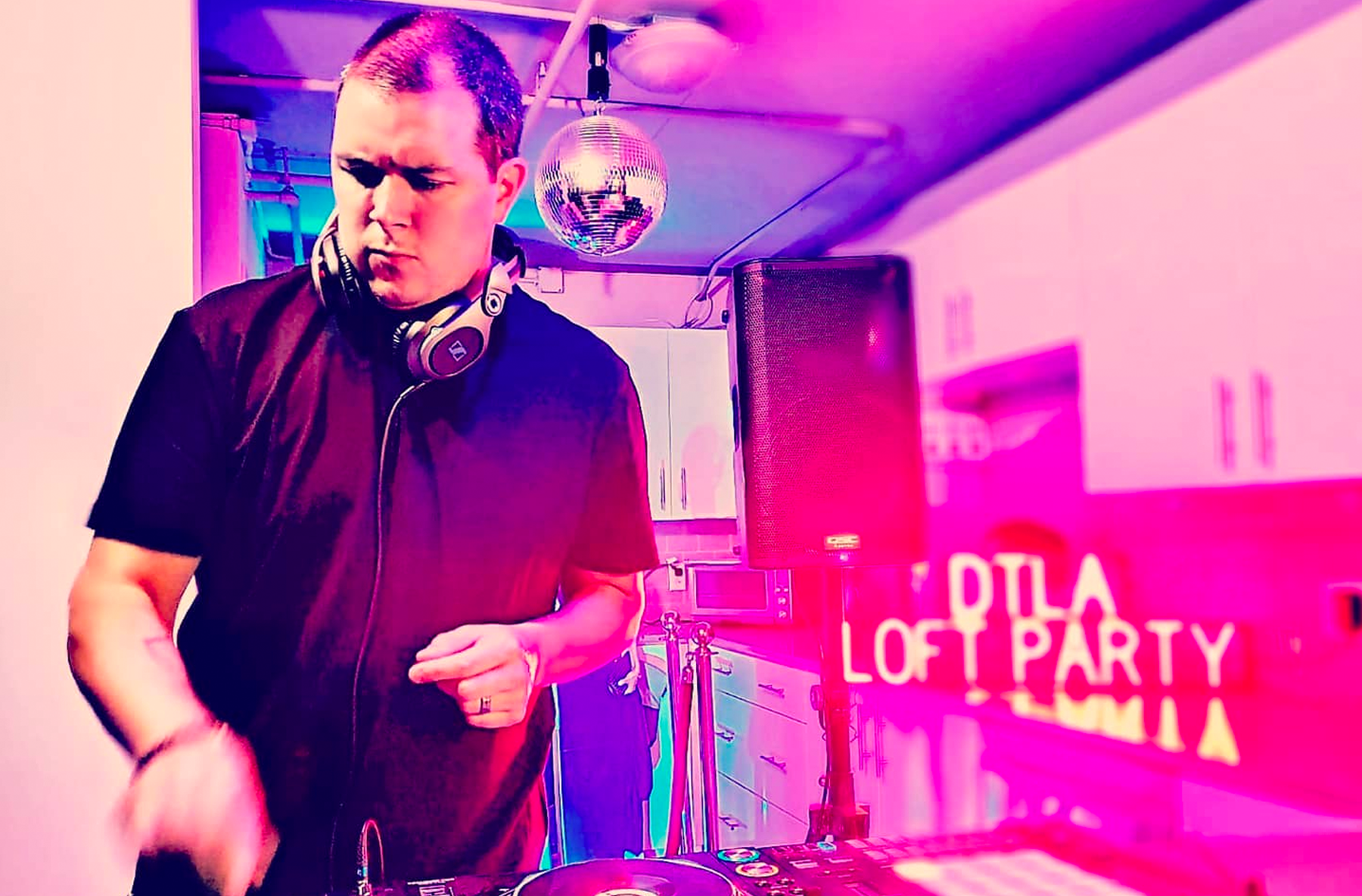 Stephen 'Notorious' Lynch, originally from Cork, Ireland, now based near San Diego, California, has been Djing since the year 2000. He began his career in music as a presenter of a local hip-hop radio show on Cork's Klub FM. Quickly discovering house music through his early radio days, he's gone on to become a well-travelled international DJ, having held residencies in Ireland, the Greek Islands and Las Vegas. He now releases music on numerous labels across the globe, including Deep Tech Los Angeles Records, Beachside Records, Rhythm Culture Records, Lefty Shades, and more.
Hey Stephen, how's it going? For those who aren't familiar with what you do could you tell us a bit about yourself?
I'm a DJ/producer and now officially a remixer as I have an official remix under my belt for Tex on Beachside Records! It feels good to say that! I'm from Ireland originally but moved to the US in 2012 and I'm permanently based here now. 20-years DJing experience behind me, and about 10 broken up years as a Producer. I'm an electrician by trade, and that's served me well to this day.
Last year, you signed numerous tracks with the label Deep Tech Los Angeles Records. How did you hook up with the label?
I'll try to keep a long story short here, but I Gotta shout out my buddy Aaron Lowe from Rhythm Culture Records. I had got to know Aaron a little, while he was based in San Diego, and had signed my 'Sigo Buscando' track (The Point Blank competition-winning track) to his label. Aaron invited me to DJ at one of his events in Tijuana, Mexico where Redux Saints, DTLA label head was headlining that night. I played the 8 pm-10 pm slot before Aaron, so when I got off I was chatting to Jay (Redux Saints) and label partner Will. We were shooting the shit (as you do) about a lot of stuff, the state of the industry, getting music heard, events, you name it. We talked about it that night. I still recall chatting to Will about the demo struggles, and how some labels handle the little to no feedback etc. and how disheartening it can be for some artists trying to get their music out. I was really only getting Notorious Lynch started at that point but, Will told me to send some music over. He didn't care if it was for DTLA at that point or anything, he just wanted to help and offer some feedback, which was absolutely fantastic to hear. I recall sending them 1 track at that time which to this day is still on the cutting room floor, but right after that I had been working on 'Dane With Me' –  a cross between tech house/house. It had the catchy M1 piano sounds, hands in the air type vocal on top of some tech house style drums and B-Line. The guys loved the track and the rest, as they say, is history. I've now signed 3 tracks in total with them, DJ'd at there loft party in LA and just announced I'll be joining them next month for there first Live stream event in their new partnership with Stream City TV.
Back in 2019, you won our 2019 Point Blank x Accusonus Producer Competition. How did this impact your musical journey?
In one word – greatly. I never expected to win this at all. I was a member of the Plugged In forum and decided to give it a shot but was up against all genres. I had just finished the track and it contained a sampled vocal from an old Christian Alvarez/Richard Earnshaw track. I decided to enter it as I couldn't really try and sign it anyway at the time with the vocal sample. With the track winning and the general reaction it got, it definitely provided some great momentum and spotlight to build off. You guys are Point Blank at the end of the day, this was huge for me to take down. I'm very proud of this achievement to this day, it's a major highlight for me.
Do you have any favourite plugins/production techniques you'd like to shout out?
Plugins: I have to give a shoutout to Voxengo Span here. What a plugin – and free as well! Everyone should pick up a copy of this. I use this a great deal for my mixdowns, and it hasn't failed me yet. Some of my other favourites are Sylenth, Khords from Loopmasters and Nicky Romero Kickstart to name a few.
Production Techniques: Most intermediate to advanced producers will know this already but, for guys starting out maybe, don't underestimate the power of EQ, compression, and mixing in general. It's so important to understand the different frequencies in play in your track, and before you even get there, make sure to select the right samples first. Fill the "box" (volume, panning, and frequency). Common mistakes are clipping due to all the sounds layered together, then reducing the gains, and the mix gets quiet. This can all be avoided by learning EQ/compression/mixing techniques.
You've had releases on a number of different record labels, what advice would you give an upcoming artist looking to get involved with different collectives/labels?
First off, I think it's always a good idea to get to know who the A&R's are. A lot of what I have done to date has been off the back of relationship building organically. No one wants a stranger hitting them up saying "hey check out my demo", "sign my track" etc. Even if you don't have finished tracks yet, or you have labels in mind, start following them, engaging with them, and just be genuine. This goes a long way in the industry. Start locally as well, see if there's a label/events/DJ's close by your area. Support the events and introduce yourself. In my opinion, this is the best way.
Do you have any workflow tips for other creatives who are trying to stay productive whilst juggling full-time work and a family?
Yes, I do! I'm happily married; wife, daughter, 2 dogs, full-time job, mortgage the lot! Time can be a constraint but I recommend trying to do something every day. Lay some ideas down, maybe tweak a mixdown. You won't have time to finish a full track in a day (most of the time) but you will have 20mins (maybe more) to lay an idea down, tweak some knobs and just stay busy. If you can put dedicated time aside, then make sure you have a schedule and plan for what you're going to do/try do during that time. Get a whiteboard for your studio, post-it notes, whatever you need to keep you on track.
DISCLAIMER! Be careful when laying down ideas that that's not just all you do. Don't get caught with the '8 bar loop' syndrome. I've been a victim of this, and its tough to break away from. It helps to set up a project template with any pre-made busses, send & returns etc. This can speed up the work flow of things have things like this in a default template.
Could you tell me how you discovered Point Blank?
I've known about Point Blank for many years, since before I moved to the States in 2012. Prior to moving here, I was looking into some of the London courses. I've always checked in and out of Point Blank and always wanted to study with you guys. It's funny how things work out!
Were there any things in particular that really stood out in your memory from studying here – this could be a technique you learned? A module? A lecturer?
Overall the experience studying here was great. The attention to detail on everything is what really stood out for me, and also that the courses cater to everyone. Whatever genre your into is pretty much covered. The courses demonstrate the similarity in the important production techniques across all genres and also the sound design techniques behind each different genre, in case you wanted to branch off your sound. I studied with Ali Jamieson and Ben Mallott, and both guys were fantastic to work with. I recommend PB to everyone that talks to me about getting into production. This is where you want to be.
What's in the pipeline? Are there any other interesting projects you're working on you can tell us about?
Perfect Timing on this question. I can't really announce anything publicly yet but I just got word yesterday that one of my upcoming releases will be remixed by an absolute Legend of house music. I don't want to jinx it because I'm very excited but, this will be absolutely huge for me. I still can't really believe it. I just sent over the stems before jumping on this interview.
I have 5 (or 6) finished tracks ready for label shopping (can't wait for the endless days of waiting for responses lol). I'm also working on some collaborations with other artists, and have some ideas in the pipeline to build on the social media presence as well.
Socials: Facebook / Instagram / Twitter / SoundCloud
Successes such as these are common among our students and alumni. We can teach you how to DJ like the best of them at any of our schools. If you'd like to learn how to produce, then we can build your skills from the ground up with our range of degree programmes. For more information, you can contact us here.
Register to Access Free Courses, Plugins, Projects, Samples & More
When you register with Point Blank, you access an array of free sounds, plugins, online course samples and much more! Simply register below and visit our Free Stuff page to get your hands on a range of exclusive music-making tools and tutorials provided by the team. Fill your boots!