Reverb is an essential tool for musicians, producers and recording engineers alike. It creates a sense of space and depth, making a recording or performance sound fuller and more immersive. There are different types of reverb, from spring reverb found in vintage guitar amps to digital reverb algorithms found in your favourite DAW. Not only is reverb a staple effect for guitarists, but reverb pedals and other effect stompboxes can also be incredibly useful tools in music production. For example, reverb can be used to add depth and dimension to vocals, drums, and other instruments in a mix. By manipulating the decay time and other parameters of a reverb effect, you can create unique ambient textures and spaces that can add character and interest to your tracks. Other effect pedals like delays, distortions, and filters can also be used creatively to shape sounds and add movement to a mix. With so many options available, the possibilities for using effect stompboxes as creative tools are nearly endless. In this blog, we're going to explore some of the best reverb stompbox pedals on the market, each with their own unique sonic characteristics and features.
1) TC Electronic Hall Of Fame 2 Reverb Pedal
The TC Electronic Hall Of Fame 2 is an updated version of their popular Hall Of Fame reverb pedal. It features 10 different reverb algorithms, including classic hall, plate, and spring reverbs, as well as more creative options like Shimmer and Modulated. The pedal also has TonePrint technology, one of the most exciting features of this pedal, allowing users to access custom-designed presets created by professional musicians and engineers. The Hall Of Fame 2 is versatile and fairly affordable coming in at around £139.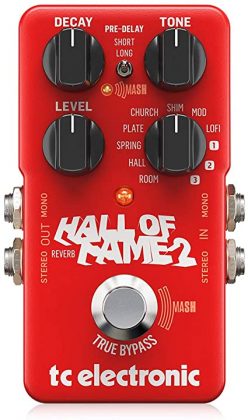 If you're a music producer looking to learn more about creatively utilising effects like reverb or delay, we have a whole range of degree courses perfectly suited for you. On our Music Production and Sound Engineering degree, you can learn all the techniques you need to know for getting your music to a professional standard on modules like "The Art of Mixing" or "Sound Design". As a Point Blank student, you also get access to our state-of-the-art facilities and expert lecturers.
2) Strymon Big Sky Multi Reverb Pedal
The Strymon Big Sky is a high-end reverb pedal designed for those who want maximum control and endless presets. It features 12 different reverb algorithms, including classic plate, hall, and spring reverbs, as well as more experimental options like Cloud and Swell. The pedal also has a powerful modulation engine, allowing users to add chorus, flanger, and other effects to their reverb sound. The Big Sky is a premium pedal but with its ability to store over 300 presets it's the perfect addition to your outboard studio gear collection.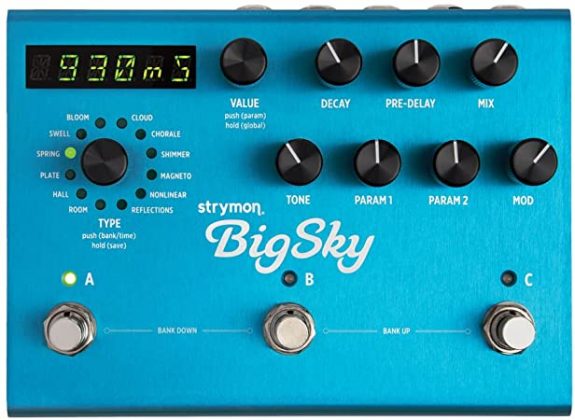 3) Immerse Reverberator Mk II
The Immerse Reverberator Mk II is ideal for ambient-music enthusiasts. The Shimmer effect, in particular, is often used to create a "glowing" or "shimmery" texture to guitar and synth sounds. The Sustain effect can also create an infinite reverb effect that can be used for making spacious and dreamy atmospheres in your tracks or compositions. The pedal comes complete with a Tone knob, which allows users to dial in the amount of reverb decay and a Mix knob for blending the wet and dry signals. Coming in at £250, it's a little on the pricier side but will easily become a go-to staple on your board.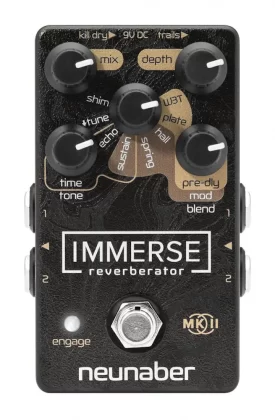 4) Eventide Blackhole Pedal
Continuing on in the otherworldly soundscapes, The Blackhole is a unique offering from Eventide following the success of their H9 pedal, the H9000 rack-mounted effects unit and their Space Reverb. With its 5 presets to hand, it's a great tool for live performances and recording sessions, but with the added capability of MIDI control, it becomes an even more powerful tool with over 100 presets. The built-in modulation feature also sets it apart from other reverb pedals, offering a level of tone-shaping ability that can be especially useful for musicians who are looking to create experimental and unconventional sounds.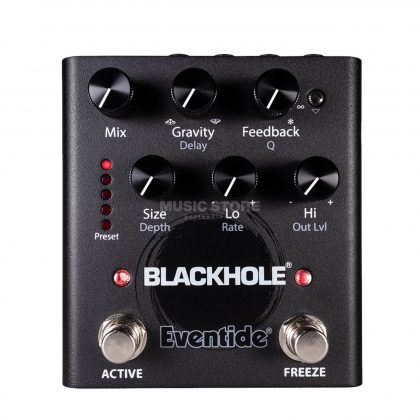 5) Fender Dual Marine Layer Reverb
The Fender Dual Marine Layer Reverb is a more simple approach to a stompbox reverb unit with two different reverb algorithms, including classic spring reverb and a more ambient option called Hall. The pedal also has a unique feature called Dynamic Expression, which allows users to control the amount of reverb decay based on their playing dynamics. The Dual Marine Layer Reverb is an affordable and versatile option for guitarists looking for classic reverb sounds.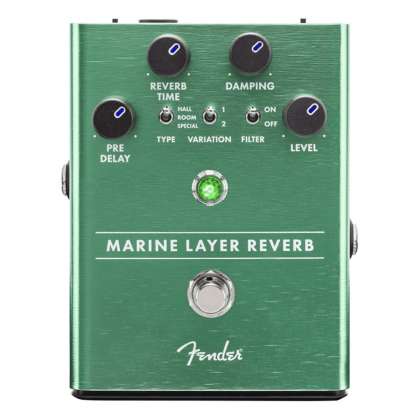 Honourable Mention – Boss RV-6 Pedal
The Boss RV-6 is a classic reverb pedal that has been around for decades, initially launched as the RV-2 in 1987. It features eight different reverb algorithms, including classic spring, hall, and plate reverbs, as well as more creative options like Shimmer and Modulate. The pedal also has a Tone knob, which allows users to dial in the amount of high-end frequencies in the reverb sound. The RV-6 is reliable and is spotted on many famous pedal boards around the world.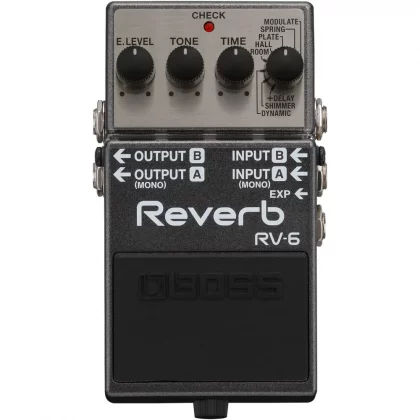 Whether you're working on vocals, drums, or instruments, understanding how to use reverb effectively can make all the difference. And with the right techniques and tools, you can create a cohesive and polished sound that will impress your listeners. Enrol in one of our music production degree courses today and learn how to master the art of reverb in your mixes. Available online or in-person in London and LA, our courses will teach you the skills you need to take your music to the next level.
Register to Access Free Courses, Plugins, Projects, Samples & More
When you register with Point Blank, you access an array of free sounds, plugins, online course samples and much more! Simply register below and visit our Free Stuff page to get your hands on a range of exclusive music-making tools and tutorials provided by the team. Fill your boots!