A music producer's arsenal of gear is never complete without a reliable set of headphones. These indispensable tools are not only crucial for producing on the go, but they also shine in scenarios where you might find yourself working in a room that's not acoustically treated, like a bedroom or kitchen. Choosing the right pair of headphones can be a complex task, given the plethora of options available but, today, we've got you covered. In this article, we will look at seven of the best headphones suited to your production needs.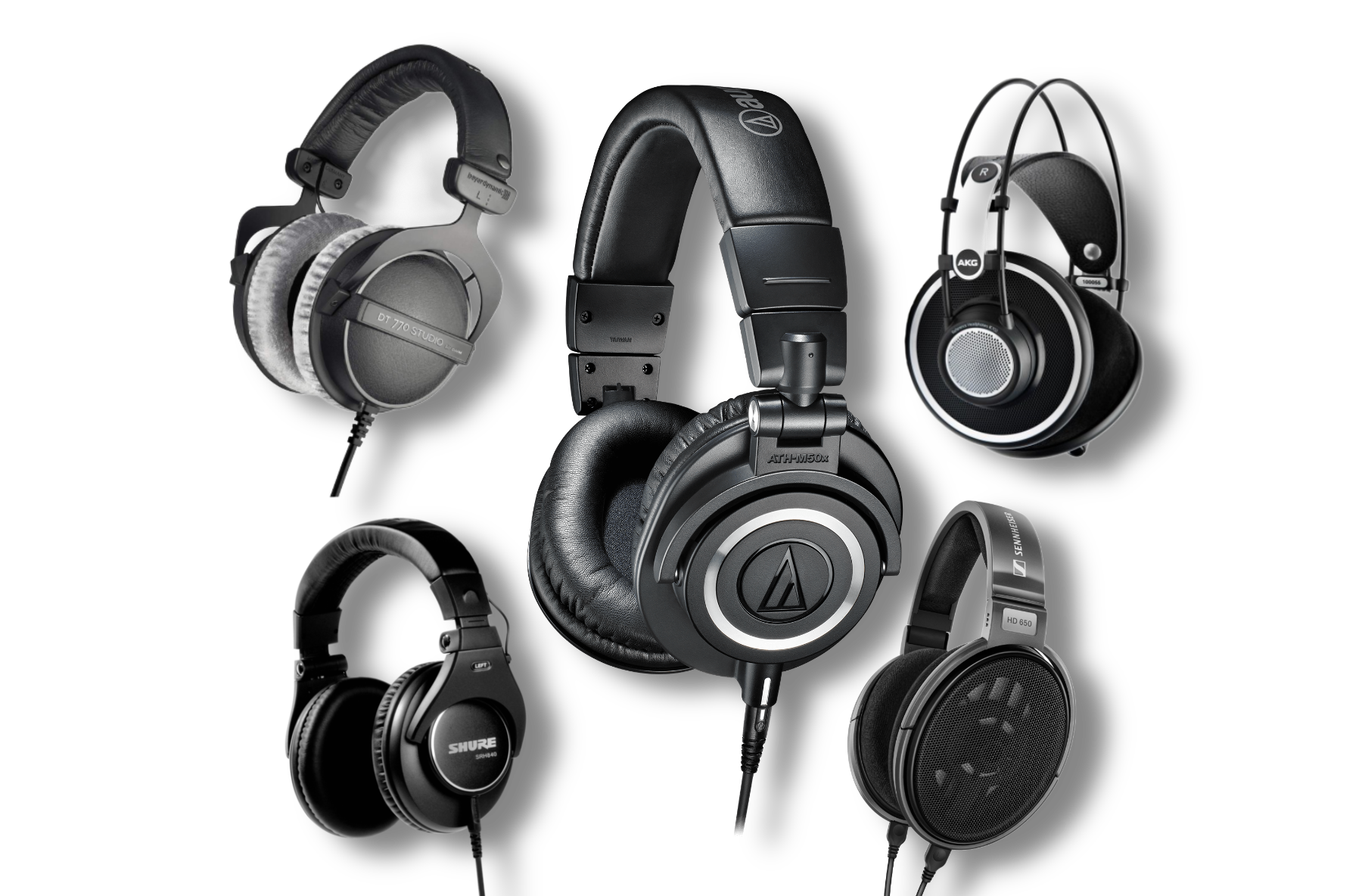 1. Audio-Technica ATH-M50x Headphones
The Audio-Technica ATH-M50x headphones are renowned for their exceptional sonic performance and comfort. They offer an accurate and balanced sound profile that ensures you capture every detail in your mix. With robust construction and a collapsible design, these headphones are perfect for producers on the go.
2. Shure SRH840 Reference Studio Headphones
The Shure SRH840 headphones are designed with the professional audio engineer in mind. These headphones provide a precise frequency response that delivers rich bass, clear mid-range, and extended highs, perfect for professional audio applications. The ergonomic design and replaceable ear pads ensure comfort during long studio sessions.
3. Beyerdynamic DT 770 Pro Studio Monitor Headphones
The Beyerdynamic DT 770 Pro Studio Monitor Headphones are renowned for their comfort and sound isolation. They provide an accurate, transparent sound with a slight emphasis on bass and treble, perfect for detailed listening. However, these headphones are a bit on the heavier side, which might be noticeable during long studio sessions.
Remember, it's not just about the gear; it's about knowing how to use it. At Point Blank Music School, we equip you with the skills necessary to master any piece of equipment. Take a deep dive into the different modules our comprehensive Music Production and Sound Engineering Degree covers by visiting this page here.
4. AKG K702 Open-Back Studio Headphones
The AKG K702 headphones deliver a spacious, open soundstage that lets you hear every detail in your mix. Their comfortable design and replaceable ear pads make them ideal for long sessions. These headphones might not have the most intense bass, but their accuracy makes them a favorite among producers.
5. Sennheiser HD 650 Open-Back Professional Headphones
The Sennheiser HD 650 headphones offer high-quality sound with precision damping. They feature a natural, spatial and accurate sound, suitable for professional mixing and mastering. However, as they are open-back headphones, they might not be the best option for recording sessions where microphone bleed could be an issue.
Are you a budding producer still finding your way in the realms of music engineering and production? Or perhaps you're a singer-songwriter looking to refine your vocal prowess? Our degree courses offer a structured learning pathway to mastering the complexities of music production.
Our Music Production and Sound Engineering Degree is designed to arm you with the in-depth knowledge and skills you need in all aspects of music production. If you are a lyricist with a melody, our vocal performance course could be the key to unlocking your vocal potential.
Take the next step in your music career with Point Blank Music School. Equip yourself with the skills you need to navigate the intricate world of music production. Transform your musical ideas into sonic reality and let your sound be heard.
Register to Access Free Courses, Plugins, Projects, Samples & More
When you register with Point Blank, you access an array of free sounds, plugins, online course samples and much more! Simply register below and visit our Free Stuff page to get your hands on a range of exclusive music-making tools and tutorials provided by the team. Fill your boots!