Each week, the Point Blank events calendar is packed with inspiring masterclasses, thought-provoking perspectives, techy talks and more. These events are delivered by cutting edge artists, music industry professionals, renowned tastemakers and others and are live-streamed straight to your desktop – so you'll be able to stay inspired, learn new techniques and gain insights weekly. You can head here to see our full roster of upcoming industry events.
Follow on below to see what's on in the world of Point Blank events.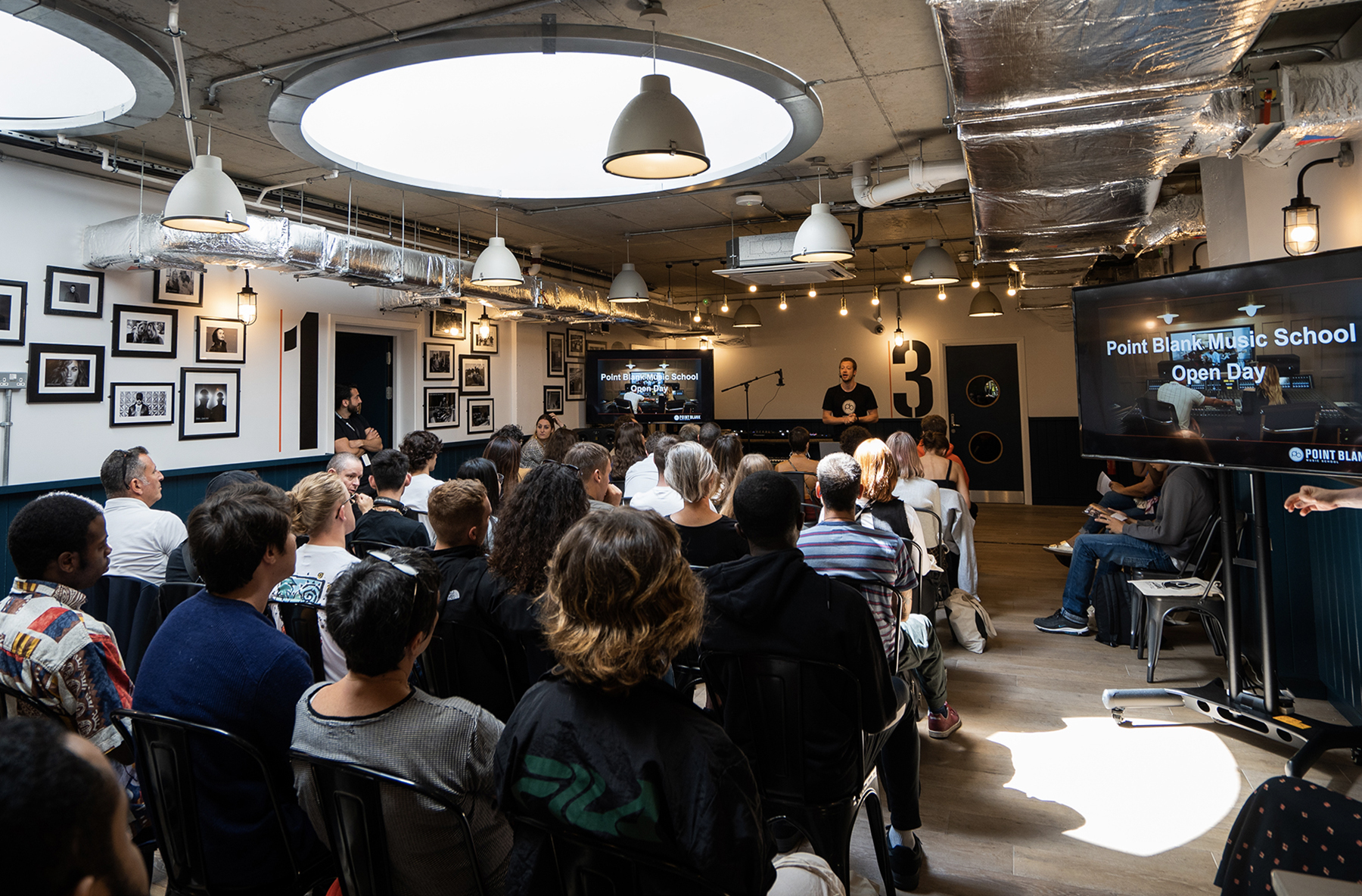 Come and join us for an evening where we discuss some of the best methods of gaining employment and working within the music industry. Point Blank will be hosting a panel of experts who will share their knowledge and experiences and give you the insight you need to carve yourself a successful career within the industry.
Panellists Include:
Kwame Kwaten (Senior A&R and The BRIT Trust Trustee)
Having had a number one hit in the dance chart with his band D Influence, signed to Atlantic Records, been shortlisted for a Mercury Prize, supported the likes of Michael Jackson, Prince, James Brown and managed the successful Laura Mvula and Shola Ama, Kwame brings his depth of musical knowledge and experience to both Point Blank's label project and students. Following a 2-year stint at Believe Digital as Senior A&R.
Rob May (Composer and Co-Founder of Sitting Duck)
MOBO Award winner, Rob's TV composition and production credits include: Good Morning Britain, ITV Election Debate, Rob May Stephen Lawrence Has Britain Changed?, Lorraine, This Morning, Peston, Loose Women, Inside Out, Now You See It, 5 Gold Rings and BBC's award-winning, Toughest Place To Be A. He has composed and overseen the audio branding for FIFA Women's World Cup, Vancouver Winter Olympics, UEFA Euro Qualifiers, Basketball Champions League, Champions Hockey League, CONCACAF Nations League, UEFA Futsal, Al Jazeera, Pokerstars, Guinness ICC and the BAFTA Award Winning, 'It Was Alright In The…'.
Rob co-founded and toured with Beehive, one of the UK's most sought after live acts, when the acid jazz boom was at its height. In 1997, their brilliant blend of funk and nu-soul won them a MOBO award for their self-produced album, 'Brand New Day'. He subsequently worked with a number of top acts including Honeyz, Misteeq, 911, Louise and Lulu. His production and mix credits include Alex Parks, Moya Brennan, RyanDan and Will Martin and he produced Connie Talbot's 'Over The Rainbow', which achieved Gold status in the UK as well as Platinum Sales in Asia.
In addition, he runs an award-winning production company, Sitting Duck. In 2010 he co-founded Community Albums, a charity that develops people and gives communities a voice through music and media. He has overseen community projects in the UK, Africa and Asia.
Peter Van Dongen (Label Manager Shogun Audio)
Former Point Blank student Peter van Dongen is the label manager for Brighton-based independent record label Shogun Audio, as well as one half of the emerging drum & bass duo Deadline. Since graduating from the Music Production, DJ, Sound Engineering and Music Business course in 2014, Peter has progressively moved through the ranks within the music industry – from starting as an intern at Shogun to recently being appointed label manager, becoming a multi-million streaming artist, and setting up his own events company Arcane Culture promoting the likes of Chase & Status, Sub Focus and many more.
Upcoming Events
Laptop-free Live Performance Techniques With Rhythm Droid (1st September 18:00 PDT)
Devon Hughes has been performing laptop-free live techno, house, and tech-funk as Rhythm Droid since 1999. In this session, Rhythm Droid will showcase all of the most effective methods for laptop-free live performance that he has distilled in his many years of club experience.
Artist Management Masterclass With Red Light's Steve Satterthwaite (8th September 18:00 PDT)
Stephen Satterthwaite is a managing partner at Red Light Management, one of the world's leading artist management firms. Satterthwaite has a rich history in developing not only artist careers but also their businesses and ecosystems. A Brit who now calls Los Angeles home, he founded Hope Management and Hope Recordings in the mid-90s and has been at the forefront of new models for artists and music companies ever since.
Attendees can expect to take away vital tips from Satterthwaite's extensive experience in artist management that will help them to develop their own music careers, and know what to expect when working with an artist management team.
If you're interested in learning more about making music in-depth, attending exclusive events with industry professionals and more, be sure to check out our courses in London, Los Angeles and Online. Plus, we're currently offering 25% off our selected London, Online and Los Angeles courses until 31st August using the codes LONDON25, ONLINE25 and LA25 – so there's no better time to sign up than now.
Register to Access Free Courses, Plugins, Projects, Samples & More
When you register with Point Blank, you access an array of free sounds, plugins, online course samples and much more! Simply register below and visit our Free Stuff page to get your hands on a range of exclusive music-making tools and tutorials provided by the team. Fill your boots!