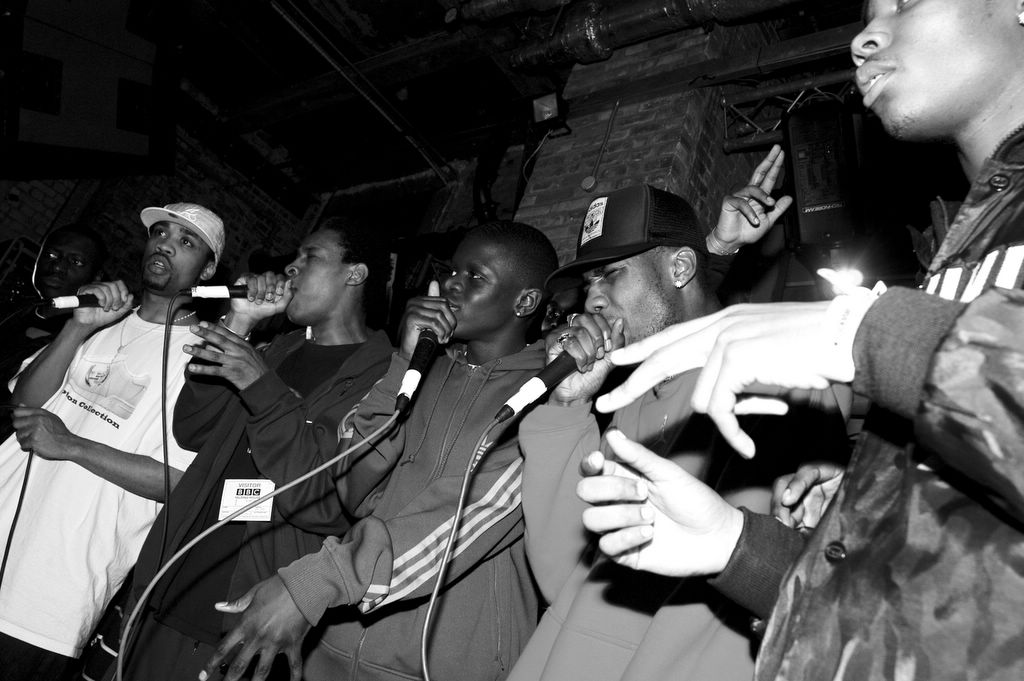 If you've been following this series, you'll know that over the past month we have been picking apart our Production Analysis module, a part of both our BA (Hons) Music Production & Sound Engineering degree and our online degree course. Throughout the series, we'll be taking a look at some of the most important scenes in music history and their effect on production and the music industry. So far we have traced the roots of Dance from Dub to Disco and taken a look at DIY ethic, namely in Punk and the early rave scenes. In this episode of the series we'll be turning our gaze onto the United Kingdom, specifically looking at Urban culture and music. We'll be taking a look at the origins of the sound and its journey to commercial success from Hip-Hop through to UK Garage and Grime.
Dub was arguably the first Urban sound to come out of the UK, a result of an influx of Caribbean migrants arriving on its shores in the 1960s & 70s. This bass heavy music was characterised by DJs 'toasting' – or MCing – over records and brought with it soundclash culture, which involved two rival sound systems or MCs going head to head to see which/who had the most musical/lyrical prowess. Check out our full article on Dub and sound system culture here. Toasting soon evolved into speed-toasting, an early form of rapping. Record labels like Fashion Records were releasing acts like Macka B and Smiley Culture, the latter of which had commercial success with his 1984 record 'Cockney Translation'. This was one of the first records to blend the east-end of London's cockney dialect and Caribbean patois in what would be a major catalyst in the development of UK Urban music.

Whilst this was happening, another urban movement was beginning to stir in Britain – UK Hip Hop. Inspired partly by the Graffiti, breakdancing and electro-hop of New York City, artists like Dizzy Heights and Newtrament released some of the first UK Hip-Hop tracks in 1982 and 1983 respectively. However, most of these early UK Hip-Hop acts would rap in an American accent, and while the genre was initially presumed to boom it proved to never quite reach what was expected. A lot of musicians began to move in the direction of the emerging Jungle scene but, towards the end of the 1980s, UK Hip-Hop began to evolve. The influence of toasting and, importantly, the blending of Cockney and Caribbean dialects was defining for UK Hip-Hop. It disconnected the genre from its US counterpart, giving it its own unique style and characteristics and by the 1990s a whole new wave of UK Rappers and record labels were pioneering the scene. In 1995, Ninja Tune released The Herbaliser's 'Remedies', the same year that Sound of Money released the single 'Next Type Of Motion' by a young Roots Manuva. In 1997 Will Ashon set up Big Dada. Distributed by Ninja Tune, Big Dada would release all 9 of Roots Manuva's studio albums, to critical acclaim, with albums 'Brand New Second Hand' and 'Run Come Save Me' going silver and gold respectively. Manuva has been described as "one of the most influential artists in British music history', let alone in the UK Hip Hop scene.
The mid-90s saw another urban genre begin to gain momentum. UK Garage, or 'UKG', evolved from House music, with US producer Todd Edwards remixing soulful house records to have more time-shifts and vocal samples (methods you can learn on our BA (Hons) Music Production & Sound Engineering degree). When North London's DJ EZ started playing Edwards' tracks at a faster tempo, the UK Garage sound was solidified. A wave of UKG producers followed, with the likes of Wookie, Scott Garcia and Roy Davis Jr. being just a handful of the many garage pioneers. Garage became popular almost overnight and it didn't take long for what was predominantly a 'white-label' culture to become a firm fixture of the charts, with compilations selling out and it dominating the airwaves. Previously Garage had always tended to be played in the second room at Jungle nights, but its soulful grooves and slower bpm attracted more of the female audience than its high-tempo counterpart. By the end of the 90s, Garage had piqued the interest of Major Labels, who began to commission artists to do 2step remixes of their roster's tracks and at the turn of the century, there was a new influx of UKG producers and musicians storming the charts, such as Deekline and The Streets. As the tempos began to speed-up however, vocal samples were dropped in favour of an MC, with acts like So Solid Crew, Pay As U Go and Heartless Crew paving the way for the next phase of the UK Urban sound: Grime.

As Garage's momentum waned, a new generation of musicians began to fill the void.  Put off Garage by its acceptance into the mainstream and sometimes cheesy vocals, young kids would use cheap computers, video games like the PlayStation 1 game 'Music 2000' and whatever else they could get their hands on to produce their own sound. The result was low-fi but effective, with tracks having very simple elements and leaving lots of space for an MC on top. The powerful thing about Grime was that it transcended music in a lot of ways. The low production values didn't matter, it was a representation of London's youth and a community-based activity. It was an opportunity for struggling young Londoners to express themselves and talk about the difficulties of their lives. In 2002 the godfather of Grime, Wiley, released the instrumental 'Eskimo' and essentially invented the genre. At this point, no-one knew what this new sound was called so, as if to clarify, Wiley released iconic single 'Wot Do U Call It?'.
In 2003 Grime had its first bit of mainstream media attention when Wiley protege Dizzee Rascal released his album 'Boy In Da Corner'. It went on to win a Mercury Award, a huge moment for Grime, launching it onto the Music Industry's radar. Despite this critical acclaim Grime was met with resistance from the UK Government, due to the perceived violent undertones. Pirate radio had been the main way in which it could be heard and when the government introduced the ASBO (anti-social behavioural order) in 2005 one of the first had been specially reserved for Slimzee, Rinse FM's DJ. Slimzees ASBO banned him from being on the roof of any building more than four storeys high, which made broadcasting incredibly difficult as operating pirate radio required aerials to be set up as high as possible for maximum reach. Eventually, Rinse legitimised, and Slimzee still hosts a show currently on the station. Grime has always managed to retain its underground status, with the exception of a handful of musicians making it into the mainstream. Dizzee Rascal and Wiley even got fed up with compromising their sound for a Major Label, with Wiley subsequently leaving XL Recordings, withholding his expected album and posting 203 unreleased tunes on Twitter. Dizzee Rascal ended up leaving XL to start his own Dirtee Stank label. For the next few years, Grime subsided from the mainstream, however by 2014 it had a tremendous comeback with Skepta dropping single 'That's Not Me', winning a MOBO (echoing Dizzee's Mercury win) and reinventing the genre. With Grime's profile significantly boosted, it reached the attention of prolific musicians such as Kanye West & Drake. The former unexpectedly brought an all-star selection of Grime MCs onstage with him for his 2015 BRIT Awards performance, while Drake became the first non-Briton signed to Grime label Boy Better Know, opening Grime up to the US. Now Grime acts are getting worldwide acclaim, with South London's Stormzy and North London's Skepta leading the charge. It is an exciting time for the subculture, ushering in its new age and a new age for UK Urban music.
If you're interested in Production, you can learn all the techniques necessary to take your music to the next level on our BA (Hons) Music Production & Sound Engineering Degree or, alternatively, on our online BA (Hons) Degree. With modules covering everything from Sound Design, Engineering and Mixing to Composition, Djing and even Music Business you will leave you armed with all the tools you need to kick start your career in music. Using our London studios incredible facilities, you will have access to all sorts of hardware, from synthesisers and samplers to full recording booths. For a virtual tour, click here.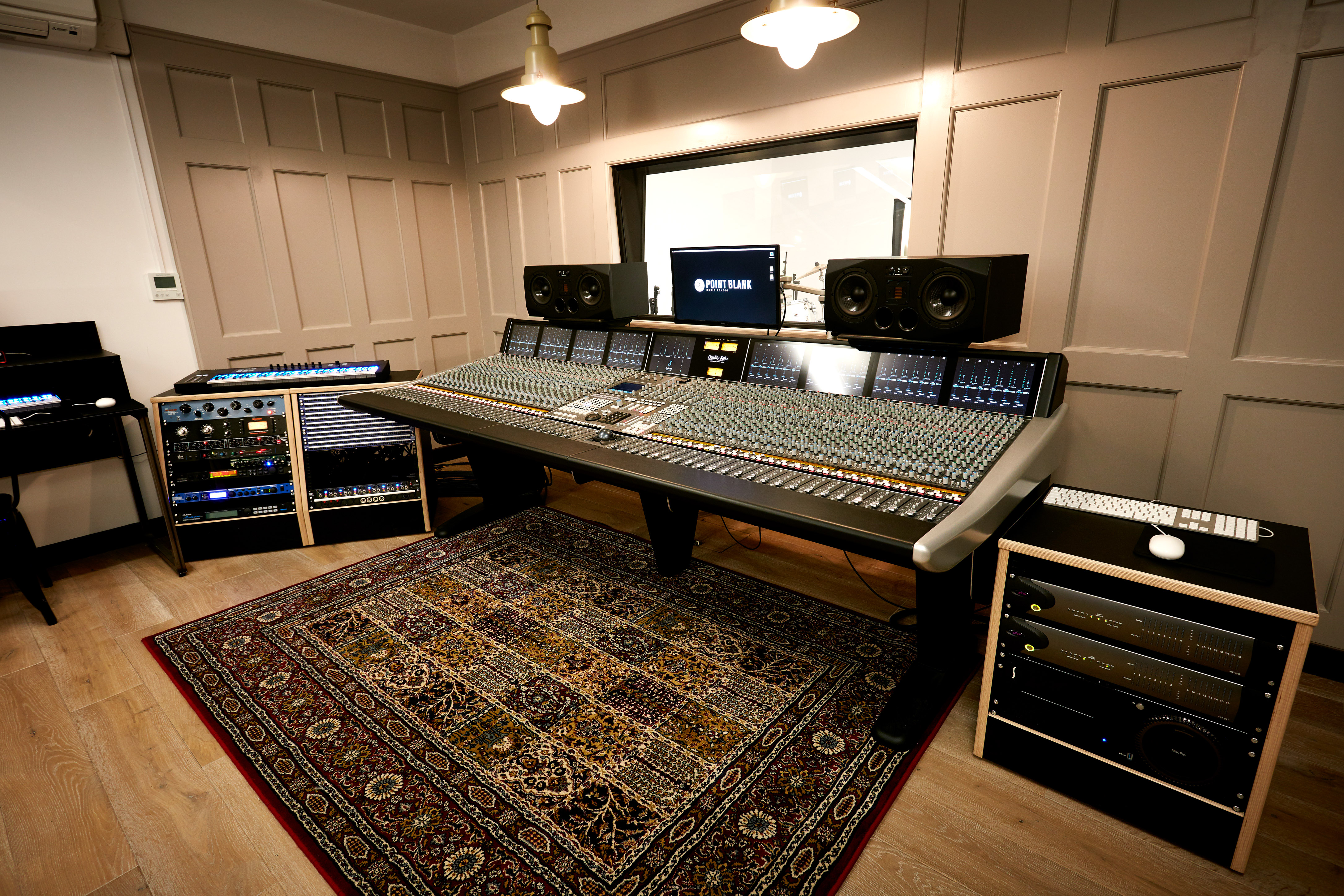 Studio 1 at Point Blank London, featuring a 48-Channel SSL mixing console.
For further information on our degree course or any of our courses, contact our Course Advisors here or call 0207 729 4884 or, if you're in the USA, give us a call on 323 282 7660. If you're calling internationally, use the number +44 20 7729 4884. Want to see firsthand the amazing facilities offered by Point Blank? You can book a space on one of our studio tours by heading here.
Register to Access Free Courses, Plugins, Projects, Samples & More
If you register with Point Blank, you can access an array of free sounds, plugins, online course samples and much more! Simply register below and visit our Free Stuff page to get your hands on a range of exclusive music-making tools and tutorials provided by the team. Fill your boots!