2019 marks a monumental occasion for Point Blank Music School as we turn 25 years old. We first began our now award-winning courses back in 1994 (head here to see what we were up to then) and, to celebrate, we will be looking back at each year we've been operating as a special PB25 celebration.
Each #PB25 feature will shine a spotlight on some of the essential tech, iconic tracks, albums and moments from that year and, of course, we'll also explore how Point Blank's story ties into the unique history of electronic music.
Over the years, Point Blank has attracted the attention of budding producers, DJs and artists alike with some legendary names gracing our studios. We've worked with influential acts such as Richie Hawtin, Pharrell Williams, MJ Cole, and Beyoncé. With the likes of Pete Tong, Claude VonStroke, Aluna George, and more having studied with us. Whether it's your dream to become a top producer or a master behind the decks, we offer courses in music production and sound engineering, DJing and much more.
Point Blank Music School 1998: Point Blank Continues to Grow
In 1998 Point Blank Music School continued to grow developing its courses, studio and newly forged partnership with Pioneer DJ. Now, with this flourishing partnership in place, along with Pioneer DJ stocked studio spaces, Rob Cowan, the founder and CEO of Point Blank, was able to take on more students and progressively enlighten those eager to learn with sound engineering and DJ knowledge.
1998 Essential Tech: Prosoniq Orange Vocoder / Moog MF-101 Lowpass Filter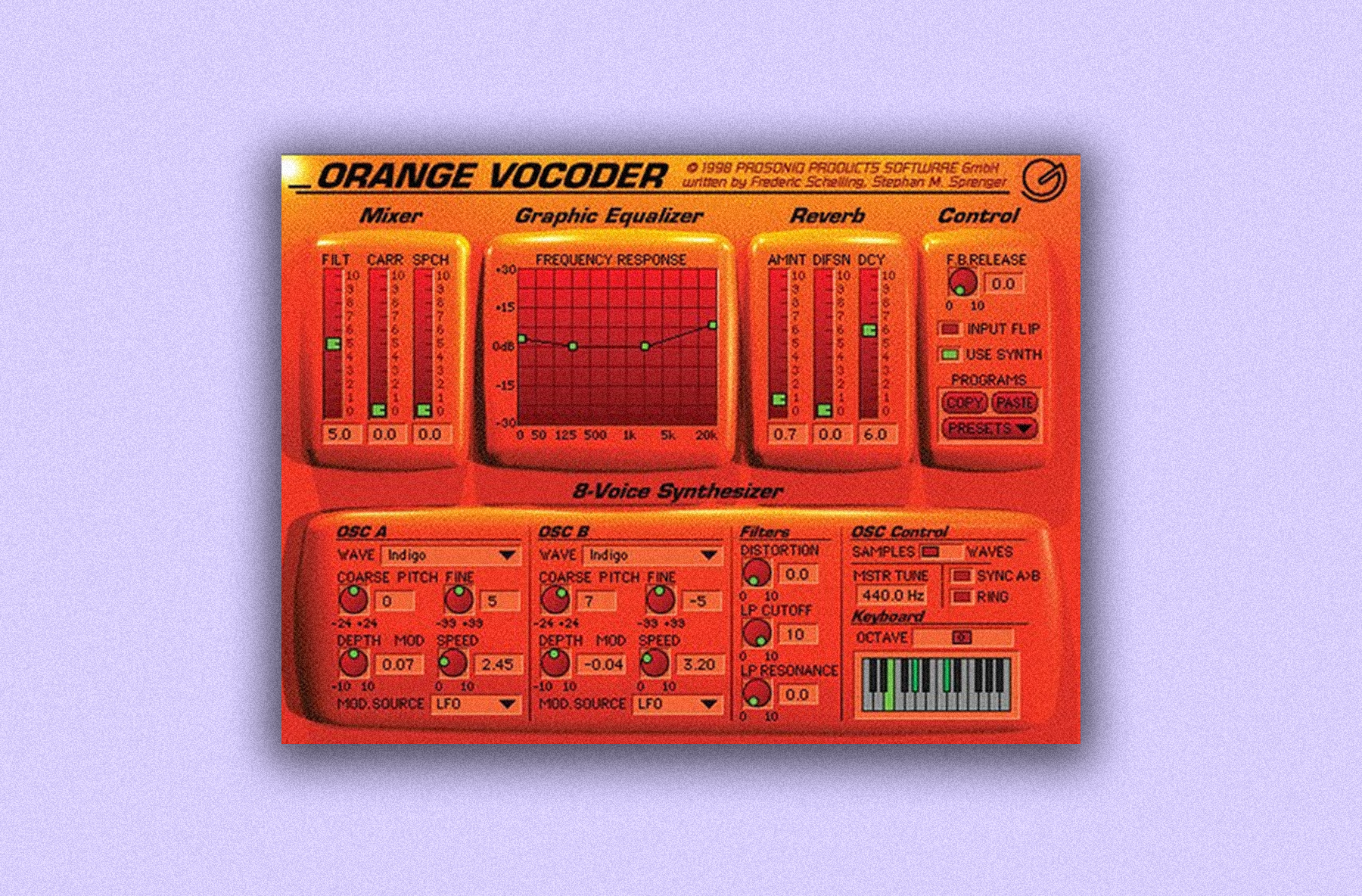 As the popularity of VST instruments, as well as autotuning vocals, continued to rise from '97 onwards, 1998 brought us the Prosoniq Orange Vocoder. This piece of studio software provided users with an all-digital simulation of a 24-band high-quality analog vocoder. Its features included an inbuilt virtual analog synth with two oscillators, 10 waveforms, LFO, reverb, EQ and more which helped producers manipulate vocals, morph between two audio signals and create original sounding effects. In addition to this bright orange vocoder plugin, Moog's MF-101 Lowpass Filter was a key player in the industry during '98. This stompbox style piece of gear was designed by Bob Moog himself and could use filters, overdrive, resonance and more to give any inputted sound that classic minimoog feel.
1998 Essential Track: Stardust – 'Music Sounds Better With You'
'Music Sounds Better With You', from French band Stardust, was an instant classic in 1998 becoming one of the highest selling singles in the UK. Co-written by one-half of Daft Punk, Thomas Bangalter, the seminal track blends an ultra smooth fusion of pulsing disco kicks with silky vox effects and instantly recognisable guitar licks. Fans of Chaka Khan may be familiar with the main guitar riff from Music Sounds Better With You as it was lifted from her 1981 track 'Fate' and reworked into the timeless club gem. Back in 2015 our Head of Curriculum, Ski Oakenfull, deconstructed Stardust's hit track. Check that out below.
1998 Essential Album: UNKLE – Psyence Fiction
British musical outfit UNKLE released their debut studio album, Psyence Fiction, in 1998 via James Lavelle and Tim Goldsworthy's Mo' Wax imprint. The "trip-hop" album featured a hefty lineup of guest spots including Thom Yorke, Badly Drawn Boy, Kool G Rap, Alice Temple and more and peaked at number 4 on the UK Album Charts. The record is packed with melancholy feels, high octane drum breaks and sombre vocals and, although it was met with mixed critical reviews, its reputation has continually improved over time.
We will be running these #PB25 posts throughout the year, so make sure you keep an eye on our socials for regular spotlights on nostalgic tracks, tech, and events from the last 25 years. If you'd like to become part of the Point Blank family, we have extended our courses to global locations including London, Los Angeles, Ibiza, Mumbai, and Online.
Register to Access Free Courses, Plugins, Projects, Samples & More
When you register with Point Blank, you access an array of free sounds, plugins, online course samples, access to our social network Plugged In and much more! Simply register below and visit our Free Stuff page to get your hands on a range of exclusive music-making tools and tutorials provided by the team. Fill your boots!