If you've been to one of our PBLA Open Houses before, then you know that we are committed to presenting only the highest calibre of industry professionals at our events to assist you in your experience and learning of the music industry. If you haven't, now is your chance to dive into an evening of performances, masterclasses and networking at our upcoming event on Thursday 16th March. For this event, we are privileged to have Pure Filth founder and DJ Sam XL coming down to present a masterclass, Point Blank's David Harrow performing live and much more. All you need to do to attend is RSVP to the Eventbrite page here.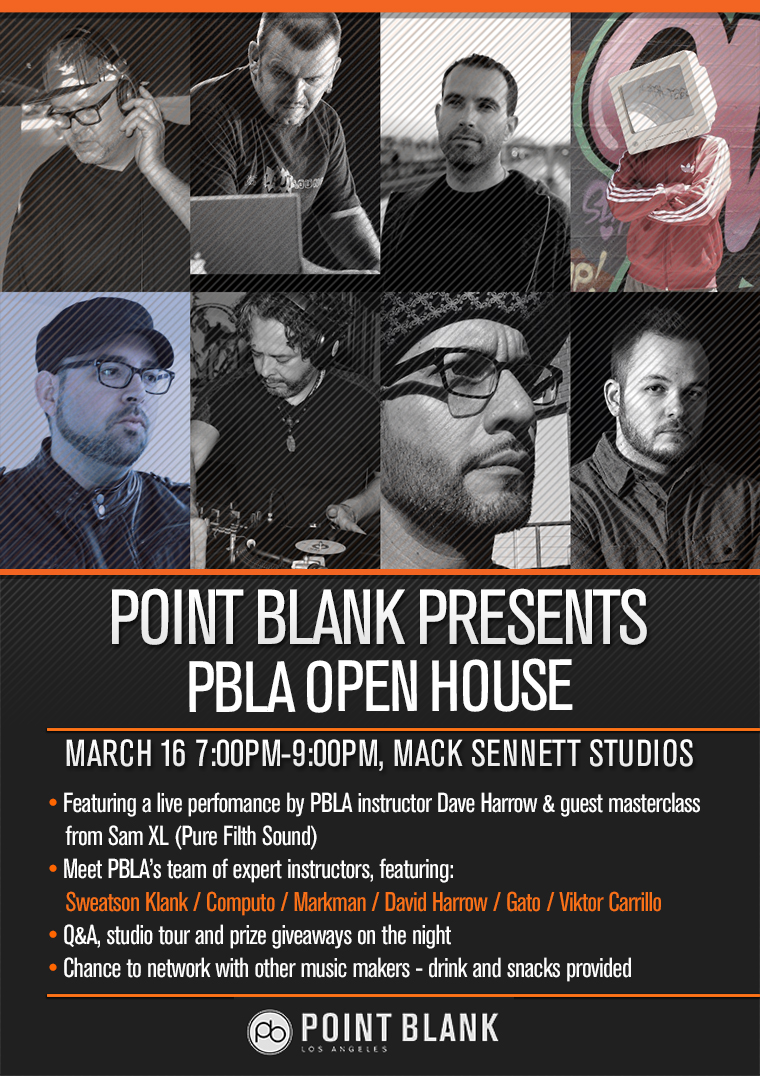 PBLA instructor David Harrow could easily play on musical heritage, having played with enough true legends of overground and underground music for several lifetimes and being involved in a variety of different musical scenes. David is constantly searching for new and stimulating sounds, from when he first launched into the post-punk climate in the 80's So through synth-soaked new wave and Neue Deutsche Welle, through playing with disco legends like Sylvester on the San Francisco scene, going deep into dub and experimental electronics as part of the On-U sound production team, through the dirty rave haunts of London with Andrew Weatherall, huge international tours with The Orb, through a huge pop smash with Billie Ray Martin, through his live drum'n'bass extravaganzas as James Hardway, through the trance world, on through the Californian bass and weird-beat scenes as OICHO, to the esoteric ambient soundscapes and percussion soundtracks he releases today. 
The full itinerary is as follows:
7:00 – 7:30 pm: Open House arrival and welcome
7:30 – 7:45 pm: Live performance from PBLA instructor David Harrow
7:45 – 8:00 pm: Meet the PBLA instructors
8:00 – 8:45 pm: Guest masterclass from Sam XL
8:45 – Close: Prize giveaway / networking / Student Performances / Tour
Don't forget, to lock down a place RSVP to the Eventbrite page here.
Thinking of joining us at PBLA? For more information, contact a course advisor or, if you're in the USA, give us a call on 323 282 7660. If you're calling internationally, use the number +44 20 7729 4884. We are currently offering a huge 20% off all of our LA production courses (excluding Maschine) plus a free copy of Ableton Suite worth $750. Enrol before 31st of March with the code LOSANGELES20 to redeem your discount. For more information click here.
Register to Access Free Courses, Plugins, Projects, Samples & More
When you register with Point Blank, you access an array of free sounds, plugins, online course samples, access to our social network Plugged In and much more! Simply register below and visit our Free Stuff page to get your hands on a range of exclusive music-making tools and tutorials provided by the team. Fill your boots!