At Point Blank, you can expect to be taught by some of the best in the business. Each of our instructors is selected for a combination of talent, music industry experience, and tangible success – which they pass on to you in the classroom. Each is a true specialist in their field, and our faculty members in Los Angeles and the online School are no exception. For this Instructor Spotlight, we will be introducing musical mastermind, Ben Runyan.
If you'd like to learn from some of the best in the industry, be sure to check out our Point Blank LA courses such as our Music Production & DJ Performance Diploma, Music Production & Vocal Performance Diploma, Music Production & Sound Design Diploma, and Music Production & Audio Engineering Diploma.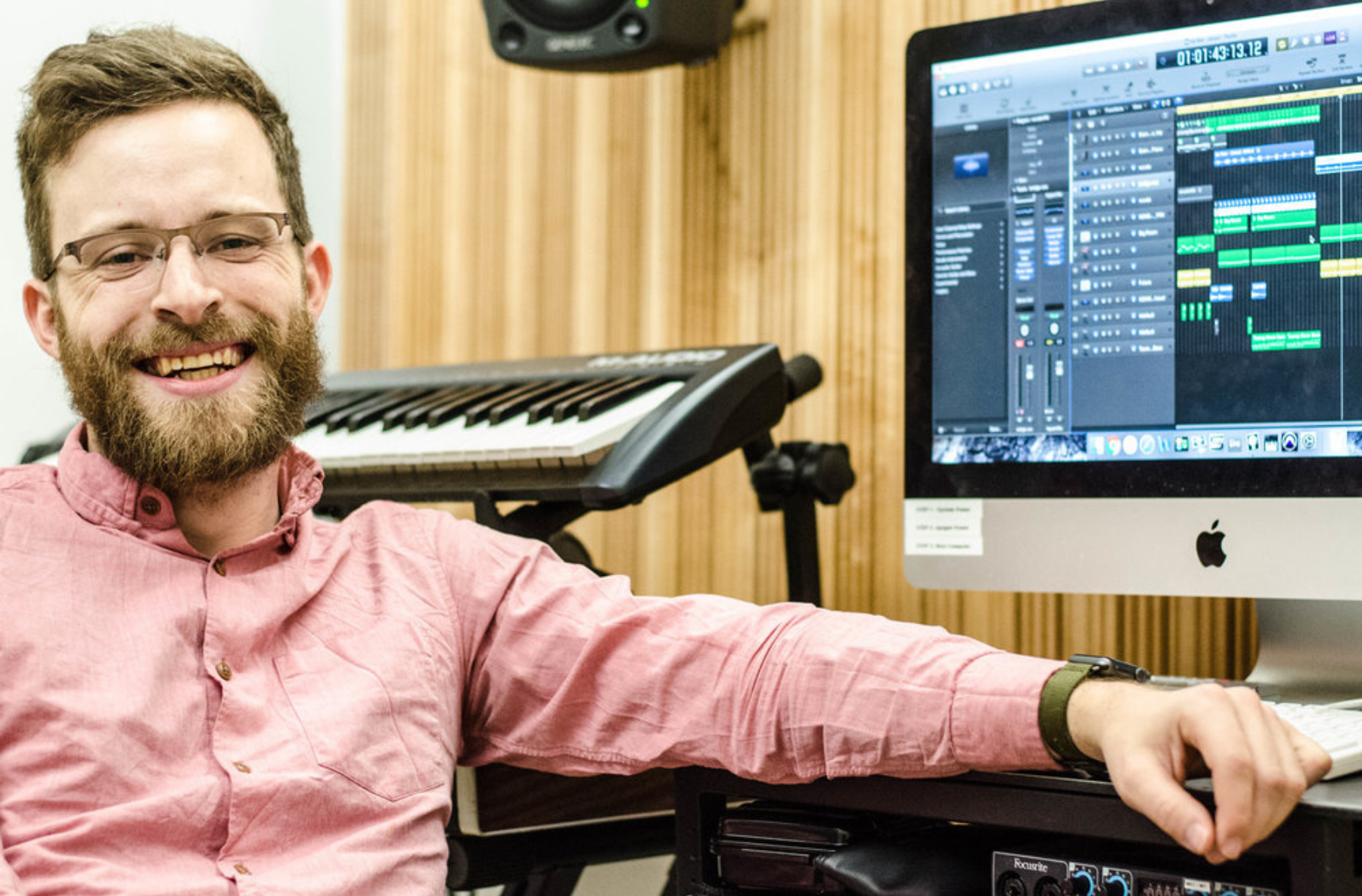 Ben Runyan is a Philadelphia-based producer, composer, and educator with years of diverse experience in education, performance, production, and facilitation. Ben's music career has seen great heights and received great recognition. His music has been featured on major networks (MTV, Showtime, and more) and major streaming services playlists (Spotify, Apple Music, and Human Curated). He's even received a nomination for the Sammy Cahn Award and was honored by the ASCAP (American Society Of Composers, Authors, Publishers) for his illustrious work. As the frontman for electronic pop group City Rain, he saw critical acclaim for their first single, 'The Optimist', when it landed on VEVO's Indie Playlist, garnering over 250,000 hits and winning mtvU's The Freshmen contest, giving it regular rotation on the network. Both solo and with City Rain, Ben has worked and performed with a long list of industry greats throughout his career, from Spike Jonze, to Capital Cities, to the Lumineers, and more. We recently caught up with Ben to talk with him about his music, career, and teaching.
What started your love for creating music? How did you know you wanted to pursue it as a career?
I grew up singing in the Church as a kid. By the time I got to school I was always involved with Choir and musical theater. I come from a very musical and theatric family, so it was always in my blood. I never played an instrument per-se, and I never read music either but I always had a melody living inside of me. I was just looking for the right method to unlock that power. That came through computers for me around the age of 18. I became obsessed with trance music.
What artists and genres inspired your music style and sound?
I started listening to DJ Tiesto/Armin Van Buuren/Above & Beyond and the whole Anjuna sound around 2004-2007. I loved the melodies, and I loved the clean electronic sounds. At the time, I was often limited by my production skills and capabilities, as to that point, I was almost completely self-taught and making very primitive music. I attempted to make music like the artists I mentioned above, and I simply didn't quite have the skills. So I re-tuned a bit. I started making more IDM/electronica in the vein of Trentemoller, Nathan Fake, Matthew Dear and had success with that early on. Then I graduated to adding my own vocals. This led to me developing an ear for writing pop format music.
You worked with director Spike Jonze and DJ Sam Spiegel (doing Sound Design/Music Editing) on Jonze's play, Changers. What was your experience working with such huge industry legends? Were you nervous at all?
This was a wild one! I got a call from a Music Supervisor I was friends with (and had worked with on a commercial). He told me the gig, and I just said yes. I had never done sound design for a Live Play/musical, let alone a movie or TV show. But I wanted the gig and said yes.
It was all immediately very intimidating, but also exciting. I felt like I was in the big leagues, so I just acted the part. I got the hang of it pretty quickly. My job was to take existing music (LCD Sound System, Mark Knight, DJ Shadow) and edit it to extend it/truncate it to work with the choreography. I worked directly with the legendary Ryan Heffington to get this process right. I also sometimes had to edit the music totally to fit a certain vibe.
For instance, with the song 'Downpipe' by Mark Knight & Underworld, I had to edit the music to make the breakdown sound drunk and out of sorts. This was a club scene where everything slows down for a bit and then pops back to reality. I had to work on this and present it to Spike. It was really crazy! He liked the worK I did. I also met Jonah Hill on set and had to edit 'Nobody Speak' (DJ Shadow & Run The Jewels) for a Jimmy Fallon performance.
As the frontman for the electronic pop group City Rain, your first single, 'The Optimist', garnered over 250,000 hits and won you regular MTV rotation. How did it feel to receive such success and critical acclaim so quickly?
This was another crazy time in my life. It's not quite my one-hit wonder, but in a way, it is, and I am totally happy with that. This was one of those moments in space and time where everything came together perfectly. People really got what I was doing, and it affected people. That was a special time. It was overwhelming but emotionally vindicating for me. As if all my efforts had been for something. I felt like I mattered. The song was actually something I dreamt about. It was almost fully formed in my dreams, and I woke up and put it down on paper, and intimately into Ableton. It's a very rare time a song comes together that way. Most of the time, it's hard work. But this song seemed to write itself. Special.
City Rain's music has been featured on Esquire TV, Showtime, G4TV, and MTV. How did it feel to have your music featured on so many different networks? 
Like I said above, this also was very vindicating for me. I also get residual little royalty checks every year still! Helps pay a bill here and there.
With City Rain, you've performed/DJ'ed with artists like The Lumineers, Andrew McMahon In the Wilderness, Washed Out, School of Seven Bells, Capital Cities, Class Actress, Robert Delong, Alvin Risk, and more. What kind of prep goes into performing with such well-known artists? Does it differ from how you prepare for other performances?
Never let the moment be too big for you. You have to remember these are just other people with normal lives for the most part. In the case of Robert Delong, Class Actress, and Alvin Risk, I really performed with them at the beginning of their careers, so I was none the wiser! But with Andrew McMahon and The Lumineers, I played with them at the height of their pop success. The Lumineers concert was right before the Optimist and right as I was starting to come up in the scene. I opened for them in front of about 700-1000 people on their Ho Hey tour. They were all over the radio at that time. It was one of those moments where afterwards, I went off into a corner by myself and had myself a good happy cry.
In the composition world, City Rain scores music for short films and commercials. What advice can you give to musicians looking to be successful in the world of music for media?
With this stuff, its location location location. Living or at least working in LA, NYC, or London is important. Meeting and cultivating personal relationships with Music Supervisors is key to making sure you stay on their radar and get the opportunities to work.
In addition to leading City Rain, you've also created under the alias J U S T P R O C E S S. What have been some of your favorite projects created with City Rain and as J U S T P R O C E S S? How much do these projects differ from each other sound and style-wise?
City Rain is my autobiographical Ben Runyan journey as a pop project. It's very personal to me, and the music I write for it does fit into a certain expectation. It's about my life. It's pop format, and it always features my vocals. I know a City Rain song when I write it. With JP, it's all about a lot of my other tendencies. I love hip hop/future bass and house music, and anything in that vein often fits into that JP alias. I always stress to my students the importance of having multiple aliases with different genres to not always feel like you are hamstrung to one genre. That's a lot of pressure all the time.
What has been your favorite part about teaching for Point Blank's Online School?
The students! I love that it's an international school, and that makes all the difference. Learning about different people's cultures, languages, and influences really keep things fresh and interesting.
What do we have to look forward to from you musically?
More City Rain music and more JUSTPROCESS music!
We offer both long and short courses at our LA and online school so whether you're new to the realms of music production or a seasoned pro looking to brush up on a new set of skills – we've got you covered whatever your experience. If you want to learn more about how learning online with Point Blank works you can try it out for free along with a selection of other courses by heading to our free course sample page. To find out more about any of our courses, get in touch with a course advisor today or call +44 20 7729 4884 and be sure to check out our complete line of online courses here.
Register to Access Free Courses, Plugins, Projects, Samples & More
When you register with Point Blank, you access an array of free sounds, plugins, online course samples and much more! Simply register below and visit our Free Stuff page to get your hands on a range of exclusive music-making tools and tutorials provided by the team. Fill your boots!