Here at Point Blank, we pride ourselves on the success of our students. We're spoilt for choice when it comes to success stories and that's why we love to highlight our student's accomplishments. For this installment, we are shining a spotlight on 3x DJ World Champion and Point Blank LA student, Rena Hayashi.
Hailing from Japan, Rena Hayashi, also known as "DJ RENA," is the youngest DJ to ever win at DMC (DMC World DJ Championships is an annual DJ competition hosted by Disco Mix Club which began in 1985; DMC DJ Battles are the biggest, longest running and most legendary turntablist competitions in the World.) From the young age of 3, Rena immersed himself in the world of dance, attending dance lessons. It didn't take long for his natural talent to shine through, propelling him into his first hip-hop dance battle. His passion for battling persisted until the age of 8, when a golden opportunity arose. Invited to perform in a showcase, destiny took a turn as he witnessed a mesmerizing turntablist showcase for the first time. In that moment, something within the young RENA was ignited, leading him to bid farewell to his dancing shoes and embrace the captivating world of turntables. The rest is history. We were lucky enough to have him do one of his famous turntablism routines in our Pioneer DJ sponsored DJ studio at Point Blank Los Angeles.
Hey Rena, for those who aren't familiar with you, could you give us an intro?
"Hi, I'm DJ RENA. DMC World DJ Champion."
How did you start off DJing back home in Japan?
"When I was a kid I used to be a dancer. I had gone to a dance event and at the event there was a DJ. He played scratch and beat juggling, and so I was impressed with it. My Dad used to be a DJ and he had turntables, which is how I started off DJing."
Who are your influences or artists you look up to?
"Flying Lotus, A-Trak, and Ryuichi Sakamoto. These are my heroes."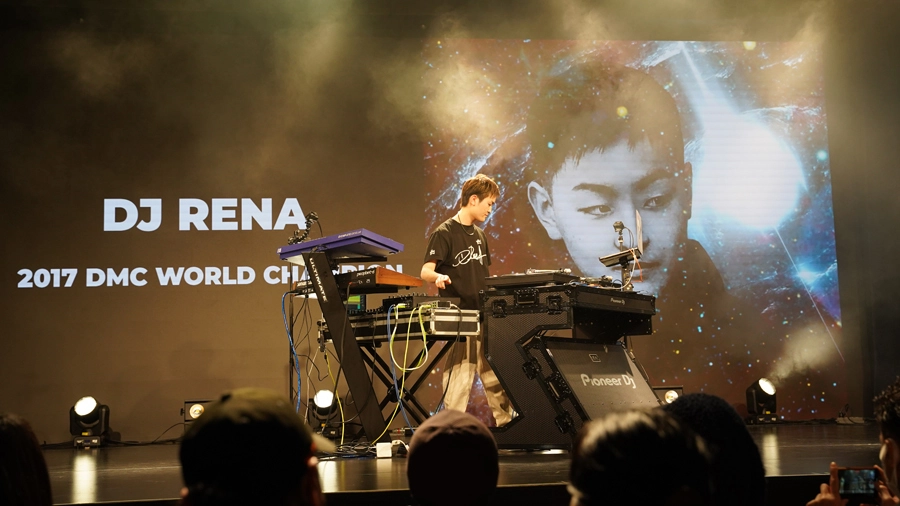 What are some of your top goals as a DJ?
"My goal is to be the biggest DJ, like A-Trak."
You competed and won The 2017 DMC World DJ Championship at only age 12. What made you want to do DMC?
"When I started, I was learning DJ by watching DMC videos, and I came across a video with A-Trak.(A-Trak was the former youngest DMC World Champ at the age of 15) and I just thought I wanna break his record! So I decided to compete DMC."
How does it feel being the youngest champion to win at DMC?
"The moment I won the championship, my mind went blank and I sort of blacked out. But now, I'm feeling like I'm one of the top DJ's out there."
How did you find out about Point Blank L.A. and what made you want to take classes here?
"I came across Point Blank Los Angeles on the Internet. After being inspired by one of the music production instructors, Sweatson Klank, I just thought I wanna learn from them. And I decided to enroll."
What classes are you taking at Point Blank, and what do you hope to accomplish after leaving Point Blank?
"I'm taking Music Production with Sweatson Klank, and I hope to be a flawless master of Ableton!"
What has been the biggest challenge that you've faced while writing or creating music? Would you say that what you've learned at Point Blank has helped you to overcome those challenges?
"I had worked with an expansion pack of  Native Instruments Maschine last year, and it was the first time I had experienced making samples from scratch and then making beats with those sounds. It was really hard and one of the biggest challenges for me. But after studying at Point Blank, it made creating samples and beats way easier."
What's in the pipeline? Are there any other interesting projects (personal or professional) you're working on that you can tell us about?
"I'm working on tracks for my group called "Hacoiri"consisting of Asuka (Japanese instruments Koto player), Robin Rastenberger (Singer), and myself as the music producer and scratch DJ. We have already released 2 tracks, "Drop the Aim" and "Fine Line." And I am currently working another track coming soon. Please check out!"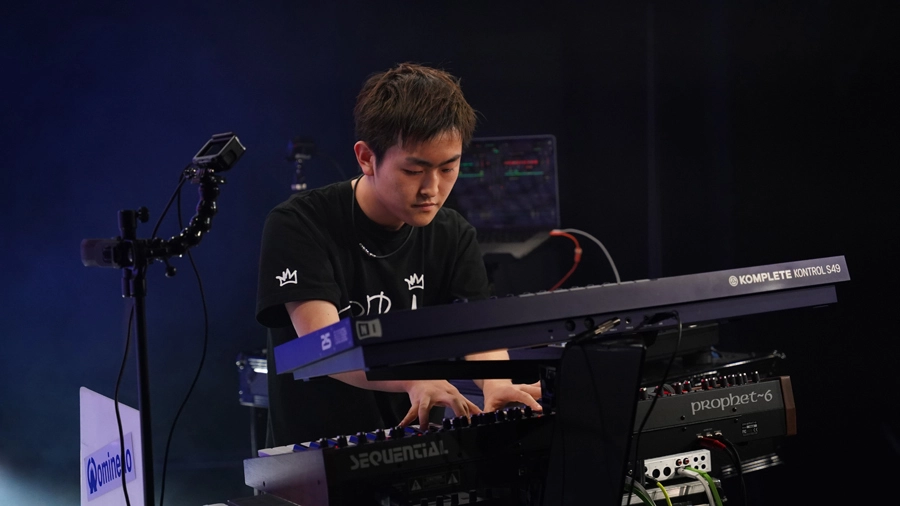 Socials: Website / Instagram / Twitter / Facebook
Check out DJ Rena's "BATTLECOASTER 106" from his latest album, "BATTLECOASTER" here:
Successes such as these are common among our students and alumni. If you are looking to follow in the footsteps of DJ Rena, and have your eyes set on becoming the new DMC winner, we can help you begin with our DJ courses in Los Angeles and London. If you'd like to learn how to produce, then we can build your skills from the ground up with our range of courses in Los Angeles and London. For those who have a hankering to do both, we offer a BA (Hons) Music Production and DJ Performance degree in London as well as a range of short and longer combined diplomas in Los Angeles. For more information, you can contact us here.
Register to Access Free Courses, Plugins, Projects, Samples & More
When you register with Point Blank, you access an array of free sounds, plugins, online course samples and much more! Simply register below and visit our Free Stuff page to get your hands on a range of exclusive music-making tools and tutorials provided by the team. Fill your boots!