Each month, we catch up with Point Blank students and alumni to showcase their successes since studying with us, giving you an insight into how music industry careers are established and nurtured right here at Point Blank. In April 2017, we're catching up with a diverse set of breaking talent: Drum & Bass producer John Kerfoot (Kerfo), producer/DJ Giammarco Meschino (Pre-Silent) and singer/producer Ishani Chakravarty (Ishani). Want to join them? Check out our London, Los Angeles, Ibiza and online course pages to begin your own journey to the top.
Hailing from India, Ishani spent her childhood in the sprawling metropolis that is Bangalore. She studied TV, Film and Radio in Singapore before moving to London where she studied Audio Engineering at Point Blank. After her track 'Pelican Elephant' was picked up by MTV India and was showcased as a BBC introducing artist in London, she was also invited to perform at Sziget Festival and Be My Lake Festival in Hungary.
Deeply influenced by artists such as Massive Attack, Portishead, Morcheeba and Hooverphonic she began working on new music that would eventually take shape in the form of her first single 'Don't Stop the Fight'  and upcoming EP – 'Safe Place'. Ishani has recently released a video for Sexual Assault Awareness Month, helping to raise awareness of sexual violence and to educate communities on how to prevent it. You can watch it here.
Giammarco Meschino is studying in his second year at Point Blank and is already making waves in the music industry. He is currently working on creating the official soundtrack for 404 Festival, a new festival which has featured the likes of Truss, Perc and Rebekah to name a few, as well as a personal EP and an EP in collaboration with another Point Blank student. He'll also be performing live at 404 Festival on 12 August this year.
On studying at PB, Giammarco notes it as being 'One of the best experiences', particularly noting one to one lessons with PB Instructor Saytek. 'He is a great live performer and he has taught me a lot, we have also become good friends – I can't thank PB enough!'. '
'Point Blank for me is like a big family, one of the best choice I ever made. PB made me grow and not just musically.'
You can follow Pre-Silent on Facebook, Instagram and Soundcloud.
John Kerfoot started his musical career as a live musician playing drums, guitar, piano and signing, performing and composing with Rock bands and Big Band Jazz & Swing groups. At the age of 16 he began making music under the name Kerfo, producing dance music and working on music for commercial productions, Film and TV. He has signed music to 11 reputable labels including Blackhole Recordings, Zibira Records, Ensis Records and more, as well as having his music premiered on Hardwell on Air as Demo of the Week by Hardwell himself, founder of Revealed Recordings. In addition, a recent Drum & Bass remix is being played on The Hospital Records podcast following the track being recommended by a Point Blank tutor. 
Currently in the third term of our BA (Hons) Music Production & Sound Engineering Degree, John finds the wide range of modules offer him many different approaches and inspirations both for his own music and projects for clients. He also notes our diverse range of music industry connections: 'Point Blank has allowed me to build upon my musical contacts resulting in signing to a DJ Agency in London that supplies DJ's for bars and clubs all over the city.' 
Kerfo has a new track, 'Summit', out on Zibiria Records on May 1st, and has also been working on a number of collaborations with fellow Point Blank students, ranging from Pop music with vocals to liquid Drum and Bass releases. He has also just worked on a studio session for Motown Recordings, an opportunity seized through the Point Blank channels. 
'In my mind, Point Blank is the place to be for anyone wanting to work in music production & studio based jobs. The tutors are second to none and I can't think of many other places where you can meet so many likeminded people to network and work with.'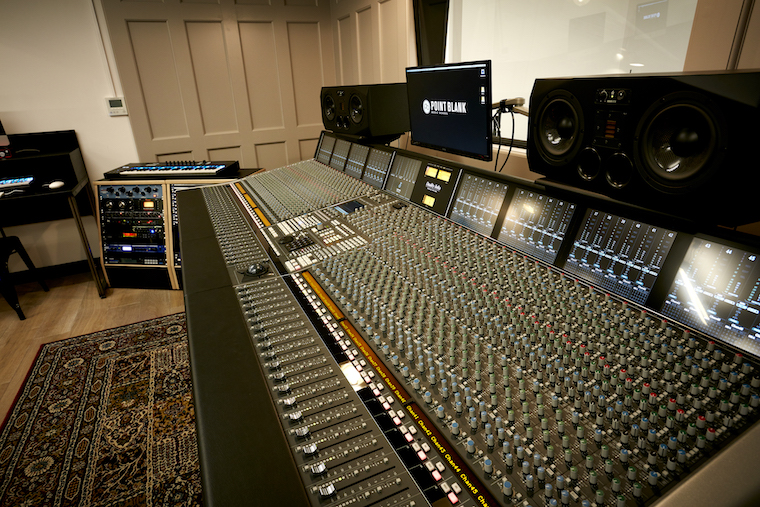 If you want to study at Point Blank in London like Giammarco, Ishani and John, check out our brand new BA (Hons) Music Production & Sound Engineering Degree. It's our most comprehensive course and with modules focussing on mixing, mastering, composing and even music business, it gives you everything you need to make a career in music. If you want to come down and see our studios for yourself, we host tours every Wednesday at 17:30 and Saturdays at 12:30. Click here to book yourself on one.
Register to Access Free Courses, Plugins, Projects, Samples & More
When you register with Point Blank, you access an array of free sounds, plugins, online course samples, access to our social network Plugged In and much more! Simply register below and visit our Free Stuff page to get your hands on a range of exclusive music-making tools and tutorials provided by the team. Fill your boots!