Point Blank Music School reveals its new 30,000 sq ft campus in the pulsating heart of London in Oct 2023. In the world-renowned music and tech industries' centre of Shoreditch, the state-of-the-art facility is designed to nurture and inspire the next generation of music producers and sound engineers. It will blow you away… 
For students on our Music Production & Sound Engineering degree, two brand new Sound Engineering studios have been designed to unleash your full potential in a high-tech, professional-grade environment. You'll be immersed in an ecosystem that harnesses the power of innovative technologies to help shape the music industry of tomorrow…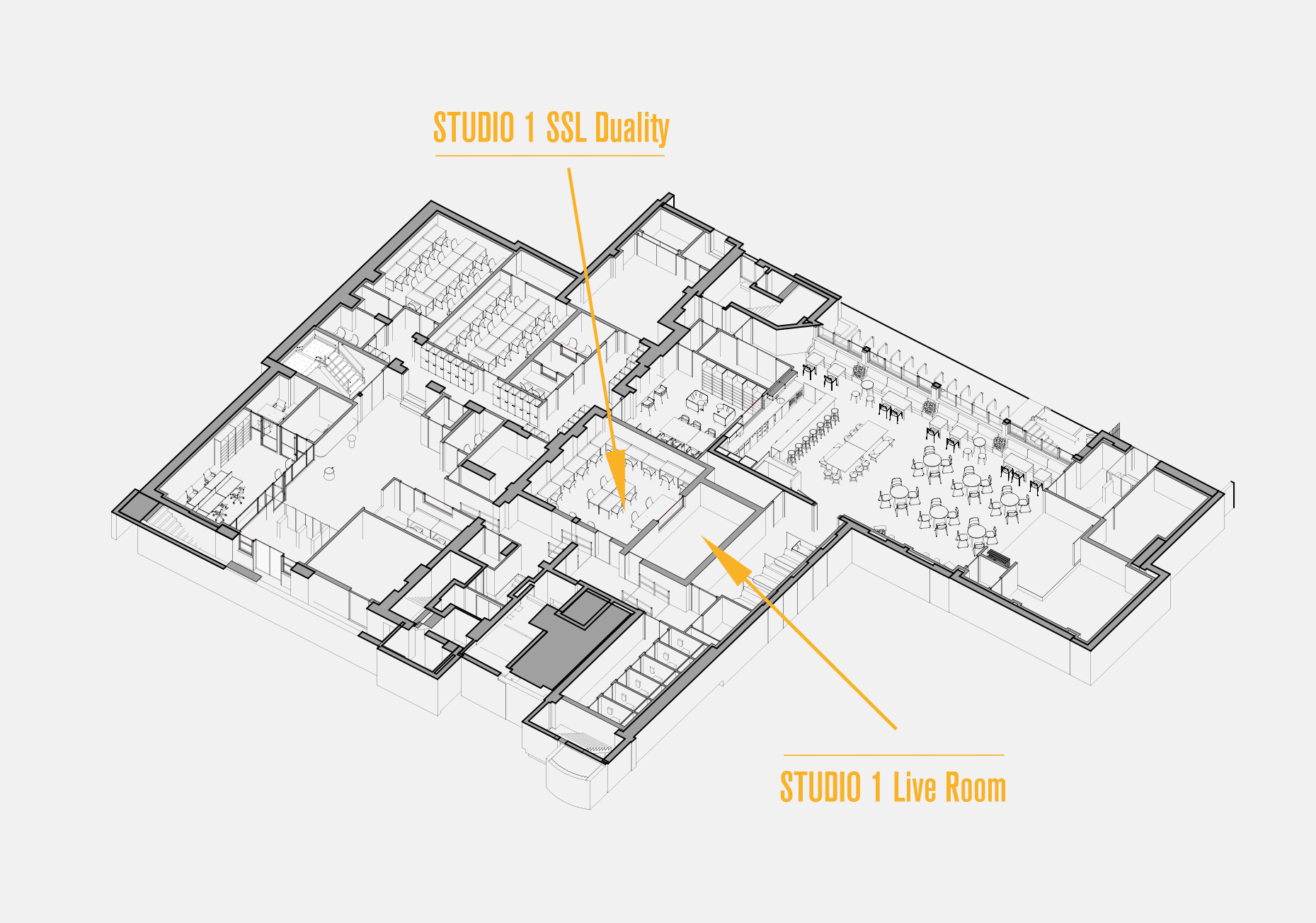 The cornerstone of Point Blank is Studio 1. This premier recording studio serves as an unrivalled learning environment built around the industry-leading SSL Duality mixing 48-channel console. Solid State Logic (SSL) consoles have been the gold standard for professional mixing for decades – and Studio 1 is poised to carry on this prestigious lineage.  
Studio 1 is kitted out with a cutting-edge multi speaker Dolby Atmos monitor system. This immersive audio technology, brought to life by Adam Audio's flagship S Series studio monitors, guarantees our students the best auditory experience that is available. Augmented by Pro Tools HD, a Focusrite REDNet Dante system and an enviable collection of hardware processors, our students can stand at the forefront of sound engineering while studying.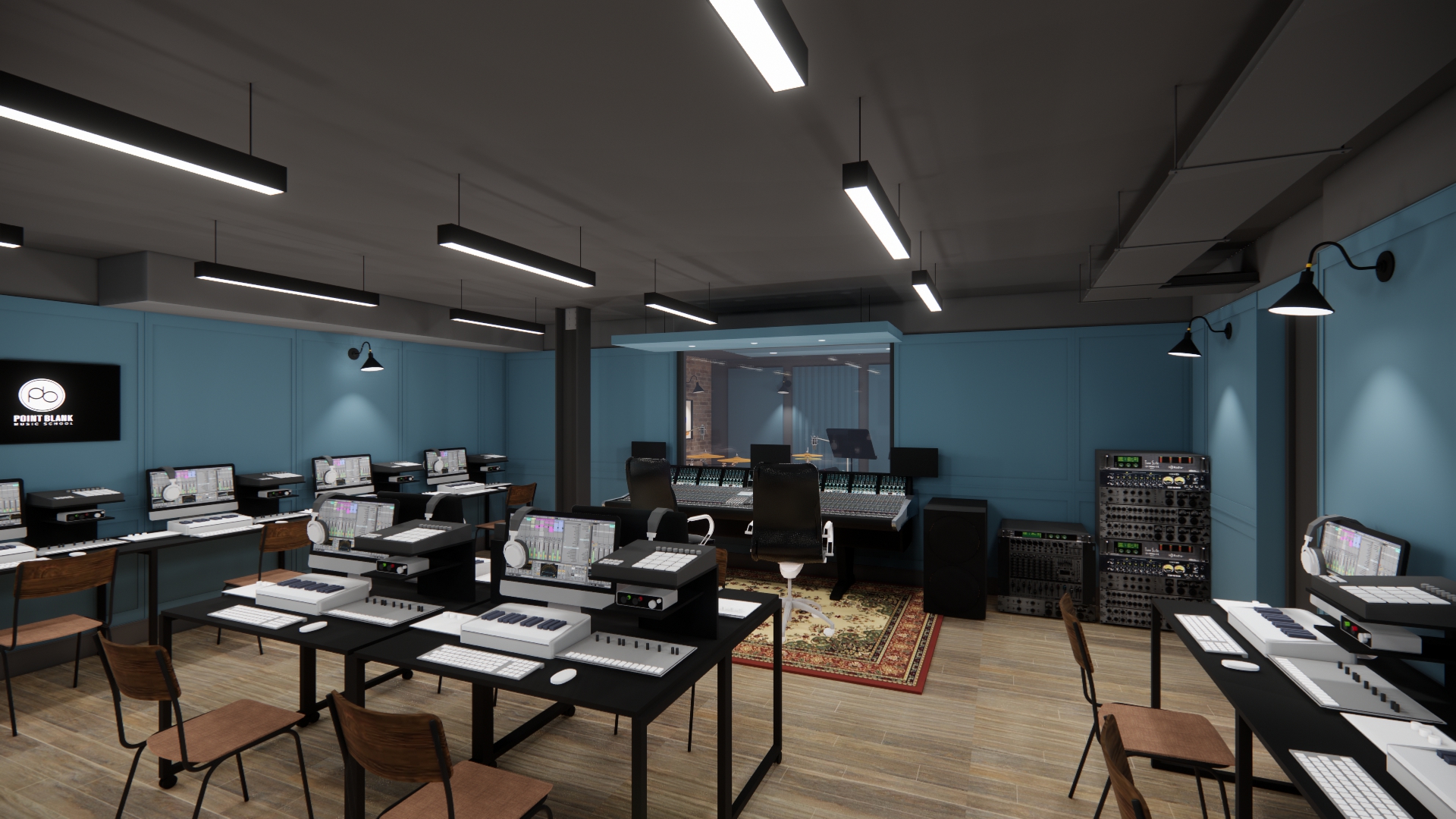 Expanding the Learning Horizon  
As part of the new campus, Point Blank is set to unveil two additional sound engineering studios, featuring the SSL Duality Delta and SSL Origin mixing consoles respectively. These additional spaces are more than just repetitions of Studio 1 – they're individual powerhouses with their own unique characteristics, broadening the horizons of our students' creative journey.  
These new studios will feature robust, industry-standard software such as Pro Tools HD, Logic Pro, and Ableton Live, ensuring our Music Production & Sound Engineering students have every tool at their disposal to turn their sonic visions into reality. Harnessing the immersive power of Dolby Atmos audio technology and the seamless integration capabilities of Focusrite Rednet, the new studios are fully equipped to deliver a holistic learning experience for our students.  
Each studio houses an impressive array of high-quality hardware. From a wide selection of microphones to a variety of outboard gear and instruments, every piece is handpicked to empower our students with the ability to produce professional-grade music.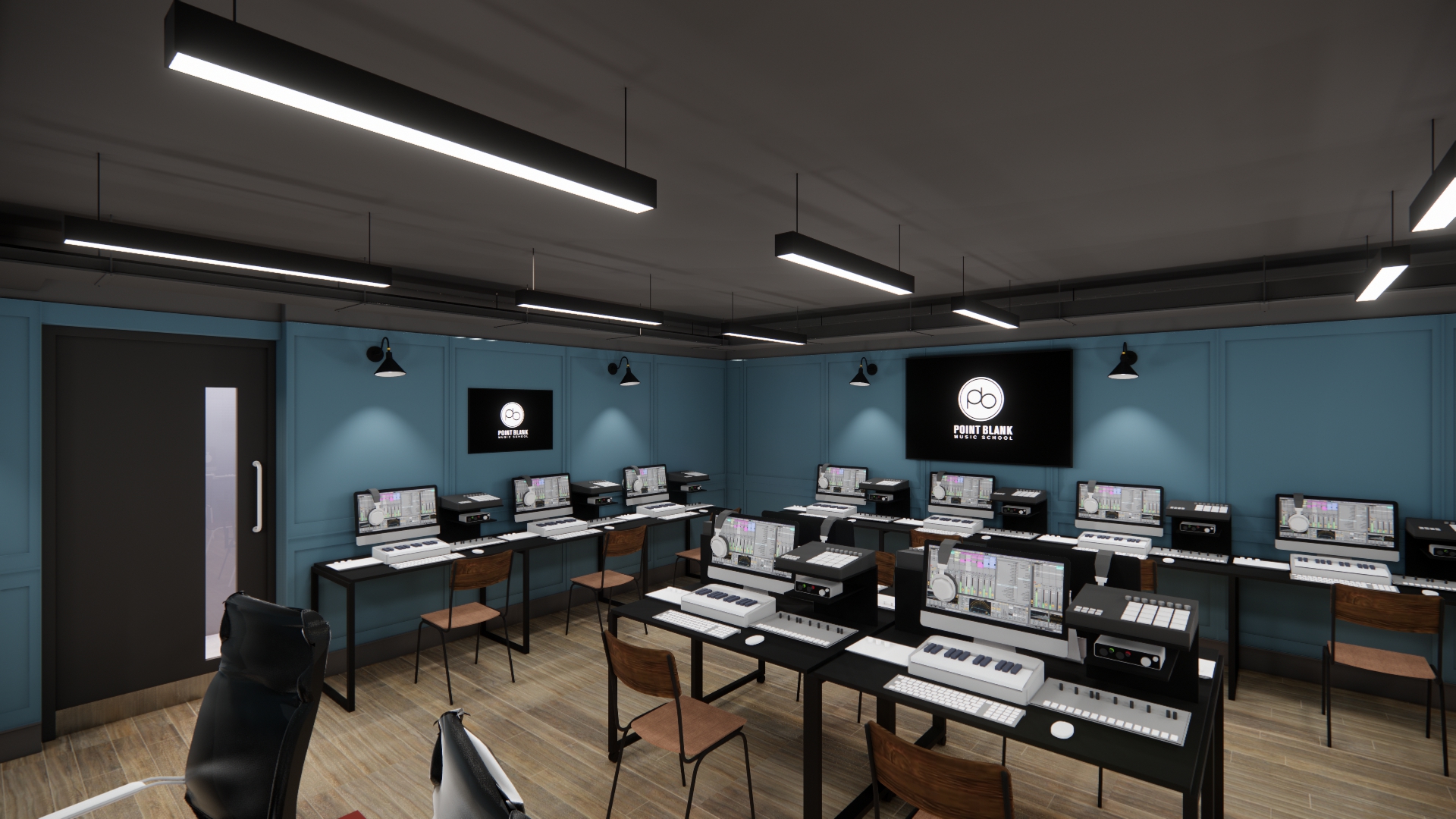 Our recording area, or live room, is furnished with a comprehensive backline including drums and amplifiers. Here, students can experiment with a broad selection of microphones to record bands, musicians, rappers, string quartets, singers, and so forth.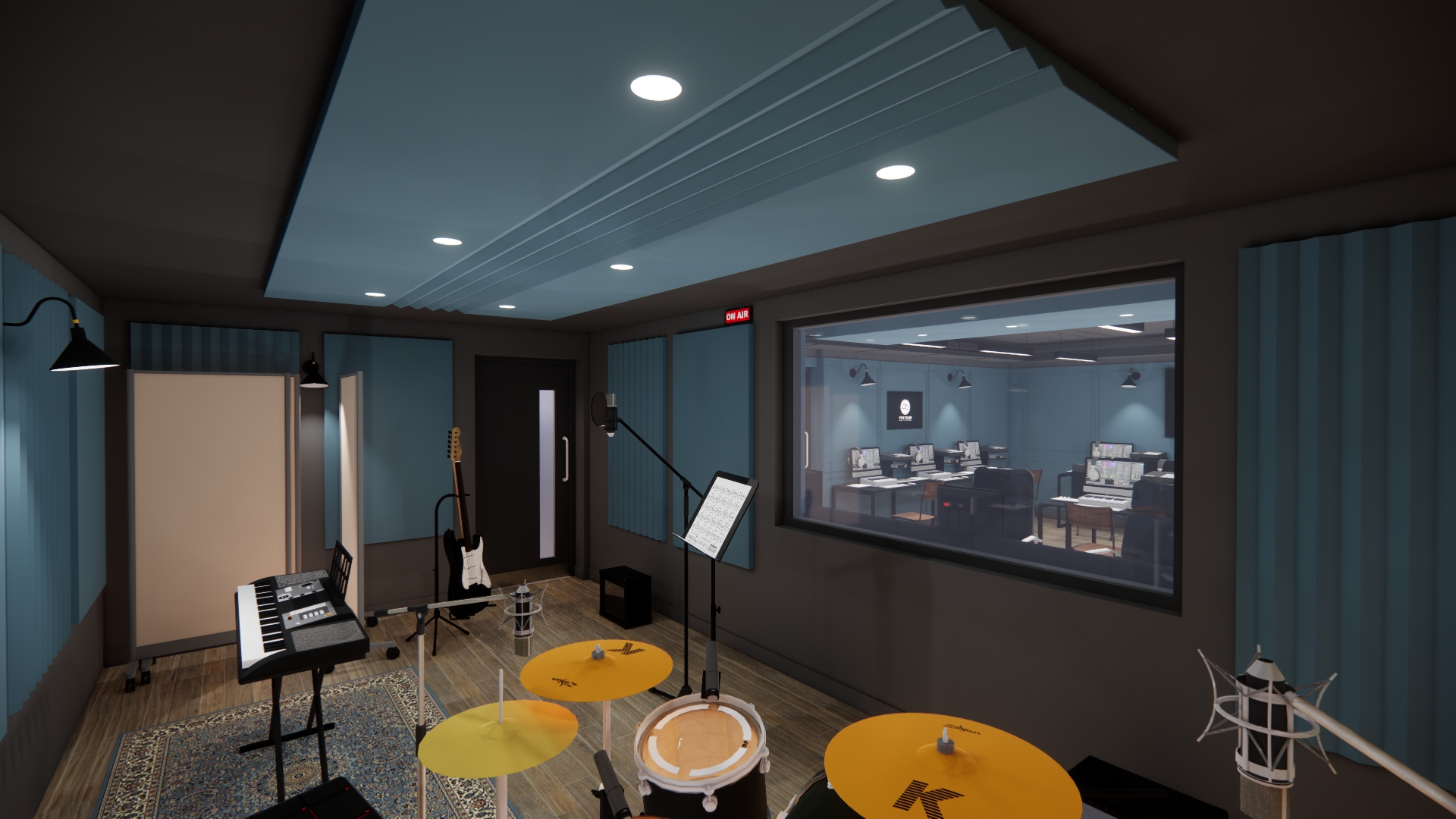 The ground floor is home to Studio 8, which also centres on an SSL Origin mixing console. Mirroring the features of Studio 1, this dynamic space boasts its own Dolby Atmos monitoring system and a dedicated live room.   
The new building is proud to introduce six brand new state-of-the-art Music Production studios, each one designed to help students find their unique musical voice. Unlike traditional classrooms, these spaces are crafted to nurture the talent of each student and to provide an environment that encourages creativity, innovation and collaboration. Students works on personal workstations equipped with Apple computers, Focusrite Audio Interfaces, MIDI keyboard's, Ableton  Push, Maschine, and headphones to seamlessly run industry-standard plugins from leading companies such as Waves, Spitfire Audio, UAD and Native Instruments.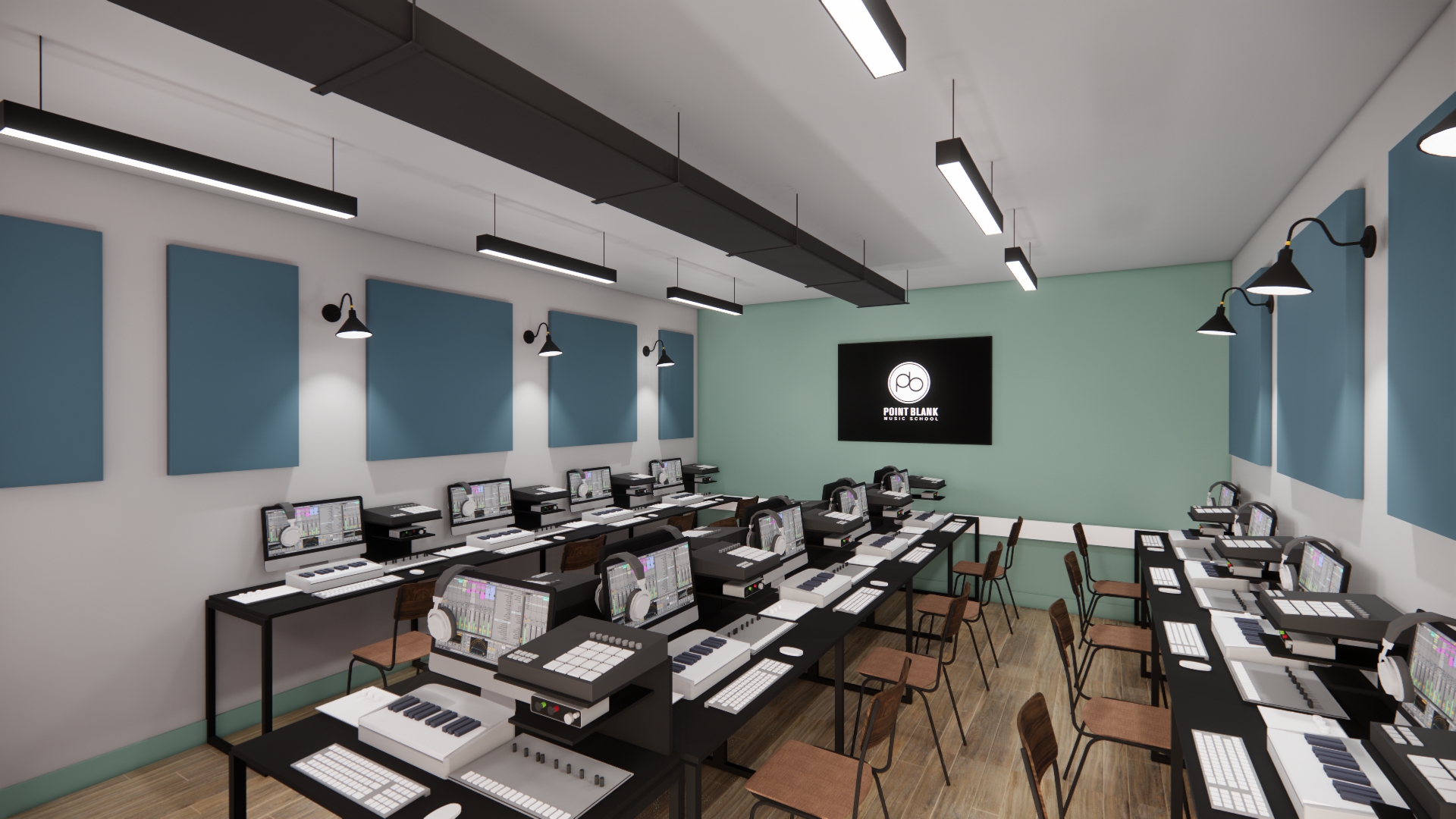 Beyond lecture time, the new premises will house nine personal recording studios complete with four acoustically optimised vocal booths. These spaces can be booked seven days a week, allowing students to work on projects, collaborate, record, and mix in a professional-grade environment.   
 With our Music Production & Sound Engineering Degree course, students get more than just an education—they get an experience unrivalled by any other music school. Graduates don't just leave with a degree but also with a robust portfolio showcasing their readiness for working in the industry. Access to mentoring sessions with Brit Awards trustee Kwame Kwaten and the in house record label PBR are just some of the unique attributes that make Point Blank the absolute best music school to study your degree. Come join the specialists!  
  Our new building just makes it all even better: we cannot wait for our students to immerse themselves in this incredible environment, stimulating creativity and innovation at every turn.   
 Secure your spot on our Music Production & Sound Engineering Degree course, or check out our other degree courses here and begin your journey in this amazing new facility. Apply today! 
Register to Access Free Courses, Plugins, Projects, Samples & More
When you register with Point Blank, you access an array of free sounds, plugins, online course samples and much more! Simply register below and visit our Free Stuff page to get your hands on a range of exclusive music-making tools and tutorials provided by the team. Fill your boots!