On Monday 1st July from 7pm, Point Blank will be hosting an exclusive expert panel discussion and Q&A as part of a free Open Day event, celebrating the launch of our BA (Hons) Music Industry Management Degree course which is now enrolling for September.
This special event will take place at Point Blank's studios on 26 Orsman Road, London, N1 5QJ and is a great chance to get an in-depth look at our new BA (Hons) Music Industry Management degree. You'll get an expert insight into the industry via our exclusive panel discussion, and of course, be able to get a guided tour around our state-of-the-art facilities. The panel will be hosted by our Head of Education & Development Ski Oakenfull (Primaudial Records), Lead Course Developer Jen Anderson (T in the Park/UMG) and Programme Leader Lee Erinmez (Snuff/Fat Wreck Records). To assist with the panel we will also be joined by some extra special guests: Alex Close, an A&R guru who has worked with the likes of Warner and Universal, and Kwame Kwaten, from the Music Manager's Forum (head honcho of Ferocious Talent and manager of top-selling artists such as Laura Mvula), an association body which all Point Blank enrollee's on the Music Industry Management Degree gain membership to. More TBC!
During the course of our "Future of the Industry" discussion, the group will explore some of the industry's most pressing and exciting issues including specialist areas of artist management, A&R, record labels, marketing, IP/Copyright, touring, future opportunities within the growing sector and more. As always, on the night our Admissions staff will be on hand to answer any questions you have about the programme. Make sure you RSVP to the event here to secure your spot as spaces are likely to fill up quickly. Keep scrolling to find out more about our expert panel heads and guests below.
Ski Oakenfull (Primaudial Records) – Point Blank Head of Education and Lead Course Developer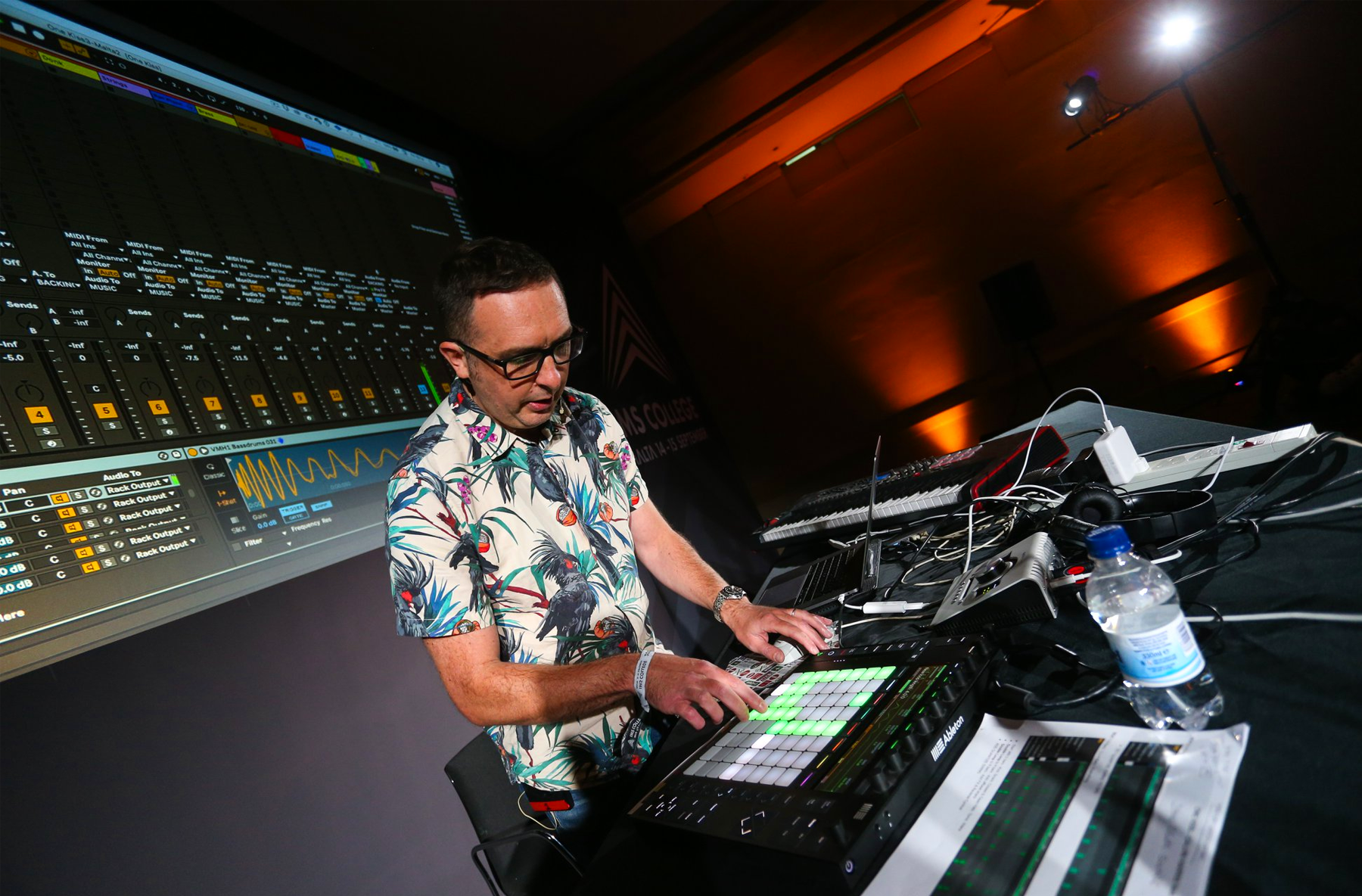 You may recognise Ski Oakenfull, our Head of Education and Lead Course Developer, from our popular Track Deconstruction series. Being a master of music production, having worked all around the world with the likes of Giles Peterson, Steely Dan, and his former band The K-Creative, Ski's been immersed in the industry for decades. Whether it's on his label, Primaudial Records, or others, Ski continues to build on his solid back-catalogue of remixes and originals putting out fresh material every year.
Jen Anderson (Waving Bear / Universal Music Group / Live Nation) – Music Industry Management Degree Lead Course Developer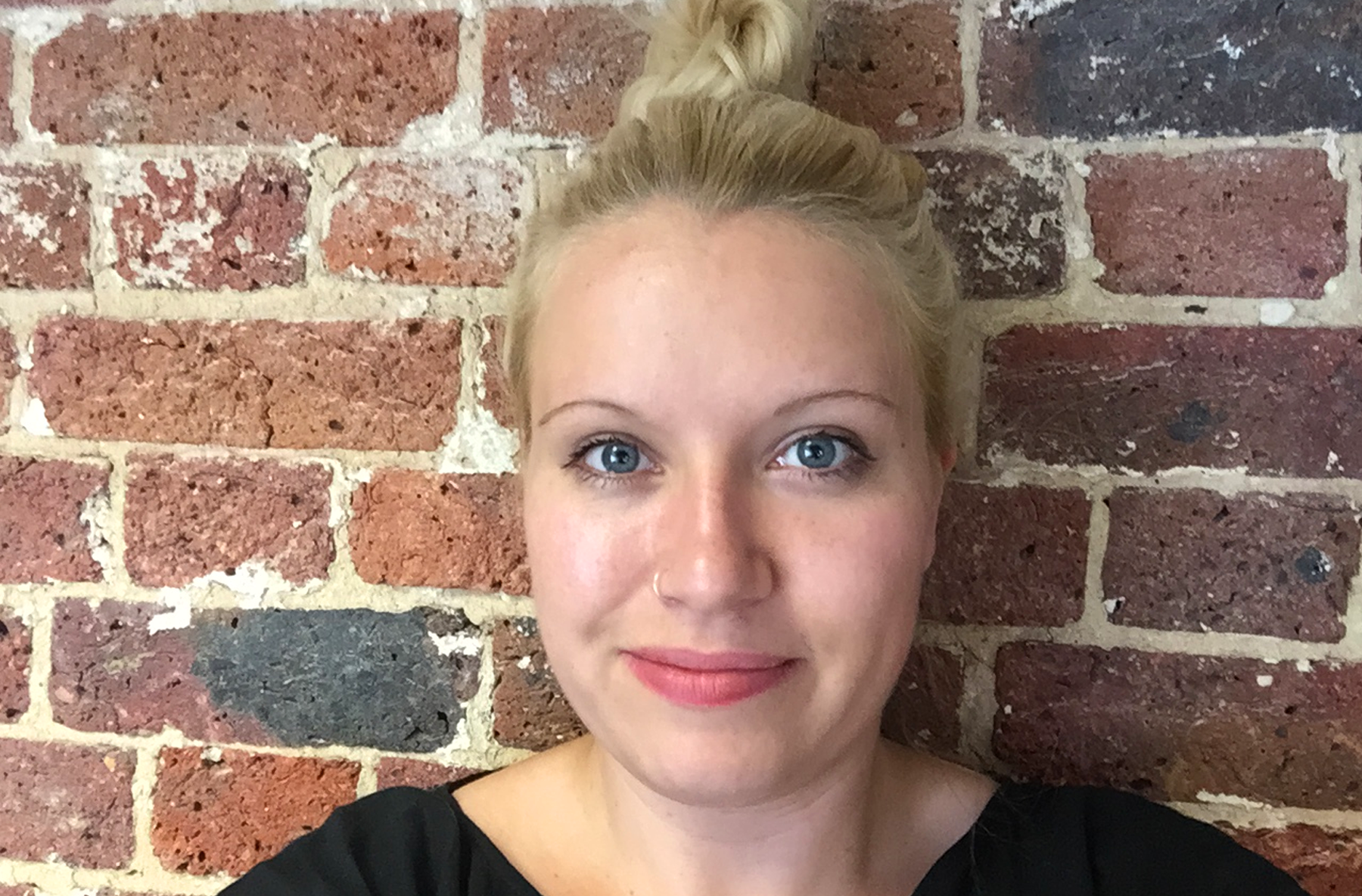 Jen Anderson, the Lead Course Developer of the Music Industry Management Degree, specialises in marketing, management, live and A&R. During her career in the industry she's scouted new, boundary-pushing talent for Fiction Records, toured with the likes of Izzy Bizu, Nero, Iggy Azalea and Eliza Doolittle, managed acts signed to Ministry of Sound, Ultra Records and Ninjatune and booked award winning venue King Tuts. Jen is also a Music Business Lecturer, Course Developer, Module Leader and Internal Verifier at Point Blank since 2012.
Lee Erinmez (Snuff / Fat Wreck Records) – Music Industry Management Degree Programme Leader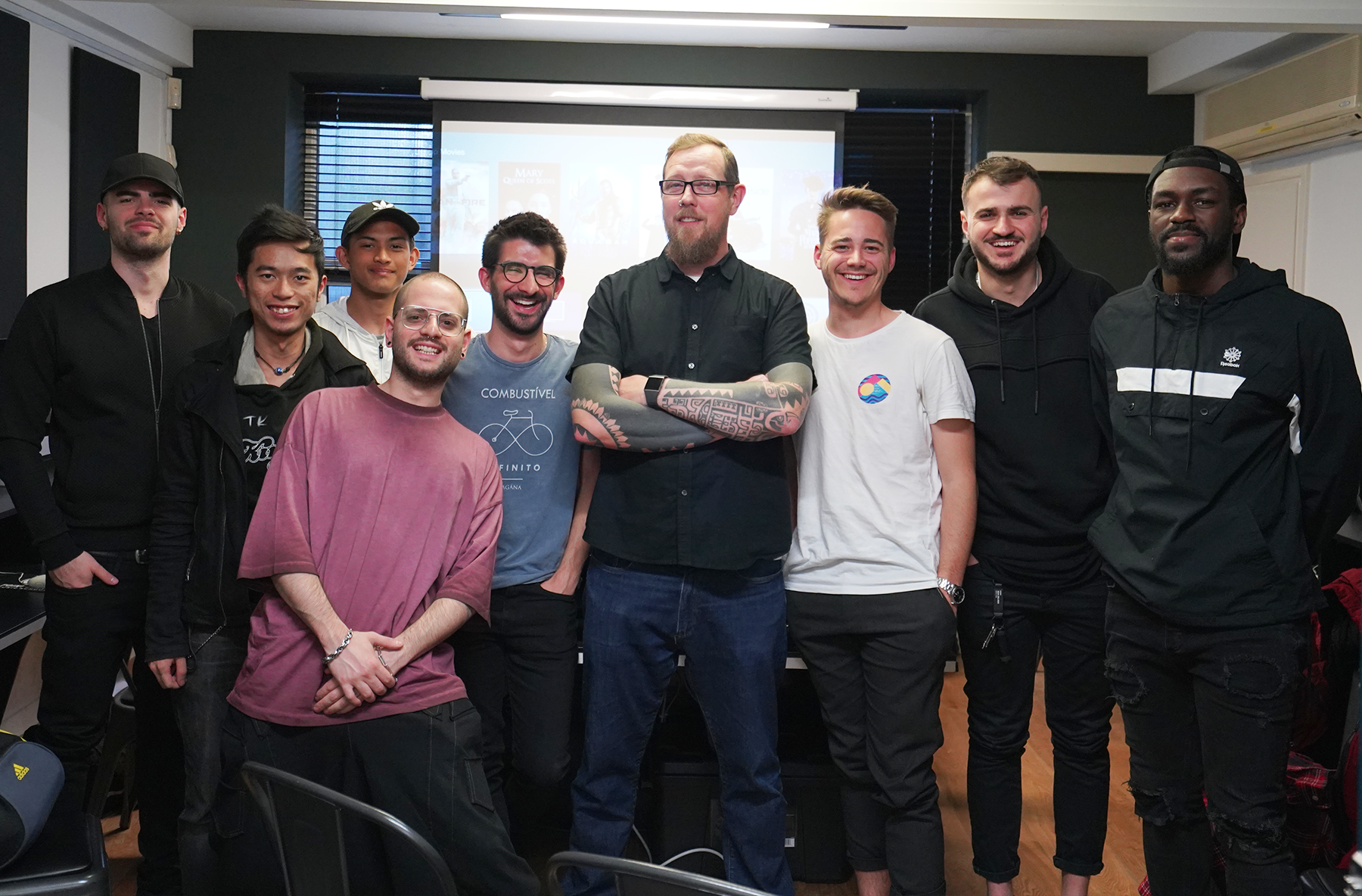 'Music Industry Degree Course Leader, Lee Erinmez, with our Music Industry Discussion Group'
This year we proudly welcomed 90s Rockstar Lee Erinmez to the Point Blank team. He joins us as our Music Industry Management Degree Programme Leader from a history playing the bass guitar in renowned British punk outfit, Snuff. Lee spent many years looking after the band's business and touring affairs negotiating record and publishing contracts, working closely with booking agents and promoters and taking care of all social media and promotional activities. Lee is currently involved in researching the future of skills development in the music industry, employability, the role of higher education and the government's industrial strategy. 
Alex Close (Warner Bros / Universal Music Group) – A&R Manager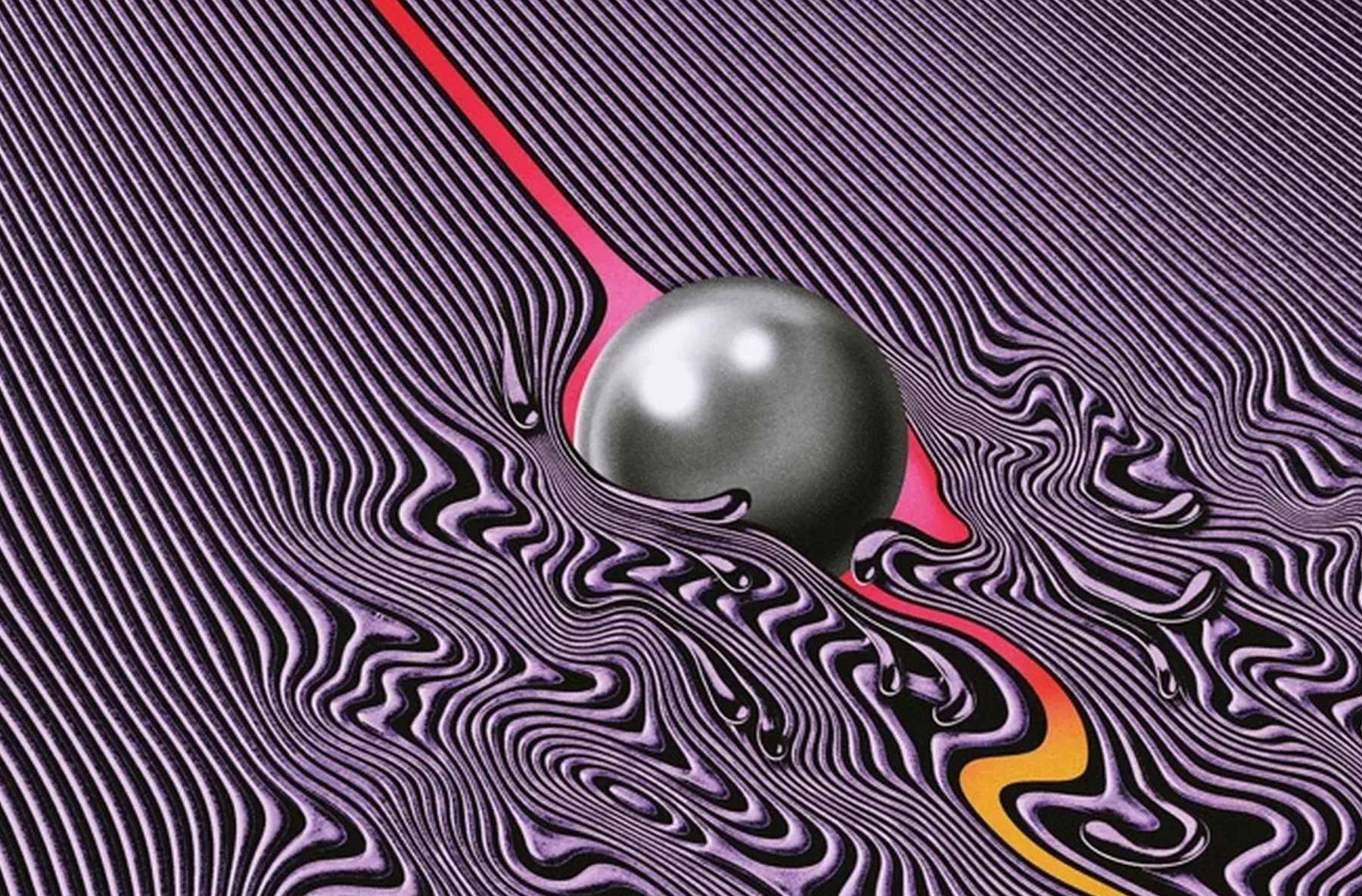 One of our special panel guests, Alex Close, has twenty years experience in the business most recently working as an A&R Consultant at Warner Music Group and A&R Manager at Universal Music Group. His A&R prowess has contributed to a number of international silver, gold, and platinum sales, millions of pounds in sync revenue, multiple award-wins including Brits & Ivor Novellos, and several Grammy & Mercury Music Prize nominations. As you can imagine he's worked with some pretty big names – think Tame Impala, Yeah Yeah Yeahs, Kate Nash, The Maccabees to name a few.
Kwame Kwaten (Ferocious Talent) –  Point Blank Music Industry Consultancy Sessions
Head honcho of Ferocious Talent, Kwame Kwaten has managed the likes of Laura Mvula, The Night VI, Steve Brown, Shannon Saunders and Kerry Leatham. Back in the 80s, he formed part of the band D-Influence who were an opening act for Michael Jackson and produced tracks for a number of legendary musicians including Shola Ama, Jay-Z and Mick Jagger. Whilst Kwame's not pushing the Ferocious Talent vision, amongst other things, he hosts Point Blank's Music Industry Consultancy sessions providing our students with invaluable industry advice.
The BA (Hons) Music Industry Management Degree
Our brand new BA (Hons) Music Industry Management Degree was created by those who have lived and breathed the music business. With decades of experience poured into it, this programme has been designed to give you access to the knowledge, experience and connections you'll need to make it in this innovative and exciting sector. Students of our new degree will learn the ins and outs of manufacturing, marketing and distribution of music to dealing with current key issues around quality, diversity and wellbeing within the sector and more. In addition to this, students on the programme will work towards setting up their own music business as the focus of their course. Meaning, whether it's an events company, record label, artist management company or something similar, our students will graduate ready to hit the ground running. Learn more about the programme here.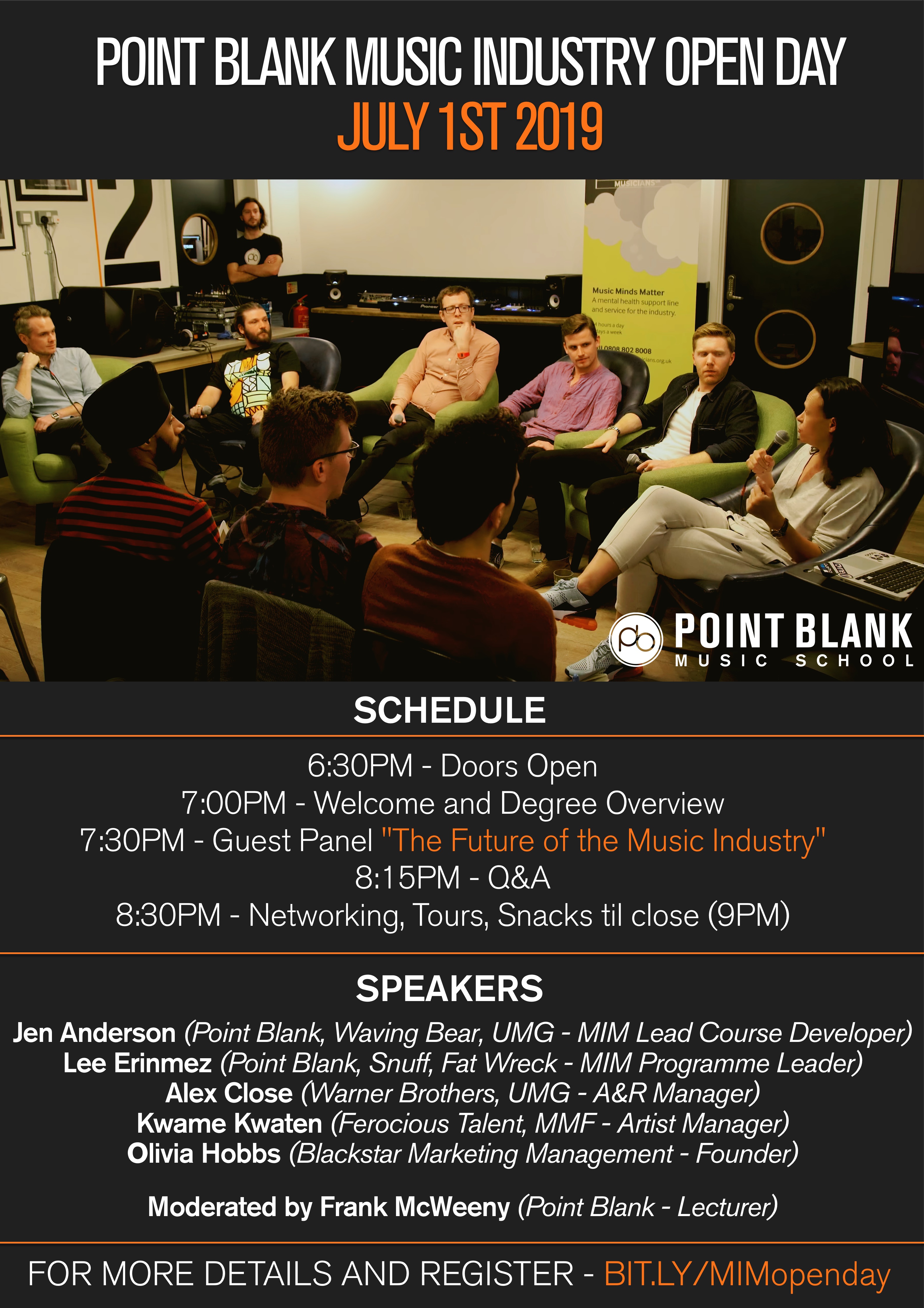 The Open Day will begin at 19:00 so please aim to arrive at around 18:45 and join us for some refreshments. We will begin the event with an exclusive music industry panel discussion with our Course Developers before they present an overview of Point Blank and the Music Industry Management Degree. Following this, a tour of the facilities will take place along with the chance to speak to our Course Advisors, Student Reps and Lecturers.
Remember, to secure your space on this first of its kind Open Day event, make sure you RSVP here and if you have any questions, don't hesitate to contact us. We hope to see you there!
As well as having a strong presence in London we also offer courses in Los Angeles, Ibiza, and Mumbai. If you're not located near one of our global schools, don't worry, we also provide courses online using our Virtual Learning Environment. With 1-2-1 Live Tutorials from expert instructors and weekly Masterclasses with your classmates, the emphasis is on interactivity and feedback on your music.
Register to Access Free Courses, Plugins, Projects, Samples & More
When you register with Point Blank, you access an array of free sounds, plugins, online course samples, access to our social network Plugged In and much more! Simply register below and visit our Free Stuff page to get your hands on a range of exclusive music-making tools and tutorials provided by the team. Fill your boots!