Point Blank Music School has always been at the forefront of innovation and creativity in the world of music. With the release of our new promotional video for the BA (Hons) Music Production and DJ Performance degree, we are thrilled to showcase what makes this program unique and exciting.
In this video, our programme leader, Ben Bristow goes through the A-Z of the degree (which is available as both a 3 year degree or an accelerated 2 year version). Whether you are a beginner or an experienced musician, our program is designed to teach new skills, including hardware and software knowledge, and provide insights into what it's like to be a DJ in the real world. Our program doesn't just stop at DJing and music production. It delves into the intricacies of the music industry, offering performance-based modules that teach students how to connect hardware and design their live performance instruments. From the beats to the visuals, we cover it all.
Another unique part of the course is the VJ skills module taught by veteran VJ, Michael Speechley. It teaches students how to use software like Resolume and plan out visual performances. The importance of performance space and the type of visuals that can accompany DJ sets or VJ performances is emphasised, adding a new dimension to the musical experience.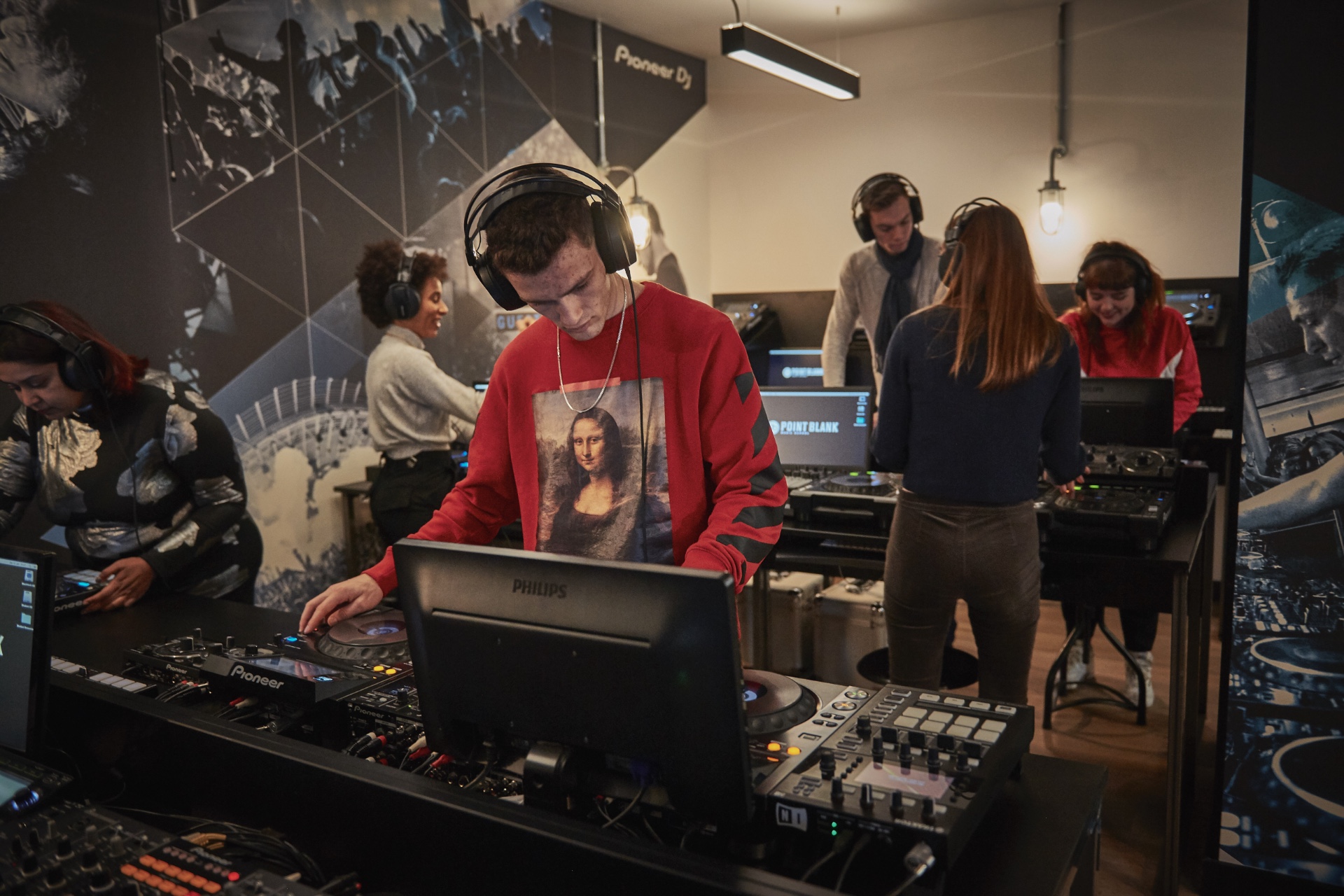 The video showcases our state-of-the-art studios and equipment, reflecting our commitment to providing students with the best tools and environment to hone their craft. Our DJ room is sponsored by Pioneer DJ meaning it's stocked with the latest kit such as CDJ-3000s, DJM-V10s and RMX-1000 effects units. Staying current and relevant in the industry is vital, and we ensure that our students have access to everything they need to succeed. We'll also be opening up a brand new London campus later this year which will feature yet another Pioneer DJ sponsored room and more facilities for our students.
At Point Blank, we believe in the power of networking and collaboration. Our students come from all over Europe and the world, creating a diverse and vibrant community. Building a diverse skill set and forming connections are key to success in the music industry, and we foster an environment that encourages both. We call this, "The Point Blank Ecosystem".
Our students often express satisfaction and surprise with the experiences they have while studying at Point Blank. The fun and interesting journey, coupled with meeting people from different backgrounds, often exceed expectations and leave a lasting impression. But don't take our word for it! Our 2023 National Student Survey (NSS) results show that we have a 86% satisfaction rate on the level of teaching on the course as well as a 91% score for student freedom of expression. Check out our full results here.
The BA (Hons) Music Production and DJ Performance degree at Point Blank Music School is more than just a course; it's a pathway to a fulfilling career in music. With a focus on real-world skills, cutting-edge technology, and a supportive community, we invite you to explore the possibilities and join us on this exciting journey. This degree is also eligible for applications through clearing. To find out more about the clearing process at Point Blank, take a look at our full guide and you can start this September!
Register to Access Free Courses, Plugins, Projects, Samples & More
When you register with Point Blank, you access an array of free sounds, plugins, online course samples and much more! Simply register below and visit our Free Stuff page to get your hands on a range of exclusive music-making tools and tutorials provided by the team. Fill your boots!